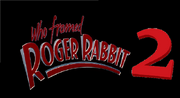 Who Framed Roger Rabbit 2 is an upcoming live-action/2D/3D computer traditional animated fantasy-romantic-musical-black slapstick comedy film and a sequel to the first 1988 film of Who Framed Roger Rabbit. It will be produced by Walt Disney Animation Studios and Pixar Animation Studios. in association with Spielberg's Amblin Entertainment, Walden Media, Media Rights Capital, Reliance Entertainment, Tencent Pictures, Wanda Pictures, Zemeckis' ImageMovers, Kennedy's The Kennedy/Marshall Company, Johnson and Bergman's T-Street Productions, Shearmur's Allison Shearmur Productions, Pascal's Pascal Pictures, and Rhimes' Shondaland, distributed by Walt Disney Studios Motion Pictures under its Walt Disney Pictures label. The film will be scheduled in Disney Digital 3D, Real D 3D, IMAX 3D, Dolby Cinema, 4DX, and ScreenX. Who Framed Roger Rabbit 2 the album "Toons" and "ToonTown Step". The film will be released on September 10th 2021 on Disney+ with Premier Access. The movie shared the plot from The Angry Birds Movie 2, Radioland Murders, The Adventures of Ford Fairlane, Trolls World Tour, Space Jam, Looney Tunes Back in Action, Ralph Breaks The Internet, Cool World and the TV show "On The Air". The movie will appear in Don't Forget to Watch the Movie (Efrain Flores).
the film directed by Rian Johnson ("Knives Out") and Lawrence Guterman ("Cats & Dogs", "Son of The Mask"), produced by Johnson, Shonda Rhimes ("Grey's Anatomy", "Private Practice", "Scandal", "How to Get Away with Murder"), Allison Shearmur (Cinderella (2015), Rouge One: A Star Wars Story, Solo: A Star Wars Story, The One and Only Ivan), Amy Pascal (Ghostbusters (2016), Spider-Man: Homecoming, Spider-Man: Far From Home, Little Women (2019), written by Andy Fickman ("Parental Guidence"), Matt Lieberman ("The Christmas Chronicles"), Karey Kirkpatrick ("The Spiderwick Chronicles"), Jeffery Price, Peter S. Seaman, David Lindsay-Abaire ("Rise of The Guardians", "Poltergeist (2015)"), Chris Columbus ("Home Alone 1 & 2"), Kenya Barris ("Black-ish", "Grow-ish", "The Witches") and Taika Waititi ("Jojo Rabbit") and features an ensemble cast including Crispin Glover (TV's "American Gods"), Kathryn Newton (Pokémon Detective Pikachu), Julia Roberts ("Erin Brockovich"), Harrison Ford ("Star Wars"), Peter Dinklage ("Pixels"), Kristen Bell ("Frozen" "The Good Place"), Hank Azaria ("The Simpsons"), Usher ("The Faculty"), Masi Oka ("Heroes"), Jorge Garcia ("The Wedding Ringer", TV's "Lost"), Suki Waterhouse ("Assassination Nation"), Kelly Marie Tran ("Star Wars: The Last Jedi"), Maisie Williams ("The New Mutants"), Jason Isaacs (the "Harry Potter" films, TV's "The OA"), Tom Felton ("the "Harry Potter" films"), Julian Dennison ("Deadpool 2"), Bill Barretta ("The Muppets, "The Happytime Murders"), Kurt Russell ("The Christmas Chronicles"), Goldie Hawn ("The Christmas Chronicles"), Finlay Wojtak-Hissong ("The Banana Splits Movie"), Francesca Angelucci Capaldi ("The Peanuts Movie"), Jemaine Clement ("What We Do in the Shadows"), Joel McHale (TV's "Community"), Charles Fleischer, Kathleen Turner, Samantha Morton ("Minority Report"), Bill Irwin ("Interstellar"), Ethan Slater & Danny Skinner (SpongeBob SquarePants The Broadway Musical), Kristin Chenoweth (My Little Pony The Movie (2017), Billie Eilish, Michael Lerner ("Blank Check", "Radioland Murders"), Jonathan Mangum (TV's "Let's Make A Deal"), Alfred Molina ("Ralph Breaks The Internet"), Michael Weatherly (TV's "NCIS", "Bull"), Daniel Stewart Sherman (TV's "Gotham"), Keith Lee ("The Main Event"), The New Day (Kofi, Big E, and Xavier), Greg Cipes (TV's "Teenage Mutant Ninja Turtles"), Scott Menville (TV's "Spider-Man"), Khary Payton ("The Walking Dead"), Tara Strong (the "My Little Pony" franchise), Hynden Walch (TV's "Adventure Time with Finn & Jake"), Ozioma Akagha (TV's "Marvel's Inhumans"), Frank Welker (the "Transformers" franchise), Will Forte ("Booksmart," TV's "The Last Man on Earth"), Mark Wahlberg ("The Fighter," "The Departed"), Gina Rodriguez ("Deepwater Horizon," TV's "Jane the Virgin"), Zac Efron ("The Greatest Showman," the "Neighbors" franchise), Amanda Seyfried (the "Mamma Mia!" films, "Ted 2"), Kiersey Clemons ("Neighbors 2: Sorority Rising," TV's "Angie Tribeca"), Ken Jeong ("Crazy Rich Asians," "The Hangover" trilogy), Grey Griffin, Kate Micucci, Roger Craig Smith, and John Cleese ("Monty Python")
Synopsis
In Characterville 2020, Almost 73 years after the murder of Marvin Acme in 1947, Maroon Cartoon Studio (now Maroon Entertainment Studio) has a new boss except in fact it is the cousin of the son of Judge Doom unite with Dick Dastardly, Muttley, The Grand Guignol, Belsnickel and the army of Toon Patrol (Phil Phillips is the new leader except Smartass), Rotten Robots, Nerdlucks/Monstars, Toadies, Rabbids, K-Pop, and IOI Army. who created the Superweapon, so Roger, Daniel, Scarlett & Jessica Rabbit must stop him from taking over Characterville before it's too late.
Plot
In this film, Daniel, Scarlett and Roger Rabbit goes on an adventure to save Jessica and their parents. Daniel, Scarlett, Roger and the other toons help save the day!
Characters
Main characters
Daniel Valiant (Main Protagonist)
Scarlett Valiant (Other Main Protagonist)
Ninalene Jewel (Daniel's Love Interest)
Roger Rabbit (Deuteragonist)
Jessica Rabbit (Tritagonist)
Baby Herman
Benny the Cab
Eddie Valiant
Jo
Lily
Dolores
Bridget
Richard
Edward
Vera Kebaya
Papo Ilham
Lisa Jewel
Kayla Kaniya Kaifah
Kano Kafka Muhammad
Peter B. Parker, Miles Morales, Gwen Stacy, Spider-Man Noir, Peni Parker & SP//dr, Spider-Ham - Spider-Man: Into the Spider-Verse
Dracula, Mavis, Jonathan, Dennis, Frank, Wayne, Griffin, Murray, Blobby, Vlad, Eunice, Wanda, Winnie, Puppy, Ericka, - Hotel Transylvania, Hotel Transylvania 2, Hotel Transylvania 3: Summer Vacation
Pikachu - Pokémon: Detective Pikachu
Charlie Brown, Sally Brown, Snoopy, Linus Van Pelt, Lucy Van Pelt, Woodstock, Peppermint Patty, Marcie - "Peanuts" franchise
Audrey, Dot, Lotta - Harvey Girls Forever!
Blossom, Bubbles, Buttercup, Bliss - Powerpuff Girls
Robin, Starfire, Raven, Cyborg, Beast Boy, Bumblebee - Teen Titans Go!
K.O., Dendy, Enid, Radicles - OK K.O. Let's Be Heroes
Unikitty, Puppycorn, Dr. Fox, Hawkodile, Richard - Unikitty!
Diana Prince, Babs Gordon, Kara Danvers, Zee Zatara, Jessica Cruz, Karen Beecher - DC Super Hero Girls
Lincoln Loud, Clyde McBride, Liam, Zach Gurdle, Rusty Spokes, Stella Zhau, Ronnie Anne, Sid Chang, Nikki, Casey, Sameer, Lori Loud, Bobby Santiago, Leni Loud, Luna Loud, Sam Sharp, Mazzy, Sully, Luan Loud, Benny Stein, Lynn Loud, Lana Loud, Lola Loud, Lisa Loud - The Loud House/The Casagrandes
Clemmie, Tango, Bud - Camp Halohead
Lightbulb, Test Tube, Fan, Baseball, Knife, Microphone, Suitcase, Balloon, Nickel - Inanimate Insanity
Sailor Moon, Sailor Mercury, Sailor Venus, Sailor Mars, Sailor Jupiter, Sailor Saturn, Sailor Uranus, Sailor Neptune, Sailor Pluto, Chibiusa, Tuxedo Mask, Luna, Diana, Artemisa, Queen Nehelenia - Sailor Moon
Villains
Lucius DeGeralson (Secondary Main Antagonist/Former Antagonist at the end)
Wacky Doom Jr. (Main Antagonist)
Dick Dastardly (SCOOB!) (Other Main Antagonist/Wacky Doom, Jr.'s Sidekick)
Smart Tuckus (Secondary Antagonist)
Muttley (SCOOB!) and The Grand Guignol (A Babysitter's Guide for Monster Hunting) (Other Secondary Antagonists)
Belsnickel (The Christmas Chronicles 2) (former antagonist at the end)
Darth Vader (Minor Antagonist)
Phil Phillips (The Happytime Murders) (Leader of Toon Patrol 2)
Judge Doom (post-credit scene)
Toon Patrol 2 included:

Smartass (pictured and post-credit scene)
Greasy (former antagonist at the end)
Wheezy
Stupid (former antagonist at the end)
Psycho
Slimy
Muscleslayer
Flasher
Crazy
Sleazy
Scummy
Itchy
Snatchy
Twitchy
Messy
Rusty
Stretchy
Spotty
Strongy
Scary
Dummy
Noisy
Dusty (former antigonist at the end)
Nerdlucks/Monstars (former antagonists at the end)
Snaggle, Roscoe and Jimmy (former antagonists at the end)
Rotten Robots
Rabbids
Stormtroopers
SuperM, Got7, WayV, NCT U, Ateez, ONEUS, VITZY, MAMAMOO, (G)I-DLE, Astro
Innovative Online Industries (IOI)/The Sixers
Queen beryl (Sailor Moon)
Plankton (Spongebob Squarepants)
Dr. Doofenshmirtz (Phineas and Ferb) (former antagonist at the end)
Chick Hicks (Cars)
Jackson Storm (Cars 3)
Prof. calamitous (Jimmy Neutron)
The Dazzlings (My Little Pony Equestria Girls)
Vlad (Danny Phantom)
Mr. Crocker (Fairly Odd Parents)
Master Doom (Unikitty!)
Lord Dominator (Wander Over Yonder)
Vilgax (Ben 10 Alien Force)
Hex (Ben 10 Alien Force)
Charmcaster (Ben 10 Alien Force)
And more (except Slade, he's in prison)
Walt Disney/Touchstone Pictures/Disney Junior/Disney XD/Pixar/20th Century Studios/Blue Sky Studios/Regency Enterprises/Spyglass Entertainment/Caravan Pictures/Badgasarian Productions/Studio Ghibli/Marvel
Mickey Mouse
Donald Duck
Goofy
Pluto
Sora, Kairi, Riku and others - "Kingdom Hearts"
Minnie Mouse
Pete
Clarabelle Cow
Horace Horsecollar
Jose Carioca
Panchito Pistoles
Aracuan Bird - "Clown Of The Jungle"
Ludwig Von Drake
Oswald the Lucky Rabbit
Ortensia
Gremlin Gus
Gus Goose
Pokopon
Morty and Ferdie Fieldmouse
Millie and Melody Mouse
Daisy Duck
Chip and Dale
Max Goof
Scrooge McDuck, Huey, Dewey, and Louie Duck, April, May and June Duck, Beagle Boys, Webby Vanderquack, Launchpad McQuack, Bentina Beakley, Della Duck - DuckTales
Mortimer Mouse
The Sun - "Father Noah's Ark"
The Trees and Flowers - "Flowers and Trees"
Luke, Ravi, Emma, Zuri, Jessie, Bertram, Xander, Lou, Tiffany, Jorge and others - "Jessie/Bunk'd"
Monte the Pelican - "Pelican and the Snipe"
Big Bad Wolf, Three Little Pigs
Peter & The Wolf - "Make Music Mine"
Paul Bunyan
Babe the Blue Ox
Professor Owl
Bertie Birdbrain
Toot, Whistle, Plunk, and Boom
The Lonesome Ghosts
Witch Hazel
Bongo the Gorilla
Ajax the Gorilla
Hitchhiking ghosts
Darkwing Duck, Gosalyn Mallard, and Honker Muddlefoot
J. Audubon Woodlore
Humphrey the Bear
Bootle Beatle
Baby Shelby
Mrs. Turtle
Magical Mouse
Mr. Pettibone
Hairy Manilow
Turkey
Mike the Microphone
Grandpa Duck
Grandma Duck
Bonkers - "Bonkers"
Ferdinand and others -"Ferdinand the Bull"
Snow White, Evil Queen, Snow White's Forest Animals - "Snow White and the Seven Dwarfs"
Doc, Grumpy, Happy, Bashful, Sleepy, Sneezy, Dopey, Queen Delightful, Lord Starchbottom, Sir Yipsalot, Hildy Gloom, Grim Gloom - The 7D
Pinocchio, Jiminy Cricket, Figaro, Cleo, The Blue Fairy, Geppetto, Stromboli, Honest John & Gideon, The Coachman, Lampwick, Monstro - "Pinocchio"
Hyacinth Hippo, Ben Ali-Gator, Madame Upanova, Chernabog, Magic Brooms, Bacchus, Chinese Mushrooms, Yen Sid, Sorcerer Mickey, Cupids, Jacchus, Pegasuses, Unicorns, Saytrs, Centaurs, Centarettes - "Fantasia"
The Reluctant Dragon, Sir Giles, Boy and Father - "The Reluctant Dragon"
Dumbo, Timothy Mouse, The Crows, Casey Junior, Mr. Stork, Mrs. Jumbo, Ringmaster, Elephant Matriarch, Elephant Giddy, Elephant Prissy, Elephant Catty, Pink Elephants, Various Circus Animals - "Dumbo"
Bambi, Thumper, Flower, Faline, Friend Owl, The Great Prince of the Forest, and other animals - "Bambi"
Br'er Rabbit, Br'er Fox, Br'er Bear, Br'er Frog, Mr. Blue Bird, Hummingbirds - "Song of the South"
Max McGrath, Steel, Commander Forge Ferrus, Miles Dredd, Jim McGrath, Sydney Gardiner, Roberto Berto, Jefferson Smith, Jason Naught - Max Steel
Willie The Giant, Bongo the Bear, Lulubelle, Lumpjaw (mentioned), Golden Harp - "Fun and Fancy Free"
Pecos Bill - "Melody Time"
J.Thaddeus Toad, Cyril Proudbottom, Moley, Water Rat, Angus McBadger, Mr. Winky, Weasels, Ichabod Crane, Brom Bones, Katrina, Headless Horseman (mentioned) - "The Adventures of Ichabod and Mr. Toad"
Cinderella, Prince Charming, The Fairy Godmother, Lady Tremaine, Drizella, Anastasia, Lucifer, Jaq, Gus, Major, Bruno, Mice - "Cinderella"
Alice, The Cheshire Cat, The Mad Hatter, The March Hare, The Dormouse, The White Rabbit, Tweedle Dum and Tweedle Dee, Bill the Lizard, Broom Dog, Doorknob, Bull Mop, The Queen of Hearts, The Walrus and the Carpenter, The King Of Hearts, The Do-Do, The Caterpillar - "Alice in Wonderland"
Peter Pan, Tinker Bell, Wendy, John, Michael, Nana, Danny, Athena, Muoro General, Edword, James, Giant Octopus, The Lost Boys, Tiger lily, Jane, Captain Jake, Izzy, Cubby, Skully, Marlina the Mermaid, Captain Hook, Mr. Smee, Tick-Tock the Crocodile - "Peter Pan"
Lady, Tramp, Jock, Trusty, Si and Am, Joe, Tony, Peg, Beaver, Bull, Toughy, Boris, Pedro, Scamp, Angel, Annette, Danielle, Collette - "Lady and the Tramp"
Princess Aurora, Prince Philip, Flora, Fauna, Merryweather, King Stefan, King Hubert, Queen Leah, Maleficent, Diablo, Goons - "Sleeping Beauty"
Pongo, Perdita, The Puppies, Lucky, Rolly, Cadpig, Spot, Patch, Danny, Thunderbolt, Roger Radcliffe, Anita Radcliffe, Cruella De Vil, Jasper and Horace, Sergeant Tibs, Captain, Colonel, Cualon, Danny, Sharmee, Lil' Lightning, Lars, Towser, Lucy the Goose, Animals - "101 Dalmatians"
Merlin, Wart, Archemedes, Sir Kay, Sir Ector, Madam Mim, Wolf, Pike and Hawk - The Sword in the Stone
Penguin Waiters - "Mary Poppins"
Baloo, King Louie, Mowgli, Bagheera, Plane, Bycle, Colonel Hathi, Buzzie, Flaps, Ziggy, & Dizzy, Soyea Khen, Shere Khan, Kaa, Akela, Shanti, Lucky, Ranjan, Ranjan's Father, M.C. Monkey, Hathi Jr., Elephant Patrol, Bander-log and Wolves - "The Jungle Book"
Duchess, Thomas O'Malley, Edgar, Scat Cat, Toulouse, Marie & Berlioz, Roquefort, Shun Gon, Hit Cat, Peppo, Billy Boss, Napoleon, Lafayette, Madame Adelaide Bonfamille, Georges Hautecourt, Frou-Frou, Abigail Gabble, Amelia Gabble, Kicker, Rough Ranger, Dig-Dug, Pooka, Fygar, Uncle Waldo, French Milkman the Driver, Le Petit Cafe Cook, Truck Movers, Frog and Various Cats, Kittens - "The Aristocats"
Secretary Bird, King Leonidas, Fisherman Bear, Mr. Codfish, The Dirty Yellows, The True Blues - Bedknobs and Broomsticks
Robin Hood, Little John, Sir Hiss, Friar Tuck, Prince John, Maid Marian, Lady Kluck, Alan A Dale, Rhino Guards, Sheriff Of Nottingham, Mother Rabbit, Nutsy and Trigger, Captain Crocodile, Father Sexton, Little Sister, Skippy, Sis, Tagalong, Otto, Toby Turtle, King Richard and other animals - "Robin Hood"
Winnie the Pooh, Piglet, Tigger, Rabbit, Eeyore, Kanga, Roo, Christopher Robin, Owl, Gopher, Lumpy, Kessie, Mama Heffalump, The Backson, Stan Woozle, Heff Heffalump, Bees, Heffalumps, Woozles - "Winnie the Pooh"
Oliver, Dodger, Georgette, Fagin, Roscoe and DeSoto, Jenny Foxworth, Winston, Louie, Bill Sykes, Tito, Rita, Einstein, Francis and Various Dogs - "Oliver & Company"
Ariel, Sebastian, Flounder, Scuttle, Ursula, King Triton, Flotsam & Jetsam, Prince Eric, Max, Andrina, Arista, Attina, Alana, Adela, Aquata, Grimsby, Chief Louis, Carlotta, Catfish Club, Melody, Glut the Shark, Morgana (mentioned), Tip & Dash, Undertow, Cloak & Dagger - "The Little Mermaid"
Belle, Beast, Lumiere, Cogsworth, Mrs. Potts, Chip Potts, Maurice, Fifi, Wardrobe, Sultan, The Bimbettes, Monsieur D' Aquire, Gaston, LeFou, Fifi, Mrs. Potts' Other Children, Chef Bouche, Philippe, Angelique, Forte, Objects - "Beauty and the Beast"
Olie Polie, Zowie Polie, Billy Bevel, Pappy Polie, Spot, Mr. Polie, Mrs. Polie Gizmo Polie, Aunt Polieanna, Baxter and Bonita Jaquita Bevel, Space Boy, Coochie and Coo Polie, Binky Bevel, Screwy, Polly Pi, Fifi, Wheelie, Dicey, Mrs. Ethel Triangle, Big Gene Green and Little Gene Green, Chuck Squarey, Klanky Klaus, Gloomius Maximus - "Rolie Polie Olie"
Aladdin, Princess Jasmine, Genie, Abu, The Magic Carpet, Jafar, Iago, Rajah, Razoul, The Sultan, Abis Mal, Eden, Thundra, Cassim, Saluk - "Aladdin"
Jack Skellington, Zero, Sally Skellington, Lock, Shock, Barrel, Mayor of Halloween Town, Oogie Boogie, Dr. Finklestein, Igor, The Grim Reaper, The Devil, Wolfman, Citizens of Halloweentown - The Nightmare Before Christmas
Kenai, Koda, Denahi, Rutt, Tuke, Sitka, Tanana, Tug, Ram #1, Ram #2, Old Denahi, Old Lady Bear, Male Lover Bear, Female Lover Bear, Foreign Croatian Bear, Chipmunks, Great Spirits, Inuit Narrator, Nita, Anda, Kata, Innoko, Aunt Siqiniq, Aunt Taqqiq, Bering, Chilkoot, Prehistoric Creatures - Brother Bear, Brother Bear 2
Maggie, Mrs. Caloway, Grace, Buck, Lucky Jack, Alameda Slim, The Willie Brothers, Weasly, Rico, Rusty, Pearl Gesner, Sheriff Sam Brown, Jeb, Audrey, Ollie, Piggies, Larry, Junior, Barry, Bob - "Home on the Range"
Anna, Elsa, Kristoff, Sven, Olaf, Hans, The Duke of Weasleton, Oaken, Marshmallow, Snowgies, Trolls, Pabbie and others - "Frozen"
Simba, Nala, Zazu, Mufasa, Rafiki, Timon, Pumbaa, Sarabi, Sarafina, Shenzi, Banzi & Ed, Scar, Uncle Max, Ma, Young Kiara, Young Kovu, Pumbaa Jr., Various African Animals and others - "The Lion King franchise"
Pocahontas, John Smith, Percy, Meeko, Flit, Nakoma, Governor Ratcliffe, Powhatan, Wiggins, Grandmother Willow, Thomas, Ben and Lon, John Rolfe, Various Indians, Settlers - "Pocahontas"
Quasimodo, Esmeralda, Djali, Phoebus, Achilles, Hugo, Victor, Laverne, Clopin, Archdeacon, Achilles, Zephyr, Frollo, Brutish and Oafosh Guard, Frollo's Soldiers, and others - The Hunchback of Notre Dame
Hercules, Megara, Pegasus, Zeus, Phil, Gods & Goddesses, The Muses, Pain & Panic, Hades, and others - Hercules
Mulan, Mushu, Shang, Yao, Ling, & Chien-Po, Cri-Kee, The Emperor of China, Khan, Shan Yu, Chi Fu, Fa Family Ancestors, Mei, Ting-Ting, & Su and others - Mulan
Tarzan, Jane Porter, Terk, Tantor, Professor Porter, Kala, Gorillas, Clayton, Kerchak and other animals - Tarzan
Colorful Triangles, Dark Triangles, Duke, Flying John, Rachel, Rachel's parents, Jobless Joe, Tin Soldier, Ballerina, Jack-in-the-Box, Yo Yo Flamingo, Snooty Flamingos, Various Animals, Noah and others - Fantasia 2000
Aladar, Neera, Plio, Yar, Suri, Kron, Zini, Eema, Baylene, Url, Various Dinosaurs, Creatures and Insects - "Dinosaur"
Kuzco, Pacha, Kronk, Yzma, Malina, Rudy, Mata the Waitress, Bucky the Squirrel, Ms. Birdwell, Papi, Tipo, Chaca, Chicha, Yupi and others - The Emperor's New Groove
Stitch, Lilo, Jumba Jookiba, Pleakley, Captain Gantu, Angel, Dr. Hamsterviel, Reuben, Nani, David, Cobra Bubbles, Grand Councilwoman, Mertle, Scrump the Doll, Sparky, Evile, Elena, Teresa, & Yuki, Victoria, Keoni Jameson, Charles and Mary, Mr. Cooper, Experiments and others - Lilo and Stitch
Kim Possible, Ron Stoppable, Monique, Wade Load, Rufus, Dr. Drakken, Shego, Hana Stoppable, Bonnie Rockwaller, Middleton High School Cheerleaders, Steve Barkin, Jim and Tim Possible and others - Disney Kim Possible
Penny Proud, Dijonay Jones, Zoey Howzer, LaCienega Boulevardez, BeBe and CeCe Proud, Suga Mama, Trudy Proud, Oscar Proud, Puff the Dog, Wizard Kelly, Sticky Web, Bobby Proud and others - The Proud Family
Chiro, Antauri, SPRX-77, Gibson, Otto, Nova, Jinmay, Slingshot, Captain Shuggazoom, Skeleton King, Mandarin, Valeena - Super Robot Monkey Team Hyperforce Go!
Brandy Harrington, Mr. Whiskers, Lola Boa, Ed the Otter, Gaspar Le'Gecko, Cheryl & Meryl, Margo, The Monkeys, Lester, Whiskers's brain, Harold, Mr. Sloth, Gabriella, The Lemur - Brandy & Mr. Whiskers
Jake Long, Trixie Carter, Spud, Fu Dog, Lao Shi, Rose, Haley Long, Arthur Spudinski, Luong, Jonathan Long, Susan Long, Brad Morton, Hans Rotwood, Stacey Wintergrin, Tracey, Lacey, Olivia, Courtney, Jasmine, Marnie, Danika, Nigel Thrall, Fred Nerk, Kyle, Gregory, Andrew, Silver, Carol, Frederick, Joshua, Trisha, Jake Long Junior, Aunt Cathy, Rose's parents and twin, Sara and Kara Oracle, The Dragon Council, Councilor Andam, Councilor Kulde, Councilor Kukulkhan, Councilor Omina, Aunt Patchouli, Sun Park, Dolores, Ms. Jenkins, Ms. McGuire, Ms. Birch, Mrs. Carter, Colonel Hank Carter, Ms. Spudinski, Officer Morton, Veronica, Brocamas, Stan, Bertha, Reggie, Clooney, Santa Claus, Jaren, Shaniqua, Thad Rochefort-Chaise, Jasma, Ron, Coach Sackerson, Judge Glamis, Tommy, The Witches of Woodstock, Annika, Monica, Bubonica, Jack Frost, Pix, Queen Liliana, Strigoi, Mister Krunkers, Benny, Petite Herbert, Dragons, and others - American Dragon: Jake Long
T.J. Detweiler, Ashley Spinelli, Vince LaSalle, Gretchen Grundler, Mikey Blumberg, Gus Griswald and others - Recess
Pepper Ann Pearson, Nicky Little, Milo Kamalani, Lydia Pearson, Moose Pearson, Dieter, Pink Eye Pete, Craig, Trinket, Cissy, Tessa and Vanessa, Stewart, Gwen, Constance, Lamarr, Alice. Brenda, Sketch, Poison, Tank, Hush -Pepper Ann
Lewis, Wilbur, Franny, Bud, Billie, Joe, Tallulah, Petunia, Lefty, Carl the Robot, Buster, Laszlo, Tiny, DOR-15, Bowler Hat Guy, Singing Frogs - Meet the Robinsons
Ebenezer Scrooge, Bob Cratchit, Tiny Tim, Jacob Marley, Ghosts of Christmas Past, Present and Future - "A Christmas Carol"
Tinker Bell, Rosetta, Fawn, Iridessa, Silvermist, Vidia, Periwinkle, Clank, Bobble, Fairy Mary, Terence, Cheese, Blaze, Fairy Gary, Queen Clarion and others - "Disney Fairies"
Tiana, Naveen, Louis, Ray, Charlotte La Bouff, Mama Odie, Dr. Facilier, Lawrence - "The Princess and the Frog"
Bear, Pip, Pop, Ojo, Treelo, Tutter, Doc Hogg, Lois, Benny the Bat, Grandma Flutter, Cousin Whiner, Jet Set Tutter, Jeremiah Tortoise, Annette, Henrietta Vanderpreen, Skippy, Big Old Bullfrog, Jacques the Beaver, Miss Maxwell, Rita Mouse, Keisha, Moss, Cousin Titter, Harry the Duck, Otto and Etta Otter, Ursa and others - Bear in the Big Blue House
Michael, Corey, Smoke - Cartoon All-Stars to The Rescue
Rapunzel, Flynn Rider, Pascal, Maximus, Casandra, Four Sisters, Mother Gothel, Beast, The Stabbingtion Brothers, Captian of the Guard, Hook Hand Thug, Vlad, Big Nose Thug, Thugs - "Tangled, Rapunzel's Tangled Adventure"
Phineas Flynn, Ferb Fletcher, Perry the Platypus, Isabella Garcia-Shapiro, Balijeet Tjnder, Buford Van Stomm, Candace Flynn, Jeremy Johnson, Stacy Hirano, Jenny Brown, Dr. Doofenshmirtz, The Fireside Girls (Gretchen, Holly, Katie, Milly, Adyson Sweetwater and Ginger Hirano), Norm, Vanessa Doofenshmirtz, Charline Doofenshmirtz, Irving Du Bois, Linda Flynn Fletcher, Lawrence Fletcher, Major Monogram, Carl the Intern, Suzy Johnson, , Vivian Garcia-Shapiro, Suzy Johnson, Grandpa Clyde and Grandma Betty Jo, Grandpa Reginald and Grandma Winifred, Roger Doofenshmirtz, Django Brown, Admiral Acronym, Professor Poofenplotz, Love Händel, Dr. Hirano, Rodney, Coltrane, Peter the Panda, Pinky the Chihuahua, Monty Monogram and others - Phineas and Ferb
Bea Goldfishberg, Milo Fishtooth, Oscar Fishtooth, Clamantha, Angela, Jocktopus Ludwig Vandenbush, Randy Pincherson, Clamette, Shellsea, Marching Band, Piranhica, Pamela Hamster, Koi, Dr. Frog, Headphone Joe, Clamanda, Mouse, Kevin, Lunch Lady, James Sardine, Mr. Baldwin, Esmargot, Steve Jackson, Freshwater High Cheerleaders, Goth Fish, Student Council, Snake, Finberley, Lonnie, Bleak Molly, Blanda, Shiloh, Goth Squid, Bo Gregory, Principle Stickler, Dan & Ann Chovie, Albert Glass, Chief, Hugh Edmundson, Winnie Grouper, Razor V. Doom, Coach Salmons, Ms. Lips, Mr. Mussels, Nurse Fishington, Jumbo Shrimp, Scabbo, Various Fish and others - "Fish Hooks"
Dipper Pines and Mabel Pines, Grunkle Stan, Ford Pines, Soos, Waddles, Wendy, Candy Chiu, Grenda, Old Man McGucket, Bill Cipher (mentioned), Gideon (mentioned), Toby, Pacifica Northwest, Preston Northwest, Priscilla Northwest, Robbie, Tambry, Manly Dan, Lazy Susan, Tyler Cutebiker, Shandra, Sheriff Blubs, Deputy Durland, Bud Gleeful, Abuelita, Gompers, Blendin, Agent Powers, Agent Trigger, Ghost-Eyes, Xyler and Craz, Time Baby, Gnomes and others - "Gravity Falls"
Star Butterfly, Pony Head, Marco Diaz, River Butterfly, Moon Butterfly, Mr. and Mrs. Diaz, Mariposa Diaz, Principal Skeeves, Ferguson and Alfonso, Ludo's minions, Pony Head, Jackie Lynn Thomas, Miss Skullnick, Sensei Brantley, Jeremy Birnbaum, Oskar Greason, Brittney Wong, Glossaryck, Tom Lucitor, Buff Frog, Janna, Kelly, Eclipsa Butterfly, Globgor, Ludo, Lord Brudo, Lady Avarius, Dennis, Toffee, Meteora Butterfly, Mina Loveberry - "Star vs. the Forces of Evil"
Peanut, Baby Butter, Jelly, Opal, Ernest, Pinch, Scootch, Munchy, Flick, Ootsie and Bootsie, Anna, Wanda, Walter, Shirley, Betty-Lou, Mayor Jeff, Cap'n Crane, Connie, Edouard, Georgina, Bubbles, Billy, Ricky, Simon, Redolfo, Captain Camel, The Muskrat Family (Mr. and Mrs. Muskrat, Doris, Wally, and three babies) and others - PB&J Otter
Milo Murphy, Zack Underwood, Melissa Chase, Diogee, Bradley Nicholson, Doctor Zone, Time Ape, Sara Murphy, Martin and Brigette Murphy, Amanda Lopez, Jackie, Vinnie Dakota and Balthazar Cavendish, Elliot Decker, Mrs. Murawsk and others - "Milo Murphy's Law"
Berry the Rabbit, Sweetie the Pony, Muffin the Puppy, Honeycake the Kitten, Thistleblossom the Hedgehog, Madame Hamilot the Hamster, Pumpkin the Puppy, Bibbidy the Pony, Slipper the Kitten, Brie the Mouse, Midnight the Wildcat, La Grande the Corgi, Dreamy the Kitty, Bloom the Pony, Nuzzles the Fox, Fern the Owl, Macaron the Puppy, Ash the Dragon, Chipper the Chipmunk, Treasure the Kitten, Seashell the Pony, Matey the Puppy, Sandy Pearl the Seal Pup, Otto the Sea Otter, Waddles the Puffin, Teacup the Puppy, Petit the Pony, Rouge the Kitten, Booksy the Lop Rabbit, Page the Lamb, Lacy the Poodle, Saltan the Tiger, Lapis the Pony, Taj the Elephant, Nyle the Monkey, Stripes the Zebra, Nola the Hippo, Sandstorm the Cheetah, Windflower the Raccoon, Pounce the Bobcat, River the Wolf, Brook the Pony, Blossom the Panda, Lychee the Pony, Plumdrop the Kitten, Snowpaws the Snow Leopard, Alora the Javan Rhino, Chai the Red Panda, Lily the Kitten, Bayou the Pony, Birdadette the Bird, Olive the Puppy, Blondie the Pony, Summer the Kitten, Meadow the Skunk, Daisy the Puppy, Gleam the Deer, Sundrop the Peacock, Truffles the Pig, Cubbie the Bear, Miss Featherbon the Hummingbird, Mr. Chow the Kitten, Lucy the Puppy, Tillie the Kitten, Barnaby Pickles the Tabby, Pierre the Fish, Jane Hair the Cat - Palace Pets, Whisker Haven
Penn Zero, Sashi, Boone Wiseman, Phyllis - "Penn Zero: Part-Time Hero"
Danny Douglas, Future-Worm, Bug, Robo-Carp - "Future-Worm!"
Billy, Zeke, Marsha, Judy and others - "Billy Dilley's Super-Duper Subterranean Summer"
Pickle, Peanut and others - "Pickle and Peanut"
Basil, Professor Ratigan, Felicia, Fidget, Bartholomew, Dr. Dawson, Toby, Olivia, Hiram Faversham and others - The Great Mouse Detective
Doug Funnie, Patti Mayonnaise, Roger Klotz, Skeeter Valentine, Mr. Dink, Judy Funnie, Porkchop and others (originally from Nickelodeon)
Leo, June, Quincy, Annie, Rocket, Big Jet and others - Little Einsteins
Henry, Cobby, Summer, Ivor, Daddo, Momma, Grando, Nan-Oh, Swifty, Beckett, Harry, Dexter, Dee, Denzel, Maude, Grammo, Gurgler, Gertie, Milo, Gregor, Joyce, Sneezo, Estelle, Eduardo, Ernestine, Josh, Flopster, Izzy, Roberto, Oscar, Roy, Fergus, Fergal, Roddy, Meg, Matilda, Shakey, Hildegard, Isabella Roarson, Mimi, Mr. Growl, Mrs. Growlberg, Officer Higgins, Mayor Roariani, Signor Roartonio, Mr. Winklemonster, The Operator, Captain Hollander, Eva, Irving, Mini-Monsters, Three-Eyed Rhett, The Mighty Roarhammer, Sonic Growl (Shred, Fred, and Ted), Ben, Stanley, Kayla, Tommy - Henry Hugglemonster
Kick Buttowski, Gunther Magnuson, Brad Buttowski, Brianna Buttowski, Honey Buttowski, Harold Buttowski, Grandpa Buttowski, Grandma Rose and others - Kick Buttowski Suburban Daredevil
Woody, Buzz Lightyear, Rex, Mr. Potato Head, Jessie, Slinky Dog, Mr. Pricklepants, Trixie, Buttercup, Dolly, Chuckles the Clown, Totoro, R.C., Lenny, Sid Phillips (mentioned), Angel Kitty, Mutant Toys, Scud (mentioned), Mr. Spell, Fun Meal Buzz Lightyear, Troll, Sarge, Bookworm, Big Baby, The Monkey, Little Green Aliens, Hamm, Mrs. Potato Head, Bullseye, Al McWhiggin (mentioned), Peas-In-a-Pod, Bo Peep, Etch, Wheezy, Little Green Men, Stretch, Chunk, Sparks, Twitch, Chatter Telephone, Emperor Zurg, Barbie, Ken, Sunnyside Toys, Ducky, Bunny, Forky, Duke Caboom, Giggles McDimples - Toy Story, Toy Story 2, Toy Story 3, Toy Story 4
Mike Wazowski, James P. Sullivan, Yeti, Needleman & Smitty, Dean Hardscrabble, Art, Don Carlton, Charlie, Fungus, Squishy, Terry and Terri, Boo, Celia, Randall Boggs, Waternoose, George Sanderson, The Abominable Snowman, Roz and Various Monsters - Monsters, Inc., Monsters University
Anne Boonchuy, Sprig Plantar, Polly Plantar, Hop Pop "Hopadiah" Plantar, Wally, Mayor Toadstool, Toadie, Captain Grime, Sasha, Marcy, Ivy Sundew, Herons, Percy, Albus Duckweed, Stumpy, Sadie Croakee, Barry, Bessie, Sylvia Sundew, various other creatures, Domino 2, Soggy Joe, Felicia Sundew, Citizens of Wartwood, Toad Tower Soldiers, and others - Amphibia
Cricket, Tilly, Bill, Alice, Nancy, Remy, and others - Big City Greens
Molley, Lizzy, Craig, and Denny - Molley the Dog
Pip the Penguin, Freddy the Flamingo, Captain Candance Beakman, K.C the Koala, Bohdi, Ava, J.P., Paulie, Mr. Woodbird, Mia, Lucky, Red, Jed, and Zed, Cora, and Sam - T.O.T.S.
Carlos, Maria, Mom, Dad - Captain Carlos
Baby, Sophie - Go Baby!
ZeFronk, Sue, Dom - Tasty Time with ZeFronk
Mikey, Al, Mom, Nana - Can You Teach My Alligator Manners?
Dance-A-Lot Robot, Kaitlin, Hailey, Sean, Danny
L.O., Frred, Bluez, Ink, Roc and Raoul, La, Dee and Da, Akito, Joey, Dwight, Ravi, The Rancher, Johnny and Franklin - Happy Monster Band (UK Dub)
Suki, Axel, Hazel, and Tibor - Pikwik Pack
Bingo, Rolly, Bob, Hissy, A.R.F., Keia, Strawberry - Puppy Dog Pals
Luz, Eda, and King - The Owl House
Brenda Bradford and Gadgetmobile - Inspector Gadget
Able, Abraxas, Ada, Alan Bradley, Anon, Bartik, Beck, Bit, Black Guard, Bodhi, Castor, Cutler, CLU, CLU 2.0, Crom, Cyrus, Daft Punk, Dumont, Dyson, Ed Dillinger, Edward Dillinger, Jr., Gage, Galt, Gem, Gorn, Hopper, ISO, Jarvis, Keller, Kevin Flynn, Kobol, Link, Lomox, Lora Baines, Lux, Mara, Master Control Program (MCP), Moog, Paige, Pavel, Perl, Program, Quorra, Ram, Red Guard, Rinzler, Rox, Sam Flynn, Commander Sark, Shaw, Tesler, Tron, Yori, and Zed - TRON/TRON: Legacy
Ivan, Stella, Bob, Snickers, Ruby, Henrietta, Murphy, Thelma, Frankie - The One and Only Ivan
Raya, Sisu, Virana, Tong, Boun, Little Noi, Tuk Tuk, Dang Hu, and others - Raya and The Last Dragon
Flubber
Indiana Jones - Raiders of the Lost Ark
Luke Skywalker, Obi-Wan Kenobi, Yoda, Mace Windu, Qui-Gon Jinn, Shaak Ti, Kit Fisto, Ahsoka Tano, Depa Billaba, Luminara Unduli, Aayla Secura, Plo Koon, Ezra Bridger, Kanan Jarrus, Rey, Darth Vader, Palpatine, Darth Maul, Count Dooku, Asajj Ventress, The Grand Inquisitor, Fifth Brother, Sixth Brother, Seventh Sister, Eighth Brother, Kylo Ren, Supreme Leader Snoke, Captain Phasma, General Hux, Boba Fett, Bossk, Greedo, Jango Fett, Dengar, Clone Troopers, Rex, Wolffe, Gregor, Cody, Stormtroopers, Sandtroopers, Snowtroopers, Scout Troopers, Death Troopers, First Order Stormtroopers, Flametroopers, First Order Snowtroopers, Shoretroopers, Jumptroopers, Padmé Amidala, General Grievous, Sebulba, Max Rebo, Clegg Holdfast, Bail Organa, Jar Jar Binks, Leia Organa, Han Solo, Chewbacca, Lando Calrissian, Wilhuff Tarkin, Admiral Ackbar, Mon Mothma, Wedge Antilles, Poe Dameron, Finn, Rose Tego, Wicket W. Warrick, Owen Lars, Beru Whitesun Lars, Jabba The Hutt, Bib Fortuna, Figran D'an and the Modal Nodes, Emperor's Royal Guard, Salacious Crumb, TIE Pilots, AT-AT drivers, Rebel Pilots, Nien Nunb, Wullf Yularen, R2-D2, C-3PO, RX-24, G2-9T, G2-4T, Aly San San, R2-MK, Gonk droids, C1-10P, ROX-N, WEG-1618, AC-38, R5-D2, BB-8, Probe Droid, ID9 Seeker Droid, AP-5, K-2SO, Battle Droids, Kalani, Droidekas, R3-A3, Imperial Sentry Droid, and EXD-9 - Star Wars
Bog King, Marianne, Sugar Plum Fairy, Griselda, the Fairy King, Sunny, Dawn, Roland, Stuff, Thang, Brutus, Pare, Fairy Cronies, Imp, Plum Elf, Angry Gus, and others - Strange Magic
Adrian Cronauer - Good Morning, Vietnam
Peter Mitchell, Michael Kellam, Jack Holden - Three Men and A Baby/Three Men and A Lady
Detective Scott Turner, Hooch - Turner & Hooch
Deloris Van Cartier, Little Deloris Wilson, Reverend Mother, Vince LaRocca, Lieutenant Eddie Souther, Sister Mary Lazarus, Sister Mary Patrick, Sister Mary Robert, Monsignor O'Hara, Joey, Willy, Sister Alma, Clarkson, Michelle, Tina, Lewanda, Immaculata, Ernie, Henry Parker, Larry Merrick, Connie LaRocca, Pope John Paul II - Sister Act
Christina "Chris" Parker, Brad Anderson, Daryl Coopersmith, Sara Anderson, Brenda, Mike Todwell, Joe Gipp, Dan Lynch, Bleak, Graydon - Adventures of Babysitting
Ahmad ibn Fadlan, Queen Weilew, Buliwyf (the Leader),  Herger (the Joyous), Melchisidek, Wigliff, Skeld (the Superstitious), Weath (the Musician), Rethel (the Archer), Roneth (the Rider), Halga (the Wise), Helfdane (the Fat), Edgtho (the Silent), Haltaf (the Boy),  King Hrothgar,  Hyglak (the Quarrelsome),  Ragnar (the Dour) - The 13th Warrior
Samuel "Rocky" Douglas, Jeffrey "Colt" Douglas, Michael "Tum Tum" Douglas - 3 Ninjas
Kazaam, Maxwell "Max" Connor, Alice Connor, Nick Matteo
Deuce Bigalow
Stan "Mr. 3000" Ross
Atom, Abandon, Albino, Ambush, Axelrod, Blac Jac,Black Top, Clown, Gridlock, Gunny, Shogun, Metro, Midas, Noisy Boy, Six Shooter, Terrorhawk, Twin Cities, Zeus - Real Steel
Lightning McQueen, Tow Mater, Sally Carrera, Mack, Fillmore, Sarge, Luigi, Guido, Flo, Ramone, Red, Lizzie, Sheriff, Mia and Tia, Chick Hicks, Doc Hudson, Frank, Tractors, Bob Cutlass, Darrell Cartrip, Finn McMissile, Holley Shiftwell, Brent Mustangburger, David Hobbscap, Grem, Professor Zündapp (mentioned), Acer, Otis, Crabby, Siddeley, Stephenson, Victor Hugo, J. Curby Gremlin, Vladimir Trunkov, Ivan, Alexander Hugo, Tubbs Pacer, Leland Turbo, Galloping Geargrinder, Rod Torque, Miles Axlerod, Tony Trihull, Francesco Bernoulli, World Grand Prix Racers, Cruz Ramirez, Mrs. Fritter, Jackson Storm, Hamilton, Sterling, Natalie Certain, Smokey, Louise Nash, Junior Moon, River Scott, Piston Cup Racers and Various Cars and Trucks - Cars, Cars 2, Cars 3
Jojo Tickle (with Clownie Brownie), Goliath the Lion (with his stuffed lion), Skeebo Seltzer (with Mr. Pancake), Croaky Frogini (with Swatty), Trina Tightrope (with Trina the Doll), Mr. Tickle, Peaches Tickle, Mrs. Kersplatski, Dinky Pachyderm, Tater Spudinski, BalBoa (with Pearly), Fellini and Federico Frogini, Mr. Muscles, Maya Muscles, Dr. Seltzer, Fire Chief Seltzer, Mr. and Mrs. Spudinski, Small Fry Spudinski, Mrs. Pachyderm, Babalulu, Lotta Yucks, Jumberto the Jackrabbit, Jig, Jag and Jug, Terrific the Tiger Tamer, Uncle Flippy, Super Duper Girl, Baloney Balloony, Cotton Andy, Bingo Bongo, Charlie the Clown Baby, Granny and Grampy Tickle, Terra Cotta, Mrs. Cotta, Mr Postman, Mrs. Boa. Hogan the Hamster, Cha Cha the Clown Crab, The Fire Clowns, King Regis and Queen Regina. Princess Josephina, Jibby Jabby-Jamboree, Miss Blathers, Bailey Ballooney, Mr. Jing-A-Ling, Waldo the Seal, Ivan, Franco the Fantastic, Alex, Mr and Mrs Tightrope, T.J.Freckles, Dr Longtall, Miss Spritzy, Chico The Mouse, Grasshopper The Maginficent, Sasharoo, Professor Tick Tock, The Cricketeers (Hector, Gracie and Cody), Nosey Josie, Jumping Jack, Normus, Cozy and others - Jojo's Circus
Stanley, Dennis, Elsie, Harry, Lionel, Mark, Joyce, Lester, Marci & Mimi, Jane, Ben, Teresa, Animals and others - Stanley
Eubie, Wayne, Twinkle, Kip, Fran, Ms. Fern and Various Nesting Dolls - Higglytown Heroes
Wreck-It Ralph, Fix-It Felix, Seargent Calhoun, Vanellope Von Schweetz, King Candy (mentioned), Sour Bill, Gene, Wynchel & Duncan, Cy-Bugs, Taffyta Muttonfudge, Nicelanders, Sugar Rush Racers, KnowsMore, Yesss and others - Wreck-It Ralph, Ralph Breaks The Internet
Bernard, Miss Bianca, Madame Medusa, Penny, Mr. Snoops, Orville, Rufus, Ellie Mae, Luke, Evinrude, Brutus and Nero, Mr. Chairman, Deadeye, Gramps, Digger, Deacon Owl, Singer, Bottle, T.V. Announcer, Wilbur, Cody, Percival C. McLeach (mentioned), Joanna the Goanna, Marahute, Jake, Red, Frank, Kreebs, Faloo, Doctor Mouse, Nurse Mouse, Nelson and others - The Rescuers, The Rescuers Down Under
Todd, Copper, Chief, Big Mama, Dinky and Boomer, Squeeks, Vixey, Amos Slade, Widow Tweed, Cash, Dixie, Granny Rose, Waylon and Floyd, Bear, Mr. Digger, and Various Animals and People - The Fox and The Hound, The Fox and The Hound 2
Taran, Eilonwy, Gurgi, Creeper, Hen Wen, Doli, Daliben, Daliben's Farm Animals, Fair Folk and others - The Black Cauldron
Chicken Little, Abby Mallard, Runt of the Litter, FIsh Out of Water, Buck Cluck, Morkubine Porcupine, Mayor Turkey Lurkey, Kirby, Melvin, Tina, Foxy Loxy, Aliens, Mr. Woolensworth, Goosey Loosey, Various Animals and others - Chicken Little
Toaster, Blanky, Lampy, Kirby, Radio, Rob McGroarty, Chris McGroarty, Ratso, Malsie, Junkshop Appliances, Supreme Commander, Alberto, Plugsy, Hearing Aid, Sebastian, Television, Wittgenstein, Cutting-Edge Appliances, Murgatroid, Robbie McGroarty, Tinselina, Calculator, Blender, Hanging Lamp, Air Conditioner, Lab Computer, Freezer, Wonder Luxe Appliances, Microwave, Iron, Fanny, Modern, Computer & Mouse and others - The Brave Little Toaster
Jim Hawkins, Long John Silver, Captain Amelia, Morph, B.E.N., Sarah Hawkins, Dr. Delbert Doppler and others - Treasure Planet
Dusty Crophopper, Skipper Riley, Chug, Sparky, Dottie, Leadboottom, Lil Dipper, Maru, Windlifter, El Chupacabra, Ripslinger, Ned and Zed, Blade Ranger, Ishani, Rochelle, Bulldog, Franz, Roper, Mayday, Cad Spinner, Andre, Harvey and Winnie, Pulaski, Ol' Jammer, Secretaary of the Interior, Muir, Ryker, Cabbie, Dynamite, Drip, Pinecone, Avalanche, Blackout and Various Planes - Planes, Planes Fire and Rescue
Flik, Princess Atta, Dot, Francis, Heimlich, Slim, Manny, Gypsy, Tuck & Roll, Rosie, Dim, Hopper, Molt, Thumper, The Queen, Mr. Soil, P.T. Flea, Various Insects and others - A Bug's Life
Dory, Marlin, Nemo, Hank, Destiny, Bailey, Charlie, Jenny, Sea Otters, Crush, Mr. Ray, Squirt, Fluke, Rudder, Gerald (Sea Lion), Becky, Pearl, Ted, Sheldon, Bob, Tad, Bill, Bruce, Achor, Chum, Gill, Deb, Flo, Peach, Jacques, Bloat, Gurgle, Nigel, Seagulls, Dr. Philip Sherman, Darla, Various Marine Animals and others - Finding Nemo, Finding Dory
Judy Hopps, Nick Wilde, Chief Bogo, Clawhauser, Bellwether, Mayor Lionheart, Yax, Gazelle, Bonnie & Stu Hopps, Mrs. Otterton, Duke Weaselton, Flash, Mr. Big, Fru Fru, Officer McHorn, Finnick, Jerry Jumbeaux Jr., Gideon Grey, Emmet Otterton, Drill Instructor, Frantic Pig, Fabinne Growley, Peter Moosebridge, Dr. Badger, Doug, Woolter and Jessie, Three Ram Bullies, Priscilla, Nangi, Bucky & Pronk Oryx-Antlerson, Timber Wolves, Swinton, Mr. Manchas, Koslov, Officer Francine, Officer Fangmeyer, Officer Grizzoli, Officer Delgato, Officer Wolford, Officer Higgins, Officer Snarlof, Judy's 275 Siblings and Various Animals - Zootopia
Moana, Maui, Heihei, Pua, Tamatoa, Mini Maui and others - Moana
Baymax, Hiro Hamada, Go Go Tomago, Honey Lemon, Fred, Wasabi, Yokai, Alistair Krei and others - Big Hero 6
Bolt, Rhino, Mittens, Dr. Calico, Penny, Penny's Mom, Joey, Vinnie, Bobby and others - Bolt
Samson the Lion, Benny the Squirrel, Bridget the Giraffe, Ryan the Lion Cub, Nigel the Koala, Larry the Snake, Cloak & Camo, Stan & Carmine, Kazar the Wildebeest, Blaggar the Wildebeest and other animals - The Wild
Todd Darling, Riley Darling, Karen Darling, Dick Darling, C.A.R., Conrad Fleem - "The Replacements"
McGee, Gretchen, Squirt, Sawyer, Armand, Rosebud, Jordan Buttsquat, Suzi, Slimey - "Camp Lakebottom"
Milo Thatch, Kidagakash Nedakh, Gaetan Mollere, Helga Sinclair, Commander Rourke, Joshua Sweet, Preston B. Whitmore, Audrey Ramirez, Cookie, Vinny, Wilhelmina Packard and Various Atlantians - Atlantis: The Lost Empire
Bob Parr/Mr. Incredible, Helen Parr/Elastigirl, Lucius Best/Frozone, Violet Parr, Dash, Jack-Jack, Edna Mode, Mirage, Winston Deavor, Rick Dicker, Tony Rydinger, Voyd, Gilbert Huph, Reflux, He-Lectrix, Brick, Screech, Screenslaver, Ambassador, Underminer, Hony Best, Kari McKeen, Syndrome (mentioned) and others - The Incredibles, The Incredibles 2
Remy, Emile, Alfredo Linguini, Colette Tatou, Anton Ego, Django, Git, Skinner, Gusteau's Employees, Various Rats and others - Ratatoullie
Frank & Buster, Ned, Mitsy, George, Sammy, Josey, Alice, Archie, Penny, Loly - "The Koala Brothers"
WALL-E, EVE, M-O, WALL-A, BURN-E, Hal, PR-T, GO-4 (mentioned), AUTO (mentioned), SECUR-T, Captain B. McCrea, SUPPLY-R, Other Robots - WALL-E
Carl Fredricksen, Russell, Dug, Kevin, Charles F. Muntzand (mentioned) and others - Up
Merida, Queen Elinor, King Fergus, Young MacGuffin, Mor'du, Young Macintosh, Wee Dingwall, Maudie, Lord Macintosh, Harris, Hubert, & Hamish, Angus and others - Brave
Joy, Sadness, Anger, Disgust, Fear, Bing Bong, Riley Anderson, Mom, and Dad - Inside Out
Arlo, Spot, Ida, Buck, Libby, Thunderclap (mentioned), Nash & Ramsey, Butch, Forest Woodbush and others - The Good Dinosaur
Ian, Barley, Laurel, Corey the Manticore, Gore, Specter, Colt Bronco, Wilden, Dewdrop Tracey Grecklin, Gaxton, Avel and others - Onward
Joe Gardner, 22 and others - Soul
Buzz Lightyear, Mira Nova, Booster Munchapper, XR, Commander Nebula, Warp Darkmatter, Brain Pods, Grubs - Buzz Lightyear of Star Command
Miguel Rivera, Hector, Ernesto de la Cruz, Abuelita, Mama Coco, Various Skeletons and others - Coco, Coco 2
Luxo Jr., Luxo Sr., Princess Lampina, Paxel, Maxo, Spaxer, Jaxon, Luna Jr., JL Senior and others - Luxo Jr.'s Epic Movie
Elliot the Dragon and others - Pete's Dragon
Giselle, Prince Edward, Pip and others - Enchanted
Herbie and others - The Love Bug
Toodles, Boo Boo Chicken, Bella the Puppy, Baby Redbird, Mommy Redbird, Millie and Melody Mouse, Cuckoo Locka - Mickey Mouse Clubhouse, Minnie's Bow Toon, Mickey and the Roadster Racers
Roxanne, Beret Girl, Bradley Uppercrust lll, P.J. Pete, Bigfoot, Robert Zimmeruski, Principal Mazur, Sylvia Marpole, Tank, Slouch, The Gammas - Goofy Films
The Troubardour - Mickey, Donald and Goofy: The Three Musketeers
Catboy, Owlette, Gekko, PJ Robot, Romeo, Night Ninja, Luna Girl, The Wolfy Kids (Rip, Howler, Kevin), Night Panther, Dark Owl, Firefly, Cameron, Teacher, Master Fang, Jayden Houston, Kick McGee, Flossy Flash and others - PJ Masks
All Club Penguins Characters
Jimmy, Dexter, Bella and others - "Jimmy's United"
Wander, Sylvia, Lord Hater, Peepers, Captain Tim, Emperor Awesome and others - "Wander Over Yonder"
Spot Helpman, Leonard, Mr. Jolly, Pretty Boy and others - Teacher's Pet
Greg, Murray, Jeff, Anthony, Sam, Emma, Lachy, Simon, Anthony, Dorothy the Dinosaur, Wags the Dog, Henry the Octopus, Captain Feathersword and others - The Wiggles
Special Agent Oso, Dotty, Wolfie, Musa, Mr. Dos, Buffo, Paw Pilot, Rapide, Whirlybird, and others - Special Agent Oso
Bungo, Zooter, and Ellyvan - Jungle Junction
Handy Manny, Kelly, Mr. Lopart, Fix-it, Fluffy, Felipe, Turner, Pat, Dusty, Squeeze, Stretch, Rusty, Flicker, Zip, Sneeze, Ticks, Totts, Roland, Lefty, Lily, Junior, Beamer, Jack, Pinzas and others - Handy Manny
Doc McStuffins, Lambie, Stuffy, Chilly, Hallie, Squeakers and others - Doc McStuffins
Princess Sofia, Amber, James, Clover, Robin, Whatnaught, Mia and others - Sofia the First
Princess Elena, Princess Isabel and others - Elena of Avalor
Yin, Yang, Master Yo, The Night Master (Grizzleflavin, Dank & Dire), Carl, Eradicus (Ella Mental, Rubber Chucky, Indestructo-Bob, Mollecu-Lars), Brother Herman, Charles, Ultimoose, Smoke, Mirrors, Yuck, Zarnot, Pondscüm, The Blixens, Fastidious James Spiffington, Saranoia, "G.P.", Chung Pow Kitties, Kraggler, Roger the Skelewog, The Puffin, Mastermind, Badfoot, The Manotaur, Ranger Ron, Coop, Lina, Roger Skelewog Jr., Dave, The Boogeyman, Jobeaux, Melodia, RainbowMane and others - Yin Yang Yo!
The Pesky Family (Maggie, Aldrin, Pupert, Bella, Chauncey, Frieda, Florence, Zeb, Ern and Carmela), Rayna Cartlfight, Maria Monarch, Eugene and Wendell, George, Gym Shorts Kid, Melvin Stinkelton, Tammy Zesty, Chip, Lefty, Lukas, Brad Montergoe, Troy, Dawn Swatworthy, Cornelius Bugspit, Lacey Ladybug, Snapercival Carpenter, Principal Peststrip, Mrs. Wingston, Mrs. Cartflight, Mrs. Lunchlady, Nurse Hatchison, The Flaming Moths, Various Insects - The Buzz on Maggie
Kermit the Frog, Scooter, Walter, Miss Piggy, Fozzie Bear, Gonzo, Rizzo the Rat, Pepe the King Prawn, Link Hogthrob, Dr. Julius Strangepork, Uncle Deadly, 80's Robot, Bobo the Bear, Beauregard, Miss Poogy, Sweetums, Beautiful Day Monster, Luncheon Counter Monster, Behemoth, Doglion, Thog, Mutations, Blustering Bellowpane Monster, Crocodile, Whatnots, Frogs, Rats, Carter, Wayne and Wanda, Fozzie Moopet, Janice Moopet, Rowlf the Dog, Kermit Moopet, Constantine, Rowlf Moopet, Denise, Gloria Estefan, Chip, Blind Pew, Beaker, Dr. Bunsen Honeydew, One-Eyed Jack, Angel Marie, Trumpet Girl, Lips, Nigel the Conductor, Spotted Dick, Calico, Yolanda Rat, Tatooey Rat, Andy and Randy Pig, Blue Frackle, Bertha, Lew Zealand, The Swedish Chef, Sam the Eagle, Robin the Frog, Pops, Green Frackle, Captain Pighead, Old Tom, Dr. Julius Strangepork, Croaker, Goggles, Blotch, Animal, Black Dog, Bean Bunny, Polly Lobster, Clueless Morgan, Mad Monty, Annie Sue, Cynthia Rose, Mildred Huxtetter, Howard Tubman, Spamela Hamderson, Snowths, Mahna Mahna, Thingy Thing, Walleye Pike, Cue Card Monster, Zippity Zap, Bubba Rat, Marvin Suggs, Droop, Purple Frackle, Pink Frackle, Jade Green Hunchback Frackle, Mo Frackle, Alphonso D'Bruzzo, Phoenicia the Hippo, Ozzie (Squid), Bobby Benson, Crazy Harry, Dr. Teeth, Floyd Pepper, Janice, Zoot, Statler and Waldorf, The Newsman, Camilla the Chicken, Afghan Hound, Lyle the Dog, Foo-Foo, Big Mean Carl, Pokey, Gorillas, Chickens, Penguins, Cockatoo, Singing Food, Bill, Gil, Jill, and many others - "The Muppets" franchise
Kermit, Fozzie, Gonzo, Piggy, Bunsen Honeydew, Beaker, Rowlf, Animal, Summer Penguin - Muppet Babies
Alien
Predator
John McClane - Die Hard
Buckaroo Banzai
Jake Sully and Neytiri - Avatar
Harry Hart / Galahad, Poppy Adams, Gary "Eggsy" Unwin / Galahad, Hamish Mycroft / Merlin, Ginger Ale, Jack Daniels / Agent Whiskey - Kingsman
Larry Daley, Theodore Roosevelt, Dedediah Smith, Octavius, Ahkmenrah, Sacagawea, Attila the Hun, Christopher Columbus, Lewis & Clark, Dexter the Monkey, Neanderthals, Rexy, Humans, Animals, Prehistoric Animals, Dinosaurs, Monsters, Sea Monsters, Gargoyles, Demons, Imaginary Creatures and Creatures - Night at the Museum
Scrat, Manny, Diego, Sid, Roshan, Buck, Scratte, Crash, Eddie, Ellie, Peaches, Buck, Momma Dino, Baby Dinos, Louis, Shira, Granny, Fast Tony, Ethan, Steffie, Milton, Sotelo, Eunice, Uncle Fungus, Katie, Hyraxes, Captain Gutt, Flynn, Raz, Gupta, Dobson, Silas, Squint, Shangri Llama, Brooke, Teddy, Misty & Bubbles, Neil deBuck Weasel, Pythagorus Buck, Robo-Buck, Julian, Francine, Gavin, Gertie, Roger, Humans, Animals, Creatures, Sea Monsters, Dinosaurs, Imaginary Friends, Germs, Gargoyles, Specimens, Monsters, Species, Magical Creatures, Various Prehistoric Animals and others - "Ice Age series"
Peter, Lois, Chris, Meg, Stewie, Brian, Cleveland, Quagmire, Joe, Bonnie, Kevin and others - "Family Guy"
Hank, Bobby, Peggy, Luanne, Ladybird, John, Nancy, Khan, Dale, Bill, Boomhauer and others - "King of the Hill"
Fry, Bender, Leela, Zoidberg, Hermes, LaBarbara, Amy, Kif, Professor Farnsworth, Zapp Brannigan, Morbo, Calculon, Roberto, Hypnotoad and others - "Futurama"
Stan, Steve, Roger, Francine, Hayley, Jeff, Klaus, Bullock, Snot, Barry, Toshi and others - "American Dad!"
Blu, Jewel, Pedro, Rafael, Luiz, Nigel, Nico, Eduardo, Roberto, Bia, Carla, Tiago, Tulio, Linda, Fernando, Charlie, Gabi, Mimi, Eva, Felipe, Spoonbill, Peri, Claira, Various Birds and others - "Rio, Rio 2"
Rodney Copperbottom, Fender, Piper Pinwheeler, Crank Casey, Lug, Voice Box at Hardware Store, Wonderbot, Cappy, Aunt Fanny, Lugnut, Herb, Lydia, Loretta Gearginder, Tim the Gate Guard, Bigweld and Various Robots - "Robots"
Corneilius, Abigail, Edgar, Russel, Michelle, Phineas, Willy, Waggs, Bosworth and other animals
Richard Tyler, Adventure, Fantasy, Horror, The Pagemaster and others
Bob, Linda, Tina, Gene, Louise and others
Larry Littlejunk, Miracle Grove, Baby Merch, Sue Sezno, Stuart Proszakian, Mahammed Sabeeh, Helen Klench, Ennis Hofftard, Andrew LeGustambos, Willard Deutschebog and others
Homer Simpson, Marge Simpson, Bart Simpson, Lisa Simpson, Maggie Simpson, Itchy, Scratchy and others - "The Simpsons"
Master Shake, Frylock, Meatwad and Carl - "Aqua Teen The Hunger Force"
MK, Mub, Grub, Ozzy, Professor Radcliffe, Ronin, Nod, Nim Galuu and others - "Epic"
Crysta, Pips, Zak, Batty, Hexxus and Animals - "Ferngully: The Last Rainforest"
Avatar, Elinore, Weehawk, Necron 99/Peace, Blackwolf - "Witches"
Teegra, Taro, Nekron, Darkwolf, Larn and others
Raggedy Ann, Raggedy Andy, Camel with The Wrinkled Knees, Babette, Captain Contagious, Queasy, King Koo Koo, King Koo Koo's Minions - "Raggedy Ann & Andy: A Musical Adventure"
Fox Mulder, Dana Scully, Cigarette Smoking Man, The Lone Gunmen, Walter Skinner and others - "The X-Files"
Anya, Dimitri, Vladimir, Pooka, Dowager Empress, Rasputin, Bartok, Various Insects - "Anastasia"
Cale Tucker, Akima Kunimoto, Joseph Korso, Gune, Preed, Stith, Drej Queen Susquehana and others - "Titan A.E."
Horton, Morton, Mayor Ned McDodd, Sour Kangaroo, Rudy, Vlad, Tommy, Sally O'Malley, Dr. Mary Lou Larue, JoJo McDodd, Katie, Mayor's Daughters, Whos, Other Animals - "Horton Hears a Who!"
Mr. F.F. Fox, Mrs. Felicity Fox, Ash Fox, Kristofferson Silverfox, Kylie Sven Opossum, Clive Badger, Rat, Coach Skip, Bean, Boggis, Bunce, Animals - Fantastic Mr. Fox
Yankee Irving, Screwie and Darlin - Everyone's Hero
Patchi, Scowler, Juniper, Alex, Various Dinosaurs and others - Walking with Dinosaurs 3D
Jay Sherman
Allen Gregory, Julie, Richard, Jeremy and other animals
Lance Sterling, Walter Beckett, and others - "Spies in Disguise"
The Entire Cast from Wizards
Alvin Seville, Simon Seville, Theodore Seville, Brittany Miller, Jeanette Miller, Eleanor Miller, Dave Seville, Miss Beatrice Miller and others - Alvin and the Chipmunks
Nausicaa, Teto, Master Yupa, and the Ohmu from Nausicaa - "Valley of the Wind"
Princess Sheeta, Pazu, Dola, Colonel Muska, and the Dola Gang - "Castle in the Sky"
Totoro, White Totoro, Blue Totoro, Catbus, Mei, Satsuki and the Susuwatari - "My Neighbor Totoro"
Kiki, Jiji, Tombo, Osono, Ursula, Ursula's crows, Kokiro and Okino - "Kiki's Delivery Service"
Chihiro, Haku, Lin, No-Face, Boh & Yubaba - "Spirited Away"
Ponyo, Sosuke, Lisa, Koichi, Fujimoto, Granmamare, Kumiko, Karen, Ponyo's Sisters and Sosuke's Teacher - "Ponyo"
Calcifer - "Howl's Moving Castle"
Captain America, Iron Man, Spider-Man, Thor, Hulk, Black Widow, Hawkeye, Ant-Man, Wasp, Black Panther, Vision, Wolverine, Beast, Cyclops, Gambit, Iceman, Deadpool, Storm, Sunfire, Quicksilver, Falcon, Jean Grey, Colossus, Archangel, Nightcrawler, Professor X, Rogue, Jubilee, Daredevil, The Punisher, Star-Lord, Nick Fury, Groot, Rocket Raccoon, Drax, Silver Surfer, Gamora, Black Bolt, Captain Marvel, Doctor Strange, Ghost Rider, Blade, Mr. Fantastic, Invisible Woman, Human Torch, Thing, Wonder-Man, Namor, Man-Thing, Scarlet Witch, War Machine, Howard the Duck, Winter Soldier, Hercules, Hyperion, Quasar, Moon Knight, She-Hulk, Beta Ray Bill, Longshot, Captain Britain, Jack of Hearts, Union Jack, Air-Walker, Frankenstein, Cable, Iron Fist, Luke Cage
Warner Bros./New Line Cinema/Castle Rock Entertainment/Warner Animation Group/MGM/Hanna-Barbera/Cartoon Network/Adult Swim/DC Comics/Charles M. Schulz/LEGO
Bugs Bunny, Daffy Duck, Porky Pig, Lola Bunny, Tina Russo, Petunia Pig, Elmer Fudd, Yosemite Sam, Sylvester, Tweety, Granny, Marc Anthony & Pussyfoot, Foghorn Leghorn, Henery Hawk, Road Runner, Wile E. Coyote, Speedy Gonzales, Marvin the Martian, Pepe Le Pew, Tasmanian Devil, Tasmanian She-Devil, Walter Bunny, Patricia Bunny, Cecil Turtle, K9, Mac and Tosh, Gossamer, Witch Hazel, Barnyard Dawg, Yoyo Dodo, Pete Puma, Penelope Pussycat, Miss Prissy, Charlie Dog, Giovanni Jones, Slowpoke Rodriguez, Beaky Buzzard, The Three Bears, Rocky and Mugsy, Rodney Rabbit, Hubie and Bertie, Playboy Penguin, Michigan J. Frog, Egghead Jr., Hippity Hopper, Inki, Minah Bird, Hector The Bulldog, Count Bloodcount, O'Pat, Bosko, Foxy & Roxy, and others - Looney Tunes
Dorothy Gale, Toto, Scarecrow, Tin Man and Cowardly Lion - The Wizard of Oz
Dorothy Gale, Toto, Scarecrow, Tin Man, Cowardly Lion, Ozma, Wilhelmina, Frank and Lyman, Patchwork Girl, Glinda - Dorothy and the Wizard of Oz
David Bowman - 2001: A Space Odyssey
Frodo Baggins, Gandalf the Grey and others - Lord of the Rings
Harry Potter, Ron Weasley, Hermione Granger, Newt Scamander, Bellatrix Lestrange, Rubeus Hagrid, Griphook, Verne Troyer, Draco Malfoy, Lord Voldemort, Albus Dumbledore, Alastor 'Mad-Eye' Moody, Vernon Dursley, Garrick Ollivander, Xenophilius Lovegood, Lucius Malfoy, Rufus Scrimgeour, Severus Snape, Petunia Dursley, Peter Pettigrew, Dolores Umbridge, Remus Lupin, Molly Weasley, Porpentina Esther "Tina" Goldstein, Jacob Kowalski - Harry Potter/Fantastic Beasts
Danny Ocean, Rusty Ryan, Linus Caldwell, Reuben Tishkoff, Saul Bloom, Basher Tarr, Frank Catton, Livingston Dell, Deborah "Debbie" Ocean, Lou Miller, Daphne Kluger, Amita, Tammy, Constance, Nine Ball / Leslie, Rose Weil, The Malloy Brothers, The Amazing Yen - Ocean's
Gizmo - Gremlins
The Goonies
Betelgeuse
The Mask
Spawn
Lloyd Christmas and Harry Dunne - Dumb and Dumber
RX-78-2 Gundam and others - Mobile Suit Gundam
Ralph, Mumford, Flora Fauna, Synonamess Botch, Greensleeves, Rod Rescueman, Scuzzbopper, Frivoli Foreman, Chef of State, Bailiff, The Fairy Godmother - Twice Upon A Time
Yakko, Wakko, Dot, Hip-Hippos, Baloney The Orange Dinosaur, The Goodfeathers, Hello Nurse, Pinky and the Brain, Slappy and Skippy Squirrel, Buttons, Mindy, Rita, Runt and Others Characters - Animaniacs
Buster Bunny, Babs Bunny, Montana Max, Plucky Duck, Hamton J. Pig, Furball, Dizzy Devil, Calamity Coyote, Little Beeper, Sweetie, Shirley the Loon, Elmyra Duff, Fifi La Fume, Gogo Dodo, Fowlmouth, Lil' Sneezer, Bookworm, Roderick, Rhubella Rat, and others - Tiny Toon Adventures
Omi, Kimiko, Raimundo, Clay, Jack Spicer, Wuya, Chase Young & Hanniball Roy Bean and others - Xialion
Conductor, Hero Boy, Hero Girl, Know-it-All, Smokey and Steamer, Hobo, Various Kids - The Polar Express
Mumble, Gloria, Memphis, Norma Jean, Lovelace, Amigos, Various Penguins, Seals, Whales, Skuas, Shrimps, Gulls, Humans - Happy Feet
Krypto, Streaky, Ace, Brainy Barker, Mammoth Mutt, Bull Dog, Paw Pooch, Tail Terrier, Tusky Husky, Hot Dog and others - Krypto the Superdog
Batman, Robin, Batgirl, Joker, Alfred Pennyworth, Commissioner Gordon, The Penguin, Nightwing, Harley Quinn, Mr. Freeze and others - Batman: The Animated Series/The New Batman Adventures
The Teen Titans (Robin, Starfire, Raven, Cyborg, Beast Boy, Terra) - Teen Titans
The Teen Titans (Robin, Starfire, Raven, Cyborg, Beast Boy, Bumblebee), Terra, H.I.V.E. Five (Jinx, Gizmo, Mammoth, See-More, Billy Numerous), Superman, Batman, Wonder Woman, The Flash, Green Lantern, Aquaman, Plastic Man, The Atom, Supergirl, Hal Jordan, Kilowog, Tomar-Re, Chief, Elasti-Girl, Negative Girl, Robot Man, Captain Marvel, The Spectre, Titans East (Aqualad, Mas y Menos, Speedy, Kid Flash), James Gordon, Elongated Man, Jonah Hex, Martian Manhunter, Metamorpho, Alfred Pennyworth, Team Robin, Red Tornado, Wonder Girl, Power Girl, The Wonder Twins, Vixen, B'wana Beast, Zatanna, Opposite Gender Titans, Krypto, Speedy, Detective Chimp, Green Arrow, Artemis, Superboy, Steel, Booster Gold, Blue Beetle, Deadman, Wildcat, Princess Amethyst, Bootleg Raven, Dave, Pain Bot, Birdarang, Beat Box, Super Robin, Demon, Silkie, Raven's Emoticlones, Starfire's Emoticlones, Robin's Emoticlones, Beast Boy's Emoticlones, Cyborg's Emoticlones, Jade Wilson (Note: original not fake), Slade's Giant Robot, Balloon Man, Filmmakers, and others - Teen Titans Go!, Teen Titans Go! To The Movies
Kayley, Garett, Ayden, Devon, Cornwall, Merlin, Bladebeak, The Griffin, Ruber's Minions, Farm Animals, Dragons, Giant Ogre, Soldiers - The Quest for Camelot
Osmosis Jones, Drixenol, Leah Estrogen, Mayor Phlegmming Tom Colonic, and Various Osmosis - Osmosis Jones
Danny, Sawyer, Peabo "Pudge" Pudgemyer, Tillie Hippo, Woolie the Mammoth, Frances Albacore, Cranston Goat, T.W. Turtle, Kong, Darla Dimple, Max, Animals - Cats Don't Dance
Lucas Nickle, Hova, Zoc, The Queen Ant, Kreela, Fugax, Grandma, Doreen Nickle, Steve, Fred Nickle, Wasp Leader, Nicky, Soldier Ant, The Head of Council, Tiffany Nickle, Beetle, Fly, Glowworm, Frogs and Ant Colony - The Ant Bully
Iron Giant, Hogarth, Annie, Dean, General Rogard, Kent and Various People - The Iron Giant
Jackie Legs and others - Kangaroo Jack
Odette, Derek, Queen Uberta, Rothbart, Jean-Bob, Speed, Puffin and others - The Swan Princess
Hubie, Rocko, Marina, Male Penguins, Female Penguins, Animals - Pebble and the Penguin
Victor Van Dort, Emily the Corpse, Victor Everglot, Nell Van Dort, Hildegarde, William Van Dort, Mathew, Paul the Head Waiter, Maudeline Everglot, Finis Everglot, Grandfather Everglot, Barkis Bittern, Pastor Galswells, Elder Gutknecht, The Black Widow, Mrs. Plum, Maggot, Town Crier, General Bonesapart, Bonejangles, Ballantyne the Emil, Various People and Monsters - Corpse Bride
Soren, Gylflie, Kludd, Digger, Twilight, Nyra, Ezylryb, Lyze of Kiel, Metal Beak, Noctus & Grimble, Eglantine, Mrs. Plithiver, Allomere, Marella, Otulissa, Boron, Barran, The Echidna, Jutt, Jatt, Bubo, Pete and Various Owls - Legend of the Guardians: The Owls of Ga'Hoole
Emmet Brickowski, Wyldstyle/Lucy, Batman, MetalBeard, Princess Unikitty, Prince Puppycorn, Vixicroc, Richmond, Dr. Bunny, Benny, Vitruvius, Lord Business, Bad Cop/Good Cop, Superman, Wonder Woman, Green Lantern, Rex Dangervest, Queen Watevra Wa-Nabi, General Sweet Mayhem, Robin, Batgirl, Alfred Pennyworth, Lloyd Garmadon, Kai, Cole, Jay, Zane, Nya, Sensei Wu, The Joker, Harley Quinn, Aquaman, The Flash, Martian Manhunter, Gandalf, Ghost, Robin, Batgirl, Professor Dumbledore, Speed Racer, C-3PO, Chewbacca, Lando Calrissian, Han Solo, Alfred Pennyworth, Lord Garmadon, The Riddler, The Scarecrow, Bane, Two-Face, Catwoman, Clayface, Poison Ivy, Mr. Freeze, The Penguin, Killer Croc, Man-Bat, Crazy Quilt, Eraser, Polka-Dot Man, Mime, Tarantula, King Tut, Orca, Killer Moth, March Harriet, Zodiac Master, Gentleman Ghost, Clock King, Calendar Man, Kite Man, Catman, Zebra-Man, Condiment King, Captain Boomerang, The Mutant Leader, Hugo Strange, Red Hood, the Kabuki Twins, The Calculator, Dr. Phosphorus, Magpie, Egghead and others - The Lego Movie, The Lego Movie 2: The Second Part, The Lego Batman Movie, The Lego Ninjago Movie
Mia, Emma, Olivia, Andrea, Stephanie and Zobo - Lego Friends, Lego Friends; Girls On a Mission
Bunnicula, Chester, Harold, and Mina - Bunnicula
Unikitty (Cartoon Version), Puppycorn (Cartoon Version), Dr. Fox, Hawkodile, Richard, Master Frown, and Brock - Unikitty!
Junior, Tulip, Pigeon Toady, Jasper, Henry Gardner, Sarah Gardner, Nate Gardner, Diamond Destiny, Alpha and Beta wolves and Various Babies, Penguins, Animals, Birds - Storks
Parzival, Art3mis, Aech, Daito, Sho and others - Ready Player One
Migo, Meechee, Kolka, Gwangi, Fleem, Stonekeeper, Percy, Thorp, Other Yetis - Smallfoot
Batgirl, Bumblebee (DCSHG), Green Lantern, Wonder Woman, Supergirl, Zatanna, and others - DC Super Hero Girls (2015/2019)
Little Nicky, Adrian, Cassius, Mr. Beefy, Todd, Satan, Jimmy the Demon, Lucifer, Stanley the Gatekeeper, Gary the Monster, John, Pete, Holly, and others - Little Nicky
The Lionhearts
Tom and Jerry, Uncle Pecos, George and Joan, Jeannie, The Baby, Clint Clobber (Tom;s Owner Deitch Era), Sheriff Mutt Dillon, Angry Shopkeeper, Toots, Spike and Tyke, Butch, Lightning, Meathead and Topsy, Toodles, Quacker, Henry and Mama Duck, Nibbles/Tuffy, Flip the Frog, Robyn Starling, Mr. Starling, Frankie Da Flea, Puggsy and others - Tom and Jerry
Droopy, Tex Avery Wolf, Spike, Barney Bear, Screwy Squirrel, Meathead Dog, Cuckoo, The Lion, Octopus - Half Pint Pygmy and others - Tex Avery
Rainbow Panthers (The Pink Panther, Pinky, Panky, Chatta, Murfel, Rocko, Annie, Punkin), Inspector Clouseau, The Little Man, Big Nose, Hoarse, Dog, Ant, Aardvark, Eli, Howl Angels (Finko, Howl, Liona, Bowlhead, Buckethead and others - The Pink Panther
Tijuana Toads
Timer (Time for Timer)
Lone Starr, Barf, Princess Vespa, Yogurt, President Skroob, Dark Helmet, King Roland, Colonel Sandurz, Dot Matrix, Minister, Prince Valium, Commanderette Zircon, Major Asshole, Dr. Irving Schlotkin, Nurse Gretchen, Vinnie, Pizza the Hutt - Spaceballs
Charlie B. Barkin, Itchy Itchiford, Anne-Marie, Carface Caruthers, Killer, Flo, Kate & Harold, Terrier, Stella Dallas, Vera, Sasha La Fleur, David, Annabelle, Labrador MC, Chihuahua, Tall Customs Dog, Jingles, Tom, Claire, Heaven Animals - All Dogs Go to Heaven, All Dogs Go to Heaven 2
Igor, Scamper, Brain, Eva and others - Igor
Fleegle, Bingo, Drooper and Snorky
Huckleberry Hound
Captain Caveman, Brenda Chance, Dee-Dee Sykes, Taffy Dare, Cavey Jr
Hong Kong Phooey
Yogi Bear, Boo Boo Bear, Cindy Bear, Ranger Smith
Quick Draw McGraw, Baba Looey
Snooper Cat, Blabber Mouse
Peter Potamus, So-So
Magilla Gorilla, Mr. Peebles
Snagglepuss
Hokey Wolf, Ding-a-Long Fox
Wally Gator
Auggie Doggie and Doggie Daddy
Squiddly Diddly
Atom Ant
Secret Squirrel and Morocco Mole
Jabberjaw
Pixie, Dixie, Mr. Jinks
Speed Buggy
Mildew Wolf, Lambsy, Bristle Hound
Punkin'Puss, Mushmouse
Hair Bear
Breezly And Sneezly
Ruff And Reddy
Yakky Doodle, Chopper Bulldog, Flibber Fox, Alfy Gator, Yippee Yi Coyote
Yippee, Yappee, Yahooey
Paw Rugg, The Hilliby Bears
Ricochet Rabbit, Droop A-Long
Touche Turtle, Dum-Dum
Lippy The Lion, Hardy Har Har
Loopy De Loop, Sawtooth Beaver
Grape Ape
Top Cat, Choo-Choo, Benny, Brain, Spook, Fancy-Fancy, Fifi, Griswald, Jazz, Mrs Ball, Officer Dibble
Precious Pup and Granny Sweet
Winsome Witch
The Cattanooga Cats
Motormouse and Autocat
Fred Flintstone, Barney Rubble, Wilma Flintstone, Betty Rubble, Pebbles Flintstone (adult version), Bamm Bamm Rubble (adult version), Dino, The Gruesomes, The Frankenstones - The Flintstones
George Jetson, Jane Jetson, Judy Jetson, Elroy Jetson, Astro, Rosie XB-500 - The Jetsons
Scooby Doo, Shaggy Rogers, Fred Jones, Daphne Blake, Velma Dinkley, Dee Dee Sykes, Blue Falcon, Dynomutt, Scrappy Doo, Scooby Dum - Scooby-Doo
Gomez, Mortricia, Wednesday, Pusgley, Granny, Uncle Fester, Thing, Lurch and Cousin Itt - "The Addams Family"
Jonny Quest, Hadji Singh, Jessie Bannon, Dr. Benton Quest, Race Bannon, and Bandit - "The Real Adventures of Jonny Quest"
Cooler, Howler, Whopper, Nose Marie, Bright Eyes, Holly, Scrounger, Barkerville - Pound Puppies
The Smurfs, Gargamel and Azrael
Allstar Seaworthy, Casey Kelp, Tooter, Daffney, Junior Wetworth, Dimmy Finster, Occy, Dr. Galeo, Corky, Jo-Jo, Fengy, Governor Wellington, SNIP, SNAP, and Dr. Strangesnork
Superted, Spotty, Speckles, The Space Beavers, Dr. Frost, Pengy, Prince Rajeesh, Prince Pyjamarama and Mufti
Ren, Ioz, Tula, and Niddler - "Pirates of Dark Waters"
Galtar, and Goleeta - "Galtar and the Golden Lance"
Thundarr the Barbarian, Princess Ariel, and Ookla the Mok
Dynomutt Dog Wonder, and Blue Falcon
Space Ghost
The Robotic Stooges
T-Bone and Razor - "SWAT Ktaz: The Radical Squadron"
Dexter, Dee Dee, Mom, Dad, Mandark, Honeydew, Monkey, Silver Spooner, Lee Lee, Mee Mee and others - Dexter's Laboratory
Johnny Bravo, Mama Bravo, Little Suzy, Carl, Pops, Julie Herschbaum and others - Johnny Bravo
Cow (with Crabs, Piles, and Manure), Chicken, Mom, Dad, Teacher, Flem, Earl, Boneless, The Red Guy, I.M. Weasel, Lullubelle, Jolly Roger, Admiral Bullets, I.R. Baboon and others - Cow & Chicken, I.M. Weasel
Courage, Muriel, Eustace, Various Monsters and others - Courage the Cowardly Dog
Blossom, Bubbles (with Octi), Buttercup (with Blankie), Bliss, Professor Utonium, Ms. Keane, Mayor, Mrs. Bellum, Mojo Jojo, Fuzzy Lumpkins, HIM, The Amoeba Boys, The Gangrene Gang, Robin, The Rowdyruff Boys (Brick, Boomer and Butch), Princess Morbucks, Talking Dog, Lou Gubrious, Sedusa, K.A.R.R., Roach Coach, and others - The Powerpuff Girls (1998/2016)
Chowder, Mung Daal, Truffles, Schnitzel, Panini, Endive, Gazpacho, Gorgonzola, Ceviche, Pate and others - Chowder
Grizz, Ice, Panda and others - We Bare Bears
Flapjack, Knuckles, Bubbie and others - The Marvelous Misadventures of Flapjack
Ed, Edd, Eddy, The Kanker Sisters, Jonny 2x4, Plank, Sarah, Jimmy, Kevin, Rolf, Nazz, Eddy's Brother, Fish and Chips, Edd's ants, Mildred - Ed Edd n Eddy
Billy, Mandy, Grim, Nergal, Nergal Jr, Eris, Gladys, Harold, Sis, Darold, Del Uglio, Velma Green, Irwin, Fred Fredburger, Jeff The Spider, Hector Con Carne, Dr. Ghastly, Boskov, Skarr, Hoss Delgado, Pud'n, Mindy, and Gladys - The Grim Adventures of Billy and Mandy, Evil Con Crane
Ben, Gwen, Kevin, Grampa, Max, Vilgax and others - Ben 10
Finn, Jake, Princess Bubblegum, Lady Rainicon, Marceline the Vampire Queen, Viola, Jake Jr., Kim Kil Whan, Charlie, T.V., Lumpy Space Princess, The Ice King, Flame Princess, BMO, Cinnamon Bun, Peppermint Butler, Gunter, Tree Trunks, The Lich / Sweet P, Mr. Pig, Earl of Lemongrab, Shermy, Beth Prismo, Magic Man, Neptr, Shelby, Pup Gang, Candy Kingdom People, Wizards, King of Ooo, Various Princesses and others - Adventure Time
Infernites, Cragsters, Electroids, Frosticons, Fang Gang, Flexers, Spikels, Glorp Corp, Wiztastics, Orbitons, Infernites Cousins, Glowkies, and others - Mixels
Sunny, Li'l D, Madison, Philly Phil, Eddie, Tamika, Kim, Kam, Principal Luna - Class of 3000
Robot Chicken, Mad Scientist, Nerd, Ailens, Gummy Bear, Bloopers Host - Robot Chicken
Rick and Morty
Mordecai, Rigby, Benson, High Five Ghost, Skips, Pops, Muscle Man, Thomas, Carter, Briggs, Audrey, Gary, Guardians of the Eternal Youth, Death, Mr. Maellard, God of Basketball, Techmo, Baby Ducks, Starla, Margaret, Eileen, Don, CJ, Gene, RGB2, Low Five Ghost, Dr. Henry, Celia, Mordecai's Parents, Rigby's Parents, Pam, Apple Sauce, Party Horse 43699, Andy, Recap Robot, Chance Surebot, Toothpick Sally and others - Regular Show
Mike, Lu, Og, Lancelot, Goat, Pig, Spiney, Alfred, Margery, Wendell, Old Queeks, Three Pirates, The Cuzzlewits (Hermione, Haggis and Baggis) - Mike, Lu, & Og
Lazlo, Raj, Clam, Sampson, Edward, Slinkman, Scoutmaster Lumpus, Chip and Skip, Dave, Ping Pong, and The Lemmings - Camp Lazlo
Adam, Jake, Windsor, Slips, Lupe, Ingrid, Bull, Principal Pixiefrog, Mrs. Warthog - My Gym Partner's a Monkey
Mac, Bloo, Wilt, Eduardo, Coco, Frankie, Madame Foster, Mr. Herriman, Jackie Khones, Duchess, Terrence, Goo, Uncle Pockets, Cheese, Various Imaginary Friends - Foster's Home for Imaginary Friends
Golly Gopher, Dolly Gopher, Tux, Crocco, Pickles and Prickles - Out of Jimmy's Head/Re-Animated
Ami, Yumi, Kaz, Jang Keng and Tekirai, Domo, Harmony, Wall, Talent Suckers (Vlad, Nicolai and Mitch), Eldwin Blair, King Chad, Atchan, Julie, Janice, Team Tee (Jarhead, Prom Queen, and Pizza Face) - Hi Hi Puffy AmiYumi
Alfe, Roba, Horace - The Problem Solverz
Robot Electro Jones, Dad Unit, Mom Unit, Timothy Morton, Charles, Mitchell, Lenny and Denny, Shannon, Mr. McMcMc, Clancy Q. Sleepyjeans, Principal Madman - Whatever happened to... Robot Jones?
Larry 3000, Beauregard, Otto Osworth - Time Squad
Apple, Onion, and others - Apple & Onion
Oscar and Hedgehog - Summer Camp Island
The Wattersons (Gumball, Darwin, Anais, Richard, Nicole, Granny Jojo, Louie, Frankie), Penny, The Fitzergeralds, The Wilsons, The Pepperonis, Carrie, Teri, Molly, Leslie, Masami, Carmen, Alan, Tina, Jamie, Anton, Bobert, Ocho, Idaho, Banana Joe, Tobias, Juke, Clayton, Hector, William, Principal Brown, Miss Simian, Mr. Small, Rocky Robinson, Mr. Gaylord Robinson, Margaret Robinson, The Eggheads (Colin, Felix), Rob, the Doughnut Sheriff, Larry, Sal Left Thumb, The Senicourts (Daniel, Mary) - The Amazing World of Gumball
Rodney J. Squirrel, Kyle Finkster, Eddie, Darlene, Andy Johnson, Bob Johnson, Leon, Grandpa Squirrel, Ben, Various Squirrels, Various People - Squirrel Boy
Rikochet, Buena Girl, The Flea, Pulgita, Masked Dog, Penny Plutonium, El Malefico, Masked Toilet, Misterioso Grande, Chinche, Snowpea, Cindy Slim, French Twist, El Rey, Abuelito, and Timmy Of A 1,000 Masks, El Nino Loco, Calavera Muerto (Mucha Lucha) (Originally from Kid's WB!)
Juniper Lee, Jasmine Lee, Ray Ray Lee, Monroe, Dennis Lee, Jody Irwin, Ophelia Ramírez, Roger Radcliffe, Marcus Conner, Michael and Barbara Lee, Ms. Gomez, William, Melissa O'Malley, Cletus and Gus, Lila and others - The Life and Times of Juniper Lee
Jonesy Garcia, Caitlin Cookie, Wyatt Williams, Jen Masterson, Jude Lizowski, Starr, Coach Halder, Ron the Rent-a-Cop, the Clones, Tricia Holmes, Mandy, Gwen, Marlowe, Charmaine, Darth Mall, Julie and others - 6teen
Chris McLean, Chef Hatchet, Alejandro, Beth, Blaineley, Bridgette, Cody, Courtney, DJ, Duncan, Eva, Ezekiel, Geoff, Gwen, Harold, Heather, Izzy, Justin, Katie, Leshawna, Lindsay, Noah, Owen, Sadie, Sierra, Trent, Tyler, Anne Maria, B, Brick, Cameron, Dakota, Dawn, Jo, Lightning, Mike, Sam, Scott, Staci, Zoey, Amy, Beardo, Dave, Ella, Jasmine, Leonard, Max, Rodney, Samey, Scarlett, Shawn, Sky, Sugar, Topher, Brody, Carrie, Devin, Emma, Kitty, Taylor, Kelly, Chet, Lorenzo, Crimson, Ennui, Dwayne, Junior, Ellody, Mary, Gerry, Pete, Jacques, Josee, Jay, Mickey, Jen, Tom, Laurie, Miles, Rock, Spud, Ryan, Stephanie, Sanders, MacArthur, and Tammy - Total Drama Series
Uncle Grandpa, Mr. Gus, Belly Bag, Giant Realistic Flying Tiger, Frankenstein, Tiny Miracle, Beary Nice, Hot Dog Person, Pizza Steve, Aunt Grandma - Uncle Grandpa
Prohyas, Vambre - Mighty Magiswords
Wirt, Gregory, Beatrice, Greg's frog, Sarah, The Woodsman - Over the Garden Wall
Steven, Garnet, Amethyst, Pearl, Greg, Centipeetle, Connie, Lion, and Various Gems - Steven Universe
The Williams Family (Craig, Jessica, Tonya, Bernard, Nicole, Duane, Earl, Jojo, Daniel, Margaret, Coca, Darnell, Kimmy, Bryson, and Jasmine), Kelsey, J.P., Mortimor, Clarissa, and others - Craig of the Creek
Clarence, Jeff, Sumo, Percy, Amy Gillis, Chelsea, Belson, Kimby, Nathan, Dustin - Clarence
Reef, Fin McCloud, Emma, Broseph, Lo Ridgemount, Jonny, Wipeout, Sonny, Buster - Stoked
Kai, Jay, Nya, Lord Garmadon, Sensei Wu - Lego Ninjago: Masters of Spinjitzu
Eric, Trevor, Vena, Kitty Ko - Sidekick
Corey, Laney, Kin, Kon, Trina, Mina, The Newmans (Carrie, Lenny, Kim, Konnie), Nick, Kate and Allie, Mayor Mellow, Buzz and Chance - Grojband
The Noobs (Tyler, Shope, Kevin, Roach), Mem, Zen, Jock, Amy - SuperNoobs!
Slog, Festro, the Fart, Dingle, Gweelok - Secret Mountain Fort Awesome
Numbuh 1, Numbuh 2, Numbuh 3, Numbuh 4, Numbuh 5, Numbuh 362, Numbuh 86, The Delightful Children From Down The Lane, Father, Various Numbuhs and others - Codename: Kids Next Door
Sheep - Sheep in the Big City
Moxy - The Moxy Show
Kris, Bablu - Roll No 21
K.O., Enid, Rad, Dendy, Carol, Mr. Gar, A Real Magic Skeleton, Annole, Beardo, Bernard, Big Alligator, Big Cheese, Biki, Bill Burp, Black Strategy, Blue Power, Bomber Fan, Boris, Brandon, Calopo, Cam, Captain Planet, Chameleon Jr., Cherry, Chip Damage, Citressa,Co-Bruh, Colewort, Combo Breaker, Congress Woman, Cookie Man, Crinkly Wrinkly, Cupid, Demon Queenie, Diving Belle, Doctor Greyman, Dogmun, Dragobo, Drupe, Dynamite Watkins, Elodie, Eugene Garcia, Fink, Fish Dude, Flurry, Four Arms, Foxtail, Gerald Nametag, Gertie, Ginger, Gladys, Glitter Starlight, Globe Man, Green Guts, Gregg, Guards, Hero, Heroic Guy, Holo-Jane, Hue Troop, Icky, Joe Cuppa, Joff, Koala Princess, Krissa, Kwame, Laserblast, Loneliest Hero, Mad Sam, Mega Football Baby, Miss Pastel, Mr. Logic, Ms. Mummy, Nanini, Neil, Nick Army, Ofrang, P.O.I.N.T., Pavel, Pepelina, Perfect K.O., Phoebe, Pink Turtle, Plazamo, Potato, Principal Claus, Puck Reverie, Punching Judy, Punching Trudy, Purrcival, Red Action, Ren Bo, Rex Th' Bunny, Rippy Roo, Shannon, Shy Ninja, Skateboard Nerd, Small One, Sniff, Sparko, Squeezo, Sunshine, Teamster, Ted Viking and Foxy, The Flu, Theodosia, Topher, Turbo K.O., URL, Weirdo, Wilhamena, and Yellow Technique - OK K.O.! Let's Be Heroes
Victor, Valentino, and others - Victor & Valentino
Mao Mao, Badgerclops, and Adorabat - Mao Mao: Heroes of Pure Heart
Lion-O, Tygra, Cheetara, Panthro, WilyKit and WilyKat, and Snarf - ThunderCats Roar
Vex, Nat'l, Erk, Ma - Imp Inc
Nadine Stillwater, Max Stillwater, Mom, Dad, Grandma, Rusty - My Freaky Family
Beetle, Bean and others - Beetle + Bean
Batman, Dick Grayson/Robin, The Joker, Hush, Two Face, Scarecrow, Mr. Freeze and others - Batman franchise
Charlie Brown, Sally Brown, Snoopy, Linus Van Pelt, Lucy Van Pelt, Schroeder, Peppermint Patty, Marcie, Franklin, Frieda, Faron, Pig-Pen, Woodstock, Woodstock's bird friends (Bill, Harriet, Olivier, Raymond, Fred, Roy, Wilson, and Conrad), Snoopy's siblings (Spike, Belle, Marbles, Olaf, Molly, Rover, and Andy), Violet, Patty, Shermy, Rerun Van Pelt, The Little Red Haired Girl, 5, 3 and 4, Molly Volley, Lydia, Royanne Hobbs, Roy, Lila, Vlara, Crybaby Boobie, Cormac, Harold Angel, Joe Agate, Badcall Benny, Thibult, Tapioca Pudding, Larry, Charlotte Braun, Peggy Jean, Camp Bullies, Truffles, Joe Richkid, Ethan, Evelyn, Floyd, Peggy Jean, Mimi, Pierre, Violette, Fifi, and many others - "Peanuts" franchise
Paramount Pictures/Fleischer Studios/Famous Studios/Nickelodeon/NickToons/Nick Jr./Noggin/Noggin 2/The Bloo/The Bloo DeTour
Ko-Ko the Clown
Betty Boop
Pudgy
Orphans
Grampy
Wiffle Piffle
Bimbo
Flip the Frog
Gabby
Popeye, Olive Oyl, Swee'Pea, J. Wellington Wimpy, Bluto/Brutus, Eugene the Jeep, The Sea Hag and his vultures (including her favorite, Bernard), Alice the Goon and the other Goons, Rough House, George W. Geezil, Ham Gravy, Castor Oyl, Cole Oyl, Nana Oyl, King Blozo, Oscar, General Bunzo, Bernice the Whiffle Hen, "Salty" Bill Barnacle, Bill Squid, Bolo, Bullo Oxheart and his mother, B. Loony Bullony, Battling McGnat, Johnny Doodle, The Mars Men, Mary Ann, Poopdeck Pappym Pooky Jones, Professor O. G. Watasnozzle, Toar, Sir Pomeroy, Davy Jones, the Doomsday Doll, Dufus, Georgie the Giant, Ghost Island's ghost, Granny, Horace, Liverstone, Misermites, Salty the parrot, Snagg and Baby Doll, Patcheye the Pirate, Saddarn Shahame, Sutra Oyl, Otis O. Otis, Peepeye, Poopeye, Pupeye and Pipeye, Shorty, Diesel Oyl, Popeye, Jr., Tank - Popeye the Sailor
Little Lulu
Little Audrey
Casper the Friendly Ghost, Wendy the Good Little Witch, Ghostly Trio, The Witch Sisters (Thelma, Velma, Zelma), Archibald the Talking Wishing Well, Hot Stuff the Little Devil, Nightmare the Ghost Horse, Spooky the Tuff Little Ghost, Poil, Gnomes (Gned, Gnewton and Gnorman), Sohini, Arruda, Hairy Scary, Mini and Maxi, Nerdly and Fungo, The Commander, Kat Harvey, Dr. James Harvey, Amelia Harvey, Chris Carson, Tim Carson, Sheila Fistergraff, Jennifer, Holly Jollimore, Jimmy Bradley, Ra, Mantha the Zombie, Professor Phinieas Field, Eloise "Ellie" Essex, Hot Stuff's family - Casper the Friendly Ghost
Dot, Neddie, Toto, Scarecrow Jr., Tin Nickle Boy, Boris, Bela, Jack Pumpkinhead Jr., Frank, Andrea, Aunt Scraps, Betty, Mombi - The Oz Kids
Audrey, Lotta, Dot - Harvey Girls Forever!
Baby Huey
Herman and Katnip
Buzzy the Crow
Henry Rooster
Officer Flanigan
Mrs, Davis
Mr. Guiseppe
Fox
Creech
Animals, Dinosaurs, Monsters, Kaijus, Gargoyles, Aliens, Imaginary Friends And More Creatures
Gulliver Travels, King Little, King Bombo, Princess Glory, Prince David and others - Gulliver's Travels
Hoppity, Honey, Mr. Bumble, C. Bagley Beetle, Swat, and Smack
James T. Kirk, Spock, and others - Star Trek
Ethan Hunt - Mission: Impossible
Clover - Cloverfield
Beowulf, King Hrothgar, Grendel, Grendel's mother, The dragon, Other Danes, Shield Sheafson - Beowulf
Carly Shay, Sam Puckett, Freddie Benson, Spencer Shay, Gibby Gibson and others - iCarly
Sonic the Hedgehog, Tom Wachowski and others - Sonic the Hedgehog
Rango, Beans, Priscilla, Balthazar, Bad Bill, Road Kill, Doc, and others - Rango
Gnomeo, Juliet, Lord Redbrick, Tybalt, Lady Bluebury, Nanette, Paris, Mankini, Benny, Featherstone, Fawn, Red Goon Gnomes, Shroom, Sherlock Gnomes, Dr. Gnome Waston, Irene, and others - Gnomeo & Juliet/Sherlock Gnomes
June Bailey, Boomer, Peanut, Steve, Greta, Gus & Cooper, Banky, Mr. & Mrs. Bailey, Uncle Tony, Aunt Albertine and others - Wonder Park
Winnie, Steve, Rayburn Sr., King Gorge, Lady Mayhen, and others - Rumble
Ensign Beckett Mariner, Ensign Brad Boimler, Ensign D'Vana Tendi, Ensign Sam Rutherford, Captain Carol Freeman, Commander Jack Ransom, Lieutenant Shaxs, Dr. T'Ana, Lieutenant Commander Andy Billups and others - Star Trek: Lower Decks
Tommy Pickles, Chuckie Finster, Kimi Finster, Susie Carmichael, Angelica Pickles, Harold Frumpkin, Spike, Fifi, Stu Pickles, Didi Pickles, Chas Finster, Drew Pickles, Charlotte Pickles, Betty DeVille, Kira Finster, Fluffy, Lulu, Lou Pickles, Dil Pickles, Phil and Lil DeVille and others - 'Rugrats', 'All Grown Up'
Rocko, Heffer Wolfe, Filburt, Dr. Hutchison, Leon, Chuck, Shelia, Spunky, Mr. & Mrs. Bighead, Rachel Bighead and others - 'Rocko's Modern Life'
Blue, Steve, Joe, Miranda, Josh, Lola, Mailbox, Shovel, Pail, Periwinkle, Tickety Tock, Sidetable Drawer, Slippery Soap, Mr. Salt, Mrs. Pepper, Paprika, Cinnamon, Sage, Ginger, Magenta, Green Puppy, Orange Kitten, Purple Kangaroo, Horace, Boris, Miss Marigold, Polka Dots, Roary, Fred, Sprinkles, Doodle Board, Dress Up Chest, Boogie Woogie, Silly Seat, Moona, Key, ABC Puppy, Colors Puppy, Princess of Numbers Puppy, Shapes Puppy and others - 'Blue's Clues, Blue's Room, and Blue's Clues & You!'
Ickis, Oblina, Krumm, The Gromble, Various Monsters - 'Aaahh!!! Real Monsters'
Arnold Shortman, Helga G. Pataki, Gerald Johanssen, Phoebe Heyerdahi, Grandpa Phil, Grandma Gertie, Rhonda Wellington Lloyd, Nadine, Harold Berman, Eugene Horowitz, Lila Sawyer, Sid, Stinky Peterson, Olga Pataki, Peapod Kid, Sheena, Big Patty, Ruth P. McDougal, Mr. Simons, Principal Wartz, Miriam Pataki, Big Bob, Marty Green, Mrs. Vitello, Camp Fire Lass, Iggy, Curly, Oskar Kokoshka, Ernie Potts, Mr Hyunh, Abner and others - 'Hey, Arnold!'
Dagget Doofus, Norbert Foster, Stacy Beaver, Chelsea Beaver, Leonard Beaver, Mrs. Beaver, Stump, Treeflower, Truckee, Barry Bear, Wolffe D. Wolf, Bing and others - 'The Angry Beavers'
CatDog, Winslow T. Oddfellow, Mom, Dad, Rancid Rabbit, Mr. Sunshine, Lola Caricola, The Greaser Dogs - 'CatDog'
Tori Vega, Trina Vega, Andre Harris, Robbie Shaphiro, Rex Powers, Jade West, Cat Valentine, Beck Oliver and others - Victorious
Todd, Alexis, Alex, Alexa, Sarah, Erica, Dana, Mom, Dad, Happy The Dog, Katie The Cat, Amy The Rabbit, Ted The Bird, Matt The Hamster, Diana Vosh, Alexandria Ponce, Alexandria Ponce's Siblings, Alien, Honey The Kitten, Alyssa, Alyssa's Cousin, Tommy The Parrot, Oliver The Teddy Bear, Princess Melissa, King Trevor, Queen Sam, Prince Anton, Tom The Turtle, Darcy, Gabrielle, Helen The Hare, Squeaks The Mouse, The Guy, Finger, Various Kids, Various People, Various Humans, Various Animals and others - Alexandria Ponce And Friends/The Alexandria Ponce Show: The Animated Series
Eliza Thornberry, Darwin, Donnie, Marianne Thornberry, Debbie Thornberry, Nigel Thornberry and others - "The Wild Thornberrys"
Loopy, Snizz, Fondue, Larry, Henry, June and others - KaBlam
SpongeBob SquarePants (with Barry), Patrick Star, Sandy Cheeks, Squidward Tentacles, Mr. Krabs, Pearl Krabs, Mrs. Puff, Gary the Snail, SpongeBob's Parents, Spongebob's Grandma, Patrick's Parents, Sam Star, Squidward's Mother, Betsy Krabs, Rosy Cheeks, Macadamia, Hazelnut, Pistachio, Ma Cheeks, Pa Cheeks, Squilliam, Patchy the Pirate, Potty the Parrot, Larry the Lobster, Flats the Flounder, Old Man Jenkins, Mermaid Man, Barnacle Boy, Man Ray, Dirty Bubble, Snellie, King Neptune, Queen Amphitrite, Prince Triton, Princess Mindy, Plankton, Karen, Baby Chip Plankton, Nobby, and Narlene - SpongeBob SquarePants, Kamp Koral
Twister, Reggie, Sam, Otto, Raymundo, Tito Makani and others - Rocket Power
Ginger, Carl, Lois, Jonas, Dr. David Dave and others - As Told by Ginger
Rudy, Snap, Penny, Reggie and others - ChalkZone
Dora, Boots, Benny, Isa, Tico, Diego, Baby Jaguar, Big Red Chicken, Grumpy Old Troll, Señor Tucán, Roberto the Robot, Swiper, Map, Backpack, The Fiesta Trio, Azul The Blue Train, Rojo The Red Firetruck, Alicia, Click, Rescue Pack, The Bobo Brothers, Linda the Llama, Emma, Kate, Naiya, Alana, Pablo, Perrito, Lala, Roja, Digger, Rico, Cusco, Lucky, Pico, Monica, and Perrito's Twin - Dora the Explorer, Go Diego Go! and Dora and Friends: Into the City
Max, Ruby, Grandma, Aunt Claire, Uncle Nate, Dad, Mom, Grace and Oliver Bunny - Max & Ruby
Timmy Turner, Cosmo, Wanda, Poof, Sparky, Chloe, Vicky, AJ, Chester, Mr. Crocker, Mrs. Crocker, Mr. Turner, Mrs. Turner, Mrs. Turner, Jorgen, Juandissimo Magnifico, Chompy the Goat, Molly, Dwight, Tootie, Elmer, Sanjay, Francis, Veronica, Trixie Tang, Mark Chang, Foop, Goldie Goldengrow, The Crimson Chin, The Mayor, Sheldon Dinkleburg, Mrs. Dinkleburg, The Nega Chin, The Bronze Kneecap, Dark Lasser, Chip SkyLark, Dr. Bender, Wendell Bender and others - The Fairly OddParents
Oobi, Uma, Kako, Grampu, Inka, Angus, Mrs. Johnson, Mamu and Papu, Maestru, Frieda, Moppie, Bella, Various Bare Hand Puppets and others - Oobi
Invader Zim, Dib, Gir, Gaz, The Almighty Tallest, Professor Membrane and others - 'Invader Zim'
Dennis and Travis, Angel Otano, Stacy Otano, Billy Boston, Maximus Ortiz, Arianna Franco, Bryan Gul, Ian Deheza-Zapata, Marian Gul, Sofia Deheza-Zapata, Antonio Hill, Dolly Dog, Kane and Dane, Aiden Sanchez, Harry Hector, Spanish Skyler, Kalob Kane, Devin Torres, José Martinez, Erik Martinez, Ian Madrigal, Sebastian Mengoni, Sebastian Rivas, Jeremy Contreas, Sebastian Suarez, Jon-Anthony Tinoco, Vextorian Vixon, Eduardo Guerra, Ronny E. Rodriguez, Zack Zoomer, Travis Rodriguez, Trevor Rodriguez, Tendou Gul, Trevor Gul, Berry, Jerry, Terry, Oswald The Wacky Clown, Nolen Williams, Alejandro Fererra, Diego Garcia, Mack and Jack, Lenny and Benny, Harry and Larry, Casey The Friendly Ghost Kid, Mauricio Rios, Leslie Rios, Julio, Orson Owl and Benson Bat, Landry Andy, Frankston Freddie, World War Warren, Tyler the Random Boy, Gabi Diaz, Witch Gabbie, John and Jolly, Jaden, Danky Doodle, Spike and Mike, Quade and Claude, Robin Le Pen, Penelope Ramirez, Christopher Otero, Veronica Vixon, Nicole Tinoco, Jessie Martinez, Karate Kid, Owen Sowen, Yakky Wakky, Edilberto Olivera-Garcia, Andrew Montesino, Michael Gonzales, Xavier Williams, Felix Frankie, Fredrick Frankie, Jasmine Clay, Shaney Sean, Richie Richard, Armando Suville, Woodson Williams, Barry Bolis, Dane Drone, Gabby Tabby, Wacky Yacky, Kate the Random Girl, Annie the Creepy Little Girl, World War Warren II, C-3, Instant Clone, Looey Leonardo, Tyler the Random Boy, Artist Boy, Mighty Mike, Beckle and Deckle, Grady Gabe, Zackeross, Danky Dave, Deputy Darren, Terry Triplets, Yuzuki-san, Silly Sammy, Little Richard, Pearson Peacock, Duncan Duck, Rusty Rooster, Peter Pigeon, Billy Blue Jay, Frankie Frank, Rankie Rank, and others - Krazy Kids
Jewel Sparkles, Peanut Big Top, Bea Spells-a-Lot, Rosy Bumps 'N' Bruises, Spot Splatter Splash, Crumbs Sugar Cookie, Dot Starlight, Pillow Featherbed, Mittens Fluff 'N' Stuff and others - Lalaloopsy (TV series)
Ren, Stimpy, Powdered Toast Man, Muddy Mudskipper, Mr. Horse, Log and others - 'The Ren and Stimpy Show'
Oswald, Weenie, Henry, Daisy and others - Oswald the Octopus
Kai-Lan, Rintoo, Tolee (with Pandy), Lulu, Hoho, Ye-Ye, The Ants, Howard, Mr. Fluffy, Mei Mei, Stompy the Elephant, GuNaiNai, Xiao Xi Gua, The Peeking Mice, Mr. Hoppy, The Monkey King, The Fox King, The Foxes, The Bear Queen, The Bears - Ni Hao, Kai-Lan
Wally Trollman, Norville Trollman, Bobgoblin, Gina Giant, Ogre Doug, Libby Light Sprite, Stan of the Swamp and others - Wallykazam!
Blaze, AJ, Gabby, Crusher, Pickle, Stripes, Starla, Darington, Zeg, Watts - Blaze and the Monster Machines
Dudley Puppy, Kitty Katswell, Keswick, The Chameleon, Bird Brain, Vermious Snaptrap, The Chief, and others - T.U.F.F. Puppy
Kaput, Zosky and others - Kaput and Zosky: The Ultimate Obliterators
Corneil, Bernie and others - Watch My Chops
Avatar Aang, Katara, Sokka, Toph, Zuko, Suki, Appa, Momo, Iroh, Ty Lee, Mai, Azula and others - "Avatar: The Last Airbender"
Little Bill, Big Bill, Brenda, Alice, April, Bobby, Kiku, Andrew, Fuchsia and others - Little Bill
Jimmy Neutron, Goddard, Carl Wheezer, Sheen Estevez, Cindy Vortex, Libby Folax, Nick Dean, King Goobot V, Ooblar, Hugh Neutron, Judy Neutron, Ultra-Lord, Dorkus, Pinter, The Emperor, Nesmith, Aseefa, Chock Chock, Doppy, Zeenunians and others - "Jimmy Neutron: Boy Genius, Planet Sheen"
Ryder, Chase, Katie, Marshall, Rocky, Skye, Rubble, Everest, Robo-Dog, Cap'n Turbot, Cail, Alex Porter, Mayor Goodway, Mr. Porter and others - Paw Patrol
Moose, Zee - Moose & Zee
Face - Nick Jr. Face
Piper O'Possum - Piper O'Possum
Feetface - Feetface
DJ Lance Rock, Muno, Foofa, Brobee, Toodee, Plex and others - Yo Gabba Gabba!
Twist, Shout, Marina, Kiki and others - The Fresh Beat Band
Shimmer, Shine, Leah, Zac, Princess Samira, Zeta the Sorceress, Kaz, Empress Caliana, Captain Zora, Layla, Shaya, Nilla, Imma, Wishy Washy Genie, Ayla, Minu, Afina, Princess Ula, Nadia, Ezri, Misha, Princess Adara, Rubi, Shaun and others - Shimmer and Shine
Wubbzy, Widget, Walden, Daizy, Buggy, Huggy, Earl, Kooky Kid, Sparkle, Shimmer, Shine - Wow! Wow! Wubbzy!
Butterbean, Cricket, Poppy, Dazzle, Jasper, Cookie, Ms. Marmalady, Spork and Spatch, Marzipan - Butterbean's Cafe
Mr. X, Mrs. X, Tuesday X, Truman X, Rex X, Home Base, The Y's, The Z's and others - The X's
SwaySway, Buhdeuce, Jelly, The Bread Maker, Ketta, T-Midi, Officer Rambamboo, Oonski the Great and others - Breadwinners
Linny, Tuck, Ming-Ming, Ollie, Buck, Ginny, The Visitor, Little Bee and Slug, Baby Dragon and Uni - Wonder Pets!
Mikey Simon, Gonard, Guano, Lily, Mitsuki, Ozu, Yes Man, Yoshi, Dancing Sushi, Socky, Ethel, The Cat Burglar, Mr and Mrs. Simon, Speed Racer, Gonard's Mother, The Kappas, Dr. Takashi Katashi, Agent Yoshida, Pirate Captain/King Pirate, Masako Masako, The Chums, Kenji, Mr. Stereo, The Tatami Twins, Brozu and No Man, Ori and Yori, The Karaoke Genie, Dadzuki, Scoop Suzuki, Suave Mikey, Mr. Tatami, Lawrence Von Martenhouse, Kello, Dr. Igor, Forbes, Miko and Kai, Agent F, Harmony Sunshine, Dragon, Lawrence, Bike, Ninjaman McFranklin, Evan and Carl, Reggie, The Phantom of the Soundstage, Riku and Shino, Squiddy, Samoa, Reiko, Richie McMillions III, Gary the Gopher, Jomar, The Ghosts of Japanese Christmas, Kiyoko and others - Kappa Mikey
Speed Racer Jr., Racer, Spritle Racer, Lucy, Conor, Chim-Chim, Annalise Zazic, Speed Racer Sr., Rex Racer Sr., Jared and Jesse Deucey, Stan Gibbon, Armand Aniskov, Susan Winn, Damian Russ, Dr. Andre Chezko, Alpha Leader, Zile Zazic, Trixie Tredwell Racer, Handles Mustache, Mr. Pinkyring, Baron Von Moniacle, Lord Bowler and others - Speed Racer: The Next Generation
Jenny Wakeman, Vexus, Smytus, Killgore, Nora Wakeman, Tuck, Brad, Various Robots and others - "My Life As a Teenage Robot"
Jack, Mary, Mel and others - Jack's Big Music Show
Korra, Mako, Bolin, Tenzin, Amon, Chief Lin Beifong, Hiroshi Sato, Asami Sato, Jinora, Ikki, Meelo, Pema, Naga, Pabu and others - "The Legend of Korra"
Robot Default, Monster Krumholtz, Marf, Perry, Gart Default, J.D., Spitfire, Ogo, Nessie, Punch Morley, Crikey, Mr. Wheelie, Master Grabmirist, Loudmouth, The Prince of Scamtown, Snap Winsome, Dame Lady Madame, Lil' Lugnuts, Lev Krumholtz, Globitha Krumholtz, Uncle Kuffley Krumholtz and others - "Robot and Monster"
Stephanie, Sportacus, Stingy, Trixie, Ziggy, Pixel, Robbie Rotten, Mayor Milford Meanswell, Bessie Busybody - LazyTown
Miss Spider, Holley, Squirt, Bounce, Dragon, Shimmer, Spinner, Wiggle, Snowdrop and Pansy, Spiderus, Gus, Beetrice,  Ned, Ted, Stinky, Mr. Mantis, Betty Beetle, Felix, Various Insects - Miss Spider's Sunny Patch Friends
Pablo, Tyrone, Uniqua, Tasha, Austin, Sherman, Wormans, Dragon, Aliens, Giant Clam, Robot Roscoe - The Backyardigans
The Loud Family (Lincoln, Lori, Leni, Luna, Luan, Lynn, Lucy, Lola and Lana, Lisa, Lily, Rita, Lynn Sr., Pop-Pop, Myrtle, Charles, Cliff, Geo, Walt, Gary, Fangs, Hops, Bitey, El Diablo, Izzy, Seymour, Duncan and Brad), The McBride Family (Clyde, Howard, Harold, Gayle, Cleopawtra, Nepurrtiti and The McBride's Goldfish), The Casagrandes Family (Ronnie Anne, Bobby, Maria, Arturo, Rosa, Hector, Carlos, Frida, Carlota, C.J., Carl, Carlitos, Lalo, Sergio, Mama Lupe and Paco), The Chang Family (Sid, Stanley, Becca, Adelaide and Froggy 2), Sam Sharp, Mr. Grouse, Agnes, Cheryl, Coach Pacowski, Boy and Girl Jordans, Haiku, Liam, Norm, Nurse Patti, Rusty, Stella, Wilbur, Zach, Mr. Grouse, Chunk, Flip, Katherine Mulligan, Simon Sharp, Scoots, Casey, Margarita, Fluffy and Pickles, Laird, Maybelle, Miranda, Georgia, Ninja, Mr. Nakamura, Cory Nakamura, Nelson, Mrs. Flores, Alexis Flores, Buttercup, Mrs. Kernicky, Nikki, Par, Sameer, Sancho, Vito Filliponio, Big Tony, Little Sal - The Loud House, The Casagrandes
Charlotte, Vendetta, Grudge, Mr. Milk, Red Bird, Charlene, Giant Kitty, Buttons,Scissors Fiend, Buttons 2, Marvin, Marion, Maggie, Malachi, Mort, Violetta and Viktor, Mrs. Minty, Mrs. Millet, Mr. Gumpit, Mr. Onion Man, Charlotte's Parents, Rubella, Crush, Smash, Burly fiend, Monsters - Making Fiends
Chickiepoo, Fluff, Fuzzworth, Nibbles, Milo, Hedgie, Kiki & Kiwi and various farm animals - 'Chickiepoo & Fluff: Barnyard Detectives'
Edgar, Ellen and others - Edgar & Ellen
Mr. Blik, Gordon Quid, Waffle, Hovis, Kimberly and others - Catscratch
Bessie Higgenbottom, Darren, Lucille, Doctor, Nurse, Bug, Darkness, Madame Valeska, Erik, Sarah, Erica, Neon, Ciara, Nebula, Kim, Betty, Beth, Bessie's OCs, Messy Stinkenbottom, Messie Stinkinbottom, Kajolica, Steve Harvey (guest), Bridget, Fred, Benny, Geneiva The Doll, Clonette, Chris, Odile, Kajolica Higgenbottom, Me, Sissy Sullivan, Spike, Fox, Deer, Bunny, Turtle, Moose, Bear, 2 Mice, Unicorn, Frankenstein, 4 Kids, 3 Boys, Robot-Bessie Higgenbottom, Robot-Benjamin Higgenbottom, Robot-Happy Higgenbottom, Happy Walter Higgenbottom, Bartender Dog, K.G. Bianca, Rose, Roxxy, Benjamin "Ben" Higgenbottom, Hal, Hal's Men, Brandon Higgenbottom, Hilary Higgenbottom, Penny Lefcowitz, Ellie, Joey The Kangaroo, Mr. Lefcowitz, Mrs. Lefcowitz, Purple Marsupial, Yellow Marsupial, Green Marsupial, Rubber Chicken, Chicken Biggle, Portia Gibbons, Precious Gibbons, Mr. Gibbons, Gwen Wu, Gwen's Siblings, Mrs. Gibbons, Janeane, Anton St. Germain, Richard Gibbons, Dick Gibbons, Millie Menderson, Chester Turtleton, Miriam Breedlove, Mona, Satha Thomas, Tigerlily Roberts, Nisa Reddy, Molly O'Connell, Jean Tatum Parklands, Marie Malarkey, Finger, Finguerre, Rocky Rhodes, Unnamed Keyboard Player, Shaymus, Gerry, The Phonebookinator, The Paint Drying Man, Mr. Wu, Mrs. Wu, Rainbow, The Hippie, Chelsea Gibbons, Chelsea's Friends (Ushi Guo, Alessia Bells, Cattin Simpson, Dieudonnee De La Fontaine, Becca Burke, Elena Coletti), Donald, Chai Gallagher, Mr. Pants/Mr. Evil Pants, Ronnie, The Beavers, The Black Widow Spiders, Roxxy, Matilda, Roxxy's Siblings, Kappus, Kappus's Friends, Jerry, Mum, The Gorillas, The Butterflies, The Junebugs, The Dragonflies (Cherry, Maude, Longface, Bibi, Cha-Cha) and others - The Mighty B!
Sanjay Patel, Craig Slithers, Vijay Patel, Darlene Patel, Hector Flanagan, Belle Pepper, Megan Sparkles, others - Sanjay & Craig
Rabbids - Rabbids Invasion
Milli, Geo, Bot, Whispers, Finn, Bob, Joe Bob, Billy Bob, Bobby Bob, Sparky - Team Umizoomi
Molly, Gil, Deema, Goby, Oona, Nonny, Zooli, Mr. Grouper, Bubble Puppy, Little Fish and others - Bubble Guppies
Take, The Chief, Jeera, Lok, Linda the Sheep, Keeko, Banutu Jibolba, Zarla, Slog, Navis, The Pupununu Tribe, Chaka and Oonga Oongachaka, Jujus and others - Tak and the Power of Juju
Danny Phantom, Sam Manson, Tucker Foley, Jack Fenton, Maddie Fenton, Jazz Fenton, Dash Baxter, Paulina, Kwan, Star, Valerie Gray, Vlad Masters/Plasmius, Box Ghost, Lunch Lady Ghost, Skulker, Technus, Desiree, Ember, Spectra, Bertrand, Fright Knight, Dora Mattingly, Klemper, Walker, Johnny 13, Kitty, Youngblood, Sidney Poindexter, Pariah Dark, Femalien, Terminatra, Nightmerica, Hotep-Ra, Lydia, Vortex, Nocturne, Undergrowth, Amorpho, Pandora, Frostbite, Dani Phantom and others - Danny Phantom
Manny Rivera/El Tigre, Frida Suárez, Rodolfo Rivera/White Pantera, Grandpapi/Puma Loco, Maria Rivera/Plata Peligrosa, Other Mexican characters - El Tigre
Fanboy, Chum Chum and others - Fanboy and Chum Chum
Otis, Pip, Pig, Freddy, Peck, Miles, Dag, Maddy, Daisy, Bessy, Duke, Etta, Eddy, Igg, Bud, Abby, Sheep, Everett, Buck, Pizza Twins, Officer O'Hanlon, Wild Mike, Canadian Cows, Root, and Other Barnyard animals - Back at the Barnyard
Skipper, Kowalski, Rico, Private, King Julian, Maurice, Mort, Roger, Max, Joey, Bada and Bing, Fred, Burt, Marlene - The Penguins of Madagascar
Master Chao, Master Yao, Mr. Yeung, Mrs. Gow, Master Shengqi, Master Kweng, Master Mugan, Master Lun, Master Elephant, Master Snow Leopard, Master Rooster, Shirong, Peng, Song, Constable Hu - Kung Fu Panda: Legends of Awesomeness
Coverton, Sqweep, Sta'abi, Vornicarn - Monsters vs. Aliens
Leonardo, Donatello, Raphael, Michelangelo, April, Splinter - Teenage Mutant Ninja Turtles, Rise of the Teenage Mutant Ninja Turtles
Felicity, Miguel, Yana, Athena, Santa Paws - Rainbow Butterfly Unicorn Kitty
Baby Shark, William, Mommy Shark, Daddy Shark, Grandma Shark, Grandpa Shark, Santa Jaws - Baby Shark's Big Show
Bunsen, Mikey Munroe, Amanda Killman, Miss Flap, Darcy, Sophie Sanders, Mr. and Mrs. Monroe, Beverly, Boodles, Mr. and Mrs. Bunsen, Ken and others - Bunsen is a Beast
Kai, Lola, Rammy, Bobbi - Deer Squad
Ansi Molina, Olly Timbers, Saraline Timbers - Welcome to the Wayne
Kid Danger, Captain Man, Schwoz, Charlotte, Jasper - The Adventures of Kid Danger
Harvey Beaks, Fee, Foo, Michelle Beaks, Dade, Claire, Princess Roberts, Techno Bear, Kratz, Rooter, Piri Piri, Seth/The Blargus, Wade, Mikey, Paul, MJ, Pip, Kevin, Ralph, Carla or Clara, Kathy, Janey, Miriam Beaks, Irving Beaks, Doctor Roberts, The Spirit of the Wetbark Lake, Jeremy, Randl, Moff Williamson, Felicity, Bartleburt, Carol, Tara, Les Squirrels, Gerald, Jackle Slytherstein, Officer Fredd, The Inspiriation and Pooker, Aiden and Miley, Roland Beaks and others - Harvey Beaks
Pig, Goat, Banana, Cricket, Burgerstein, Goat's reflection, TJ, Sleazy Beave, Rasta Rat, President of the Planet, Junior Rangers, Ranger Rhino, Breakfast Buffalo, Armpit Willy, Lady Primavera Van de Snuggles and others - Pig Goat Banana Cricket
Nella, Trinket, Sir Garrett, Clod, Badalf, Terry, The Frostbite Brothers (Snowpuff, Freezy, and Frozey), Sir Blaine, Olivia, Stella, King Dad, Queen Mom, Norma, The Knight Brigade, Willow, Fidget, Fickle, Gork, Polkadottie, Minatori, Tilly, Cici, Smelgly, Sir Coach, Flutter, The Unicorn of the Lake and others - Nella the Princess Knight
Corn, Peg and others - Corn & Peg
Rosie Redd, Mandy Orange, Anna Banana, Pepper Mintz, Bonnie Blueberry, Indy Allfruit, Lavender LaViolette, Floof, Kalia, Preston Praxton, Patty Praxton - Rainbow Rangers
Ron, Natalie, Binyah Binyah and others - Gullah Gullah Island
Shane, David, Puppet, Mrs. Foil, Schmuzzies and others - The Upside Down Show
Valeria Olivas, Winnie, Yuna, Celeste and others - Middle School Moguls
Ollie Allen, Cleo Badette, Bernie Alves, Piper Allen, Captain Wowski, Ivy - Ollie's Pack
Annie, Pony, Dad, Mom, Fred, Brian, Ms. Ramiro, Mr. Bancks, Beatrice - It's Pony!
High Five, Me K.O. and others - Glitch Techs
Maggie, Hamilton, Beast and others - Maggie and the Ferocious Beast
DeviantArt
Fella
Dennis, Tyler, Cleo - HunterRisesAgain/HunterTubeHD55842
Karolz, Catherine, Channy, Yullyna, Anlhy, Ciency, Chloyle, Inatchi, Slimark, Goraka, Ruby, Rhaychi, Curely, Heally, Kissy, Loneria, Luria, Huria, Honiria, Quimyc, Xhimena, Thika, Team Yerikha, Robo-Warton X's Team, Chloe with her Family and friends - Mrcarlos10000x
Limpo, Ressica Bombdust, and others - funnytime77
Leena - JuacoProductionsArts
Jimmy, Toby, Patrick, Sam, Roger, Maria, Cindy - 08newmanb
Samantha Van Hof (without her bigger butt) - High-On-Fairydust
Momo (without her bigger butt) - Anubis2Pabon288
Nyxen, Isabeth Luvenka, Deima, Augus, Argus, Ar'dalla, Kogo, Shigemi, Android CIS-1161 'Cissi', Warden Diana, Cardiff Goil, - NyxenAvenger
Sugar Ball, Art Block, Fox Tail Keychain, Caramel Ball, Magnetic Thinking Putty, Glazed Star Top Hat, Floating Robotic Naval Bomb, BFDI Poster, Autodesk Sketchbook, Petunia, Pink Bowling Ball, Oreo Shake - GlazeSugarNavalBlock
Ra1nb0wK1tty101, Lana, Samantha, Deli, Elizabeth Campbell, Akko Rita, Boomer, Ressie, Luke, Gabby, Anna Blue, Angel Fox, Henrietta, Vitessa, Prismatrica Frederick, xXLanaBear23Xx, TheMasterCreative - Ra1nb0wK1tty101
Martaru, Maddie Wolfie, Mark, Emily Rabitton, Sam, Eddie Malcolm, Zack Gilligan, Tommy Regginolds, Micheal Flyton, Fredrick Jackson, Donnie Phillips, Ashley and her Crew from Spy Raccoon, Marcus Teknick, The Great Roboter, Stringey, Wylee,Triangler, Crusher, Crazer - JustSomePainter11/SkyFallerArt
Lina, Natthan, Sebastian, Zoe - JaviSuzumiya
Lottie, Lexi, Sonya, Crazy Lizard Woman Driver (CLWD), Sparkles, Swirl, Rocky, Mushmallow, Rainbowcorn, Minty, Sugar, Cosma, and others - JJSponge120
Marilyn Shine, Nathan Nomad, Harper, Susie Feeble, Meek, Madilyn Glaze, Tuesday Van Dour, Emma Bore, Trixie Bittersweet and others - nerdsman567/TheDisney1901atDA
Bellybutton, Jellybean, Goldie, Pip, Cruncher - SomeDoodNamedJack
Spot, Riya, MuruKir, Clyde, Nattsu, Judy, Devin, Beki, Christina, Jason, Brian, Cato - murumokirby360/CloudyZu/StarSylveon11/edalhoff345/NeoNimbus526CatoAnderson14/Toaoflight3690/AllyPrincessGirl101/margaretzero
Lynda, Lucas - Kabutopsthebadd
Kirby Krisis, Archie the Fox, Carl the Cardinal, Peter the Beaver, Jamie the Fire-Ant, Mammoth Thighs and others - TRC-Tooniversity
The Neu Sisters - BRSstarJV
William, Spike and Chuck, Suzette Espenshade, Paige Gami, Potato, Random Marshmallow, Nookaling and Eddy the Ghost, Jenny Hushbuckler and Finn Callahan, Markus, Reggie and Doug, Jake and Chris - Finnjr63
Amos, Kayla, Billy, Justin, Julissa and Juliet - Famous Amos/Amos Martinez
Dominique, Evelyn, Scarlet, Olivia & Banana, Alissa, Tiffany & Harry, Lucia, Roberto, Jose, Zoe, Raymond, Elise, Hannah, Evan, Dominic, Dominic, Hailey, Patrick, Cecilia and Vanessa - Dominique & Evelyn/Amos Martinez
Marline, Victor, Emily, Victoria, Raquel, Adrienne, William and Hendrick - Amigas of Maracaibo High/Amos Martinez
Lizzy, Allyson, Alfred, Rosaline and Aaron - The Pride of The Month/Amos Martinez
Natashia, Chloe, Nichole, Katie, Christine, Maggie, Chelsea and Wilton - Y2K Gangs/Amos Martinez
Makenna, Jett, Bailey, Alice and Austin - Life with Makenna/Amos Martinez
Lia, Iris, Abilia and Red - Lia The Mermaid/Amos Martinez
Becca, Bertha, Mae, Ariel and Beck - The Rock Band Girl/Amos Martinez
Matthew, Clementine, Naomi, Lilly and Magdalene, Fiona, Rheneas, Caleb, Ethel, Luigi, Mom, Ditco - SonicClone
Jake Zoobrawd, Maria Jones, Savannah Garrison, Teresa Mochizuki - J-Zrod98
Precious-la Estella - momo-malt-gern
Krazy Kat Studios/Screen Gems/Sony Pictures/U P.A/Columbia Pictures/Sony Pictures Animation/TriStar Pictures/etc
Krazy Kat
Scrappy
The Fox and the Crow
Flippity and Flop
Willoughby Wren
Tito and his Burrito
Mr. Magoo
Gerald McBoing and others
Hemlock Holmes, Joe Jitsu, Heap O'Caloire, and Manuel Tijuana Guadalajara Tampico "Go Go" Gomez Jr. - The Dick Tracy Show
Peter Venkman, Raymond Stantz, Egon Spengler, Winston Zeddemore and Slimer - Ghostbusters
Agent J, Agent K, Agent H, Agent M, Pawny, Various Aliens - Men In Black
Private / Corporal / Sergeant / Lieutenant John "Johnny" Rico, Private Isabelle "Dizzy" Flores, Lieutenant / Captain Carmen Ibanez, Private Ace Levy, Colonel Carl Jenkins, Lieutenant Zander Barcalow, Career Sergeant / Private Zim, and others - Starship Troopers
Tallahassee, Columbus, Wichita, Little Rock, - Zombieland
Spencer Gilpin, Dr. Xander "Smolder" Bravestone, Anthony "Fridge" Johnson, Franklin "Mouse" Finbar: Fridge's Jumanji avatar, Professor Sheldon "Shelly" Oberon, Ruby Roundhouse, Jefferson "Seaplane" McDonough - Jumanji Welcome to The Jungle/The Next Level
Detective Lieutenant Michael Eugene 'Mike' Lowrey, Detective Lieutenant Marcus Miles Burnett - Bad Boys 1/2/For Life
Natalie Cook, Dylan Sanders and Alex Munday - Charlie's Angels and Charlie's Angels: Full Throttle
Sing, Brother Sum, The Landlord of Pig Sty Alley, The Landlady of Pig Sty Alley, the Beast, Coolie, Tailor, Donut, Bone, Fong, Brother Sum's adviser, The Harpists, Beggar - Kung Fu Hustle
CJ7
Dustin J. "DJ" Walters, Charles "Chowder", Jenny Bennett, Mr. Walters, Mrs. Walters, Mr. Horace Nebbercracker - Monster House
Dracula, Mavis, Jonathan, Dennis, Frank, Wayne, Griffin, Murray, Blobby, Vlad, Eunice, Wanda, Winnie, Puppy, Blobby´s son, Blobby´s Dog, Ericka, Other Monsters of Hotel Transylvania - Hotel Transylvania, Hotel Transylvania 2, Hotel Transylvania 3: Summer Vacation
Captain Charles T. Baker, Lem, Neera, General Grawl, Skiff, Eckle, Glar and others - Planet 51
Pirate Captain, Number Two, Charles Darwin, Peg-Leg Hastings, Pirate with Gout, Albino Pirate (US), Albino Pirate (UK), Dodo, Pirate Who Likes Sunsets and Kittens (US), Pirate Who Likes Sunsets and Kittens (UK), Black Bellamy, Cutlass Liz, Admiral Collingwood, Scarlett Morgan, Other Pirates - The Pirates! Band of Misfits
Flint Lockwood, Tim Lockwood, Sam Sparks, Barb, Foodimals, Manny, Barry, FLDSMDFR, Steve, Earl, Cal, Brent McHale - Cloudy With a Chance of Meatballs
Boog, Elliott, Giselle, Ian, Buddy, Dinkleman, Bunnies, Mr. Weenie, Fifi, Roger, Stanley, McSquizzy, Reilly, Serge, Deni, Rosie, Maria and Various Forest Animals - Open Season
Cody Maverick, Chicken Joe, Lani, Mikey, Geek, Enda, Glen, Big Z, Tank Evans, J.C., Mr. Machon, Paige, Hunter, The Undertaker, Various Penguins - Surf's Up
Sam Brenner, William Cooper, Ludlow Lamonsoff, Eddie Plant, Violet Van Patten, Matty, Lady Lisa, Q*Bert and others - Pixels
Red, Chuck, Bomb, Mighty Eagle, Leonard, Matilda, Stella, Terence, Silver, Courtney, Garry, Glenn, Debbie, Zeta, Jerry, Carl, Ella, Jay, Jake, Jim, Zoe, ViVi, Sam-Sam, Beatrice, Lily, Sophie, Isla, Bubba, Alex, Pinky, Hank, Brad, Roxanne, Axel, Ross, Mime, Cyrus, Judge Peckinpah, Hal, Bubbles, Various Birds and Pigs - The Angry Birds Movie, The Angry Birds Movie 2
Grouchy, Papa Smurf, Smurfette, Brainy, Clumsy, Hefty and Various Smurfs - The Smurfs, The Smurfs 2, Smurfs: The Lost Village
Gene, Hi-5. Jailbreak, Mel Meh, Poop, Mary Meh, Ice Cream Emoji, Spam, Steven, Flamenca, Akiko Glitter, Alex, Addie McCallister, Various Emojis - The Emoji Movie
Bo, Dave, Ruth, Thaddeus, Rufus, Cyrus, Felix, Deborah, Leah, Edith, Zach, Abby, Bo´s Father and others - The Star
Miles Morales, Peter Parker, Gwen Stacy, Spider-Man Noir, Peni Parker, Spider-Ham, Aunt May, Ultimate Spider-Man and others - Spider-Man: Into the Spider-Verse
Kate Mitchell, Rick Mitchell, Linda Mitchell, Aaron Mitchell, Monchi, Mark Bowman, Eric, Deborahbot 5000 and others - The Mitchells vs. The Machines
Long, Din, Din's Mom, Lina, Small Goon, Big Goon - Wish Dragon
Universal Pictures/Illumination Entertainment/DreamWorks Animation SKG/Aardman/LAIKA/Dr Seuss
Woody Woodpecker
Andy Panda
Chilly Willy
Winnie Woodpecker
Buzz Buzzard
Wally Walrus
Smedley
Knothead and Splinter
Miranda Panda
Tweakey da Lackey
Fievel Mousekewitz, Tanya, Papa, Mama, Tony Toponi, Tiger, Henri, Bridget, Honest John, Gussie, Digit, Warren T. Rat, Moe, Jake, Sheriff Wylie Burp, Cat R. Waul, Miss Kitty, T.R. Chula, Dr. Dithering, Various Mice, Insects, Cats, Dogs & Desert Animals - "An American Tail" series
Earthworm Jim, Peter Puppy and others - Earthworm Jim
King Kong, Humans, Various Dinosaurs, Creatures and Insects - King Kong
Jaws the Giant Man-Eating Shark
E.T. - E.T. the Extra-Terrestrial
Marty McFly and Doc Brown - Back to the Future
Michael Knight and K.I.T.T. - Knight Rider
John "Hannibal" Smith, Templeton "Faceman" Peck, H.M. "Howling Mad" Murdock, B.A. Baracus - The A-Team
Alan Grant, Ellie Sattler, Ian Malcolm, Lex Murphy, Tim Murphy, Henry Wu, Gerry Harding, Lewis Dodgson, Billy, Sarah Harding, Nick Van Owen, Kelly Malcolm, Roland Tembo, Cathy Bowman, Deirdre Bowman, Paul Bowman, Carlos, Paul Kirby, Amanda Kirby, Billy Brennan, Eric Kirby, Mark Degler, Charlie Degler, Cheryl Logan, Hannah, Owen Grady, Claire Dearing, Gray Mitchell, Zach Mitchell, Lowery Cruthers, Barry Sembène, Karen Mitchell, Vivian Krill, Scott Mitchell, Sarah, Leon, Hal Osterly, Jim Drucker, Erica Brand, Josh, Maisie Lockwood, Franklin Webb, Zia Rodriguez, Iris Carroll, Mr. DNA, Rexy, Blue, Stiggy, Claire, Elvis, Friar Tuck, Junior, Tyrannosaur Buck, Tyrannosaur Doe, Various Hunters, Various Dinosaurs, Visitors and others - "Jurassic Park/Jurassic World" franchise
J.T. Marsh, Nara Burns, Maggie Weston, Rita Torres, Kaz Takagi, Alec DeLeon, Wolf Bronski, Marsala and others - Exosquad
Balto, Boris, Jenna, Muk & Luk, Dixie, Rosy, Nikki - Balto
Rex, Buster, Vorb, Woog, Elsa, Dweeb, Louie, Cecilia Nuthatch - We're Back! A Dinosaur's Story
E.B., Mr. Bunny, Phil, The Pink Berets, rabbits and chicks - Hop
Gru, Margo, Edith, Agnes, Lucy Wilde, Dr. Nefario, Dru, Kyle, Lucky, Mel, his minions (both one eyed and two eyed) and others - "Despicable Me" series
Lorax, Once-ler, Theodore "Ted" Wiggins, Audrey, Mrs. Wiggins, Grammy Norma, Other Animals - The Lorax
Max, Duke, Gidget, Mel, Chloe, Pops, Buddy, Tiberius, Sweet Pea, Norman, Snowball, Katie, The Flushed Pets and other animals - "The Secret Life of Pets"
Buster Moon, Rosita, Ash, Meena, Mike, Johnny, Eddie Noodleman, Gunter, Richard, Bob, Miss Crawly, Big Daddy, Rosita's Piglets, Crocodile, The Q-Teez, Bears, Sheep, Bunnies, Frogs and other animals - Sing
The Grinch, Max, Fred, Cindy Lou-Who, Donna Who, Mr. Bricklebaum, Mayor McGerkle, Groopert, Axl, Ozzy, Izzy and others - The Grinch (2018)
Bill, Aldo, Ed, Oly, and Waddle
Curious George, Ted the Man With The Yellow Hat, Maggie Dunlop - "Curious George"
Polynesia, Chee-Chee, Yoshi, Plimpton, Dab-Dab, Jip, Kevin, Barry, Betsy, Tutu, Regine, Ginko-Who-Soars, James and others - Dolittle
Littlefoot, Cera, Petrie, Ducky, Spike, Chomper, Ruby, Mr. Thicknose, Mo, Guido, Shorty, Tippy and his mother, Hyp, Mutt, Nod, Ali, Doc, Grandma and Grandpa Longneck, Bron, Chomper's parents, Mama Swimmer, Ducky and Spike's Siblings, Mama Flyer, Mr. Threehorn, Tria, Skitter, Kosh, Rooter, Foobie, Hidden Runner, Loofah, Doofah, Milo, Lydia, and Plower, Archie, Tickles, Elsie, Sue, Pat, Saro, Rainbow Faces, Dara, Swooper, Etta, Wild Arms, Sharptooth, Ozzy and Strut, Fast Biters, Dil and Ichy, Red Claw, Screech and Thud, Rhett, Pterano, Rinkus and Sierra, The Great Hideous Beast and others - "The Land Before Time"
The Cat In the Hat
Thing 1 & Thing 2
The Sneetches, North going Zax, South going Zax, Sam I am, Grumpy guy - "Dr Seuss on the loose"
Jason Bourne
The Wolfman
Evil Toons
Morph, Chas, Nailbrush, GrandMorph, Deliah, Folly, Gillespie, The Very Small Creatures, Gobbledygook, The Paint Pots, Talking Lamp - Morph (animation)
Animals from Creature Comforts
Wallace and Gromit, Preston the Cyberdog, Techno Trousers, Feather McGraw - Wallace and Gromit
Shaun the Sheep, Bitzer, Farmer, Timmy, Timmy's Mum, Pidsley, Pigs, Bull, Ducks, Flock, Rita, Ben, Lexi, Stash the Squirrel, Slip, Lu-La and other animals - Shaun the Sheep, Shaun the Sheep: Adventures from Mossy Bottom, Shaun the Sheep Movie, A Shaun the Sheep Movie: Farmageddon
Dug, Goona, Hognob, All Dug´s tribe and others - Early Man
Roddy, Rita, Sid, Whitey, Spike, Hench-frogs, Rita's family, Slugs - Flushed Away
Ginger, Rocky, Babs, Fowler, Nick, Fetcher, Bunty, Mac, Other Hens - Chicken Run
Z, Princess Bala, Azteca, Barbatus, Queen Ant and others - Antz
Hebrew, Rameses, Tzipporah, Miriam, Aaron, Seti, Jethro, Queen Tuya, Hotep, Huy - The Prince of Egypt
Tulio, Miguel, Chel, Tzekel-Kan, Chief Tannabok, Zaragoza and others - The Road to El Dorado
Spirit, Little Creek, The Colonel, Sgt. Adams, Bill, Joe, Jake, Pete, Roy, Various Horses - Spirit: Stallion of the Cimarron
Sinbad, Marina, Eris, Protus, Kale, Rat, King Dymas, Luca, Jed, Various Creatures and Pirates - Sinbad: Legend of the Seven Seas
Alex, Gloria, Melman, Marty, Mason, Phil, Stefino, Vitaly, Sonya, Zuba, Florrie, Moto Moto, Andalusian Triplets, Manu & Maya, The Dancing Dogs, Gia, Classified, Short Fuse, Corporal, Eva and others - Madagascar
Shrek, Donkey, Puss In Boots, Fiona, Dragon, Gingy, Pinocchio, Three Pigs, Humpty, Kitty Softpaws, Big Bad Wolf, Three Blind Mice, Ogre Babies, Dronkeys, Queen Lillian, King Harold, Brogan the Ogre, Cookie the Ogre, Gretched the Ogre, Doris, Mabel, Various Ogres, Fairytale Creatures - Shrek, Shrek 2, Shrek the Third, Shrek Forever After, Puss In Boots
Po, Mr. Ping, Li Shan, Master Crane, Master Viper, Master Tigress, Master Mantis, Master Monkey, Master Shifu, Grand Master Oogway, Bao, Lei Lei, Mei Mei, Panda Villagers and others - Kung Fu Panda
Theo/Turbo, Chet, Tito Lopez, Smoove Move, Burn, Paz, Whiplash, Angelo Lopez, Kim-Ly, Bobby, Skidmark, White Shadow, Carl, Snails, Animals - Turbo
Hiccup, Astrid, Stoick the Vast, Ruffnut, Tuffnut, Valka, Fishlegs, Snotlout, Gobber the Belch, Eret, Toothless, Stormfly, Barf & Belch, Cloudjumper, Skullcrusher, Hookfang, Grump, Meatlug, Lightfury, Various Dragons - How to Train Your Dragon
Oh, Tip Tucci, Lucy Tucci, Officer Kyle, Captain Smek, Gorg Commander/Father, Boovs - Home
Oscar, Don Edward Lino, Lenny Lino, Angie, Lola, Sykes, Ernie & Bernie, Don Feinberg, Luca, Various Sharks and others - Shark Tale
RJ, Verne, Hammy, Stella, Penny, Lou, Ozzie, Heather, Tiger, Spike, Bucky, Quillo - Over the Hedge
Susan (Ginormica), B.O.B., Dr. Cockroach PhD, The Missing Link, Butterflyosaurus, Various Aliens - Monsters vs. Aliens
Grug Crood, Eep Crood, Sandy Crood, Gran Crood, Thunk Crood, Ugga Crood, Guy, Phil Betterman, Dawn Betterman, Hope Betterman, Belt, Sash, Douglas, Chunky, Trip-Gerbil, Liyote, Ground Whale, Bear Owl and others - The Croods
Megamind, Minion, Metro Man, Roxanne Ritchi, Megamind's Brain-Bots, Bernard, Warden - Megamind
Jack Frost, North, Tooth Fairy, Sandman, Bunnymund, Elves, Yetis, Jamie, Jamie's friends - Rise of the Guardians
Princess Poppy, Branch, Bridget, Biggie, DJ Suki, Satin & Chenille, Cooper, Guy Diamond, Grandma Rosiepuff, Cloud Guy, Moxie Dewdrop, Aspen Heitz, Mandy Sparkledust, Prince Gristle, Fuzzbert, King Peppy, Harper, Smidge, Mr. Dinkles, Tunnel Troll, Wedgie Bergen #1 & #2, Cookie Sugarloaf, Darius, Vinny the Phone, Captain Starfunkle, Spider, Chad, Card, Queen Barb, Tiny Diamond, King Trollex, Riff, Dickory, Chaz, Delta Dawn, Pennywhistle, Hickory, King Thrash, Queen Essence, Tresillo, Trollzart, King Quincy, Legsly, Prince D, The K-Pop Gang, Various Trolls and others - Trolls, Trolls World Tour
Barry B. Benson, Vanessa, Mooseblood, Ken, Janet, Adam, Martin, Various Bees - Bee Movie
Theodore Lindsey Templeton (aka The Boss Baby), Timothy Leslie Templeton, Ted Templeton, Janice Templeton, Staci, Triplets, Wizzie, Jimbo, Various Babies - The Boss Baby
Mr. Peabody, Sherman, Penny Peterson, Paul Peterson, Patty Peterson, Leonardo da Vinci, King Tut, King Agamemnon, WABAC, Albert Einstein, Ay, Mona Lisa, Marie Antoinette, Robespierre, Mrs. Grunion and others - Mr. Peabody & Sherman
Mr. Krupp/Captain Underpants, Melvin Sneedly, George Beard, Edith, Harold Hutchins, Professor Poopypants, Ms. Tara Ribble, Miss Anthrope, Mr. Meaner, Mr. Retcher, Mr. Morty Fyde, Tommy, Mr. and Mrs. Beard, Officer McPiggly and others - Captain Underpants: The First Epic Movie
Yi, Peng, Jin, Burnish, Nai Nai, Yi's Mother, Everest and Various Yetis - Abominable
James, Tobias, Claire, Walter, Blinkous, Aarghaumont, Vendel, Bular, Barbara Lake and others - Trollhunters: Tales of Arcadia
Fortuna, Spirit and others - Spirit Riding Free
Audrey, Dot, Lotta - Harvey Girls Forever!
Rocky, Bullwinkle and others - The Adventures of Rocky and Bullwinkle (TV Series)
She-Ra and others - She-Ra and the Princesses of Power
Nu Hai, Jing, Bao, Fan Tong and others - Kung Fu Panda: The Paws of Destiny
Aja, Krel, Luug, Varvatos Rex and others - 3Below: Tales of Arcadia
Waldo, Wenda, Odlulu, Wizard Whitebeard, Fritz and others - Where's Waldo?
Archibald, Preston, Finly, Loy, Astronaut Monkey, Sage, Jonathan, Bea, Wendi, Tigurr and others - Archibald's Next Big Thing
Cleopatra, Akila, Brian, Khensu and others - Cleopatra in Space
Dak, Leyla, Duggard, Hannahr, Elbone, Magnus Finke, Winger, Summer, Burple, Cutter, Aggro, Heatey, Sizzl and others - DreamWorks Dragons: Rescue Riders
Tony Toretto, Margaret, Cisco Renaldo, Layla Gray, Frostee Benson, Ms. Nowhere, Shashi Dhar and others - Fast & Furious Spy Racers
Rocksy, Twig, Leaf, Very Berry - The Mighty Ones
Coraline Jones, Mel Jones, Charlie Jones, April Spink & Miriam Forcible, Sergei Alexander "Mr. B" Bobinsky, The Cat, Wybie, Mrs. Lovat - Coraline
Norman Babcock, Aggie, Neil Downe, Courtney Babcock, Mitch Downe, Alvin, Sandra Babcock, Perry Babcock, Grandma Babcock, Judge Hopkins, Mr. Prenderghast, Sheriff Hooper, Salma, Blithe Hollow Kid, Crystal & Parachutist Ghost, Deputy Wayne, Greaser Ghost, Gucci Lady, Mrs. Henscher, Pug, Sweet Girl - ParaNorman
Eggs, Winnie Portley-Rind, Fish, Wheels, Bucket, Lady Cynthia Portley-Rind, Mr. Trout, Mr. Pickles, Other Boxtrolls - The Boxtrolls
Kubo, Monkey/Sariatu, Beetle/Hanzo, Raiden the Moon King, Hosato, Hashi, Kameyo, Mari, Minae, Aikom Miho, Ken - Kubo and the Two Strings
Mr. Link, Sir Lionel Frost, Adelina Fortnight - Missing Link
Lionsgate/Summit Entertainment
Spencer Griffith, Cy - Star Kid
Ella, Rick, Mambo, Munk, Frieda, Prince Humperdink, Rumplestiltskin, The Wizard - Happily N'Ever After
Nat McFly, I.Q., Scooter, Amos McFly, Mrs. McFly, Nadia, Yegor, Poopchev, Louie, Scooter's Mom, I.Q.'s Mom, Ray, Butch, Leonid, Mom's Maggot, Maggots, Pale Russian Flies - Fly Me to The Moon
Astro Boy, Dr. Tenma, Cora, Orrin, Dr. Elefun, Trashcan, Zog and RRF - Astro Boy
Bodi, Angus Scattergood, Khampa, Riff, Darma, Germur, Trey, Fleetwood Yak, Floyd, Carl, Various Sheeps - Rock Dog
Robinson Crusoe, Tuesday, Kiki, Rosie, Scrubby, Carmello, Epi, Pango, May, Mel, Aynsley, Cecil, Rufus - The Wild Life
Humphrey, Kate, Tony, Winston, Lilly, Marcel, Paddy, Mooch, Eve, Garth, Shakey, Salty, Reba, Claws, Janice, Candu, Hutch, Sweets, Candy, a porcupine, Garn, Debbie - Alpha and Omega
Norm, Elizabeth, Vera, Olympia, Socrates, Fu, Quinn, Maria, Chase, Fong, Lemmings, Various Arctic Animals - Norm of the North
Terrytoons
Mighty Mouse
Heckle and Jeckle
Gandy Goose and Sourpuss
Dinky Duck
Dimwit
Terry Bears
Dingbat and Sylvester The Fox
Oil Can Harry and Pearl Pureheart
Little Roquefort and Percy
Kiko the Kangaroo
Deputy Dawg
Sydney The Elephant
Hashimoto-san
Tom Terrific
The Mighty Cat
James Hound
Oscar the Timid Pig - "How Wet Was My Ocean"
Looey Lion - "The Temperamental Lion"
and others
Jay Ward Productions
Crusader Rabbit
Ragland Tiger
Rocky and Bullwinkle
Boris and Natasha
Dudley Do-Right
George of the Jungle
Super Chicken
Hoppity Hooper
and other characters
Total Television
Underdog and others
Tennessee Tuxedo and Chumley
Ruffled Feathers, and Running Board
and other characters
Al Capp (Li'l Abner)
Big Idea
Bob the Tomato, Larry the Cucumber, Junior Asparagus, Archibald Asparagus, Laura Carrot, Mr. Lunt, Jimmy and Jerry Gourd, Madame Blueberry, Petunia Rhubarb, Pa Grape, Mr. Nezzer, The French Peas, Qwerty, The Scallions, Dad and Mom Asparagus, Scooter, Mabel and Penelope, Phil Winkelstein, The Green Onions, Miss Achmetha, Khalil, Ichabeezer, Archibald's Wife, The Peas, Grandma Gourd, Ma Grape, Tom Grape, Charlie Pincher, The Peach, Don Gourdon, Apollo Gourd, Goliath, Ellen, Art Bigotti, Libby Asparagus, Sara Crewe, Bruce Onion, Bacon Bill, Tina Celerina, Callie Flower, Jenna Chive, Tom Celeriac, Motato - VeggieTales
Zidgel, Midgel, Fidgel, Kevin, Jason, Michelle, Grandmum, Baron von Cavitus, Admiral Strap, Sol - 3-2-1 Penguins!
DiC/Cookie Jar Entertainment/Wildbrain/Decode Entertainment/Ragdoll Productions/DHX Media
Inspector Gadget
Penny
Brain
Dr. Claw
Dennis the Menace
Mr. and Mrs. Wilson
Margaret
Joey
Slimer
Madeline
Miss Clavell
Lord Cucuface
Genevieve
Pepito
Oogtar
Tex Avery
Chasity Knott
Pompeii Pete
Einstone
Sagebrush Sid
Ghengis
Knannie
Power Pooch
Little Buddy
Maurice
Mooch
Freddy the Fly
Amanda Banshee
Mimi Mortin
Brad Mortin
Saffron Mortin
Marv Mortin
Elaine Pituskin
Rusell Van Eden
Tess Darrett, Dan Darrett, Daisy Darrett, Kuma, Wheels, Roadie and others - "Pole Position"
Sherlock Holmes
Sabrina Spellman, Harvey, Chloe Flan, Hilda and Zelda Spellman, Quiggley Spellman - "Sabrina, the Animated Series/Sabrina's Secret Life"
Bulletproof, LongArm, Mainframe, Highway, Bullseye, Bowser & Blitz, Sundown, Barricade and others - "C.O.P.S."
Johnny Test, Dukey, Susan and Mary Test, Hugh Test, Lila Test, Gil Nexdor, Mr. Black and Mr. White, General, Sissy Blakely, Mr. Henry Teacherman, Janet Nelson Jr., Hank Anchorman, Mayor Howard, Principal Jules Harm, Professor Slopsink, Mrs. Hamilton, Tim Burnout, Lolo, Missy, Repto-Slicer, Jillian Vegan, Mrs. Vegan, The Turbo Toy Force, Speed McCool, Montague, Dog Catcher, Fillmore, Bling Bling Boy, Miss X and Miss Z, Bumper, Mr. Whack-O, Brain Freezer, The Beekeeper, Mr. Mittens, Albert, Zizrar, Dark Vegan, Lunch Lady, Extreme Teen Team, Super Smarty Pants, Construction Drones, Mega Roboticle, Moon Fiends, Boyborgs, The Caveman, Blast Ketchup, Ed, Screechereen, Cuddlebuns, Baboomerang and Badias, Ms. Blakely, Mrs. Majekowski, Larius Nefarius, Claire Nefarius, King Fufassel, Princess Maribel, Branson Ridgeway, Mrs. Crabapple, Hotel Manager, Tyler, Wendell, Dawg & Bone, High-Pitched Hal, Warty, Truant Officer, Kirk Kirkland, Willy Keller, Xeandra, Joni West, Dutchy, Simon and Mark West, Eugenia "Glam-Glam Girl", Phobious McPhobe, Monty Butterworthm The Tickler, Jeffy, Clyde and others - "Johnny Test"
and many more characters from movies, video games and shows
Murakami Wolf Swenson/Fred Wolf Films 
Toxie, NoZone, Major Disaster, Headbanger and Junkyard - "Toxic Crusaders"
Puff the Magic Dragon
and many other characters
Film Roman/Paws, Inc.
Garfield, Jon, Odie, Pooky, Arlene, Nermal, Dr. Liz Wilson, Orson and the rest of the gang at U.S. acres and others - Garfield
Bobby Generic
Howie Generic
Martha Generic
Kelly Generic
Derek Generic
Uncle Ted
Roger
The Mask
Richie Rich, Dollar, Gloria - Richie Rich
Dan, Chris, Elise and others - Dan Vs.
Cro and others - Cro
Suzi-X and others - Haunted World of El Superbeasto
and other characters
Jim Henson
Fraggles (Gobo, Mokey, Wembley, Boober, Red, Uncle Traveling Matt), Ancient Fraggles (Fishface Fraggle, Bigmouth Fraggle, Bonehead Fraggle, Noodlenose Fraggle), Aunt Granny Fraggle, Cantus, Brio, Cave Fraggles (The Cave's Oldest Fraggle and Beige), Chuchu, Convincing John, Fragglettes, Dimpley Fraggles, Eminent and Venerable Council of Sages, Feenie, Felix the Fearless, Fire Chief Fraggle, Clerk, Gillis Fraggle, Harmer, Herkimer, Large Marvin Fraggle, Lou, Marley, Marlon, Morris, Noble Fraggles, Old Gypsy Lady, Pedley, Phil, Pipebangers, Archbanger, Rathbone, Rock Hockey Hannah, Rumple, Sidebottom, Sir Blunderbrain, Storyteller Fraggle, Tosh Fraggle, Uncle Gobo, Wimple Fraggle, Wizard, 7-Words-Max, The World's Oldest Fraggle, and Henchy), Doozers (Chief's family (Chief, Daisy and Spike), Architect's family (Chief Architect, Baker Timberbolt, Molly Bolt, Peg Bolt Doozer, Angle, Board, Bolt, Bulldoozer, Cotterpin, Crosscut, Crusty, Derrick, Drillbit, Flex, Flange, Granny Cantilever, Hammerhead, Judge Gavel, Bailiff, Lock, Lugnut, Modem, Protractor, Rhinestone, Rotary, Scoop, Spanner, Tumbrell, Turbo, Tweezer, Wingnut, Wrench and Yeaster), Gorgs, Marjory the Trash Heap, Philo and Gunge, Doc, Sprocket, P.K., B.J., Ned Shimmelfinney, Fluffanella, Ms. Betty Ardath, Marigold, Aretha, The Avalanche Monster, Baby Tree Creature, Balsam the Minstrel, Beastie, The Beast of Bluerock, Begoony, Blue Dragon, Blustering Bellowpane Monster, Brool the Minstrel, Clinging Creepers, Cooties, Ditzies, Dreedlebugs, Enigma Fish, Flutebird, Flying Batworm, Food, Furious Garboil, Gaga Bugs, Giant Bolo Monster, Giant Slurp, The Glob, Gridgen Spiders, Honkfish, Inkspots, The Invisible Garboil, Lanford, The Last of the Lilly Creatures, The Magical Spider-Fly, Mama Tree Creature, Mavis the Magic Mirror, Mean Genie, Merggles (Merboo, Merkey, Mermer, Merple and Mervin), Mirkmonster, Moss-billed Flubberducks, Mudwell the Mudbunny, Murray the Minstrel, Papa Tree Creature, Plants of the Cave of Boredom/Forgetfulness, Poison Cackler, Rock Clingers, Rockbeetles, Rumblebugs, Screaming Iceworms, Singing Cacti, Skenfrith, Terrible Tunnel, Thimblebeetles, Toe Ticklers, Purple Sproingers, Wander McMooch - Fraggle Rock, The Doozers
and many other characters from shows and movies
Discovery Kids/Hasbro
Optimus Prime, Bumblebee, Strongarm, Sideswipe, Fixit, Grimlock, Ratchet, Acree, Bulkhead and others - "Transformers Prime/Robots in Disguise"
Twilight Sparkle, Spike, Pinkie Pie, Rarity, Applejack, Rainbow Dash, Fluttershy, Derpy, Luster Dawn, Apple Bloom, Scootaloo, Sweetie Belle, Babs Seed, Gabby, Diamond Tiara, Silver Spoon, Twist, Rumble, Clear Sky, Wind Sprint, Sunny Daze, Peachy Pie, Sunset Shimmer, Starlight Glimmer, Sunburst, Trixie, Vinyl Scratch, Octavia Melody, Flash Sentry, Princess Celestia, Princess Luna, Princess Cadance, Flurry Heart, Shining Armor, Prince Blueblood, Prince Rutherford, Thorax, Pharynx, Terramar, Ember, Princess Skystar, Queen Novo, Limestone Pie, Marble Pie, Igneous Rock Pie, Cloudy Quartz, Maud Pie, Mayor Mare, Cheerilee, Sassy Saddles, Sweetie Drops, Lyra Heartstrings, Berryshine, Holly Dash, Bow Hothoof, Windy Whistles, Daring Do, Hoity Toity, Photo Finish, Sapphire Shores, Coloratura, Songbird Serenade, Mr. Cake, Mrs. Cake, Pound Cake, Pumpkin Cake, Big Maclntosh, Granny Smith, Braeburn, Aunt Orange, Uncle Orange, Bright Mac, Pear Butter, Zecora, Gallus, Silverstream, Smolder, Yona, Sandbar, Ocellus, Mage Meadowbrook, Flash Magnus, Mistmane, Rockhoof, Somnambula, Star Swirl the Bearded, Filthy Rich, Spoiled Rich, Snips, Snails, Spitfire, Soarin, Blaze, Surprise, Fire Streak, Misty Fly, Silver Zoom, Fleetfoot, High Winds, Thunderlane, Bulk Biceps, Iron Will, Seabreeze, Mr. Shy, Mrs. Shy, Zephyr Breeze, Moon Dancer, Capper, Owlowiscious, Tank, Angel, Harry, Gummy, Winona, Opalescence, Queen Chrysalis, Cozy Glow, Lord Tirek, Discord, Iron Will, Tempest Shadow, Grubber, The Storm King, Grogar, Vignette Valencia, Wallflower Blush, Principal Cinch, Sunny Flare, Sour Sweet, Indigo Zap, Sugarcoat, Lemon Zest, Juniper Montage, Kiwi Lollipop, Supernova Zap, The Dazzlings - "My Little Pony: Friendship is Magic/Equestria Girls"
Blythe Baxter, Zoe Trent, Sunil Nevla, Vinnie Terrio, Penny Ling, Russell Fergenson, Minka Mark, Pepper Clark and others - "Littlest Pet Shop"
Lucky, Cookie, Niblet, Strudel, Squirt, Rebound, Cupcake, Patches, Dolly, Ralph, Pepper, Agent Ping, Shakes, Fang, Scar, Weasel, Shagface, Lola, Stain, Rover, Mittens, Lily, Spoons, Teensy, Madame Pickypuss, Bumper, McGuffin, Pooches McFurFace, Millie, Bony Boggins, Bert, Miss Stiffwhiskers, Agent Françios, Freddie, Chief, Bumper, Cuddlesworth, Dash Whippet, Agent Todd, Agent Rick, Bingo, Bondo, Tundra, Sven, Gwen, Buck, Slick, Sid, Salty, Humphrey, Babette, Twiggy, Rocky, Billy Ray, Bumbles, Tyson, Buddy, Champ, Chubba, Brutus, Sterling Von Oxnard, Sarge, Miss Petunia, Cinnamon, Missy Molly and Muff-Muff, Annie, Frannie, Kay - Pound Puppies
Jib, Mr. Mint, Snow Beaver, King Kandy, Jolly, Gloppy, Princess Lolly, Princess Frostine, Gramma Nut, Mamma Gingertree - Candy Land: The Great Lollipop Adventure
Rudolph, Hebie, Clarice, Yukon Cornelius, The Abominable Snowman, Misfit Toys and Various Reindeers - Rudolph the Red-Nosed Reindeer
Kenny the Shark, Kat and Karl Cassidy, Oscar, The Phoebes, Burton Plushtoy lll and others - Kenny the Shark
Tutenstein, Cleo Carter, Luxor the Cat and others - Tutenstein
Creepie, Chris-Alice, Budge and others - Growing Up Creepie
Frosty, Professor Hinkle, Karen, Children, and Hocus Pocus - Frosty the Snowman
Kris Kringle, Mrs. Jessica, Topper the Penguin, Winter Warlock, Burgermiester Miesterburger, Grimsby and Tanta Kringle - Santa Claus Is Comin' to Town
Doki, Mundi, Oto, Anabella, Gabi, and Fico - Doki
Mattel
The Steam Team (Thomas, Gordon, James, Percy, Emily, Nia and Rebecca), Edward, Henry, Toby, Duck, Stanley, Hiro, Donald and Douglas, Oliver, Bill and Ben, Harvey, Fergus, Arthur, Murdoch, Molly, Neville, Rosie, Whiff, Charlie, Bash and Dash, Ferdinand, Scruff, Belle, Stephen, Porter, Timothy, Glynn, Ryan, Merlin, Theo, Lexi, Hurricane, Diesel, Daisy, BoCo, Mavis, 'Arry and Bert, Diesel 10, Salty, Den, Dart, Norman, Paxton, Sidney, Philip, Hugo, Frankie, Stafford, Flying Scotsman, Stepney, Spencer, Connor, Caitlin, Gator, Samson, Ashima, Rajiv, Shane, Shankar, Noor Jehan, Yong Bao, Hong-Mei, Carlos, Billy, Hank, Flora, Derek, Dennis, Flynn, Winston, Marion, Reg, Skiff, City of Truro, The Diesel, Lady, Logan, Sam, Dustin, Splatter and Dodge, Victor, Skarloey, Rheneas, Sir Handel, Peter Sam, Rusty, Duncan, Duke, Mighty Mac, Fearless Freddie, Luke, Millie, Smudger, Bertram, Proteus, Mike, Bert, Rex, Annie and Clarabel, Henrietta, Slip Coaches, Hannah, An An and Yin Long, Dexter, Aubrey and Aiden, Troublesome Trucks, Toad, Bradford, Rocky, Judy and Jerome, The Spiteful Brake Van, S.C. Ruffey, Old Slow Coach, Hector, The Chinese Dragon, Terence, Bertie, Trevor, Harold, Bulgy, George, Cranky, Butch, Elizabeth, Jeremy, Madge, Kevin, Captain, Merrick, Owen, Carly, Big Mickey, Beresford, Caroline, Bulstrode, The Horrid Lorries, Thumper, Tiger Moth, Colin, Jack, Alfie, Oliver the Excavator, Max and Monty, Kelly, Byron, Ned, Isobella, Patrick, Buster, Nelson, Glynn, Skiff, Sir Topham Hatt, Lady Hatt, Stephen and Bridget Hatt, Farmer Finney, Mrs. Kyndley, Jem Cole, The Vicar, Farmer Trotter, The Refreshment Lady, Dowager Hatt, Miss Jenny Packard, Cyril The Fogman, Farmer McColl, Alicia Botti, Sodor Brass Band, The Duke and Duchess of Boxford, Lord Callan, Mr. Percival, The Mayor of Sodor, Mr. Bubbles, The Dock Manager, Sir Robert Norramby, Captain Joe, Fergus Duncan, Clergymen, Jeremiah Jobling, Railway Inspectors, Nancy, Tom Tipper, Important Passenger, The Cricketers, The Relief Postman, Old Bailey, Mrs. Kyndley's Daughter, Mr. Hastings, The Bird Watcher, Sailor John, Various Engines, Various Rolling Stock, Various Non-Rail Vehicles, Various People and Animals and many others - Thomas & Friends
Bob, Wendy, Mr. Bentley, Dorothy, Mrs. Broadbent, Mr. Beasley, Mrs. Bentley, Farmer Pickles, Mr. Dixon, Mr. Ellis, JJ, Molly, Mrs. Percival, Mrs. Potts, Mr. Sabatini, Robert, David Dixon, Doris, Mr. Fothergill, Jenny, Pam Goody, Tom, Mrs. Sabatini, Sandy Beach, Mr. Costello, Lennie Lazenby, Annie Pickles, Meg McDonald, Baz, Pablo, Sunny, Saffron, Cassie, Carlos, Piper McDonald, Marjorie, Jana von Strudel, Brad Rad, Mr. Mockney, Tony Toberoni, Leo, Maria Madison, Curtis, Brandon, Mila, JJ, Saffi, Chef Tattie, Jenny Dobbs, Vet Tilly, Conrad, Scoop, Muck, Dizzy, Roley, Lofty, Travis, Skip, Trix, Scoot, Benny, Scrambler, Sumsy, Packer, Dodger, Tumbler, Flex, Bristle, Zoomer, R.Vee, Jackaroo, Splasher, Gripper and Grabber, Scratch, Rubble, Tiny, Two-Tonne, Stretch, Thud, Crunch, Ace, Rocky, Norm, Alfred, Tread, Betsy, Phillip, Shifter, Picksy, Spud, Pirate Brickbeard, Pilchard, Bird, Scruffty, Finn, Tommy, Hamish, Squawk, Bird(ie), Sprat and his kittens, Gull, Fox Cub, Cooper, Stripy - Bob the Builder, Bob the Builder: Project Build It, Bob the Builder: Ready, Steady, Build!, Bob the Builder (2015 TV series)
and more characters from shows
PBS Kids
Dash
Dot, Dee and Del
Loonette, Molly, Fuzzy and Wuzzy, The Foley Family (Andy, Jim and Eileen), Granny Garbanzo, Snicklefritz, Major Bedhead, Auntie Macassar, Wobbly, Uncle Chester - The Big Comfy Couch
Lamb Chop, Charlie Horse, Hush Puppy, Buster the Bus, featured puppeteer, Big Lamb Chop, Big Charlie Horse, Lamb Chop's Playmates - Lamb Chop's Play-Along!, The Charlie Horse Music Pizza
Julie, Kiki, Ben, Leon, Skye, Jody, Weebus, Nuzzle and Sizzle, The Piece Police, Kyle O'Connor - The Puzzle Place
Big Bird, Elmo, Snuffy, Grover, Telly Monster, Ernie, Bert, Baby Bear, Cookie Monster, Rosita, Abby Cadabby, Oscar the Grouch, Slimey, Count Von Count, Zoe, Curly Bear, Herry Monster, Prairie Dawn, Mama Bear, Papa Bear, Elizabeth, Little Murray Sparkles, Louie, Mae, Horatio, Barkley, Baby Natasha, Hoots the Owl, Guy Smiley, Sherlock Hemlock, Forgetful Jones, Two-Headed Monster, The Amazing Mumford, Frazzle, Biff, Sully, Murray Monster, Gladys the Cow, Buster the Horse, Lulu, Benny Rabbit, The Big Bad Wolf, The Three Little Pigs, Honkers, Dinger, The Martians, Little Bird, Mr. Johnson, Grundgetta, Ovejita, Stinky the Stinkweed, Googel, Phoebe, Narf, Mel, Little Chrissy, The Alphabeats, Little Jerry, Big Jeffy, Don Music, Rockin' Richard, Maurice Monster, Harvey Monster, Kingston Livingston III, Humphrey, Ingrid, Bruno the Trashman, Sherry Netherland, Gordon, Maria, Gabi, Alan, Bob, Susan, Miles, Gina, Luis, Chris, Julia, Charlie - Sesame Street
Arthur Read, D.W. Read, David L. Read, Jane Read, Grandma Thora Read and his mother, Grandpa Dave, Uncle Bud, Aunt Loretta, Uncle Sean, Aunt Bonnie, Uncle Fred, Aunt Jessica, Uncle Richard, Aunt Lucy, Buster Baxter, Francine Frensky, Alan Powers, Muffy Crosswire, Binky Barnes, Kate Read, Sue Ellen Armstrong, George Lundgren, Fern Walters, Ladonna Compson, Prunella Deegan, The Tibble Twins, Emily, Jenna Morgan, Mr. Armstrong, Mrs. Armstrong, Bailey Carson Belvedere III, Becky, Ed Billings, Bubby, Mr. Barnes, Mrs. Barnes, Bitzi Lynne Baxter, Bo Baxter, Buster's Grandmother, Miss Blank, Coach Bumpus, Mrs. Bofini, Ms. Bryan, Mrs. Cardigan, Mrs. Grouse, Edward Edsel "Ed" Crosswire, Millicent Crosswire, Cisely Compson, Mrs. Datillo, Wanda Deegan, Ms. Featherfoffer, Flossie, Mr. Elkin, Emily's mother and father, Mrs. Fink, Nurse Flynn, Oliver Frensky, Laverne Frensky, Grandpa Frensky, Dr. Frederique Fugue, Ted Glass, Coach Grimsled, Mrs. Gutter, Harry Mills, Francis Haney, Mr. Higgins, Dr. Iris, Ms. Krasny, Fritz Langley, Neal Lundgren, Mrs. Lundgren, Leah MacGrady, Mr. Marco, Marie-Helene, Herman Merkles, Ursa Merkles, Ramon Molina, Mrs. Molina, Carl Manino, Mr. and Mrs. Morgan, Ms. Morgan, Mr. Morris, Mrs. Pariso, Signore Pelato, Pickles the Clown, Mr. and Mrs. Powers, Mr. Pryce-Jones, Nigel Charles Ratburn, Rodentia Ratburn, Mrs. Robertson, Mr. Sanders, Mrs. Shmigaedy, Susy Sipple, Dr. Sozio, Miss Sweetwater, Mrs. Terracini, Mrs. Tibble, Miss Tingley, Mrs. Tremello, Paige Turner, Mr. Walters, Doria Walters, Mrs. Wood and others - Arthur, Postcards from Buster
Barney, Baby Bop, BJ, Riff, Scooter McNutty, Miss Etta Kette, Booker T. Bookworm, 100 children, Mother Goose, Stella the Storyteller, Animals, Professor Tinkerputt, Tomie dePaola, Mom, Mr. Boyd, Colleen, David, and others - Barney and Friends
Emily Elizabeth, Caroline, Mark, Jetta, Cosmo, Charley, Samuel, Vaz, Sheriff, Deputy, Ms. Diller, Violet, Horace, Nina, Evan, Shun, Mr. Solomon, Mrs. Z, Jenny, George, Madison, Larry, Gablegobble, Ms. Diller, Shackelford, Dorothy, Rodrigo, Samantha, Ms. Mulberry, Dr. Mulberry, Jack, Pablo Flores, Fire Chief Franklin, Mrs. Clayton, Ms. Ellerby, Mr. Basu, Fisherman Charlie, Clifford, T Bone, Cleo, Mac, Daffodil, Flo and Zo, The Sidarskis, Jorge, Bibi, Tricksie, Norville, Willa, Bailey, Tucker, Hero, Hudson, Shelly - Clifford The Big Red Dog, Clifford's Puppy Days, Clifford's Really Big Movie, Clifford the Big Red Dog (2019)
Caillou, Rosie, Boris, Doris, Gilbert, Leo, Clementine, Jason, Jeffrey, Derek, Clarice, Sonya, Mr. Hunker, Ms. Martin, Sarah, Lee Wuhn, Olly, Murphy, Grandpa and Grandma and others - Caillou
Lionel, Leona, Theo, Cleo, Barnaby B. Busterfield III, Walter and Clay Pigeon, Dr. Nitwit, Click, Heath, Arty Smartypants, Marmy Smartypants, Vowelles, Information Hen, Monkeys, Ducks, Cliff Hanger and others - Between the Lions
Jay Jay, Tracy, Snuffy, Herky, Big Jake, Savannah, Old Oscar, Revvin' Evan, Tuffy, Brenda Blue, Mrs. Blue, Miss Lee, E.Z. O'Malley, Breezy, Bobby and Billy Bee and others - Jay Jay the Jet Plane
The Kids from Zoom
Tilly, Tom, Tiny, Donkey and Furryboo - Tots TV
Wishbone, Joe Talbot, David Barnes, Sam Kepler, Ellen Talbot, Wanda Gilmore, Robin, Damont Jones, Jimmy Kidd, Emily Barnes, Amanda Hollings, Mr. Bob Pruitt, Walter Kepler, Nathaniel Bobelesky, Homer Vincent, Lee Natonabah, Travis del Rio, Melina Finch, Marcus Finch, Mr. King - Wishbone
Wimzie, Rousso, Graziella, Bo, Yaya, Jonas, Loulou, Horace - Wimzie's House
Zach, Annie, Plato, Socrates, Aristotle, Aurora and others - Adventures from the Book of Virtues
Zoboomafoo, The Kratt Brothers (Chris and Martin), Al, Aviva Corcovado, Koki, Jimmy Z, Zach, Donita, Dabio, Gaston, Paisley, Rex, Jackie, Amy, and Zobooland Characters (Narchi, Gooble, Sensit, Wiggy Waxwing, Green Puppy, Slimantha, Noggendrill, Snow Lemur, Animals, Baby Zoboomafooasaurus and Zoboomafooasaurus, Buggly, Fibby, Cy) Ttark, Ken and others - Kratt's Creatures, Zoboomafoo, Wild Kratts
Anne, Matthew, Diana, Gilbert, Felicity, Felix, Hetty, Marilla, Peg, Dryad, Rachel, Caesar, The Willows, Mr. Lawson, Mr. Gresham, Perry, The Swings - Anne of Green Gables: The Animated Series
Neighbor Aber, Lady Aberlin, Scientist Adler, Charles Appel, Natalie Baker, Marilyn Barnett, Chef Brockett, Bob Brown, Judy Brown, Michael Brown, Tony Chiroldes, Jose Cisneros, Officer Clemmons, Dr. David Crippens, Keith David, Emily the Poetry Lady, Joey Hollingsworth, Pilot Ito, Susan Linn, Mayor Maggie, Mr. McFeely, Mrs. McFeely, Elsie Neal, Debbie Neal, Handyman Negri, Miss Paulificate, Sergio Pinto, Mary Rawson, John Reardon, Gladys Schenk, Chrissy Thompson, Bob Trow, Jewel Walker, Collette, Cornflake S. Pecially, Daniel Striped Tiger, Donkey Hodie, Edgar Cooke, Grandpere Tiger, Henrietta Pussycat, Ino A. Horse, King Friday XIII, Lady Elaine Fairchilde, Mrs. Frogg, Princess Margeret H. Lizard, Queen Sara Saturday, Tadpole Frogg, X the Owl, Anna Platypus, Betty Okonak Templeton-Jones, Bob Dog, Cousin Mary Owl, Cousin Steven Owl, Dr. Duckbill Platypus, Elsie Jean Platypus, Harriett Elizabeth Cow, H.J. Elephant III, Hula Mouse, James Michael Jones, Prince Tuesday, Purple Panda, Robert Troll and others - Mister Rogers' Neighborhood
Brother Bear, Sister Bear, Papa Bear, Mama Bear, Grizzly Gramps, Grizzly Gran, Cousin Freddy, Lizzy Bruin, Queenie, Ferdy Factual, Too-Tall, Skuzz, Smirk, Squire Grizzly, Miss Grizzle, Farmer Ben, Various Bears and others - The Berenstain Bears
Matthias, Various Rats - Redwall
Tinky Winky, Dipsy, Laa-Laa, Po, Noo-Noo, Voice Trumpets, Talking Flowers, Rabbits and others - Teletubbies
Humbah, Zumbah, Zing Zing Zingbah, Jumbah, Jingbah, Grandmamma, Grandpappa, Mrs. Lady, Mr. Man, Brother and Sister, Auntie, Little Dog Fido - Boohbah
Matt, Jackie, Inez, Digit, Hacker, Buzz, Delete, Motherboard, Dr. Marbles, Widget, TW, Fluff, Creech, Jules, Slider, Baskerville, Ledge, Wicked, Warren, Ann Arki, Olga, Scratch, Cyclops, Trashinator, Tonga, Gigabyte, Cool Starmaker, Binary, Icky, The Crab Prince, Manny the Medium, Stringie and Bow, Princess Deah, The Sams, Erica Ram, Gnome, Mayor Wolfman, Dracula, Ms. Fileshare, Nero, Unga, Target, Abby, Ollie, Shari Spotter, Professor Stumblesnore, Dody, Gimme, Mister Zero, Stormy Gale, Mayor, Wholesome Twins, Bank President, Punxie, The Grand Ground Hoggian, Mayor, The King of Happily Ever After, Spider, Ziff, Wanda, Little Red Riding Hood, Jam Master, Jules, The Mayor of Memoryville, Stats, Zeus, Athena, Poseidon, Hermes, Artemis, The Beast, Apollo, Himaropa, Calliope, Homer, Warren's mom, DJ Groovy, Hector, Gordon, TW, Diamond Joe, Mother Parallini, Fluff, Coach, Ice, Fergie, PJ, Rusty, Berny, Walter, Razz, Mayor, Waldo, The Grand Pasha, Petra, Keesha, Mikey, Annie, The Mayor, Irma, Sleight O. Hand, Chief, Lily, Puck, Binky, Mummsy, King Dudicus, Slider, Coop, Lucky, Grubby, Cy Clone, Glowla, Spout, Judge Trudy and Sheriff Judy, Rudy, Deke, Chef Foody, Master Pi, Olli, The Sedimentary Sentry, AVA, Creech, Max, Big Kahuna, Deci, Zanko, Rourke, Bernie, Ollie, Abby, Sam Vander Rom, Scanner and others - Cyberchase
Piggley Winks, Ferny, Dannan O'Mallard, Molly Winks, Elly, Ciara, Seamus, Sean, Meg, Wiley, Shirley, Mr. Hornsby, Pádraig, Hector, Don, Millie, Lizzie, and Sharon, Gosford, Gossie, Miss Nanny, Holly, Gerdie, Disgruntled Goat, Max, Captain Cumara, Various Farm Animals - Jakers! The Adventures of Piggley Winks
Emmy, Max, Enrique, Ord, Cassie, Zak and Wheezie, Quetzal, Arlo, Dr. Booboogone, Captain Scallywag, Chilly, Cyrus, The Doodle Fairy, Eunice, Finn, The Giant of Nod, Kiki, Lorca, Norm Monsieur Marmadune, Mr. Pop, Mungus, Polly Nimbus, Priscilla, Sid Sycamore, Slurpy, Various Dragons, and others - Dragon Tales
Miao Family (Sagwa, Dongwa, Sheegwa, Baba Bao-Bao, Mama Shao Faing, Nai-Nai, Yeh Yeh, Uncle Miao, Mae-Mae, Chi-Chi), Shan-Tai-Yeh, Tai-Tai, Ba-Do, Kuh-Keh, See-Yeh, Jun, Fu-Fu, Shei-Hu, The Alley Cats (Wing Wing, Jet Jet and Lik Lik), The Sleeve Dogs (Ping, Pong and Pang) - Sagwa, the Chinese Siamese Cat
George, Harold, Becky, Mom, Dad, Aunt Eunice, Sparkle, Russell, Ellen, Timmy and Jimmy, Hilda and Henry, Helga, Lizzy, The Cadwells, Skyler - George Shrinks
The Seven Monsters (One, Two, Three, Four, Five, Six, Seven), Mom, Mary, Sam, Belinda, Freddie - Seven Little Monsters
Corduroy, Lisa, Rosetta, Buckaroo, Marty - Corduroy
Elliot Moose, Socks, Paisley, Lionel, Beaverton, Mong, Drusilla Dragon, Amy, Greg Spottiswood, Paisley, Beaverton. James Rankin - Elliot Moose
Timothy, Yoko, Nora, Charles, Lilly, Frank #1 & Frank #2, Doris, Fritz, Claude, Grace, Juanita, Mrs. Jenkins, Big Frank, Henry, Miss Appleberry, Mrs. Lightfoot and others - Timothy Goes to School
Marvin, Eddy, Diamonds, Elizabeth, Stripes, Fast-Talking Jack, Edna, Lyman Slime, The Penguin's Five, Eddy's Grandmother, Squinty Pete, Mr. P. Nutty, Lula Belle Rose, Lucy, Boris, Clyde - Marvin the Tap-Dancing Horse
The Electric Company (Hector, Jessica, Keith, Lisa and Marcus), Shock, P.J., Leo, The Great Calvero, Bandini, Mario, Sammy, Paul, Dax, Polly, Emily, Wiki Wiki Walter, Charles, Benny, Amy, Jules, The Heffenbacher Family (Caroline, Mildred and Cordelia), The Pranksters (Francine, Annie, Danny, Manny and Gilda Flip), Sigmund, Sandy, Antigone, Mrs. Bebe, Sandy, Buster, Mrs. Scrambler, Captain Cluck, The Poultry Patrol (Amy, Fay, Fran, Gin, Helen, Jan, Jen, Jean, Joan, June and Nan), The Lost Girl, Greg, Donnie, Nuggets, Petunia, Tom, Werewolf, The Brown Bat, Mummy, Aunt Hilegard, The Three Orangutans, Special Agent Jack Bowser, Music Man, The Pet Shop Owner, Josephine, Felix and Oscar, The Two-Headed Long-Necked Monster, Wrack and Wreck, Ray and Fay - The Electric Company
Wordgirl, Captain Huggy Face, Tim, Sally, TJ, Scoops, Violet, Beau, Tommy, Phil, Emily, Bill, Reginald, Professor James Doohickey, Prof. Robert Tubing, Exposition Guy, Police Commissioner Watson, The Mayor, Warden, Edith, Mr. Callihan, Reuben, Mrs. Ripley, Ms. Libiri, Ms. Dewey, Milt, Mr. Dudley, Zachary Zany, Hunter Throbheart, Ms. Champlain, Bank Teller, Ms. Davis, Bampy Botsford, The Butcher, The Baker and the Candlestick Maker, Kid Potato, Li'l Mittens, Dr. Two-Brains and their henchmen, Glen Furlblam, Mr. Big, Leslie, Tiny Big, Granny May and his mother, Tobey, Claire, Checkmate 3000, SuperRobot, Artsy, Chuck and his mother, Brent, Lady Redundant Woman, Evil WordGirl Copy, Evil Sally, EEvil DEvil Sally BotsforeDupey, Royal Dandy, The Whammer, The Coach, Invisi-Bill, Ms. Question, The Masked Meat Marauder, The Amazing Rope Guy, Energy Monster, Seymour Orlando Smooth, Steve, Raul, Guy Rich, Nocan, Victoria, Captain Tangent, Miss Power, The Learnerer - WordGirl
Buddy, Tiny, Shiny, Don, Mrs. Pteranodon, Mr. Pteranodon, Mr. Conductor, Dennis, Tank, Annie, Cory, Quincy, Polly, Adam, Alan, Elliott, Morris, Mr. Argentinosaurus, Mr. Daspletosaurus, Mr. Elasmosaurus, Mrs. Elasmosaurus, Mrs. Einiosaurus, Grandma Pteranodon, Grandpa Pteranodon, Hank, Ralph, Stuart, Ziggy, Carson, Gary, Stuart, Travis, Vincent, Teddy, Frankie, Marvin, Jess, Reggie, Arnie, Crystal, Gilbert, Lorraine, Millie, Mrs. Therizinosaurus, Ollie and Oren, Reba, Gwendolyn, Angela, Dolores, Erma, Fanny, Jacqueline, Laura, Mrs. Corythosaurus, Mrs. Ornithomimus, Ned, Pauline, Peggy, Trudy, Tuck, Velma, Remy, Effie, Paulette, Kenny, Soren, Tommy, Percy, Leslie, Maisie, Kiera, Marco, Allie, Carla, Rodney, Michelle, Denise, Deanna, Boris, Bucky, Mr. Deinonychus, Thurston, Peng, Old Spinosaurus, Alvin, Apollo, Albert, Eugene, Larry, Mr. Quetzalcoatalus, Mr. Therizinosaurus, Quinn, Sammy, Ulysses, Zhuang, Trevor, Daphne, Mookie, Paulie, Patrick, Mitch and Max, Leroy, Derek, Elmer, Lily, Chung, King Cryolophosaurus, Penelope, Dylan and Devlin, Martin, Tricia, Perry, Rick, Nick, Pamela, Henry, Herbie, Iggy, Mayor Kosmoceratops, Deon, Hap, Judy, Stacle, Vera, Jack, Sydney, Brenda, Mrs. Pliosaurus, Petey, Vlad, Olivia, Sonny, Cassie, Angela, Arlene, Cindy, Gabby, Keenan, Mikey, Minnie, Mrs. Archelon, Mrs. Conductor, Mrs. Deinonychus, Patricia, Rita, Sana, Selma, Shirley, Sonja, Spiky, Stella, Stephie, Valerie, Craig, Ella, Shoshana, Brachiosaurus, Corythosaurus, Parasaurolophus, Triceratops, Troodons, Velociraptor, Crab, Station Master, Various Dinosaurs and others - Dinosaur Train
Hundley, The Doorman, Professor Wiseman, Chef Pisghetti, Netti, Gnocchi, The Renkins, Marco, Allie, Bill and his bunnies, Steve and Betsy, Charkie, Mr. Glass, Dinwoodie, Mr. Zoobel, Mr. and Mrs. Quint, Ada & Luke, Andie, Stig, & Stew, Calhoun, Vicky and Vinny, Cayley, Dorothy, Dr. Alvin, Dr. Baker, Dr. Ghesund, Dr. Raj, Grocer, Gwen & Sisly, Mr. Auger, Mrs. Dulson, Mr. Reloj, Mrs. D, Mr. Ruffweek, Professor Anthony Pizza, Rodney, Uncle Tam, The Zucchinis, Dog Trainer Man, Benjy & Willy, Bruno, Doxie, Fluffy, Geoffrey, Leslie, Little Mike, Lucky, Oscar, Sue Berm, Tracy, Compass, Jumpy - Curious George
Alex, Zoe, Stanley, G'Bubu, Iggy, Livingstone T. Lion, Reenie, Allegra, Tyrannicus, Fuchsia, Elni & Erno, Herry & Horble, Melba & Melford, Zee & Zed, Bitsy & Snitzy, Victor & Verbal, Rombolt, The Giraffe, The Toucans, Butterflies, Peter Applebottom, Dagmont Dragon, Whim Unicorn, Various Animalians - Animalia
The Cat in the Hat, Nick, Sally, Fish, Thing 1 and Thing 2 - The Cat in the Hat Knows a Lot About That!
Chuck, Ramona, Zeppelin - Chuck Vanderchuck's Something Something Explosion
James Hiller, Sarah Phillips, Henri, Moses and others - Liberty's Kids
Snook, Madge, Smooch and Winslow, Burdette, Bob, Ick, Oko, Wartz, Riona - It's A Big Big World
Martha, Helen, Alice, Truman, TD, Skits, Mariella, Milo, Carolina, Jake and others - Martha Speaks
Ruff Ruffman, Blossom, Chet, Henry, Murray, Tank, Charlene Poodle, Grandma Ruffman, Scruff Ruffman, Ruffael Ruffmanowitz, Great Uncle McRuffmantosh, Spot Spotnik, Helga von Ruffman, Glen Ruffman, Gerry Geranium, Rüf Rüfman, Bluff Ruffman, Blackmuzzle Ruffman, Roxy Ruffman, Mrs. Kate Taylor, Harriet Hackensack, Fleape Itcherson, Le Purr, Gus Ruffman, Maximilian Ruffman, Wink and Dinah Ruffman, Tom and Trixie, The Canadian Mountie, Professor Fange, Sadie, Tasha, Mateo - Fetch! with Ruff Ruffman, The Ruff Ruffman Show, Team Hamster
Betsy, Billy, Scott, Molly, Sarah, Kenji, Maria, Newton, Mr. and Mrs. Carl O'Connor, Bus Driver Bob, Principal Warner, Kevin, Betsy's Parents, Farmer Warner, Gracie, Kitty, Sidney and others - Betsy's Kindergarten Adventures
Mama Mirabelle the Elephant, Max the Elephant, Karla the Zebra, Bo the Cheetah, Merlin the Bat, Kayla the Red Kangaroo, Ronjy the Tiger, Kylie, Daddy Stripes the Zebra, Keisha, Benny the Bird, Winnie the Cow, Jacques the Walrus, Mama Bird, Edna the Echidna and Various Animals - Mama Mirabelle's Home Movies
Franny, Grandpa, Lucy, Nat the Yak, Kinka the Kinkajou, Princess Tia, Fritz, Zelda the Wild Boar, Charlie the Bronco, Zuca the Kinkajou, Desta the Ostrich, Salsa the Donkey, Li-Mei the Chinese Girl, Carlos the Mexican Boy, Johnny, the Jamaica Boy, Joey the Canadian Dig Boy, George the Mouse, Joanna the Pirate Girl, Joey the dogsled, Sally the Tough Old Cat, Adam the Camper, Jessie the Musical Star, Li-Wei the Chinese Girl, Pixie the Horse, Morrison the Monkey/Galileo, Rudy the Kangaroo, Sarah the Rider, Meena the Butterfly - Franny's Feet
Noah, Pequeño, Coco, Abuela, Nell, Brisa - Oh Noah!
The Cast of DragonflyTV
Super Why/Whyatt Beanstalk, Wonder Red/Little Red Riding Hood, Alpha Pig/Pig, Princess Presto/Princess Pea, Mrs. Beanstalk, Mr. Beanstalk, Joy, Woofster, and other storybook village citizens - Super Why!
Jet, Carrot, Celery, Sunspot, Face 9000, Sydney, Sean, Mindy, Zucchini, Moonbeam, Eggplant, Zerk, Spinach, Mitchell, Mr. Peterson, Dr. Rafferty, Dr. Berg, Dr. Melendez, Riley, Lillian and his mom, Beep, Dr. Skelley - Ready Jet Go!
Maya Santos, Miguel Santos, Theo McEwen, Maggie Lee, Chrissy Lum, Andy Arlington, Tito Chávez, Abuela Elena, Paco, Rosa Santos, Santiago Santos and others - Maya & Miguel
Plum, Brad, Clem, Cooper, Oliver, Gabi - Plum Landing
Sid, May, Gerald, Gabriela, Susie, Mort, Alice, Rose, Dr. Rosalinda Cordova, Zeke - Sid the Science Kid
Luna the Moon, Leo the Wombat, Andy the Frog, Carmen the Butterfly, Magic Globe, Señor Fabuloso the Flamingo, Honey the Hamster, Mr. Hockbar the Vole, Maria, Wolfgang, Pippa, Mathilda, Lucie, Sam, Bonjour and Au Revoir the Mandrills, Ingrid the Centipede, Salami Strong the Alligator, Pablo the Armadillo, The Acronauts, The Tourist, Viktorya and Boris the Bears, Fong the Bull, Pico the Armadillo, David the Flea, Rhino Lady, Aman the Elephant, Caterpillar, Timur, Silas the Ostrich, Mukandi, Dexter the Greyhound, Vitoria, Remy, Skye the Fox, Gina, Auggie, Ramona the Mouse, Iker, Richard and Courtney, Dao, Capicola and Pancetta, Matteo, Akeyo, Patra, Lek, Peawit, Anurak - Let's Go Luna!
Peg, Cat, Ramone, Pig (mentioned), Neighbor Ladies, 100 Chickens, The Pirates and their parrot, Big Mouth, Richard, The Teens, Giants, Mermaid, The Three Bears, The Three Pigs, The Three Billy Goats Gruff, The Blockettes, Mac, Peg's Mom, The Seven Dwarves, Dragon, Ludwig van Beethoven, George Washington, Albert Einstein, Flat Woman, Baby Fox, Romeo and Juliet, Triceratops, Baby T Rex, Cleopatra, Marie Curie, Roxanne, The President of the United States, Robin Hood, Aki, Billie, and others - Peg + Cat
Daniel Tiger, Miss Elainia, Katerina Kittycat, O the Owl, Margaret Tiger, Grandpere Tiger, Prince Wednesday, Mom Tiger, Dad Tiger, Lady Elaine, Music Man Stan, Henrietta Pussycat, X the Owl, Queen Sara Saturday, King Friday, Prince Tuesday, Chrissie, Jodi Platypus, Teddy and Leo Platypus, Dr. Plat, Nana Platypus, Snowball - Daniel Tiger's Neighborhood
Izzie, Jake and Fang - SciGirls
Pinkalicious, Peter, Mr. and Mrs. Pinkerton, Kendra Klee, Jasmine Cooper, Lila Goodway, Rafael Martinez, Frida Martinez, Mayor Martinez, Mr. and Mrs. Plum, Gertie, Ms. Penny, Indigo - Pinkalicious & Peterrific
Donkey Hodie, Purple Panda, Duck Duck, Bob Dog - Donkey Hodie
Elinor, Ari, Olive, Ms. Mole, Ranger Rabbit, Mr. Rabbit - Elinor Wonders Why
Nature Cat, Hal, Squeeks, Daisy, Ronald - Nature Cat
Dog, Duck, Frog, Pig, Ant, Bear, Sheep, Bee, Bug, Fly, Elephant, Kangaroo, Monkey, Cow, Robot, Shark, Turtle, Fish, Cat, Three Little Pigs, Monster, Birds, Caterpillar, Spider - WordWorld
Splash, Bubbles, Dunk, Ripple, Lu, Bob, Biggie, The Firefly Squid, Pearline, The Clusterwink, Zee, Mayor Sting, Wave, Tidy, Gush, Flo, Iris, Chompy, Polly and Bell, Polly And Bell's Siblings, Charlie, Ripple's 499 brothers, Melody, Mrs. Leafy and Mr. Leafy, Maury, Snap, Scout, Denny, Myshell, Dorsal, Finny, Mo, Tyke, Scoot, Plum, Mortimer, Puffy, Oblo, Dusty, Wart, Boo Hagley, Archie, Whitebeard, Hamilton, Shark, Jellyfish - Splash and Bubbles
Agent Olive, Agent Otto, Big O, Agent Oscar, Agent Olympia, Agent Otis, Agent Oona, Agent Opal, Agent Omar, Agent Oswald, Agent Orla, Dr. O, Agent Obfusco, Agent Ocean, Agent Octavia, Oksana, Agent Olaf, Agent Orchid, Agent Oren, Agent Owen, Agent Orson, Agent Ozlyn, Agent Olly, Agent Xavier, Agent Xena, Delivery Debbie, Polly Graph, Soundcheck, Rivka, Agent Ohlm, Fladam, Noisemaker, Odd Todd, Puppetmaster, Shapeshifter, Tiny Dancer, Freeze Ray Ray, Jamie Jam, Kooky Clown - Odd Squad
Giselle, Joey, Kim, Krishana, Michael, Natasha, Noah, Tom, Dewey, Deysi, Jason, Kim, Leah, Nick, Tomas, Tréjonda, Ana, Annelise, Juan, Lindsey, Wes, Zach, Judy Lee, Adam Vollmer - Design Squad, Design Squad Nation
Cadet (Eagle, Hawk, Raven, Robyn, Merlin, Kite, Magpie, Warbler), Jr Cadet (Starling, Crow, Sparrow, Kiwi, Lark), AVA, Headmaster Crane, Coot, Coach Pigeon, Sandpiper, Vulture, Dodo, Trogon, Dinky, Loon, Mallard, Giotto Probe, Falcon Fairflight, Fizzy Finchfuzz, Budgie, Sojourner - Space Racers
Molly, Tooey, Trini, Layla, Walter, Grandpa Nat, Auntie Midge, Connie, Daniel, Shyahtsoo, Aunt Merna, Mr. Patak, Maurice, Finnegan Guy, Olin, Nina, Barb, Sadie Albert, Atsaq, Randall, Oscar, Lucia, Ben, Kenji, Mrs. Marsh, Vera, Jake, Travis, Mr. Rowley, Dr. Antigone, Violetta, Tatiana, Nadia - Molly of Denali
Esme, Roy, Dumpling, Hugo, Fig, Tillie, Snugs, Simon, Mr. Plink, Grammy Swoozle, Willie, Mrs. Muzzywump, Frank Bleederblop & Franny Bleederblop, Mr. Bleederblop, Mr. and Mrs. Ooga, Mrs. Hoozlewoo, Sid & Lucy, Lottie, Norm, Esme's Mom, Esme's Dad - Esme & Roy
Mack, Moxy, The Trooper, Friend-In-Need, The Admirable, Clixx, The Great Helpee, Shelfish Sheldon - Mack & Moxy
Xavier, Yadina, Brad - Xavier Riddle and the Secret Museum
Scribbles and Ink
Lucita Sky, AJ Gadgets, Sara Snap, Benny Bubbles, Mr. Sparks, Fur Blur - Hero Elementary
Curious World
Rider, Wolfe, Mom, Dad, Grammie - Through The Woods
Melia, Jo, Reynardo - Melia & Jo
Mac, Izzy - Mac & Izzy
MGA Entertainment
Jewel Sparkles, Bea Spells-a-Lot, Mittens Fluff 'N' Stuff, Dot Starlight, Peanut Big Top, Crumbs Sugar Cookie, Spot Splatter Splash, Pillow Featherbed and others - Lalaloopsy
Cloe, Jade, Sasha, Sashabella Paws, Yasmin and others - Bratz
Lexa, Bria, Avery, Sophia, Kellan, Monet, Merin, Ida, Amberle and others - Moxie Girlz
Jelly Jam, Queen Bee, Unicorn, Bon Bon, Kitty Queen and others - L.O.L. Surprise!
McKeya, McAllster, Camryn Coyle, Adrienne Attoms, Bryden Bandweth, Prince Xander, Ash Lee, Jillian, Defector, George the Security, Francois, the Quail, Devon D'Marco, Ember Evergreen and others - Project Mc2
True Hope
Toei/Saban Brands LLC
All Pretty Cures and PreCures
Kenshiro and others - "Fist of the North Star"
Uncle Olly - "World of Hans Christian Andersen"
Kamen Riders (Kamen Rider Ghost, Kamen Rider Specter, Kamen Rider 1 and many others), Akari Tsukimura, Onari, Frey, Freya, Gamma Ultima, Heart Roidmude, Terror Dopant, Lord Baron, Sagittarius Nova, Kyoryu Greeed, Kamen Rider Wiseman, Nova Shocker (Urga, Buffal) and others - "Kamen Rider"
Patty Rabbit, Bobby Bear, Rachel Rabbit, Ricky Rabbit, Bunny Rabbit, Mama Rabbit, Papa Rabbit, Bonny Bear, Buddy Bear, Mr. Bear, Mrs. Bear, Fanny Fox, Freddy Fox, Mr. Fox, Mrs. Fox, Ruthie Raccoon, Roxie Raccoon, Mr. Raccoon, Mrs. Raccoon, Danny Dog, Donny Dog, Dr. Dog, Mrs. Dog, Suzie Squirrel, Skippy Squirrel, Squire Squirrel, Mrs. Squirrel, Bucky Beaver, Bitsy Beaver, Mr. Beaver, Mrs. Beaver, Maggie Mole, Mikey Mole, Mr. Mole, Mrs. Mole, Bert Badger, Betty Badger, Mr. Badger, Mrs. Badger, Penny Pig, Polly Pig, Mr. Pig, Mrs. Pig, Missie Mouse, Marty Mouse, Mr. Mouse, Mrs. Mouse, Miss Deer, David Deer, Grandma Deer, Mayor Dandy Lion, Master Monkey, Oscar Otter, Peter Porcupine, Sheriff Barney Bulldog, Kirby Cat, Wilde Wolf, Animals - "Maple Town"
Toriko, Komatsu, Coco, Sani, Zebra, Rin, Tin, Setsuno, Melk the Second, Livebearer, Chin Chinchin, Yosaku, Yun, Terry, Kiss, Quinn, Takimaru, Tommyrod, Teppei, Grinpatch, Starjun, Joejoe, Joa, Ichiryu, Chiyo, Tengu and others - "Toriko"
Luffy, Nami, Chopper, Sanji, Zoro, Franky, Robin, Usopp and others - "One Piece"
Power Rangers (Red Range/Jason Scott, Black Ranger/Zack Taylor, Blue Ranger/Billy Cranston, Yellow Ranger/Trini Kwan, Pink Ranger/Kimberly Hart), Brody Romero, Preston Tien, Calvin Maxwell, Hayley Foster, Sarah Thompson, Levi Weston, Tommy Oliver, Rocky DeSantos, Katherine Hillard, T.J. Johnson, Wesley Collins, Trent Fernandez, Gemma, Antonio Garcia, Gia Moran, Koda, Zordon, Alpha 5, Mick, Redbot, Rita Repulsa, Goldar, Madame Odius, Badonna, Kudabots, Basherbots, Lord Draven, Robo Tommy, Robo Rangers, Megazord (2017), White Ninja Falconzord and others - Power Rangers
Gorengers (Akarenger/Tsuyoshi Kaijo, Aorenger/Akira Shinmei, Kirenger/Daita Oiwa, Momorenger/Peggy Matsuyama, Midorenger/Kenji Asuka), J.A.K.Q. (Spade Ace/Goro Sakurai, Dia Jack/Ryu Higashi, Heart Queen/Karen Mizuki, Clover King/Bunta Daichi, Big One/Sokichi Banba), Battle Fever J (Battle Japan/Masao Den, Battle Cossack/Makoto Jin, Battle France/Kyousuke Shida, Battle Kenya/Shirou Akebono, Miss America/Maria Nagisa), Denzimen (DenziRed/Ippei Akagi, DenziBlue/Daigoro Oume, DenziYellow/Jun Kiyama, DenziGreen/Tatsuya Midorikawa, DenziPink/Akira Momoi), Sun Vulcan (VulEagle/Takayuki Hiba, VulShark/Kin'ya Samejima, VulPanther/Asao Hyou), Goggle V (GoggleRed/Ken'ichi Akama, GoggleBlack/Kanpei Kuroda, GoggleBlue/Saburo Aoyama, GoggleYellow/Futoshi Kijima, GogglePink/Miki Momozono), Dynamen (DynaRed/Hokuto Dan, DynaBlack/Ryuu Hoshikawa, DynaBlue/Yousuke Shima, DynaYellow/Kousaku Nangou, DynaPink/Rei Tachibana), Biomen (Red1/Shirou Gou, Green2/Shingo Takasugi, Blue3/Ryuuta Nanbara, Yellow4/Jun Yabuki, Pink5/Hikaru Katsuragi) Changemen (ChangeDragon/Hiryuu Tsurugi, ChangeGriffon/Shou Hayate, ChangePegasus/Yuuma Oozora, ChangeMermaid/Sayaka Nagisa, ChangePhoenix/Mai Tsubasa), Flashmen (Red Flash/Jin, Green Flash/Dai, Blue Flash/Bun, Yellow Flash/Sara, Pink Flash/Lou), Maskmen (Red Mask/Takeru, Black Mask/Kenta, Blue Mask/Akira, Yellow Mask/Haruka, Pink Mask/Momoko), Livemen (Red Falcon/Yusuke Amamiya, Yellow Lion/Joh Ohara, Blue Dolphin/Megumi Misaki, Black Bison/Tetsuya Yano, Green Sai/Jun'ichi Aikawa), Turborangers (Red Turbo/Riki Honoo, Black Turbo/Daichi Yamagata, Blue Turbo/Youhei Hama, Yellow Turbo/Shunsuke Hino, Pink Turbo/Haruna Morikawa), Fivemen (FiveRed/Gaku Hoshikawa, FiveBlue/Ken Hoshikawa, FiveBlack/Fumiya Hoshikawa, FivePink/Kazumi Hoshikawa, FiveYellow/Remi Hoshikawa), Jetmen (Red Hawk/Ryu Tendo, Black Condor/Gai Yuki, Yellow Owl/Raita Ooishi, White Swan/Kaori Rokumeikan, Blue Swallow/Ako Hayasaka), Zyurangers (TyrannoRanger/Geki, MammothRanger/Goushi, TriceraRanger/Dan, TigerRanger/Boi, PteraRanger/Mei, DragonRanger/Burai), Dairangers (RyuuRanger/Ryo, ShishiRanger/Daigo, TenmaRanger/Shoji, KirinRanger/Kazu, HououRanger/Lin, KibaRanger/Kou), Kakurangers (NinjaRed/Sasuke, NinjaWhite/Tsuruhime, NinjaYellow/Seikai, NinjaBlue/Saizou, NinjaBlack/Jiraiya), Ohrangers (OhRed/Goro Hoshino, OhGreen/Shouhei Yokkaichi, OhBlue/Yuji Mita, OhYellow/Juri Nijou, OhPink/Momo Maruo, KingRanger/Riki), Carrangers (Red Racer/Kyosuke Jinnai, Blue Racer/Kyosuke Jinnai, Green Racer/Minoru Uesugi, Yellow Racer/Naoki Domon, Pink Racer/Youko Yagami), Megarangers (MegaRed/Kenta Date, MegaBlack/Kouichirou Endou, MegaBlue/Shun Namiki, MegaYellow/Chisato Jougasaki, MegaPink/Miku Imamura, MegaSilver/Yuusaku Hayakawa), Gingamen (GingaRed/Ryouma, GingaGreen/Hayate, GingaBlue/Gouki, GingaYellow/Hikaru, GingaPink/Saya), GoGoFive (GoRed/Matoi Tatsumi, GoBlue/Nagare Tatsumi, GoGreen/Shou Tatsumi, GoYellow/Daimon Tatsumi, GoPink/Matsuri Tatsumi), Timeranger (TimeRed/Tatsuya Asami, TimePink/Yuri, TimeBlue/Ayase, TimeYellow/Domon, TimeGreen/Sion, TimeFire/Naoto Takizawa), Gaorangers (GaoRed/Kakeru Shishi, GaoYellow/Gaku Washio, GaoBlue/Kai Samezu, GaoBlack/Soutarou Ushigome, GaoWhite/Sae Taiga, GaoSilver/Tsukumaro Ogami), Hurricanegers and Gouraigers (HurricaneRed/Yousuke Shiina, HurricaneBlue/Nanami Nono, HurricaneYellow/Kouta Bitou, KabutoRaiger/Ikkou Kasumi, KuwagaRaiger/Isshuu Kasumi, Shurikenger/Asuka Kagura), Abarangers (AbaRed/Ryoga Hakua, AbareBlue/Yukito Sanjyou, AbareYellow/Ranru Itsuki, AbareBlack/Asuka, AbareKiller/Mikoto Nakadai), Dekarangers (DekaRed/Banban Akaza, DekaBlue/Houji Tomasu, DekaGreen/Sen'ichi Enari, DekaYellow/Marika Reimon, DekaPink/Koume Kodou, DekaBreak/Tekkan Aira), Magirangers (MagiRed/Kai Ozu, MagiYellow/Tsubasa Ozu, MgaiBlue/Urara Ozu, MagiPink/Houka Ozu, MagiGreen/Makito Ozu, MagiShine/Heavenly Saint Sungel), Boukengers (Bouken Red/Satoru Akashi, Bouken Black/Masumi Inou, Bouken Blue/Souta Mogami, Bouken Yellow/Natsuki Mamiya, Bouken Pink/Sakura Nishihori, Bouken Silver/Eiji Takaoka), Gekirangers (GekiRed/Jan Kandou, GekiYellow/Ran Uzaki, GekiBlue/Retsu Fukami, GekiViolet/Gou Fukami, GekiChopper/Ken Hisatsu), Go-Ongers and Go-On Wings (Go‑On Red/Sosuke Esumi, Go‑On Blue/Renn Kousaka, Go‑On Yellow/Saki Rouyama, Go‑On Green/Hanto Jou, Go‑On Black/Gunpei Ishihara, Go-On Gold/Hiroto Sutou, Go-On Silver/Miu Sutou), Shinkengers (Shinken Red/Takeru Shiba, Shinken Blue/Ryunosuke Ikenami, Shinken Pink/Mako Shiraishi, Shinken Green/Chiaki Tani, Shinken Yellow/Kotoha Hanaori, Shinken Gold/Genta Umemori), Goseigers (Gosei Red/Alata, Gosei Pink/Eri, Gosei Black/Agri, Gosei Yellow/Moune, Gosei Blue/Hyde, Gosei Knight), Gokaigers (Gokai Red/Captain Marvelous, Gokai Blue/Joe Gibken, Gokai Yellow/Luka Millfy, Gokai Green/Don Dogoier, Gokai Pink/Ahim de Famille, Gokai Silver/Gai Ikari), Go-Busters (Red Buster/Hiromu Sakurada, Blue Buster/Ryuji Iwasaki, Yellow Buster/Yoko Usami, Beet Buster/Masato Jin, Stag Buster/Beet J. Stag), Kyoryugers (Kyoryu Red/Daigo Kiryu, Kyoryu Black/Ian Yorkland, Kyoryu Blue/Nobuharu Udo, Kyoryu Green/Souji Rippukan, Kyoryu Pink/Amy Yuuzuki, Kyoryu Gold/Utsusemimaru), ToQgers (ToQ 1gou/Right Suzuki, ToQ 2gou/Haru Tokashiki, ToQ 3gou/Mio Natsume, ToQ 4gou/Hikari Nonomura, ToQ 5gou/Kagura Izumi, ToQ 6gou/Akira Nijino), Ninnigers (AkaNinger/Takaharu Igasaki, AoNinger/Yakumo Katou, KiNinger/Nagi Matsuo, ShiroNinger/Fuuka Igasaki, MomoNinger/Kasumi Momochi, StarNinger/Kinji Takigawa, AkaNinger/Tsumuji Igasaki, AkaNinger/Yoshiharu Igasaki), Zyuohgers (Zyuoh Eagle/Yamato Kazakiri, Zyuoh Shark/Sela, Zyuoh Lion/Leo, Zyuoh Elephant/Tusk, Zyuoh Tiger/Amu, Zyuoh The World/Misao Mondou), Kyurangers (Shishi Red/Lucky, Sasori Orange/Stinger, Ookami Blue/Garu, Tenbin Gold/Balance, Oushi Black/Champ, Hebitsukai Silver/Naga Ray, Chameleon Green/Hammie, Washi Pink/Raptor 283, Kajiki Yellow/Spada, Ryu Commander/Shou Ronpo, Koguma Skyblue/Kotaro Sakuma, Houou Soldier/Tsurugi Ohtori), Lupinrangers (Lupin Red/Kairi Yano, Lupin Blue/Tooma Yoimachi, Lupin Yellow/Umika Hayami, Lupin X/Noël Takao), Patrangers (Patren 1gou/Keiichiro Asaka, Patren 2gou/Sakuya Hikawa, Patren 3gou/Tsukasa Myoujin, Patren X/Noël Takao), Ryusoulgers (Ryusoul Red/Koh, Ryusoul Blue/Melt, Ryusoul Pink/Asuna, Ryusoul Green/Towa, Ryusoul Black/Bamba, Ryusoul Gold/Canalo), Kiramagers (Kiramai Red/Juru Atsuta, Kiramai Yellow/Tametomo Imizu, Kiramai Green/Sena Hayami, Kiramai Blue/Shiguru Oshikiri, Kiramai Pink/Sayo Oharu), Mario Mori, Bud, Hoshi Minato, Jerataro, Kogure, Commander Hilltop, Jim Carter, Oto, Deathgalien (Naria, Quval, Azald), Gillmarda/Runrun (Runrun, Gengetsu Kibaoni, Raizo Gabi, Masakage Tsugomori, Jagged, Bangray), Space Shogunate Jark Matter (Don Arkage, Tecchu, Akyanba, Kukuruga, Indaver), Interdimensional Crime Group Gangler (Rirus Lippig, Porderman), Warfare Tribe Druidon (Kleon, Griffon Minosaur, Drunn Soldiers), Mechas and Giant Robos (Varidorin, Sky Ace, Battle Fever Robo, DaiDenzin, Sun Vulcan Robo, Goggle Robo, Dyna Robo, Denshi Gattai Bio Robo, Dengeki Gattai Change Robo, Flash King, Kousoku Gattai Great Five, Super Liverobo, Super Turbo Robo, Super Five Robo, Great Icarus, Zyutei Daizyuzin, Shinsei Gattai Kiba Daioh, Goshin Gattai Kakure Daishogun, Chohogeki Gattai Buster Ohranger Robo, Hissho Gattai VRV Robo, Ginga Gattai Mega Voyager, Super Armor Shine GingaiOh, Max Formation Max Victory Robo, TimeRobo Shadow Alpha, Hyakujuu Gattai GaoIcarus, Gingachoetsu Sanjin Gattai Tenrai Senpuujin, Bakuryuu Saikyo Gattai OoAbarenOh, Cho Tokusou Gattai Super Dekaranger Robo, Densetsu Gasshin MagiLegend, Ultimate GoGo Gattai Ultimate DaiBouken, Herculean Giant GekiFire, Engine Gattai Engine-O G12, Zen Samurai Gattai SamuraiHaOh, Hyper Gosei Great, Kanzen GokaiOh, Great Go-Buster, Cho Kamitsuki Gattai Gigant Kyoryuzin, Hyper Ressha Gattai ToQ Rainbow, Ha-Oh Shuriken Gattai Ha-Oh Shurikenjin, Wild Tousai Dodeka King, Kyutama Dai Gattai Kyutamajin, Good Cool Kaiser VSX, Ryusoul Gattai King KishiRyuOh) and others - Super Sentai Series
Sailor Moon, Sailor Mercury, Sailor Venus, Sailor Mars, Sailor Jupiter, Sailor Saturn, Sailor Uranus, Sailor Neptune, Sailor Pluto, Chibiusa, Tuxedo Mask, Sailor Starlights (Sailor Star Maker, Sailor Star Fighter, Sailor Star Healer), Queen Beryl, Queen Metalia, Death Phantom, Crimson Rubeus, Green Esmeraude, Blue Saphire, Prince Demand, Professor Tomoe, Kaolinite, Mistress 9, Master Pharaoh 90, Zirconia, Queen Nehelenia, Sailor Galactica - Sailor Moon franchise
Various Digimons
and Various Characters from Shows
BabyFirst
Harry the Bunny
GooGoo and GaaGaa
The Color Crew Gang
Petey Paintbrush
The Puzzle Guy
Looi and his Animals
Giggs, Hugg & Alphabetty - ABC Galaxy
Tillie, Simon the Seal, Danny the Dolphin, Cooper the Crow, Emma the Elephant, Leo the Lion, Betty the Bird, Freddy the Frog, Daphne the Duck, Caleb the Cat, Willie the Woodpecker, Marvin the Monkey, Gilda the Goose, Helen the Hen, Donnely the Dog, Harry the Horse, Cassie the Cow, Polly the Piglet, Bernie the Bear, Sherman the Sheep, Bella the Baby Chick, Melvin the Mouse, Connie the Crab, Greta the Grasshopper, Calvin the Cuckoo, Ronald the Rooster, Bradley the Bee, Sammy the Snake, Penny the Parrot, Ollie the Owl, Wendell the Wolf, Damon the Dove, Gabby the Goat, Trevor the Turkey, Desmond the Donkey - Tillie Knock Knock
The Notekins and The Instruments
Fred, Fiona and Boardy the Board - Fred and Fiona
Tec the Tractor and his farm animals
Bonnie Bear and Mr. Gramophone - Bonnie Bear
Tizzy, Toot and Tog - Squeak!
Farm Animals, Peep and his mother - The Numbers Farm
Yoyo, Peanut and others - The Yoyo and Peanut Show
Shushies (Snoozles, Dozie and Zeez) and Dreamsters (PJ, Starbright, Snore) - Shushybye
The Animals from Numbers Around the Globe
Honk, Toot, Swoo-Swoosh and Animals - Honk, Toot & Swoo-Swoosh
Ookii - Ookii's World
Wonder Box
VocabuLarry
Joey aand his mother - Joey's Toy Box
Peek-A-Boo
Rainbow Horse
Bloop and Loop
Tinosaurs
The Animals from Baby Maze
The Shapes from Shapes School
Vinnie - Li'l Vinnie's Art
Sammy and Eve - Hide and Seek
Lee and Lucy - Ready Dress Go
Maddie and Zeke - Shape-A-Majigs
Mio, Mao and Animals - Mio Mao
Hopla, Onki, Nina, Lola and others - Hopla
Musti, Mr. Rabbit, Miss Tortoise, Miss Hedgehog, Mr. Dog and others - Musti
Push, Carry and Lift - 1,2,3 Race!
Al the Allosaurus - Playtime with Al
and many more characters from shows
Outfit/My Talking Toys/PlayMonster
Talking Tom
Talking Ben
Talking Angela
Talking Ginger
Talking Hank
Talking Pierre
Talking Rex
Talking Larry
Talking Gina
Talking Lila the Fairy
Talking Santa
Talking Garfield
Talking Gummi Bear
Talking Pocoyo
Talking Pato - Pocoyo's Best Friend!
Talking Gingerbread Man
Talking Rapper
Talking Tibbie
Talking Teddy Bear
Talking HooYoo
Talking Pinocchio
Talking Cowboy
Talking Clay Kids
Talking Betty Bear
Talking Teddy Ruxbin
Talking Grubby
Talking Hide-and Seek Jojo
Talking Mrs. Beasley
Talking Herman Munster
Talking Big Beautiful Bertha
Talking Gramma
Talking Grampa
Talking Patoonie
Talking Mother Goose
Talking Teachy Talk
Talking Captain Kangaroo
Talking SomerSalty
Talking Flo
Talking Flossie
Talking Baby Beans
Talking Drowsy
Talking Tatters
Talking Baby Colleen
Talking Scooba Doo
Talking T-Bone
Talking Chester O' Chimp
Talking Larry Lion
Talking Crackers Parrot
Talking Lilac Skunk
Talking Bernie Bernard
Talking Barry Bear
Talking Myrtle Hand Puppet
Talking Mr. Potts
Talking Curli Pup
Talking Shrinkin' Violette
Talking Flip Wilson
Talking Tamu
Talking Cuddly Dudley
Talking Chatty Cathy
Talking Tim-Tim Tiger
Talking Alphabet Pals
Talking Big Mouth Billy Bass the Singing Fish
Talking Travis the Singing Rainbow Trout
Talking Cool Catfish the Singing Fish
Talking Rocky the Singing Lobster
Talking Sunny the Singing Sunflower
Talking Pete the Piano
Talking Douglas Fir the Singing Christmas Tree
Talking Mr. Everett Green the Singing Christmas Tree
Talking Thomas the Tank Engine
Talking Homer Simpson
Talking Bart Simpson
Talking Barney
Talking Rockin' ABC Big Bird
Talking Rockin' Shapes & Colors Elmo
Talking 123 Cookie Monster
Talking Mickey Mouse
Talking Donald Duck
Talking Popeye
Talking Blossom
Talking Bubbles
Talking Buttercup
Talking Bugs Bunny
Talking Daffy Duck
Talking Road Runner
Talking Tasmanian Devil
Talking Sylvester
Talking Tweety
Talking Tom and Jerry
Talking Tinky Winky
Talking Dipsy
Talking Laa-Laa
Talking Po
Talking Mister Ed
Talking Franklin
Talking Little Bear
Talking Kipper
Talking InterAction Buddy T-Rex
Talking InterAction Tiny Pteranodon
Talking InterAction Shiny Pteranodon
Talking InterAction Don Pteranodon
Talking InterAction Mr. Conductor
Talking InterAction Keenan Chirostenotes
Talking Extreme InterAction Mr. Quetzalcoatlus
Talking InterAction Derek Deinonychus
Talking InterAction Tank Triceratops
Talking InterAction Ned Brachiosaurus
Talking Extreme InterAction Sonny Sauroposeidon
Talking Extreme InterAction Hank Ankylosaurus
Talking Extreme InterAction Mayor Kosmoceratops
Talking InterAction Morris Stegosaurus
Talking InterAction King Cryolophosaurus
Talking Extreme InterAction Alvin Allosaurus
Talking Extreme InterAction Arnie Argentinosaurus
Talking InterAction Boris Tyrannosaurus
Talking Extreme InterAction Old Spinosaurus
Talking Power Rangers
Talking Furcorn
Talking Mammott
Talking Noggin
Talking Toe Jammer
Talking Entbrat
Talking Maw
Talking Pummel
Talking Bowgart
Talking Drumpler
Talking Fwog
Talking Potbelly
Talking Tawkerr
Talking Halloween Mammott
Talking Halloween Furcorn
Talking Rare Entbrat
Various lots of more talking toys/outfit in the whole store
Microsoft Studios/PopCap/Playfish/Mojang/Telltale Games/Humongous Entertainment/Studio MDHR/Disney Canada/KONAMI/V/EA
Conker and others
Banjo, Kazooie and others - Banjo & Kazooie and Banjo & Tooie
Crazy Dave, Penny, Stinky the Snail, Bernie the Bee, Travel Log, Raptor, Stegosaurus, Pterodactyl, T. rex, Ankylosaurus, Brontosaurus, Various Plants and Zombies - Plants vs. Zombies, Plants vs. Zombies: Journey to the West, Plants vs. Zombies Social Edition, Plants vs. Zombies Adventures, Plants vs. Zombies 2, Plants vs. Zombies 2 (Chinese version), Plants vs. Zombies Online, Plants vs. Zombies: Garden Warfare, Plants vs. Zombies: Garden Warfare 2, Plants vs. Zombies: All Stars, Plants vs. Zombies Heroes, Plants vs. Zombies: Battle for Neighborville, Plants vs. Zombies 3
Steve, Alex, NPC Villagers, Iron Golem, Snow Golem, Jesse and the Gang, Various Mobs - Minecraft
Isaac Clarke, Many People and Necromorph - Dead Space, Dead Space 2 and Dead Space 3
Matt Miller, All People, Paul and Alien Ship - Saint Row, Saint Row 2, Saint Row 3, Saint Row 4 and Saint Row 5
Guppy, Carnivore, Starcatcher, Sylvester - Insaniquarium
Zuma the Frog - Zuma
Director, Gary, Rookie, Jet Pack Guy, Aunt Arctic, Rockhopper, PH, Herbert, Klutzy, Dot, Ultimate Protobot 1000, Rocky, CeCe, The Penguin Band, Cadence, Scrooge, Dancing Penguin, Pizza Chef, Hydro-Hopper, Suneroo, Sensei, Bambadee, RodgerRodger, Barista and others - Club Penguin
Mayor - Pet Society
Maggie - Restaurant City
Cuphead, Mugman, King Dice, Devil and others - Cuphead
African Elephant, American Beaver, Bengal Tiger, Black Rhinoceros, Cheetah, Chimpanzee, Common Peafowl, Common Zebra, Dromedary Camel, Emperor Penguin, Gemsbok, Giant Panda, Greater Flamingo, Grizzly Bear, Hippopotamus, Ibex, Jaguar, Lion, Moose, Mountain Gorilla, Nile Crocodile, Okapi, Ostrich, Polar Bear, Red Kangaroo, Red Panda, Reticulated Giraffe, Ring-Tailed Lemur, Snow Leopard, Thomson's Gazelle, Squirrel, Springhare, Monarch Butterfly, Macaw, Common Loon, Pigeon, Gull, King Vulture, Oxpecker, Mallard Duck, Zookeepers, Educators, Maintenance Workers and Guests - Zoo Tycoon 2
Animals, Dinosaurs, Creatures, Staffs & Guests - Zoo Tycoon Franchise
Various Chuzzles - Chuzzle
Various Gems - Bejeweled
and other characters in games
InnerSloth
Henry, Ellie, Charles, Demitri Johannes Petrov, General Hubert Galeforce, Reginald, Right Hand Man - The Henry Stickmin Collection
Red, Orange, Yellow, Green, Blue, Cyan, Lime, Purple, Pink, Brown, Black, White - Among Us
Flipline Studios
Papa Louie, Delivery Boy Roy, Delivery Girl Joy, Big Pauly, Mindy, Whiff, Janana, Cherrisa, Mandi Solary, Matt Neff, Tony Solary, Solary Babies, Chuck, Taylor, Allan, Jojo, Koilee, Ripley, Timm, Cecilia, Penny, Sue, Cooper, Maggie, Utah, Nevada, Scarlett and the Shakers (Scarlett, Rudy, Marty, Clover), Wally, Chester, Austin, Perri, Kingsley, Sasha, Clair, Vincent, Sarge Fan, Radlynn, LePete, Pinch Hitwell, Cameo, Captain Cori, Robby, Rita, Nick, Mitch, Mayor Mallow, Professor Fitz, Iggy, James, Willow, Tohru, Foodini, Greg, Mary, Prudence, Romano Family Quartet, Olga, Various Papa's Customers - "Papa's Gameria series"
Radley Madish, Luau LePunch, Sarge, Rocky Road, Betty Pecan, Mr. Sherbet, Jill Berry, Chip McMint, Various baddies - "Papa Louie platformer"
Steak, Jake, Coco and Crow, Bandfits - "Steak and Jake"
Cactus McCoy, Ella Windstorm, Popoca, Dumbbell, Alpaca Jack, Malana Mire, Hex Hatfield - "Cactus McCoy"
Jacksmith, Scout, Gander, King Plumpfeather, Queen Hildread, Princess Liliana, Dudley, Various Troops - "Jacksmith"
Guppy
Addie, Prizella, Ramekins, Basher, Masher, Crasher, Golden Papa Louie, Jacksmith Hammer, Various Sliders - "Slider Scouts"
Sploder
Players, Baddie, Big Baddie, Pointy, Helmut, Grumble, Cheep, Birdy, Snorkly, Bogfish, Jumpy, Jellipede, Small Bat, Bat, Squirt, Lizzardo, Spidey, Claude, Karl, Brozilla, Ragnar, Redd, Angus, Gary, Helican, Small Baddies, Drone, Armed Drone, Xenu, Spinner, PlungerBot, Buster, Cybert, Squinty, Alien, Dyson, Various Bosses - "Retro Arcade"
Blockhead and others - "Platformer"
Player, Baddie, Ship, Turret, Robot, Balloon, TurretCar - "Physics Puzzle"
Ships, Robots, Various Enemies - "Classic Shooter"
Term, Tessla, Case, Flame, Kata, Marshall, Poly, Rand, Sato, Various Enemies - "The Algoritem Crew"
Filmation Associates
He-Man/Prince Adam, Men-at-Arms, Teela, Cringer/Battle Cat, Stratos, Orko, Zodac, Man-E-Faces, and Ram Man - "He-Man and the Masters of the Universe"
Bravestarr, Thirty-Thirty, Deputy Fuzz, and Judge J.B. McBride - "Bravestarr"
Hercules, Mercury, and Astera - "Space Sentinels"
Fat Albert, Mushmouth, Dumb Donald, Russell Cosby, Weird Harold, Rudy Davis, and Bucky - "Fat Albert and the Cosby Kids"
M'Ress, and Arex - "Star Trek: The Animated Series"
Drac, Frankie, Wolfie, Hagatha, Bella La Ghostly, Dr. Jekyll and Hyde, Mummy, Boneapart, Ghoulihand, Batso & Ratso, and Hauntleroy - "Groovie Goolies"
Valve
Scout, Soldier, Pyro, Demoman, Heavy, Engineer, Medic, Sniper, Spy and others - Team Fortress 2
Gordon, The G-Man, Barney, Adrian, Rossenberg, Gina, Colette, Richard, Walter, and others - Half-Life 2
Capcom
Mega Man, Zero, Iris, Proto Man, Ice Man, Fire Man, Bomb Man, Lord Wily, Elec Man, Splash Woman and others - Mega Man, Mega Man X
Ryu, Ken, Chun-Li, Blanka, Guile, Vega, Sagat, M. Bison, Sakura, Cody and others - Street Fighter
Dante, Nero, Lucia, V and others - Devil May Cry
Chris Redfield, Albert Wesker, Jill Valentine, Leon Scott Kennedy, Clarie Redfield, Ada Wrong, Rebecca Chambers, Jake Muller, Ethan Winters and others - Resident Evil
Morrigan Aensland, Bishamon, Demitri Maximoff, Felicia, Huitzil, Lord Raptor, Pyron, Sasquatch, Victor von Gerdenheim, Anita, Donnovan Baine, Hsien-Ko, and others - Darkstalkers
Phoenix Wright, Miles Edgeworth, Mia Fey, Maya Fey, Pearl Fey, Detective Gumshoe, Franziska von Karma, The Judge, Apollo Justice, Jove Justice, Trucy Wright, Misty Fey, Elise Deauxnim, Morgan Fey, Winston Payne, Larry Butz, Manfred von Karma, Ema Skye, Wendy Oldbag, Will Powers, Lotta Hart, Maggey Byrde, Shelly de Killer, Adrian Andrews, Marvin Grossberg, Klavier Gavin, Gregory Edgeworth, Kay Faraday. Shi-Long Lang, Tyrell Badd, April May, Redd White, Yanni Yogi, Godot, Diego Armando, Dahlia Hawthorne, Iris Hawthorne, Kristoph Gavin, Vera Misham, Ini Miney, Magnifri Gramarye, Thalassa Gramarye, Zak Gramarye, Valant Gramarye, Calisto Yew, Shih-Na, Athena Cykes, Gaspen Payne, Juniper Woods, Spark Brushel, Simon Blackquill, Aura Blackquill, Bobby Fullbright, Ahlbi Ur' Gaid, Frank Sahwit, Bellboy, Nahyuta Sahdmadhl, Rayfa Padma Kura'In, Ga'ran Signatar Kura'in, Penny Nichols, Ga'ran Sigatar, Igna Karkhuul Kura'In, Dhruke, Nahyuta Sahdmadhl, Cody Hackins, Sal Manella, Dee Vasquez, Quercus Alba, Lana Skye, Mike Meekins, Di-Jun Huang, Angel Starr, Raymond Shields, Jake Marshall, Dhurke Sahdmadhi, Damon Gant, Blaise Debeste, Amara Sigatar, Cindy Stone, Acro, Matt Engarde, Sirhan Dogen, Anubis, Daryan Crescend, Justine Courtney, Glen Elg, Luke Atmey, Dustin Prince, Richard Wellington, Simon Keyes and others - Ace Attorney
Frank West, Chuck Greene, Nick Ramos, Chase Carter and others - Dead Rising
Arthur, Princess Prin-Prin, Satan, Darkoan, Breager, Astaroth, Lucifer, Sardius, Hades, Lancelot, Phalanx, Arma, Maximo, Grimm, Sophina and others - Ghosts 'N Goblins
Mon Motonari, Matsu, Ieyasu Tokugawa, Chosokabe Motochika, Akechi Mitsuhide, Sukeroku, Yumekichi and others - Sengoku Basara
The Hunter, Link, Handler, Natalie Artemis, Palico, Comms Officer, Sergeant Marshall and others - Monster Hunter
Abe, Amaterasu, Animal Lover, Aspiring Carpenter, Azumi, Bakugami, Benkei, Bingo, Blockhead Grande, Blossom, Camellia, Camille, Celestials, Chi, Chun, Dancer, Emperor Takara, Fashion Girl, Fisherman, Gekigami, Gen, Hakuba, Hanagami, Haruka, Hayabusa, Hayate, Hayazo, Ida, Imp Merchant, Ishaku, Issun, Itegami, Jamba, Kabegami, Kaguya, Kai, Karude, Kasugami, Kazegami, Kemu, Kiba, Ko, Kokari, Komuso, Kushi, Lechku, Lika, Lil' Moley, Madame Fawn, Marco, Masu, Merchant, Mika, Miya, Moegami, Moley, Molster, Momotaro, Mrs. Cutter, Mr. Bamboo, Mr. Flower, Mr. Grapefruit, Mr. Orange, Mrs. Grapefruit, Mrs. Orange, Mushi, Nagi, Naguri, Nameless Man, Nami, Nazo, Nechku, Ninetails, Nuregami, Oki, Onigirl-Sensei, Orca, Orochi, Peoni, Peony, Princess Fuse, Queen Himiko, Queen, Otohime, Raiden, Rao, Rei, Sado, Sakuya, Samickle, Samurai Dandy, Scholar, Shakuya, Shin, Shiranui, Sleepy, Susano, Tachigami, Tai, Takara, Take, Tama, Tao Trooper, Tei Tobi, Tool Dealer, Tuschle, Ume, Umi, Urashima, Waka, Wail, Watcher, Water Dragon, Weapon Dealer, Whopper, Yama, Yami, Yatsu, Yoichi, Yomigami and others - Okami
Mike Haggar, Cody Travers, Guy, Maki Genryusai and others - Final Fight
Nathan Spencer, Joseph Gibson, Emily Spencer, Jayne Magdalene and others - Bionic Commando
Amaterasu, Jill Valentine, Ryu, Rathalos, Felyne, Nero, X, Chun-Li, Zero, Morrigan Aensland, Dante, Akuma, Albert Wesker and Nergigante - "TEPPEN"
Asura, Ahria, Augus, Chakravartin, Demigods, Deus, Durga, Emperor Strada, Humans, Kalrow, Mithra, Olga, Policewoman, Sergei, The Eight Guardian Generals, The Seven Delits,Wyzen, asha and others - "Asura's Wrath"
Barose, Bleu, Bo, Eichichi, Gandaroof, Gobi, Karn, Mogu, Nina, Ox, Ryu, Solo, Una and others - "Breath of Fire"
Sieg, Delacroix, Siela, Arcia, Acrail and others - "Chaos Legion"
Angie, Anne, Aureolus, Baker, Barrows, Bobby, Dan, John, Mary, Quintin, Simon, Theodore, Samuel, Bales, Ayna, Fiona, Lorenzo, Ugo, Beth, Doug, Annabel, Darcy, Natalya, William, Nolan, Harris, Chopper, Cobie, Connie, Jessica, Alex, Corroder, Daniella, Danny, The Dark Gentlemen, Debillitas, Demon, Emily, Edward, Eric, Professor Fiero, Tony, Frank, Ghost, Stan, Allen, Alyssa, Dick, Francesca, Nancy, Phillip, Laura, Harry, Hewie, Homunculus Jerome, Jessica, Henry, Kay, Kelly, Leonard, Shannon, Lotte, Maria, Maury, George, Helen, Monica, Mummies, May, William, Old Lady, Dennis, Linda, Parrot, Policeman, ALbert, Dorothy, Riccardo, Rick, Rooney, Rose, Sandra, Saul, Scissorman, Jennifer, Walter, Sledgehammer, Jane, Sullivan, Ashley, Kathryn, Michael, Phillip, Stephanie, Tim, Victor, Vigo and others - "Clock Tower"
Cooper, Cyclops, Full Faces, Edward, Mike, Dylan, Patrick and others - "Dino Crisis"
Arma, Barr, Breager, Bymon, Dagon, Darkoan, Death Balloon, Demogorgon, Doppelganger, Goza, Hecate, Jark, Lethe, Majorita, Malgor, Mantis, Morock, Nagus, Phalanx, Red Arremer, Rushifell, Samuel, Sand Frog, The Red Blaze, Twins Guardians, Vailes, Verona, Zakku Druzer and others - "Gargoyle's Quest"
Alma, Amelie, Bailey, Beauty, Cabanela, Chicken Kitchen Chief, Curry-Loving Jailbird, Dandy, McCaw, Rindge, Emma, Fastidious, Glass Polisher, Guardian of the Park, Jeego, Jowd, Justice Minister, Kamila, Lovey-Dove, Lynne, Mamipulator, Memry, Missile, Odd Blue Doctor, Pigeon Man, Police Chef, Ray, Rock Jailbird, Sissel, Sith,Tengo, The Blue Detective, Yomiel and others - "Ghost Trick"
Bandero, Basil, Crimson Unity, Dennis Isenberg, Frank West, Gale Holden, Ivan, Joe, Luka, Mega Man, Mountain Pirates, NeoVenus Construction, Rick, Snow Pirates, Wayne Holden, Yuri Solotov and others - "Lost Planet"
Ageha, Mitsuhide, Samanosuke, Ako, Ekel, Michelle, Nagamasa, Black Oni God of Darkness, Henri, Jacques, Claudius, Ban, Masamune, Vega, Fortinbras, Roberto, Kotaro, Garasha, Gargant, Gate, Ginghamphatts, Gogandantess, Grunt, Hecuba, Henauke, Hisahide, Tadakatsu, Horinin, MItsunari, Jujudormah, Kaede, Luis, Keijro, Marcellus, Mega Man.EXE, Megohime, MInokichi, Musashi, Ranmaru, Musaid, Motonari, Oboro, Nobunaga, Ohatsu, Okuni, Onimaru, Ophelia, Osric, Oyu, Rosencrantz, Magoichi, Saimyou, Kojiro, Sakon, Sougen, Takajo, Hanbei, Ieyasu, Hodeyoishi, Kenshin, Akane, Jubei, Munenori, Lady Yodo, Yoshitaka, Yoshitatsu, Yuki, Hideyasu, Zero, Yoshitsugo and others - "Onimunisha"
Apollus, Ayame, Cassie, Dr. Erode, Edward, Final, Galuda, Gourmand, Gunrock, Jack, Jane, Julia, Kraken, Lord, Master, Mei, Octo and Pus, Pete, Pharoch, Pride, Rouge, Ryoma, Valgas and Wang-tang - "Power Stone"
Brian, Casber, DUO, Feiry, George, Greg, James, Mark, McCoy, Mikey, Rick, Saki, Shin and Super Ace - "NInteen Fourty"
Barroch, Ashe, Grette, Ora and others - "Dragon's Dogma"
Amazoness, Arana, Assisant, Badger, Marketer, Caduceus, Captain Beard Jr., Commander, Keith, Desert, Dr. J, Dragon, Dullahan, Faceas, Fallen, Flash Blade, Flower Girl, General, Grandmaster, Herzog, Hien, Hinjo, Hiryu, Hiyou, Hoen, Honghuo, Jingei, Kain, Kazakh, Kodiak, Koja, Kubira, Kuga, Kuniang, Kuramoto, Lexia, Light Sword Cypher, Mariya, Matic, Meio Prime, Metall, Nang, Navigator, Ouga, Pei Pooh, Professor Schlange, Raiga, Reasearches, Rin, Rouga, Ryuzaki, Scientist, Secret Police Chef, Shadow Tag Bullets Soldier, Shenna, Shiden, Shouyo, Sky WIng, Solo, Squad, Strobaya, Tank Driver, Alcemist, Prisoner, Professor, Tiger Form, Tong Pooh, Vityaz-1, Xi Wang Mu, Yuri, Zang Brothers and others - "Strider"
Alastor, Big John, Cameo, Captain Blue, Charles, Dante, Dr. Crankton, Fire Leo, Flinty, Frost Tiger, Gadget Cop, Goldie, Gran, Grande, Hulk, Jasemine, Jefferson, Jet Black, Killer, Miss Bloody, Queen Heinderella, Sexy, Sprocket, The Raging Stone, Trish, Vanila, Vergil, Viewtful Joe and others - "Viewtiful Joe"
Squaresoft founded in 1986/Squaresoft and Square Electronic Arts founded in 1998 until Square Merged with Enix in 2003 to create Square Enix/Disney Interactive Studios/Crystal Dynamics/Eidos Interactive/Square Enix Europe/Visual Works
Sora, Kairi, Riku and others - "Kingdom Hearts"
"Final Fantasy Series"
"Tomb Raider"
"Chrono Series"
"Life is Strange"
"Dragon Quest Series"
"Nier"
"Just Cause"
"Bravely Default"
"Deus Ex"
"Mana Series"
"Octopath Traveler"
"Outriders"
"The World Ends with You"
"Parasite Eve"
"Sleeping Dogs"
"Mini Ninjas"
"Romancing SaGa"
"ActRaiser"
"Xenogears from the Xeno Series"
"Vagrant Story"
"Super Mario RPG"
"The Bouncer"
"Brave Fencer Musashi"
"Katamari Damacy"
"We Love Katamari"
"Me & My Katamari"
"Beautiful Katamari"
"Katamari Forever"
"Katamari Damacy Online"
"Touch My Katamari"
"Shantae: Seven Siren"
"Raskull"
"Ilomilo"
"A World of Keflings"
"Case Animatronics"
Image Comics
Spawn
Sara Pezzini/Witchblade
Danielle Baptiste
Angelus
The Darkness
Magedalena
Savage Dragon
Dart
Freak Force
Vanguard
Psilence
Michael Clay and Grifter - Wildstorm
Dynamo 5
Rick Grimes - The Walking Dead
Shonen Jump Weekly
Goku and others - Dragon Ball Z
Yugi, Thea, Joey, Tristan, Jaden, Yuki, Pegasus and others
Bo-bobo, Beauty, Gasser, Don, Patch, Jelly Jigler, Hetenko, Softon, Denkagu Man and others
Dupius Comics
World Events Productions
Voltron, Keith, Lance, Pidge, Princess Allura, Hunk, and others - "Voltron" franchise
Saber Rider, Fireball, Colt, April Eagle, Ramrod and others - "Saber Rider & The Star Sheriffs"
Denver the Last Dinosaur, Wally, Jeremy, Shades, Mario, Casey, Rocky, Chet, Freddy, Heather and others - "Denver the Last Dinosaur"
Vytor and others - "Vytor: The Starfire Champion"
and others
Moonscoop Group
Spartakus, Arkana, Rebecca, Matt, Bic & Bac, and Tehrig - "Spartakus and the Sun Beneath the Sea"
Robbie Shipton and Ray - "Quantum Cosmic Ray"
Ace & Dick - "Funky Cops"
and others
BKN
Nick Logan, Sh'lainn Blaze, Ti-Yeti, Jefferson Trueblood, Nemo Perrera and others - "Roswell Conspiracies: Aliens, Myths, and Legends"
Skysurfer One, Crazy Stunts, Sliced Ice, Air Enforcer, and Soar Loser - "Skysurfer Strike Force"
Scarlett Whip - "Zorro: Generation Z"
Ang Jouyan, Beingel, Xuan Chi and others - "Legend of the Dragon"
Kong, Jason, Tann, Lua and others - "Kong: The Animated Series"
Cassandra, Gus, Verne, and U.B.O.S. - "Ultimate Book of Spells"
Scruff
Ripster, Streex, Big Slammu, and Jab - "Street Sharks"
and others
Roblox
Guest, Bacon Hair, and others - The Last Guest
Geo, Jamison and others
Jake and others - The ROBLOX Movie, The ROBLOX Movie 2
Rob, Carlos, Back-Up Matt, Sean, Jada, Matt, Jaycey, Jackson, Royal, President and others - ROBLOX 2012: End of ROBLOX
Darguad Comics
Asterix
Obelix
Getafix
Dogmatix
Blake & Mortimer
Lucky Luke
Valerian & Laureline
Jolly Jumper
and others
Madhouse
Jubei Kibagami
and others
Adelaide Productions
Jackie Chan, Jade, Uncle and others - "Jackie Chan Adventures"
Big Guy, Rusty and others - "Big Guy and Rusty the Boy Robot"
Huey Freeman, Riley Freeman, Robert Jebediah Freeman and others - "The Boondocks"
Rachel Stevens, Jo O'Meara, Hannah Spearritt, Tina Barrett, Bradley Mcintosh, Paul Cattermole, Jon Lee and others - "S Club 7 Forever"
and others
Alien Productions
Shonen Sunday
Lum, Ataru, Ten and others - "Those Obnoxious Aliens"
Ranma (both male and female counterparts), Akane, Shampoo and others - "Ranma 1/2"
Inuyasha, Kagome, Shippo, Miroku, Sango and others - "Inuyasha"
and others
Big Blue Bubble
Mammott
Rare Mammott
Epic Mammott
Young Mammott
Tweedle
Rare Tweedle
Epic Tweedle
Young Tweedle
Dandidoo
Rare Dandidoo
Epic Dandidoo
Young Dandidoo
Oaktopus
Rare Oaktopus
Epic Oaktopus
Young Oaktopus
Furcorn
Rare Furcorn
Epic Furcorn
Young Furcorn
Toe Jammer
Rare Toe Jammer
Epic Toe Jammer
Young Toe Jammer
Potbelly
Rare Potbelly
Epic Potbelly
Young Potbelly
Drumpler
Rare Drumpler
Epic Drumpler
Young Drumpler
Quibble
Rare Quibble
Epic Quibble
Young Quibble
Cybop
Rare Cybop
Epic Cybop
Young Cybop
Noggin
Rare Noggin
Epic Noggin
Young Noggin
Fwog
Rare Fwog
Epic Fwog
Young Fwog
Pango
Rare Pango
Epic Pango
Young Pango
Shrubb
Rare Shrubb
Epic Shrubb
Young Shrubb
Maw
Rare Maw
Epic Maw
Young Maw
Pummel
Rare Pummel
Epic Pummel
Young Pummel
Bowgart
Rare Bowgart
Epic Bowgart
Young Bowgart
Thumpies
Rare Thumpies
Epic Thumpies
Young Thumpies
Deedge
Rare Deedge
Epic Deedge
Young Deedge
Shellbeat
Rare Shellbeat
Epic Shellbeat
Young Shellbeat
Scups
Rare Scups
Epic Scups
Young Scups
Reedling
Rare Reedling
Epic Reedling
Young Reedling
Clamble
Rare Clamble
Epic Clamble
Young Clamble
Riff
Rare Riff
Epic Riff
Young Riff
Entbrat
Rare Entbrat
Epic Entbrat
Young Entbrat
T-Rox
Rare T-Rox
Epic T-Rox
Young T-Rox
Congle
Rare Congle
Epic Congle
Young Congle
Spunge
Rare Spunge
Epic Spunge
Young Spunge
PomPom
Rare PomPom
Epic PomPom
Young PomPom
Quarrister
Rare Quarrister
Epic Quarrister
Young Quarrister
Kayna
Rare Kayna
Epic Kayna
Young Kayna
Glowl
Rare Glowl
Young Glowl
Flowah
Rare Flowah
Young Flowah
Stogg
Rare Stogg
Young Stogg
Phangler
Rare Phangler
Young Phangler
Boskus
Rare Boskus
Young Boskus
Barrb
Rare Barrb
Young Barrb
Floogull
Rare Floogull
Young Floogull
Repatillo
Rare Repatillo
Young Repatillo
Wynq
Rare Wynq
Young Wynq
Woolabee
Rare Woolabee
Young Woolabee
Whaddle
Rare Whaddle
Young Whaddle
Rootitoot
Rare Rootitoot
Young Rootitoot
Ziggurab
Rare Ziggurab
Young Ziggurab
Thrumble
Rare Thrumble
Young Thrumble
Sooza
Rare Sooza
Young Sooza
Tring
Rare Tring
Young Tring
Sneyser
Rare Sneyser
Young Sneyser
Ghazt
Rare Ghazt
Epic Ghazt
Grumpyre
Rare Grumpyre
Reebro
Rare Reebro
Jeeode
Rare Jeeode
Humbug
Rare Humbug
Whisp
Rare Whisp
Nebulob
Rare Nebulob
Sox
Rare Sox
Jellbilly
Rare Jellbilly
Arackulele
Rare Arackulele
Boodoo
Rare Boodoo
Kazilleon
Rare Kazilleon
Bellowfish
Rare Bellowfish
Dragong
Rare Dragong
Fung Pray
Rare Fung Pray
Wubbox
Rare Wubbox
Brump
Zynth
Poewk
Thwok
Dwumrohl
Zuuker
Screemu
Tympa
Dermit
Gheegur
Whajje
Creepuscule
Blipsqueak
Scargo
Astropod
Pixolotl
Bona-Petite
Maulch
Fleechwurm
Torrt
Blasoom
Hornacle
Attmoz
Glaishur
Syncopite
Scaratar
Loodvigg
Plixie
Furnoss
Vhamp
Galvana
Edamimi
Young Edamimi
Krillby
Young Krillby
Flum Ox
Young Flum Ox
Yelmut
Young Yelmut
Incisaur
Young Incisaur
Bisonorus
Young Bisonorus
Tiawa
Young Tiawa
Drummidary
Young Drummidary
Candelavra
Young Candelavra
Punkleton
Rare Punkleton
Epic Punkleton
Yool
Rare Yool
Epic Yool
Schmoochle
Rare Schmoochle
Epic Schmoochle
Blabbit
Rare Blabbit
Epic Blabbit
Hoola
Rare Hoola
Epic Hoola
Gobbleygourd
G'joob
Yawstrich
Fluoress
Theremind
Rare Theremind
Floot Fly
Clackula
Gob
Bulbo
Pluckbill
Bonkers
Poppette
Yuggler
HippityHop
Squot
Wimmzies
Peckidna
Denchuhs
Hawlo
Spytrap
TooToo
Fiddlement
Tapricorn
Rooba
Periscorp
Cantorell
Bridg-it
Clavi Gnat
Withur
Uuduk
Banjaw
Blow't
Gloptic
Pladdie
Plinkajou
Shugabush
Shugarock
Shugabass
Shugajo
Shugabeats
Shugabuzz
Shugavox
Shugitar
Tawkerr
Parlsona
Maggpi
Stoowarb
Do
Re
Mi
Fa
Sol
La
Ti
Glowbes
Various Critters
Various Red, Orange, Yellow, Green, Blue, and Purple Prismatic Monsters
Naughty Dog
Jak & Daxter
Crash Bandicoot, Coco Bandicoot, Aku Aku, Dr. Cortex, Ripper Roo, Uka Uka and others - "Crash Bandicoot"
Spyro the Dragon
and others
Nerd Corps Entertainment
Artha, Beau and others - "Dragon Booster"
Aerrow, Piper, Finn, Junko, Radarr, Stork, etc - "Storm Hawks"
Voltar, Doktor Frogg, Red Menace, Doomageddon, etc - "League of Super Evil"
Vert Wheeler, Agura Ibaden, Stanford Isaac Rhodes IV, Zoom Takazumi, Tezz Volitov, A.J. Dalton, and Sherman, Spinner Cortez and others - "Hot Wheels" franchise
and others
Rankin/Bass
Lion-O, Snarf, Cheetara, Panthro, Tygra, WilyKit, WillyKat and others - Thundercats
Quicksilver, Steelwill, Steelheart, Bluegrass, The Copper Kid and others - Silverhawks
and others
Vooz
Pucca, Garu and others - Pucca
Gamania
Lin Chang, Jumpy Ghostface, Mystique Sonya, Mr. No Hands, Mighty Ray and others - "Hero: 108"
Nintendo
Mario, Luigi, Princess Peach, Princess Daisy, Rosalina, Luma, Toad, Toadette, Toadsworth, Toadbert, Dr. Toadley, Yoshi, Birdo, Wario, Waluigi, Donkey Kong, Donkey Kong Jr., Diddy Kong, Cranky Kong, Funky Kong, Candy Kong, Dixie Kong, Wrinkly Kong, Swanky Kong, Kiddy Kong, Tiny Kong, Lanky Kong, Chunky Kong, Kings, Queen Bee, Honey Bees, Spooky Speedster, Gearmo, Penguins, Coach, Penguru, Ray, Guppy, Lumalee, Hungry Luma, Co-Star Luma, Star Bunny, Whittle, Fluzzard, Jibberjay, Pianta, Noki, Baby Mario, Baby Luigi, Baby Peach, Baby Daisy, Baby Rosalina, Baby Wario, Baby Waluigi, Baby Donkey Kong, Baby Yoshi, Bubble Baby Yoshi, Balloon Baby Yoshi, Glow Baby Yoshi, Professor E. Gadd, Broque Monsieur, Broque Madame, Broggy, Cappy, Tiara, Bonneter, Goombette, Lochlady, Shiverian, Tostarenan, Steam Gardener, Moe-Eye, Professor Frankly, Bandit (NPC), Bandy Andy, Blooey, Bob-omb from Fahr Outpost, Bootler, Bub, Bub-ulb, Bussinessman, Charlieton, Chef Shimi, Chet Rippo, Craw, Dazzle, Don Pianta, Don Pianta's guards, Doogan, Dupree, Excess Express Conductor, Excess Express Engineer, Excess Express Waitress, Fahr Outpost Mauor, Francesca Pianta, Frankie, General White, Ghost T., Glitz Pit Security, Giitz Pit Reporter, Goldbob, Goomba from Rougeport, Griffy, Grubba, Hayzee, Heff T., Herb T., Ishnail, Jerry, Kroop, Lady Bow, Lahla, Peeka, Lakity from the Gltiz Pit, Little Mouser, Lucky, Mayor Dour, Merlee, Merlon, Merluvlee, Mr. Hoggie, Niff. Parakarry, Pennington, Podley, Prince Mush, Ratooey, Screamy, Stewart, Sylvia, Traviling Sisters 3, Toodles, Torque, Whacka, Wonky, Zess T., Zip Toad, Merlon, Nolrem, The InterNed, Nastasia, Merlee, Bestovius, Howzit, Saffron, Dyllis, Red & Green, Flint Cragley and his Cragon Crew, Two D-Men, The Three Hags, Queen Jaydes, Grambi, Luvbi, Welderberg, Nabbit, Orange Nabbit, Pink Nabbit, Mini Mario, Mini Luigi, Mini Peach, Mini Toad, Mini Donkey Kong, Mini Bowser, Mini Bowser Jr., Mini Diddy Kong, Mini Yoshi, Mini Rosalina, Mini Spek, MC Ballyhoo, Big Top, Brighton, Twila, Golden Goomba, Golden Paragoomba, Golden Goomba Tower, Golden Mini Goomba, Golden Koopa Troopa, Golden Paratroopa, Golden Piranha Plant, Golden Bullet Bill, Golden Banzai Bill, Golden Hammer Bro, Golden Fire Bro, Golden Boomerang Bro, Golden Boo, Golden Big Boo, Golden Cheep Cheep, Golden Lakitu, Bowser, Bowser Jr., Bowletta, King K. Rool, Klump, Krusha, Kritter, Klaptrap, Ghastly King, Dread Kong, Karate Kong, Ninja Kong, Sumo King, Tiki Tak Tribe, Tiki Tong, Tiki Goons, Snowmads, Booster, Knife Guy, Grate Guy, Pinwheel, Axem Pink, Axem Black, Axem Red, Axem Yellow, Axen Green, Boom Boom, Pom Pom, Larry Koopa, Morton Koopa Jr., Wendy O. Koopa, Iggy Koopa, Roy Koopa, Lemmy Koopa, Ludwig Von Koopa, Kevin Koopa, Dolly P. Koopa, Gwendoline T. Koopa, Mortisha Koopa, Iago Koopa, Lavora Koopa, Thomas E. Koopa, Pyotr I. Koopa, Angelo Koopa, Patti Lee Koopa, Edwin B. Koopa, Mulgarth Koopa, Ross Koopa, Ellen D. Koopa, Ameria Koopa, Theo J. Koopa, Bazyil Koopa, Lady G. Koopa, Jackson Koopa, Harley B. Koopa, Jacob Koopa, Justin T. Koopa, Dragonia Koopa, Persephone Koopa, Death the Koopa, Risen Koopa, Kris C. Koopa, Tim J. Koopa, Aiva Koopa, Jinkesse Koopa, Alex Ember Koopa, Noah Koopa, Pietro Koopa, Wyvane Koopa, Lammy Koopa, Jumpy Koopa, Koopario, Poopbutt Koopa, Shag Koopa, Hisstocrat, Pink Hisstocrat, Boss Brolder, King Ka-thunk, Prince Bully, Motley Bossblob, Colored Pencils, Rubber Band, Hole Punch, Tape, Scissors, Stapler, Earth Vellumental, Water Vellumental, Fire Vellumental, Ice Vellumental, Handaconda, King Olly, Megasparkle Goomba, Tower Power Pokey, Tooper, Hariet, Spewart, Rango, Madame Broode, Chain Chompikins, Kuncklotec, Torkdrift, Mollusque-Lanceur, Runied Dragon, Mechawiggler, Cookatiel, Wingo, Fawful, Midbus, Popple, Rookie, Queen Bean, Chuckolator, Cackletta, Hooktail, Magnus von Grapple, Rawk Hawk, Doopliss, Cortez, Smorg, Lord Crump, Sir Grodus, Bzzap!, Buzzar, Big Bird, Tatanga, Sewer Rat, Witch, Three Little Pigs, Pako, Poko, Mr. L, Shadow Queen Peach, Shadow Mario, Goomba, Paragoomba, Spiky Goomba, Hyper Goomba, Hyper Paragoomba, Hyper Spiky Goomba, Gloomba, Paragloomba, Spiky Gloomba, Galoomba, Big Galoomba, Goombud, Goombrat, Headbonk Goomba, Jack O'Goomba, Octoomba, Elite Octoomba, Octoguy, Octoboo, Goomba Tower, Mega Goomba, Goomboss, Tanoomba, Goomdiver, Gritty Goomba, Gromba, Dromba, Big Tail Goomba, Chuboomba, Red Goomba, Blue Goomba, Big Goomba, Goomba Tower, Cat Goomba, Ice Skate Goomba, Koopa Troopa, Paratroopa, KP Koopa, KP Paratroopa, Shady Koopa, Shady Paratroopa, Dark Koopa, Dark Paratroopa, Troopea, Paratroopea, Elite Troopea, Scaratroopea, Koopeleon, Jr. Troopa, Koopa Bros., Koopatrol, Dark Koopatrol, Dry Bones, Parabones, Dull Bones, Red Bones, Dark Bones, Hammer Bro, Boomerang Bro, Fire Bro, Ice Bro, Sledge Bro, Amazing Flyin' Hammer Bro, Army Hammer Bro, Chomp Bro, Limbo Bro, Bullet Bill, Banzai Bill, King Bill, Torpedo Ted, Bombshell Bill, Bull-Eye Bill, Sniper Bill, Cat Bullet Bill, Cat Banzai Bill, Spiny, Sky-Blue Spiny, Sharpea, Spiny Shroopa, Buzzy Beetle, Stone Buzzy, Parabuzzy, Spiky Parabuzzy, Para-Beetle, Heavy Para-Beetle, Trapeetle, Spike Top, Blue Spike Top, Bony Beetle, Thwomp, Thwimp, Mrs. Thwomp, Whomp, Wallop, Walleye, Pattan, Stairface Ogre, Spike, Stone Spike, Tolstar, Tubba Blubba, Lakitu, Dark Lakitu, Lakithunder, Lakipea, Lakitufo, Wiggler, Flutter, Swiggler, Tropical Wiggler, Cataquack, Plungelo, Bob-omb, Bulky Bob-omb, Bob-ulk, King-Bob-omb, Piranha Plant, Putrid Piranha, Frost Piranha, Pale Piranha, Piranha Creeper, Spiny Piranha Plant, Prickly Piranha Plant, Piranha Sprout, Inky Piranha Plant, Petey Piranha, Mom Piranha, Lava Piranha, Lava Bud, Nipper, Muncher, Blooper, Blooper Baby, Jumping Blooper, Monty Mole, Rocky Wrench, Boo, Atomic Boo, Dark Boo, Cheep Cheep, Eep Cheep, Deep Cheep, Spiny Cheep Cheep, Puffer-Cheep, Snow Cheep Cheep, Porcupuffer, Small Urchin, Urchin, Big Urchin, Jellybeam, Bulber, Huckit Crab, Hermie III, Clampy, Lava Lotus, Splounder, Spike Eel, Gringill, Slurple, Dragoneel, Starkiss, Malibut, Durapurl, Gushen, Komboo, Rammerhead, Madpole, Mecha-Blooper, Cheepskipper, Fuzzy, Pink Fuzzy, Gold Fuzzy, Green Fuzzy, Flower Fuzzy, Fuzzler, Fuzzbush, Chain Chomp, Red Chomp, Silver Chomp, Gold Chomp, Flame Chomp, Chain Chomplet, The Underchomp, Chargin' Chuck, Mechakoopa, Blasta Mechakoopa, Zappa Mechakoopa, Pokey, Snow Pokey, Poison Pokey, Mummipokey, Skellokey, Coin Coffer, King Coin Coffer, Red Coin Coffer, King Red Coin Coffer, Blue Coin Coffer, King Blue Coin Coffer, Yellow Coin Coffer, King Yellow Coin Coffer, Purple Coin Coffer, King Purple Coin Coffer, Crowber, Fire Snake, Ember, Phantom Ember, Lava Bubble, Magmato, Splorch, Broozer, Cooligan, Bramball, Scaredy Rat, Foo, Ty-foo, Gorrol, Fliprus, Swoop, Swoopula, Swampire, Waddlewing, Amp, Bully, Classic Bully, Mr. Blizzard, Klepto, Rex, Freezie, Sidestepper, Fighter Fly, Super Fly, Scuttlebug, Big Scuttlebug, Shy Guy, Fly Guy, Spear Guy, Slurp Guy, Paint Guy, Spike Guy, Soggy Guy, Pry Guy, Red Shield Guy, Chuck Guy, Gunner Guy, Boom Guy, Boo Guy, Ghoul Guy, Groove Guy, Sky Guy, Anti Guy, Spy Guy, Medi Guy, Pyro Guy, The Shy Bandit, Shy Squad, Stilt Guy, Shy Stack, General Guy, Clip Guy, Sombrero Guy, Maraca Guy, Accordion Guy, Snifit, Laser Snifit, Spiky Snifit, Snifaro, Bandit, Red Bandit, Big Bandit, Badge Bandit, Kamek, Magikoopa, Red Magikoopa, White Magikoopa, Green Magikoopa, Yellow Magikoopa, Purple Magikoopa, Tutankoopa, Spiky Topman, Spring Topman, Topmini, Mandibug, Flipbug, Skeeter, Swaphopper, Flaptack, Digga, Gummit, Golden Gummit, Slurple, Twirlip, Ninji, Beezo, Hoopster, Phanto, Trouter, Porcupo, Albatoss, Pidgit, Cobrat, Panser, Ostro, Autobomb, Flurry, Spark, Mouser, Tryclyde, Fryguy, Small Fry Guy, Clawgrip, Mask Gate, Wart, Robirdo, Draglet, Prongo, Flophopper, Ant Trooper, Horned Ant Trooper, Biddybud, Para-Biddybuds, Fizzlit, Blurker, Conkdor, Blargg, Charvaargh, Magmaargh, Magmaw, Sandmaargh, Skipsqueak, Spiny Skipsqueak, Stingby, Urban Stingby, Urban Stingby Larva, Crabber, Petapeta, Flaptor, Mud Trooper, Stumper, Mummy-Me, Burrbo, Astro-Lanceur, Uproot, Beanie, Parabeanie, Gold Beanie, Hoohooros, Dragohoho, Pestnut, Eeker, Oucher Glass, Trunkle, Blockstepper, Brolder, Conkdor, Flopter, Swoopin' Stu, Shroob, Shrooblet, Shrooboid Brat, Junior Shrooboid, Elder Shrooboid, RC Shroober, Shrooba Diver, Princess Shroob, Elder Princess Shroob, Sunnycide, Gnarantula, Coconutter, Thwack, Magmad, Icead, Flibbee, Grobot, Pokio, Popmo, Saladro, Umbreltar, Burgerstein, Flying Spaghetti Monster, Monstario (mentioned), Final Confrontation Mario (mentioned), Dan Hibiki, Count Bleck, Dimentio, Sammer Guy, Boomboxer, Beepboxer, Blastboxer, Dark Boomboxer, Squiglet, Squig, Squog, Squoinker, Sproing-Oing, Boing-Oing, Zoing-Oing, Tileoid G, Tileoid B, Tileoid R, Tileoid Y, Red Magiblot, Orange Magiblot, Yellow Magiblot, Green Magiblot, Blue Magiblot, Navyblue Magiblot, Purple Magiblot, Pink Magiblot, White Magiblot, Rainbow Magiblot, Muth, Mega Muth, Barribad, Sobarribad, Longator, Longadile, Cursya, Back Cursya, Tech Cursya, Heavy Cursya, Reversya Cursya, Crazee Dayzee, Amazy Dayzee, Jawbus, Rawbus, Gawbus, Koopa Striker, Toopa Striker, Soopa Striker, Choppa, Copta, Growmeba, Blomeba, Chromeba, Dark Puff, Ruff Puff, Ice Puff, Poison Puff, Huff N. Puff, Bald Cleft, Hyper Blad Cleft, Cleft, Iron Clefts, Hyper Cleft, Moon Cleft, Eeligon, Hooligon, Jellien, Warpid, Foton, Pigarithm, Hogarithm, Shlurp, Shlorp, Clubba, Megabite, Gigabite, Cherbil, Ice Cherbil, Poison Cherbil, Spinia, Spania, Spunia, Skellobit, Spiky Skellobit, Skellobomber, Skellobait, Spiky Skellobait, Bittacuda, Ninjoe, Ninjohn, Ninjerry, Gus, Dark Gus, Pider, Arantula, Bristle, Dark Bristle, Dark Wizzerd, Wizzerd, Elite Wizzerd, X-Naut, X-Naut PhD, Elite X-Naut, Yux, Mini-Yux, Z-Yux, Mini-Z-Yux, X-Yux, Mini-X-Yux, Grodus X, Kersti, Huey, Tippi, Tiptron, Thoreau, Boomer, Slim, Thudley, Carrie, Fleep, Cudge, Dottie, Barry, Dashell, Piccolo, Goombella, Koops, Madame Flurrie, Yoshi Jr., Beldam, Marilyn, Vivian, Admiral Bobbery, Ms. Mowz, Jolene, Puni, Punio, Petuni, Puni elder, Puniper, Pungent, Pungry, Jabbi, Jabble, Olivia, Eldstar, Mamar, Kalmar, Muskular, Misstar, Skolar, Klevar, Folded Soldiers, Dark Bowser, Dark Bowser Jr., Dark Dry Bowser, Dark Meowser, Dark Giga Bowser, All Dark Element Koopas and others - "Mario and Donkey Kong" Franchise
Kirby, King Dedede, Meta Knight, Lololo, Lalala (Lololo's female counterpart) and others - Kirby
Link, Zelda, Ganondorf and others - The Legend of Zelda
Samus, Dark Samus, Zero Suit Samus, Ridley and others - Metroid
Ice Climbers
Pit, Palutena, Hades, Poseidon, Medusa, Dark Pit, Viridi and others - Kid Icarus
Bulbasaur, Venusaur, Charmander, Charizard, Squirtle, Blastoise, Pikachu, Vulpix and Ninetales, Jigglypuff, Meowth, Psyduck, Abra, Kadabra, and Alakazam, Haunter, Gengar, Koffing and Weezing, Mr. Mime, Jynx, Magikarp, Gyarados, Lapras, Eevee, Snorlax, Articuno, Zapdos, Moltres, Mewtwo, Mew, MissingNo. (glitch), Chikorita, Togepi, Unown, Entei, Lugia, Celebi, Blaziken, Mudkip, Absol, Latias and Latios, Rayquaza, Deoxys, Lucario, Giratina, Arceus, Zorua and Zoroark, Greninja, Xerneas and Yveltal, Mimikyu, Meltan and Melmetal, Ash Ketchum, Serena, Clemont, Bonnie, Iris, Clian, Dawn, Alain, Mairin, Alexa, Sawyer, Miette, Trip, Bianca, Burgundy, Stephan, Georgia, Cameron, Virgil, Various Pokemon Trainers and Various Pokemons - Pokemon Franchise
Jimmy T., Mona, Dribble, Spitz, 5-Volt, Ashley, Red, Dr. Crygor, 18-Volt, Penny, Kat, Ana, 9-Volt, Young Cricket, Master Mantis, Orbulon, Mike, The Fronk, Lulu, Queen Merelda, Princess Shokora, Captain Syrup and others - WarioWare, Wario Land Series
Poochy, Poochy Pups, Stork, Roger Left, Smiley Flower, Goonie, Skeleton Goonie, Little Mouser, Incoming Chomp, Shark Chomp, Gargantua Blargg, Frog Pirate, Fang, Clawdaddy, Bumpty, Salvo the Slime, Roger the Potted Ghost, Hookbill the Koopa, Tap-Tap the Red Nose, Prince Froggy, Marching Milde, Naval Piranha, Bigger Boo, Burt the Bashful, Sluggy the Unshaven, Baby Bowser, Big Bad Baby Bowser (mentioned), Big Burt Bros., Gilbert the Gooey, Hector the Reflector, Big Bungee Piranha, Bessie Bass, Priscilla the Peckish, Six-Face Sal, Big Guy the Stilted, Moltz the Very Goonie, Big Montgomery, Knot-Wing the Koopa, Bunson the Hot Dog, Miss Cluck the Insincere, Snifberg the Unfeeling, Sundream Stone, Blockafeller, Fooly Flower, Yarrctopus, Tin-Can Condor, Burt the Ball, Spike the Piranha, Shogun of Skewers, Gator Train, Mr. Geary, The Great King Bowser, Mega Baby Bowser and others - Yoshi Franchise
Inkling, Octoling, Squid Sisters, Off the Hook, Annie and others - Splatoon
Little Mac, Doc Louis, Giga Mac and others - Punch-Out!!
Olimar, Alph, Red Pikmin, Blue Pikmin, Yellow Pikmin, White Pikmin, Winged Pikmin, Purple Pikmin, Rock Pikmin, Bulborb and others - Pikmin
Dragon Quest Heroes, Slime and others - Dragon Quest
Min-Min, Spring Man, Ribbon Girl, Ninjara, Mechanica, Master Mummy, Helix, Kid Cobra, Byte and Barq, Twintelle, Max Brass, Lola Pop, Misango, Dr. Coyle and others - ARMS
Captain Falcon
Fox
Falco
Peppy
Slippy
Wolf
Marth
Ike
Roy
Lucina
Robin
Chrom
Byleth
Male and Female Villagers
Isabelle
Other Animal Crossing Animals
Ninten
Ness
Jeff
Paula
Poo
Lucas
Flint
Kumatora
Duster
Boney
Mr. Game & Watch
R.O.B.
Rayman
and others
SEGA
Sonic the Hedgehog, Dr. Eggman, Miles "Tails" Prower, Amy Rose, Metal Sonic, Knuckles the Echidna, EggRobo, Fang the Sniper, Charmy Bee, Espio the Chameleon, Mighty the Armadillo, Vector the Crocodile, Big the Cat, Chaos, E-100 Alpha, E-102 Gamma, E-123 Omega, Chao, Omochao, Hero Chao, Dark Chao, Ricky, Pocky, Flicky, Rocky, Cucky, Pecky, Picky, Tikal the Echidna, Shadow the Hedgehog, Professor Gerald Robotnik, Maria Robotnik, Rouge the Bat, Cream the Rabbit & Cheese, G.U.N. Commander, Blaze the Cat, Eggman Nega, Jet the Hawk, Wave the Swallow, Storm the Albatross, Silver the Hedgehog, Orbot, Cubot, Yacker, White Wisp, Yellow Wisp, Cyan Wisp, Blue Wisp, Green Wisp, Pink Wisp, Purple Wisp, Violet Wisp, Orange Wisp, Red Wisp, Indigo Wisp, Crimson Wisp, Magenta Wisp, Ivory Wisp, Gray Wisp, Black Wisp, Jade Wisp, Sticks the Badger, Zavok, Zazz, Zomom, Master Zik, Zeena, Zor, Heavy King, Heavy Gunner, Heavy Shinobi, Heavy Magician, Heavy Rider, Infinite, Badniks and others - "Sonic the Hedgehog" franchise
D-Team (Max Taylor, Rex Owen, Zoe Drake, Dr. Spike Taylor, Aki Taylor, Reese, Chomp, Ace and Paris), Alpha Gang (Dr. Z, Ursula, Zander, Ed, Laura, Rod, Terry, Spiny, Tank and The Alpha Droids), Spectral Space Pirates (Jark, Foolscap, Sheer, Gavro, Gooma, Brontikens, Gigas, Maximus, Armatus and Eocarcharia), Seth, Fire Dinosaurs (Carcharodontosaurus, Acrocanthosaurus, Daspletosaurus, Saurophagnax and Mapusaurus), Water Dinosaurs (Saltasaurus, Suchomimus, Amargasaurus, Futabasaurus, Baryonyx and Ampelosaurus), Lightning Dinosaurs (Styracosaurus, Anchiceratops, Torosaurus and Pentaceratops), Earth Dinosaurs (Ankylosaurus, Euoplocephalus and Stegosaurus), Grass Dinosaurs (Maiasaura, Pteranodon, Seismosaurus, Supersaurus, Saurolophus Duo, Iguanodon and Fukuisaurus), Wind Dinosaurs (Utahraptor, Ceratosaurus, Megaraptor, Deltadromeus and Allosaurus), Secret Dinosaurs (Pachycephalosaurus, Therizinosaurus, Deinonychus Trio and Megalosaurus), Move Card Dinosaurs (Pawpawsaurus and Velociraptor Trio), Alpha Dinosaurs (Alpha Gorgosaurus, Alpha Rajasaurus, Alpha Acrocanthosaurus, Alpha Giganotosaurus, Alpha Irritator, Alpha Suchomimus, Alpha Amargasaurus, Alpha Nemegtosaurus, Alpha Einiosaurus, Alpha Chasmosaurus, Alpha Arrhinoceratops, Alpha Triceratops, Alpha Wuerhosaurus, Alpha Kentosaurus, Alpha Ankylosaurus, Alpha Sauropelta, Alpha Ouranosaurus, Alpha Iguanodon, Alpha Lambeosaurus, Alpha Tsintaosaurus, Alpha Dilophosaurus, Alpha Allosaurus, Alpha Ceratosaurus and Alpha Sinraptor) and others - Dinosaur King
Amigo - Samba De Amigo
and others
Level5ch
Nate, Katie, Eddie, Bear, Nathaniel, Hailey, Whisper, Jibanyan, Komasan, Komajiro, Robonyan, Pandle, Undy, Tanbo, Cutta-nah, Cutta-nah-nah, Slacka-slash, Mochismo, Minochi, Helmsman, Reuknight, Corptain, Blazion, Quaken, Siro, Chansin, Sheen, Snee, Gleam, Benkei, B3-NK1, Sushiyama, Kapunki, Beetler, Beetall, Cruncha, Zerberker, Snartle, Snotsolong, Duchoo, Wazzat, Dummkap, D'wanna, N'more, Q'wit, Lafalotta, Blips, Tattletell, Tattlecast, Skranny, Cupistol, Casanuva, Casanono, Signibble, Signiton, Statiking, Mirapo, Mircle, Illoo, Elloo, Alloo, Espy, Infour, Tengu, Flengu, Kyubi, Frostail, Dulluma, Darumacho, Goruma, Noway, Impass, Walldin, Armsman, Fidgephant, Touphant, Blowkade, Ledballoon, Mad Mountain, Lava Lord, Roughraff, Badude, Bruff, Rhinoggin, Rhinormous, Hornaplenty, Castelius III, Castelius II, Castelius I, Castelius Max, Goldenyan, Dromp, Swosh, Dazzabel, Rattelle, Skelebella, Cadin, Cadable, Singcada, Pupsicle, Chilhuahua, Swelterrier, Thornyan, Baddinyan, Walkappa, Appak, Supyo, Komane, Komiger, Baku, Whapir, Shmoopie, Pinkipoo, Pookivil, Frostina, Blizzaria, Damona, Wiglin, Steppa, Rhyth, Wantston, Grubsnitch, Humgramps, Hungorge, Grainpa, Lodo, Chippa, Enerfly, Enefly, Betterfly, Peppillon, Happierre, Reversa, Reversette, Ol' Saint Trick, Ol' Fortune, Rollen, Dubbles, Papa Bolt, Uncle Infinite, Mama Aura, Auntie Heart, Leadoni, Mynimo, Ake, Pyan, Agon, Negatibuzz, Moskevil, Scritchy, Dimmy, Blandon, Nul, Hidabat, Abodabat, Belfree, Suspicioni, Tantroni, Contraioni, Tengloom, Nird, Negasus, Neighfarious, Timidevil, Beelzebold, Count Cavity, Greesel, Awevil, Coughkoff, Hurchin, Peckpocket, Rockabelly, Buhu, Flumpy, Skreek, Manjimutt, Multimutt, Sir Berus, Droplette, Drizzle, Slush, Alhail, Gush, Chatalie, Nagatha, Dismarelda, Cheeksqueak, Cuttinchezz, Compunzer, Lamedian, Grumples, Everfore, Eterna, Insomni, Sandi, Noko, Bloominoko, Pnadanoko, Heheheel, Croonger, Urnaconda, Fishpicable, Rageon, Tunatic, Draggie, Dragon Lord, Azure Dragon, Daiz, Confuse, Chummer, Shrook, Spenp, Almi, Babblong, Bananose, Copperled, Cynake, Slitheref, Venoct, Shadow Venoct, Shogunyan, Komashura, Dandoodle, Elder Bloom, Gilgaros, Sapphinyan, Emenyan, Rubinyan, Topanyan, Dianyan, Brushido, Washogun, Lie-in, Lie-in Heart, Hissfit, Tublappa, Slicenrice, Flamurice, Mudmunch, Sgt. Burly, Demuncher, Devourer, Brokenbrella, Pittapatt, Houzzat, Faysoff, So-Sorree, Bowminos, Smogling, Smogmella, Master Oden, Failian, Apelican, Miradox, Verygoodsir, Chymera, Kingmera, Terrorpotta, Wotchagot, Pride Shrimp, No-Go Kart, Mistank, Mimikin, Enduriphant, Zappary, Frazzel, Swelton, Toadal Dude, Uber Geeko, Leggly, Jumbelina, Boyclops, Buchinyan, Bakulia, Drizzelda, Nekidspeed, Harry Barry, Faux Kappa, Tigappa, Master Nyada, Tongus, Nurse Tongus, Pallysol, Scarasol, Supoor Hero, Gnomey, High Gnomey, Predictabull, Smashibull, Don Chan, Ray O'Light, Kyryn, Unikirin, Wydeawake, Allnyta, Herbiboy, Carniboy, Yoink, Gimme, K'mon-K'mon, Yoodooit, Count Zapaway, Tyrat, Snobetty, Slimamander, Dracunyan, Eyesoar, Eyellure, Wobblewok, Squeeky, Rawry, Furgus, Furdinad, Noris, Papa Windbag, Ben Tover, Toiletta, Foiletta, Sproink, Arachnus, Arachnia, Cricky, Snaggly, Whinona, Flushback, Vacuumory, Irewig, Firewig, Mermaidyn, Mermadonna, Mermother, Lady Longnek, Draaagin, SV Snaggerjag, Spoilerina, Poofessor, Slurpent, Melonyan, Oranyan, Kiwinyan, Grapenyan, Strawbnyan, Watermelnyan, Robokapp, Robokoma, Robogramps, Robomutt, Robonoko, Robodraggie, Wondernyan, Robonyan F, Sailornyan, Machonyan, Hovernyan, Darknyan, Jibakoma, Jetnyan, Unfairy, Unkaind, Untidy, Unpleasant, Unkeen, Grublappa, Madmunch, Badsmella, Mad Kappa, Shamasol, Gnomine, Defectabull, Feargus, Scaremaiden, Wrongnek, Grumpus Khan, Groupus Khan, Slumberhog, Snortlehog, Panja Pupil, Panja Pro, Samureel, Time Keeler, Takoyakid, Takoyaking, Danke Sand, No Sandkyu, Sumodon, Yokozudon, Whateverest, Whatuption, Happycane, Starrycane, Snottle, Moximous N, Moximous K, Jibanyan S, Komasan S, Komajiro S, Darkyubi, Illuminoct, Gargaros, Ogralus, Orcanos, Rudy, Usapyon, Whispocrates, Jibanyan B, Komasan B, Sir Nyansalot, Maginyan, Momonyan, Puppynyan, Chimpanyan, Pheasanyan, Bison Burly, Arachnevil, Toadal Demon, Fuu 2, Kintaronyan, Kabuking, Rubeus J, Hardy Hound, Seaweed Sensei, Odysseynyan, Gutsy Bones, Usapyon B, Drenchetta, Starry Noko, Lord Enma, Sigh-Durr, Flippit, Brutle, Minimoto, Goofball, Slugger, Lappinitup, El Gutso, Gutso Grande, BBQvil, Liarbird, Hot Air Buffoon, Shurikenny, Nunchucky, Cameila, Zip Unlock, Slippup, Who-Me, 2-Much-2-Take, Why Naant, Naandhi, Legsit, Chukket, Cornfused, Unshelltered, House Partay, Skulleidoscope, Lionguist, Statikid, Professor Plumage, Imagenius, Miss Teri, Squandeer, Thurston, Spect-hare, Snow Spect-hare, Oh Wheel, Blownhistoppa, Roughgraff, Chilled Cowcao, Stircrazy Stu, Nummskull, Skillskull, Oh Bah Gah!, Speedemountain, Shipshape Sailor, Admirable Admiral, Sing Kong, Slippy, Repossessor, Mr. Blockhead, Steaking, Showbonyan, Jawsome Kid, El Sharkador, Silver Lining, Twirly Pie, Petty-Cake, Hoppy, Buttered Blue, Punching Baguette, Unbelievaboy!, Unbearaboy!, Inflammaboy!, Krystal Fox, Runsure, Kittylumbus, Zest-a-Minute, Cue-Tee, Demandi, Jibanyan Liu Bei, Komasan Sun Ce, Stinkeye, Slackoon, Puppiccino, Ballin, Tomnyan, Koma Knomads, Whirlweasel, Chocobonyan, Mooglenyan, Wobblenyan, Wibblekoma, Sushinyan, Tempurasan, Tenguriginal, Tenguriginal, Bumblejack, In-Tune, Supersize Gramps, Lil Blue Bathing Hood, Bubble Beth, Afronaut, Cereal Spiller, Tomorrow Gal, Swaycorn, Push Pup, Ponderoo, Tongue-Twister, Lazy Sundae, Got It Maid, Greengramps, Right Brothers, Tattlecakes, Fundango, Pearly White, Ghostess, Double Time, Sonic Bam, Neggplant, Snitchin, Messyrai, Treetter, Retreeter, Salty Bacon, Indexter, Hack King, DisliKing, Crook-a-doodle, Rocky Badboya, Injurnalist, Misterr Typoo, Lil Kappa, Horizontail, Usapyon Zhongda, Dr. E. Raser, Dr. Nocturne, Tut 'n' K'mon, Tie-red, Love-Torn, Shakey, Quagmira, Pergushin, Percrushionists, Grubbles, Nervous Rex, Rinsin Repete, Soloman, Rhumbastiltskin, Slax, Shedwin, Glumdango, Spewart, Hairum Scarum, Oridjinn, Horridjinn, Little Charrmer, Humtea Jumtea, Snailspace, Putasockinit, Snidewinder, OMGator, Nautloss, Shellebrity, T-Wrecks, D-Stroy, Clodzilla, Snippity Cricket, Flocktopus, Bitter Batter, Cocobanana, Ooze Zat, Mython, Frogetmenot, Sighborg Y, King Jibanyan, Queen Usapyon, Jackomasan, Komajiro Ten, Acenyan, Josper, Benzaiten, Hotei, Daikokuten, Ebisu, Bishamonten, Columbakat, T. Energison, Starwin, Last Nyanmurai, Koma Star, Platinos, Flash T. Cash, Re-Q-Perate, Princess Pearl, Asura, Terminyanator, Supernyan, Hovernyan S, Hovernyan Cao Cao, Yoganalisten, Judgebrick, Urnfulfilled, Sad 2 the Bone, Venoctobot, Orcanos Lu Bu, Kyubot, Ulimtate Robonyan, Molar Petite, Life-is-Parfait, Mee 2, Koalanyan, Jibanyan T, Komasan T, Eggcelency, Deadcool, Sweattuce, Mr. Blue-Shy, Amplifly, Ulteria, My-Baaad, Sunk'nsoul, Crummy Mummy, Kaped Komander, Tofupyon, Ed Zoff, Gorgeous Ambassador, Hinozall, Zazel, Procrastinocchio, Treasure Pest, Jeanne Ne-Sais-Quoi, Whisper Kongming Jurojin, Fukurokuju, Sarcophacurse, King Deadward, Pandora, Comic Genieus, Bastnetnyan, Komanubis, Gabby, Teducator, Gentlemutt, City Licker, Whyvern King, Righteous Zazel, Hinozall Awoken, Ancient Enma, Lord Enma Awoken, The Boracle, Rampajah, Cymbalina, Mumbles, Roary, Letsbifrenz, Wack o' Lantern, Moolinda, Neighthan, Big Fish, Alpina, Lunie, Blizzie, KJ, Solar Enma, Infinite Enma, Umbral Enma, Indiana Jaws, Shovulcan, Zomboy, Nyanses II, Meopatra, Fitwit, El Dorago, The Hinix, Ogamitaoshi, Captain Dodo, Chousensha, Monomaneking, Morigami Rex, Punijiro, Shourinjii, Raise Gal, Katenshi, Futekusaru, Maizo Tokugawa, Are Bacchino, Gashadokuro T, Kanekui Hime, AkiraMEN, Omoutsubo, Naga Raja, Doyagari, Doya Osa, Vascoda Gama, Crystal Shogunyan, Punifuyu, T Jibanyan G, D Jibanyan, T Komasan G, D Komasan, Indy Jaws G, Cindy Jaws, Mr. Scoop G, Zom B Chopper G, Neko II Gold, Yodelsen, Narcis II, Zappadokia, Mademoaiselle, Rosetta Stone, Doescalibur, Encore Dead, Armorterasu, Dandory, Spatto, Tanto, Kirene, Toranka, Catleen, Gustaf, Gowin, Seirei Banbarayar, Umbral Enma, Yami Enma, Lord Ananta, Enma Meiou Maka, Enma Neko'ou Matatabi, Enma Ryuuou Mizuchi, Enma Raou Tekkaku, Fudou Myouou, Jabow, Shirokuma, Harry, Gomendako and others - Yo-kai Watch, Yo-kai Watch 2, Yo-kai Watch Blasters, Yo-kai Watch 3, Yo-kai Watch Busters 2, Yo-kai Watch 4
Food Icons/Commercials
Tony the Tiger
Snap, Crackle & Pop
Gaffer, Sydney, Tina, Clarence - Tetley Tea
Sonny - Cocoa Puffs
Geoffrey the Giraffe
Pillsbury Doughboy
Coco the Monkey
Dino The Dinosaur - Sinclair
Lucky, Rachel Rainbow, Mr. Fancy Hat, Dr. Ron Hourglass, Howard Heart, Blue, Red, "Shooting" Stan Star, Tom Horse Shoe, The Diamond Dancers - Lucky Charms
Chester Cheetah
Wendy Thomas
Various Animated Characters - GrubHub
Bacon, Pancake, Sausage, Egg - Denny's
Arby's Duck
Blue M&M, Red M&M, Yellow M&M, Green M&M, Orange M&M, Brown M&M - M&Ms
Ernie Keebler, Fryer Tuck, Zoot and J.J., Ma Keebler, Elmer Keebler, Buckets, Fast Eddie, Sam, Roger, Doc, Zack, Flo, Leonardo, Elwood, Professor, Edison, Larry and Art
Ronald McDonald, Hamburgular, Grimace, Birdie, Sundae the Dog, Mac Tonight, Happy, Fries, McNuggets, Girl, Drink, Puffy, Boy, The Happy Meal Guys - McDonald's
Chuck E Cheese, Helen, Mr. Munch, Jasper, Pasqually - Chuck E Cheese
Buc-ee the Beaver
Shoney's Bear
Hamburger Helper Helping Hand
Kool-Aid Man
Chester the Chicken
Colonel Sanders
The Laughing Cow
Eggo's Girl
Miss Chiquita Banana
Taco Bell Chihuahua
Raisin Man
Toucan Sam, Puey, Susey, and Louis
Aleksandr Orlov, Sergei, Maiya, Bogdan, Vassily, Yakov, Oleg, Ayana, Various Meerkats, Various Animals, Various People, Various Kids, Various Humans, and others - Compare The Meerkat And Market
Boy, Mr. Owl, Mr. Turtle and others - Tootsie Pop
Front Row Joe, Starstruck Penny and Clyde
Sugar Bear
Raisin Bran Sun
George Volcano and Tyrannosaurus Alan
Trix Rabbit
Chip the Wolf
Gio Compario
Monty the Penguin
Mr. Peanut
Morton Girl
Fido Dido
Coca Cola Polar Bears
Mr. Salty
Bullseye the Dog - Target
The Great Root Bear
Zaxby's Chicken
Sun Fizz
Charlie the Tuna - Starkist
Mel O. Mushroom, Melody, Funguys, Wizard, Dude, Bilbo, and others - Mellow Mushroom
Twinkie The Kid, Captain Cupcake, King Ding Dong, Chief Big Wheel, Happy Ho-Ho, Fruit Pie the Magician - Twinkles
Frito Bandito
Clip, AMC Amazing Icons
The 7-Up Cool Spot
Chips Ahoy Cookie Guys
The CKE Restaurants Star
The Campbell's Kids
Cornelius (Corny) Rooster
Icee Polar Bear
Colonel Sanders
Count Chocula, Boo Berry, Frankenberry
Cheesasaurus Rex
The California Raisins
The Quaker Oats Man
Front Row Joe, Starstruck Penny and Clyde
Green Giant
Brian the Robot, Cara Confused, Bertha, and others
The Burger King, Burger King Kids Club Gang, Nic the Green Hippo, Hungry Jack, Tim Horton, and Popeyes Chicken - Restaurant Brands International
Jollibee, Chickee, Lady Moo, Mico, Champ, Mr. Yum, Twirlie, Popo, Hetty
Jack Box, Cricket Box, Jack, Jr., Jack's daughter, Jack's father, Patty Box, Nana Box, Jim, Joey and Joey Jr., Jacques, Onion Ring Thing, Hamburgermeister, Small Fry, Secret Sauce Agent, The Shakes (Strawberry, Chocolate, Vanilla), Uncle Trillby, and Hermione - Jack in the Box
The Vlasic Stork
Punchy
Cap'n Crunch
The Scrubbing Bubbles
Serta Counting Sheep
Flo, Flobot, Jamie, The Progressive Insurance Box, Mara, Motaur, Dr. Rick
Jackie and Platy
Various Poptarts and Humans, Lizard - Pop-Tarts
Gecko, Money, Caveman, Piggy, Camel - Geico
Evelyn, Arm, Atlas, Roberto, Sassbot - T-Mobile/Sprint Corporation
Aflac Duck
Chick-fil-A Cows
Meteorite Cowboy from Public Storage
and other characters
Production Logos/Vanity Cards
20th Century Fox/Studios Structure and Searchlights
Klasky Csupo Robot
PBS P-Head
NBC Peacock
Leo the Lion
Torch Lady, TriStar Pegasus - Sony
Constellation Lion - Lionsgate
FHE Kids Dog
Fredbot
MTV Astronaut
Lion - Regal Films
Tex - THX
Ragdoll IV - Ragdoll Limited
Guy, Cat, Fish. Conductor - Dolby
HiT Entertainment Blocks
Giant Robot Spider, Dragonfly - The Jim Henson Company
Ronald Moore, David Eick - R&D TV
Cheri Sundae Monster
Spiffy Pictures Dog
Shadow Projects Dog
Stunt Puppy Dog
Jackhole Industries Donkey
David Greenwalt's Motorhome
Soul Bot - Astro Base Go!
Ubu - UBU Productions
Titmouse - Titmouse Inc.
Filmstrip Segall - Stu Segall Productions
Falling Man - Guntzelman-Sullivan-Marshall Productions
Dog - Blackjack Films
Bad Robot
Mutant Enemy Monster
ü Face, Hand - Monküpower Inc.
Atomic Monster Hero
Pink Brave Dog and Yellow Dummy Dog-headed Horse
SLR Productions Dog
BND Mask of Guo Xiang
Curly Girly Girl
Curly One Girl
Paul the Three-Eyed Monkey
CineGroupe Bird
Tim the TV Man, 7Two TV Man, 7Mate Dog - Seven Network
YouTube
Charlie Magne, Vaggie, Angel Dust, Alastor, Cherri Bomb, Tarvis, Niffty, Husk, Katie Killjoy, Tom Trench, Sir Pentious, Egg Bois, Razzle & Dazzle, Blitzo, Millie, Moxxie, Valentino, Vox, Velvet, Rosie, Loona, Octivia, Stolas, Mrs. Mayberry and others - Hazbin Hotel/Helluva Boss
Shoop Da Whoop, Dr. Octagonapus, Epic Face, Troll Face, Rage Guy, Doge, Pepe the Frog, Dramatic Chipmunk, Sanic, Ugandan Knuckles, Bongo Cat, Change Da World... My Final Message. Good b ye Rat, Baby Yoda, Æügh, Hornbox, Poke's april fools joke., A MAN HAS FALLEN INTO THE RIVER IN LEGO CITY, Slenderman, Beanos, Despacito Spider, Duolingo, Bruh, Dancing Cockroach, Gnome, Stonks, Keyboard Cat, Coffin Dance Mans, Sans, Stick Bugged lol, Henry Stickmin, Spooky Scary Skeletons, Perfectly Cut Screams, Firey Underwear and others - Meme Characters
Amelia, Miguel, Jessica, Vasco, Tammy, Eli, Lucas - Kidz Bop Comic Adventures
Ryan, Loann, Shion, Combo Panda, Alpha Lexa, Gus The Gummy Gator, Big Gil - Ryan ToysReview, VTubers
Joe, George, Gemma, Jeremy - Guinea Something Good
HobbyPig, HobbyFrog, HobbyBear, HobbyMom, HobbyDad - HobbyKids Adventures
Annoying Orange, Pear, Passion Fruit, Marshmallow, Midget Apple, Apple, Grandpa Lemon, Grapefruit, Squash, Zoom, Gaming Grape, Captain Obvious, Gingerbread Mailman, Dane Boedigheimer, Nerville, Joe the Coffee Mug, Kid Berries, Lou, Eggplant, Mango, Star Fruit, Betty Balloon, Cantaloupe, Optimus Prime Rib, Steve, Creppers, Mario, Peach, Toad Shroom, Bowser, Gecko, Pistachio Eating Caterpillar, Coconut, Donatello the Turnip, Leonardo the Turnip, Michelangelo the Turnip, Raphael the Turnip, Blue Pig, Pink Pig, Green Pig, Mark the Pepper, Elizabeth Eggplant, Nancy Nectarine, Orange's Sister, Zip, Zoop, Knife, Bananas, Cabbage, Onion, Mushroom, Lady Pasta, Sunflower, Marty Meatball, Pumpkin, Sushi, Celery, Potato, Yum, Jello, Alphabet Soup, Fortune Cookie, Pepper, Fake Banana, Fake Apple, Fake Orange, Rump Roast, Tea, Crabapple, Cornucopia (Maize, Apple, Grapes, Cucumber, Etrog, Green Apple, Avocado, Golden Delicious, Pumpkin, Zucchini Squash), Rubik's Cube, Jalapeño, Chicken Leg, Bruce Kiwi, Cherry & Blue, Gingerbread Man, Instagram, Cucumber, Plum, Mustachios, Dr. Bananas, Ornament, Copper Lincoln, Nude Dude, Pot Roast, Romanesco Chief, Sour Rangers, Avocado, Liam the Leprechaun, Party Rock, Spike the Durian, Universal Remote, Gummy Worms, Gummy Bears, Chewing Gum, Gumdrops, Emmett the Oven Mitt, Bonsai Tree, Peashooters, Sunflowers, Zombies, Angel Orange, Devil Orange, Angry Orange (mentioned), Bad Apple (mentioned) and others - The Annoying Orange
Baby Lamb, Belle Butterfly, Cow McMoo, Alice Pennington, Ricky Bowers, Donny Dolphin, Cassandra Cat and others - Baby Lamb and Friends
Finto, Kody, Akihiro, Samantha, Gideon, Camden, Widenar, Jimmy, Alice, Hashbrown, Finniette, Ruthie, Naomi, Paul, Phillop, Quin, Grayson, Summer, Talya, Sargon, Macario, Olivia, Drew, Jackson, Jay, Miley, Joan, Erica, Bunty, Tatertot, and others - The Rodfellows/The Data Crew
Four, X, Two, Spongy, Basketball, Bell, Barf Bag, Taco, Firey Jr., Pencil, Pie, Donut, Lightning, Loser, Coiny, Firey, Woody, Yellow Face, Tennis Ball, Tree, Gelatin, Leafy, Grassy, Balloony, Book, Teardrop, Bracelety, Liy, Ice Cube, Snowball, Eggy, Pillow, Gaty, Cloudy, Foldy, Bubble, Bottle, TV, 8-Ball, Remote, Black Hole, Bomby, Rocky, Golf Ball, David, Dora, Marker, Pen, Fanny, Clock, Nickel, Naily, Needle, Lollipop, Robot Flower, Eraser, Stapy, Ruby, Blocky, Roboty, Pin, Fries, Match, Saw, Cake, Flower, PuffBall, Announcer, Firey Speaker Box, Flower Speaker Box, PuffBall Speaker Box, Hexagon Speaker Box, Triangle Speaker Box, Round Circle Speaker Box, Spike Ball Speaker Box, Leafy Speaker Box, Tennis Ball Speaker Box, Evil Leafy (mentioned), Nonexisty, Lego Brick, Waffle, Tune, Camera, Get-Well Card, Purple Face, Fish, Bug, Camera, Bozo, Dome, SOTP Sign, Cheese Orb, 9-Ball, Anchor, Avocado, Battery, Blender, Boom Mic, Clapboard, Conch Shell, Discy, Income Tax Return Document, Kitchen Sink, Leek, Onigiri, PDA, Price Tag, Rubber Spatula, Salt Lamp, Scissors, Shampoo, Shopping Cart, Snare Drum, Tape, VHSy, Winner, Bally, Marble, Profiley, Rusty Coin, Sam, BeiBei, Grape, Clip, Steamy, Portable Music Player, Hyper, Unknown Shadow, Fire Monster, HelloKevin, Fish Monster, A duck, Evidence Bag, Frozen Yogurt, Glue, jack russell terrier dog riding very fast with speed a skateboard as skater , with sunglasses in summer vacation, taking a selfie with smartphone or cell phone, Pastel Feather, Purple Girl with Wind Hair and Angry Eyes, Tent, Juice Box, Strudel, Electric Guitar, Vacuum, Kebab, Crystal, Deadly, VR Headset, G, O, POO, Obsidian, Glass, Amber, Lapis Lazuli, Pearl, Ivory, Coral, Ammolite, Diamond, Gold, Emerald, Benitoite, Malachite, Axinite, Pyrite, Hematite, Lolite, Variscite, Fluorite, Feldspar, Quartz, Turquoise, Aquamarine, Kornerupine, Chrysoberyl, Jade, Dioptase, Garnet, Topaz, Jasper, Peridot, Opal, Sapphire, Amethyst, Zero, One, Three, Five, Six, Seven, Eight, Nine, Fourteen, D, E, F, G, I, K, T, Y, Z, Asterisk, Pi, Four and X put together, ..., NintySix, Plus, ∀, Pencil (Puppet Form), Pen (Puppet Form), Leafy (Puppet Form), Blocky (Puppet Form), Spongy (Puppet Form), Radio Announcer, Shirty, User, Poorly Drawn Naily, Pumpkin, Drear-Top, Infinity, Blocks, Grandfather Clock, Metronome, Bone, The Fry, Pumpkin 2.0, Various Recommended Characters - BFDI, BFDIA, IDFB, BFB, TPOT, BFDI Mini, BFDI Mini Again, X Finds Out His Value, and ABCDEFG
Apple, Balloon, Baseball, Knife, Lightbulb, Marshmallow, Nickel, Paintbrush, Box, Cheesy, Cherries, Dough, Fan, Microphone, Soap, Suitcase, Test Tube, Tissues, Trophy, Yin-Yang, Bomb, Bow, OJ, Paper, Pepper, Pickle, Salt, Taco, Thermos, Frank, Kumquat, Traffic Light, Shell, Black Hole, Barrel, Bandana, Hay Bale, Yarn, TV, Poptart, Teddy Bear, Magnifying Glass, Cookie, Spikey Mervert, 8-Ball, Dictionary, Bell, MePad, MePhone4, Toilet, MePhone7, Chives, MePhone4S, Steve Cobs, MePhone3GS, MePhone5, MePhone5C, MePhone5S, MePhone6, MePhone6+, MePhone7+, MePhoneX, Life Ring, Nick Le, Baxter, Santa, Pizza Cutter, Rubber Ball, Banana, Guitar, Orange, Party Hat, Tyler, Rusty Jo, Adam, Baby Shimmer, Light Shimmers, The Prime Shimmer, Dagger, Razor Blade, Swiss Army Knife, Poker Chip, Judge Gavel, Spoiled Lemon (Starfruit, Pineapple, Lemon, Tomato, Guava, Mangosteen) - Inanimate Insanity, Inanimate Insanity 2 and Inanimate Insanity Infinity
Boombox, Boxing Glove, Candy, Casey, Cherry, Clock, Coney, Crayon, Disc, Dusty, Fly Swat, Globe, Kite, Lighter, Locky, Marble, Masky, Melony, Paper Airplane, Pearly, Picture, Ping Pong Ball, Popcorn, Pumpkin, Snow Globe, Soccer Ball, Television, Tiki, Tissue, Toaster, Toothy, Top Hat, Gamey - Object Overload
Tennis Racket, Button, TV, Balloon, Bottle, Lego, Remote, USB, Disco Ball, Ice Cream, Map, Basketball, Window, Evil Window (mentioned), Metal Window, Evil Basketball (mentioned), Altas, Badge, Butter, Globe, Kite, Mii U, Propeller Hat, Rubik's Cube, Tetris Block, Whistle, Mario Hat, Luigi Hat, Rocket, Chatterbox, Asthma Inhaler, Icicle - Object Universe and Object Twoniverse
Controlly, Arcade Machine, Bacon, Badgey, Baguette, Baseball Cap, Big Orange Chicken, Blue Raspberry, Boat, Boombox, Chocolatey, Coffee, Controller, Croissant, Diamond, Doorknob, Emerald, Evil Shelly, Frankfurter, French Fry, Frozen Treat, Furball, Gareth, Hot Dog, Huge Blue Cat, Knife, Lava Lamp, Lemon, Meatball, Nacho, Newspaper, Notepad, Old Cane Guy, Orb, Paint Palette, Party Hat, Pawn, Pear, Pinecone, Pizza, Popsicley, Present, Radio, Rook, Scissors, Seashell, Shamrock, Shelly, Shieldy, Slurpy, Straw, Team Examples, The Hacker, Toothbrush, Walkie Talkie, Xylophone - Brawl of the Objects
Calculator, Biscuit, Bouncy Ball, Burrito, Button, Cactus, Camera, Credit Card, Cup, Cupcake, Dice, Dollar, Donut, Dr. Lemon, Flower Pot, Football, George, Green Bouncy Ball, Gun, Ice Cream, Jigsaw, Joshua, Lego, Lollipop, Mailbox, Mirror, Notebook, Perfume, Phone, Pizza, Radio, Ribbon, Shamrock, Sharpener, Toast, Tune - Object Mayhem and Object Mayhem 2
Printer, Computer, Arch, Beep Boop, Beer, Biscuit, Blue Drago, Cactus, Carpet, Coffee Cup, Cyan Ball Thing, El Nudelo Spider, Fart, Flash Drive, Grape, Green Ball, Honey, Ice Cream, Lighter, Magazine, Mint, Paint, Plug, Recycling Bin, Road Sign, Rubber Ball, Skittle, Smore, Softball, Stapler, Trowel, Waffle, Wallet, Whipped Cream - Object Terror
Remote, Basketball, Binder, Bucket, Bullet, Carrot, Gold, Hammer, IPod, Jet Engine, Lighter, Mirror, Nail, Lamp, Phone, Plank, Plate, Stick, Volleyball - Object Havoc
Fire Extinguisher, Lock, Acorn, Balloon, Banana, Berry, Bottle, Bucket, Can, Cherry, Circle, Cone, Diamond, Dollar & George, Grassy, Hot Sauce, Limey, M&M, Milky, Moon, Notebook, Paint Palette, Pumpkin, Skateboard, Snowboard, Stop Sign, Sun, Teapot, Umbrella, Yarn, Soapy, Pitcher, Alien, Bear, Computer, Door, Drago, Duffel Bag, Edgy Diamond, Exit Sign, Forky, Lemony, Liverpool, Music Disc, Mustache, Parobject, Rainbow Mac, Residents of the Seaside Village, Sketchpad, Water Balloon, Witch Hat, Tablet, Donut Asahina, Hagakure Ball, Mangokuma, Marshmolo Naegi, Sayaka Miczano - Object Lockdown and Object Lockout
Blue Planet, Monitor, Anvil, Asteroid, Autumn, Banana, Battery, Bowling Ball, Camera, Candy Cane, Cantaloupe, Clapperboard, Box, Fat Alien, Flipbook, Green Spider, Hot Dog, Indigo Plant, Kary, Key, Lollipop, Melon, Metronome, Onion, Party Hat, Pawn, Ping Pong Racket, Pistachio, Poker Chip, Rainbow, Razor Blade, Red Spider, Star, Supply Crate, Umbrella, Wheel, Yellow Spider - Challenge to Win and Challenge 2 Win
IPad, Bread, Breath Mint, Brown Cakey, Button, Cakey, Coffee, Cup, Dollar, Elastic Band, Ethan, Glasses, Grapefruit, Jelly Bean, Juice Box, Lamp, Lego, Mace, Newspaper, Notebook Paper, OJ, Phone, Pool, Popsicle, Skittle, Slingshot, Water, WAW, Window, Windows 7 - Object Invasion
Microphone, Anchor, Banana, Beach Ball, Burger, Candle, Cherry, Cigarette, Glue, Hammer, Hearty, Key, Present, Ruler, Shoe, Soap, Toilet Paper, Tomato, Traffic Light, Trophy, Tulip, Wardrobe - The Strive for the Million
Chocolate Bar, Gummy Bear, Cracker, Mango, Muffin, Moonstone, Micro, Chalky, Click, English Muffin, Nail, Broomer, Clay, Latte, Poison, Feather, Gumball Machine, Diary, Headset, SharkBeatBerry, Smartie, Tub of Lard - Excellent Entities and Extraordinarily Excellet Entites
Flip Phone, The Announcer, Anchor, Button, Candle, Sandpaper, Soup Can, Tire, Lamp, Mousepad, Picture, Gummy, Key, Color Die, Dollar - Battle for Object Destination
Wii U, Quadratini, Camera, Conditione, Cookie, Cup, Fire Axe, Gumball, IPad, Lemon, Orange, Oreo, Police Hat, Pudding Cup, Remote, Sandwich, Shampoo, Strawberry, Watermelon - Object Illusion
Computer Screen, VLC Player, Ball, Bird, Board, Bowl, Cosater, Cola Can, Crystal, Disc, Dollar, Dr. Lemon, DS, Face, Frisbee, Jack, Key, Kool Aid, Lightning Bolt, LSU Book, MP3 Player, Soda Can, Star, Sword, Triangle - Inanimate Fight-Out
Cheese Grater, Yoyleberry, Tongs, Signy, Treasury, Axe, Birdhouse, Funnel, Petroleum Drop, Cashy, Clover, Guacamole, Rampy, Lettuce, Smoked Sausage, Butter Knife, Tether Ball, Toy Tank, Hammock, Cauliflower, Netty, Tranquilizer Gun, Sour Cream, Iron Ball, Star Rod, Poison Orb, Caramel Treat, Minty, Cat Bed, Burning Diamond, Bonk, Button, SOOS, Minecraft Diamond, Firework, Nectarine, Hammer, Shovel, Post-It, Rainbow Paintball, Propellery, Portal Gun, Maple Syrup, Projector, Fudge Cake, Syringe, Forky, Computery, Oreo Shake - Article Insanity
Baskety, Bathing Suit, Beach Ball, Bell, Broccoli, Bubble Wand, Colorballs, Dictionary, Eraser Cap, Flasky, Flight Helmet, Gameboard, Horn, Juice Box, Katana, Kitty, Loudspeaker, Megaphone, Music Note, Paint Bucket, Pie, Pipey, Rake, Rolling Pin, Rope, Rubik's Cake, Scrolly, Snowflake, Soccer Ball, Stethoscope, Strawberry, Sunny, Swim Trunks, Tesseract, Vaccums (mentioned), Water Balloon, White Rectangle, Zero - Object Trek
Lava Lamp, Boomerang, Blueberry, Candy Bar, Jaw Breaker, Compact Disc, Coral, Ice Cream Sandwich, Nail Polish, Olive, Razor Blade, Puppet, Roof Tile, Sand Dollar, Scary Story, Spray Bottle, Watering Can, Yogurt - Object Explosion
Battery, Peanut Butter, Bowling Ball, Camera, Cereal, Chef Hat, Controller, Drawing Tablet, Frisbee, Gum, Ice Cream Sandwich, Microwave, Nurse Hat, Party Hat, Planty, Pot, Purse, SD Card, Smartphone, Smokebomb, Tomato Juice, Tomato, Waffle, Walky Talky, Wecbam - Ultimate Insanity
Microphone, Red Circle, Grey Hexagon, Orange Rectangle, Bottle Cap, Round Square, Strawberry, Brown Rectangle, Gold Square, Orange Pentagon, Green Pentagon, Cracker, Green Ball, Plum, Indigo Tringle, Tokey, Pizza, Blueberry, Red Circle Speaker Box, Round Square Speaker Box, 3D Cube - Shape Battle
Roboty, Eggy, Clock, Evil Leafy, Naily, Dora, BFDI Nickel, Remote, Marker, Bomby, Trousers, Bell, Nonexisty, Grassy, Basketball, Robot Flower, I.I. Nickel, Fanny, Balloony, Barf Bag, Cloudy, Fries, TV, Ruby, Pillow, 8-Ball, Cake, Cheez It, Tree, Dictionary, Saw, Pie, Taco - Battle for Space Palace
Pizza, Blazzip, Banana, Beach Ball, Bowling Ball, Bread, Calculator, Clover, Cowboy Hat, Crown, Diamond, Headphones, Net, Paddle, Shovel, Squirt Gun, Sticker, Strawberry, Tape, Tie, Umbrella, Waffle - Battle For Luxurious Hotel
Ketchup, Mustard, Bowling Ball, Lemon, Envelope, Trash Can, Cupcake, Coffee Bean, Paper Cup, Marker, Mr. Lion, Airhorn, Pear, Carrot, Gumdrop, Ice Cream, Tissue Box, Bowling Pin, Beach Ball - Through The Woods
IPhone 7, Baby Wipes, Note Sheet, Pepsi, Pillow, Clock, Marker, Ruler, 9-Ball, Apple Juice, Calendar, Controller, Acid Drop, Pilot Hat, Bottle, Ticket, QuickTime, Toolbox, Wagon, Pencil Case, AC, Pear, Onion Ring, Candy Corn - Object Saga
Cool Glasses, Mr. Sketch Marker, 8-Ball, ABC Logo, Bag of Grass, Bed, Berry, Blue iPhone Plug, Blueberry Kombucha, Bowtie, Bushy, Club Penguin Logo, Diamondcup67, Dirt Pile, Drummy, Entire SSG Cast, Ethan from O.I., Evil ABC Logo, Fan, FCF Logo, Flag, Grave For ABC Logo's Pie, Grenade, Guy, Happy Meal, Hazel Cricket, Kidz Bop 7, Kidz Bop 7.420, Kidz Bop 8, Lighthouse, McDonald's Chicken Nuggets, MCLBPGHOHHAHHALATAGAHHWEAAWSLT HAHGSAINICTBMHEVTTBIUCTTOTG, Me Everything Is Just Me, Milk, My Profile Picture, Nutshack, Pink Marker the Teenage Girl, Pizza, Plate, Puhpucks Boost Label, Rainbow Star, Tent, TOSVMOTPSOMMCTBMITLAR, TKTYASTYNSNIHAISHNPOI, The Remains Of The Glue That Peeled Off Your Skin, Totally Featureless Cube, Trashy, Unregistered HyperCam 2, Windowy, Windowy 2.0, Wooden Spoon - Object Filler and Object Filler Again
Crayon Box, Blue Crayon, Green Crayon, Red Crayon, Yellow Crayon, Black Square, Blob, Censored, Coaster, Coin, Cologne, Corny, Dango, Diamond, Extension Cord, Glowing Heart, Graffiti, Guarana, Holly, Incense Holder, Inhaler, Loren, Microphone, Nail Clippers, Organic Fruit and Grain Bar, OSO Novel, Paintball, Penny, Phonograph, Pitcher, Putty, Retainer, Roulette Wheel, Server, Slippy Cup, Tart, Vape - Open Source Objects
Cheese Orb, 9-Ball, Anchor, Basil, Basket, Battery, Beanie, Birdie, Biscuit, Blender, Boom Mic, Bowling Ball, Camera, Chicken Bucket, Clapboard, Clover, Conch Shell, Cookie, Discy, Dough, Duckbill, Frozen Yogurt, Gas Can, Golden Spongy, Kitchen Sink, Lamp, Leek, Lemon Slice, Nail Polish, Omelette, Onigiri, Orb, Paddle, PDA, Pebble, Penny, Plunger, Potato, Purfball, Rubber Spatula, Salt Lamp, Scissors, Shopping Cart, Snare Drum, Tape, Tomato, Vase, VHSy, Wormy - The Insane Battle of Objects and The Insane Battle Of Objects Rebooted
Picture, Coaster, Sleeping Bag, Snip in a Bottle, Easel, Ice Cube Tray, Fridge Magent, Oscillator, Goggles, Washer, Dryer, Candy Corn, Nut, Antiperspirant, Thermostat, Bass, Cookie Butter, Egg Timer, Feather Duster, Fuzzy Dice, Match Box, Pool Stick, Buoy - Object Show
10-Ball, 10.000 Dollar Bill, Bee Movie Disc Case, Boomerang, Cheese Orb, Computer, Crowny, Emeraldy, Fossil, Fountain, Frosting Donut, Green Koopa Shell, Heart Box, Idiot Sandwitch, Mirror, Nineteen, Poke Ball, Portal, Purple Face, Robot Tree, Salmon, Scythe, Trump, GO Sign, Ball Pit, MePhone Charger, Thought Cloud, Lamp, Spaghetti - Object All Stars
Book, Evil Book, Recycling Bin, Multi Colored Pen, Alarm Clock, Crayons, House, Sand, Matches, Construction Paper, Tickets, Gluestick, Chicken Leg, AJ, Cheeseburger, Candy Bar, Candy, Ssik, The Grapes, Ice Cream Cone, Paper Airplane, Parachute, Sailboat, Paper Boat, Balloon, Waffle, Football, Key, Dollar, Dr. Pill - Battle On Object Planet
Roboty, 8-Ball from BFB, Airport Security Checkpoint, Ball, Broboty, Craig Archer Teagleton, Epic Girl, Epic Man, Eraser Roboty, Firey Sr., Frame-by-Frame, Ghosty, Minecraftian, Mountainy, Photograph of 8-Ball from BFB, Randomy, Syringe, Tweeny, Window Watcher - Battle For The Respect Of Roboty
Grangriss in a Jar, Grangriss Evil in an Evil Jar (mentioned), Beyblade, Boy Toothpaste, Brown Brick, Choo Choo the Train, Cuberty, Emerald, Feddy Frazbear, Fractal, Globulus, Hardcore Portrait, Hewwo, Illegal Drugs, Immunity Idol, Knuckles the Object, LorenTzel, Petey Piranha Plant, PewDiePie Happy Wheels, Plump Dog, Pringles Logo, Small, Spooky Spider, Springlocks, A Million Eyes, Angry Juice, Baggy, Big Cherry, Bowling Ball's Bow On Fire, Captain Underpants, Counterfeit Coin, Crippling Depression Man, Fast Food, Freaky, Handstander, Hot Choccy, Irish Potato, KFC Guy, Me With Object Assets, Olive, Orager, Picket Fence, Saggy, Seltzer Bottle, Shape Tweeny, Small Jr., Algodoo Marble, Beaty, Blizz, Blue Barrel, Butterscotch, Cardboard Skype, Cheddaroni, Chips, Coconut Gun, Compass, Computery, Cool Capsule, Cupcake, Eye Dropper, Half Eaten Corn Dog, I'd., Jelly Donut, Krzysztof, Lego, Lemon Demon, Little Kids Radio, Lunchy, Mariana, Microwave, Neon Pills, No Green Beans Allowed Sign, Pancake, Potty Humour, Prince Pill, Red Ceam Soda, Skin Cube, Slimer, Specimum Sandwich, Takeout, Uni, Vadda Grease - TROC Series
Gold Ingot, Loaf, Santa Hat, Ace, Aidsie, Basketball, Bottle, Brick, Bubble Wrap, Caramel Cube, Chainsaw, Flashlight, Gameboy Color, Glass Shard, Globe, Gong, Journal, Knight Helmet, Milk, Pan, Plasma Ball, Post-It Note, Slipper, Treasure Chest, YellowAngiru - Paper Puppets
Yellow Cary, Orange Cary, Midnight Light, Meester Tweester, Joseph Howard, TheMightyMidge, Spicyman33, Ping Pong Cup Shots, Tak Ajnin, Crafty7, GreenTree, Mike Ramsay, QwerbyKing, Taopwnh6427, some_nerd, Riley, fryUaj, Alexlion0511, Sam Billinge, xXBombs_AwayXx, The Futech Hacker, steveminecraft46, Jennings AsYetUntitled, Juhmatok, HazelCricket, Placeholder, Jacoub The Person, Tantusar, A.N.9K - Ten Words of Wisdom
Z-Box, Bubble Tea, Cactus, Candle, Churro, Cone, Domino, Gum, Hammer, Lipstick, Lollipop, Magnet, Pasta, Peanut, Perfume, Potato, Remote, Seashell, Spice Cube, Steak, Sugar Cube, Tie, Waffle, Yo-Yo - Next Top Thingy
Vibrator, Anal Beads, Babybel, Bauble, Blindfold, Body Pillow, Briefcase, Blue Stuff, Canny, Chicken Leg, Fez, Firework, Flask, Joystick, Lennie, Magic Hat, Notepad, Pantsu, Pebble, Platter, Poop, Scarfy, Seed, Shrek, Tampon, Zune - Object Redundancy
Star Coin, Silver Star Coin, Notey, Blender, Bottle Cap, Cartridge, Cinder Block, Clay Pot, Deodorant, Gem, Geode, Grenade, Masking Tape, Party Popper, Radio, Survival Kit, Tamagotchi, Thread, Toy Capsule, NES Cartridge, Euro, Liverpool, Chip, Nut & Bolt, Marker, Speary, Fishbowl, Exit Sign, D-Pad, Face, Meteor, USB, Tire Swing, Speech Bubble, Medical Stool, Santa Hat, Pearl, Kawaii Cake, Cape, Bamboo, Woodchip, Legal Paper, File Cabinet, Railroad Tracks, Symbol, Tinfoil Ball, Witch Hat - Object Multiverse
White, Black, Red, Orange, Yellow, Green, Blue, Purple, Pink, Fuchsia, Cyan, Gray, Brown, Tan - The Color Challenge!
PSVita, Evil PSVita (mentioned), Big Benny, Bin, Box of Crayons, Creeper from Minecraft, Cricket Leg, Daxflame, Draw Hole, Inanimate Insanity Shirt, Keemstar, Loveball, Midget, Mutant Creeper from Minecraft, Pee Jar, Picture of the Simpsons, Spider Leg, Steve from Minecraft, Stcik Figure, White Car, Yellow Kite, Zavok, Zombie from Minecraft - Object Show 87
App, Blue Suitcase, Charteuse Sweatshirt, Cheese Slice, Hailairhous, Sherbert, Topaz, GameSphere, Toy Train, Frosting, Robbie Rotten, McNugget, Nothing - Battle For Palace Objects
Credit Card, Ball, Oil Drop, Voting Booth, Cross, Correct, Nintendo 3DS, Ice Cream, Dictionary, Wine, TNT, Vase, Jungle Knife, Red Juice, Neptune, Lemon, Milk, Shed, Candle, Tablet, Rubber Ball, Lunch Box, Immunity Token, Nail, Tin Can, Mars, Easter Egg, Crown - Battle For The Big B
Bagel, Beaker, Broken Heart, Cleaver, Clipboard, Cassette, Doodle, Earmuffs, Floppy Disk, Garlic, Gluestick, Goal Post, Hourglass, Ornament, Ruler, Siren, Thermostat, Lunchbox, Lily Pad, Padlock, Remote, Witch Hat, Whistle, Xylophone - Anthropomorphous Adventures
Rainbow Road, Blanket, Breadcrumb, Broccoli, Candle, Candy Corn, Cuppy, Glove, Gluey, Grape, Hammer, Highlighter, Jelly Bean, Lantern, Lemon, Lemon Sherbet, Lightswitch, Limey, Mouse, Orange, Pancake, Pepperoni, Potato, Pumpkin Spice Cake, Saxophone, Soccer Ball, Soda, Strawberry, Toaster, Tomato, Toothbrush, Toothpaste, Wheely - The Object Merry-Go-Round
Tin Can, Red Velvet Cake, Basket, Button, Cheeseburger, Chicken Bisucit, Cotton Candy, Cup, Dicey, Eggy, Eraser Cap, French Fry, Ketchup, Marker, Mustard, Paperclip, Remote, Sweatdrop, Swordy, TNT, Tomato, Volleyball, Axe, Blueberry, C, Candle, Duster, Highlighter, Marmalade, Medal, Pearly, Play-Doh, Swordy (debuter), USB, Wave, Yellow Ball - Object Hyperverse
Magic Wand, Thing, Butter Knife, Candle, Lampshade, Medal, Money Bag, Mug, Note, Picture Frame, Sharpener, Smartie, Speech Bubble, Thermometer, Toilet Paper, Twig - Nonexistent Living
President of the World, Orion, Coconut, Backpack, Bang Snaps, Blueberries, Bowling Ball, Bowling Pin, Cork, Glassy, Green Puffball, Headphones, Helmet, LOLipop, Lollipop, Mini Golf Balls, Nunchucks, Phone, Plug, Sacky, Soda, Star, Starfy - The Struggle for the World
Emerald, Sunstone, Sapphire, Balloon, Blackcurret, Bowling Ball, Calculator, Cheese, Cola, Crayon, Eggy, Gumball, Ketchup, Mustard, Lollipop, Pizza, Straw, Tack, Toliet Paper, Yo-Yo, Ruler, Asteroid, Bow Tie, Swabby, Buttoney, Lipstick - Object Land (Reloaded)
File Folder, 3D Glasses, Arch, Blue Door, Box, C4, Carbonite, Cereal Box, Concrete Tile, Document, Eyepatch, Floppy Disk, Illusion, Lightning, Nacho, Pet Rock, Prism, Roulette Wheel, Slide, Squash Ball, Star Coin, Text Box, Weather, Frame, Void - Non-Entity
Nukey, Hammer, Sugary, Loggy, Pillowy, Stinky Cheesy, Donut, Lemon, Cotton Ball, Softball, Apple, Drummy, Shovel, Screwdriver, Jarry, Microwave, Trashy, Card, Lose Token, Yarny, Compass, Lime, Tumbleweed, Maple Syrup, Snail Shell, Sketchpad, Ice Pack, Stone Wall, Billboard, Dodgeball, Printer, Pitchfork, Ticket, Domino, Magic Crystal, Kilt, Dollar Case, Honey, Air Freshener, Lava Bucket, Bazooka, Slipper, Torch, Fountain Pen, Relish, Pentagram, Cowboy Hat, Cereal Box, Ham - Object Survival Island
Gray, Bean Bag, Smear Frame, Gumball Machine, Sauce, Propeller, BFDI Mouth, Tomato, Evil Shapy, Potted Plant, Guacamole Volcano, Breadcrumb, Boot, Sweet Gum Seed, Thimble, Orange Peel, Inkling, Geary, Thesaurus, Floaty, Paper Crown, Story Book, Twisp's Echo Fighter, Sticky Note, Gene, Banana Juice, Cabbage, Creeper, Pencil Sharpener, Sticker, Seedless Grape, Clover, Green Logo, Twisp, Furry Ball, Floral Floam, Cup of Glass, Shapy, Blue Sphere, Alien Pineapple, Ghost Pepper, Spinny, Wire, Wig, Sock, Airpod, QR Code, Barcode, Static, 8.8 Ball, Charcoal, Pencil Lead, Garbage, Hex Nut, Piston, Unity, L-Goo - Mysterious Object Super Show
Sky, A pistol on a table, A Wall With a Face, Alien Necklace, Banana, Baxter, BFDI Shirt, Big Orange Fat Chicken Image, Blue Sponge, Boat, Brick, Brobee Birthday Cake.png, Car Door, Cracker, Crackery, Creeper Logo, Dice and dicey, Dollar Tree Bag, Electric Box, Fake Apple, Getting a Bullet Bill Item, Glass Case Holder, Gold Wall, Golden Horseshoe, Grey Guy, Hapmans Default Pose with Object Limbs, Huge Blue Cat Image, Incin, Iron Door, Jelly Bread, Kermit the Frog, Kill, Little Image, Mr Game & Watch from Super Smash Bros, Mutated Taco, Patrick Popsicle, Peanut Butter Bread, Phone, Pinky, Plastic Plate, Red Minion, Sans, Sidewalk, Sidesways Cup, Spiderweb, Spiderdaddy, T-Shirt Cannon, Tool gun, Walmart Bag, Your mom - Object Towel Again
Wiimote, Glass, Fries, Soda, Bubble Gum, Hammer, Baby Bottle, TNT, Tune, Marker, Torch, Battery, Burger, Sugar Cube, Lighter, Orange, Flower Pot, Blood Drop - Battle Insanity
Buttery, Certificate, Chainsaw, Cloud, Dollar, Drumstick, Face, Grenade, Jeff, Lego Brick, Musical Note, Perfume, Seashelly, Snot Bubble, TNT, Tree, Troll Face, Air Conditioner, Book of Spells, Bubble Solution, EATS Token, Fedora, Fire Drop, Glasses, Juggling Club, Laser Pointer, NES Cartridge, Red Wine, Trashy, Twiggster, Wand - Island Of Mayhem, Planet of Puzzles
Rocket, Bone, Boot, Chocolate, Cross, Dart, Digital Clock, Door, Eye, Firefly, Flash Drive, Fortune Cookie, Glasses, Ice Ball, Leek, Outlet, Peapod, Pyramid, Smiley, Sock, Squigly, Tack, Tissue, Tongue, Vase - Insane Fury
Pickaxe, Cup, PuffBull, Disc, Tack, Daisy, Penny, Dice, Nickel, Tennis Ball, PuffBall, Basketball, Latte, Football, Electronic Dictionary, Candy Cane, Gamepad, Cherry, Bottle Cap - Object Madness
Highlighter, Blue Highlighter, Sign, Fish Food, Stamp, Perfume, Gear, Tangerine, Water, TNT, Magnet, Deodorant, Food Coloring, Tea, Glass, Cocktail, Pickaxe, Moneybank, Glove, Plant, Phone - Object Insanity
Talking Tom, Talking Angela, Four, X, Case, Knife, Eraser, Pen, Blocky, Snowball, Dice, Flower, Carrot, Baseball, Basketball, Tennis Ball, Golf Ball, Leafy, Bow, Coiny, Nickel, Orange, Pear, Banana, Apple, Strawberry, Melon, Lemon, Bob, Paper, Yoyo, Cookie, Cheesy, Straw, Pinecone, Cup, Lego, Yellow Face, Rocky, Fries, Crayon, Whistle, Globe, Dark, Eggy, Book, Ice Cube, Marker, Chocolatey, Bracelety, Toast, Notebook, Candy, Pencil, Ruby, Sapphire, Diamond, Pickle, Toothy, Paintbrush, Purple Die, Nail Clippers, Kevin, Gingerbeard Man, Greenbead, Play Doh, Toppy, Blue Star, Dinousaur Bone, Highlighter, Seashell, Hourglass, Ribbon, Magnifying Glass, Black Die, Gold Coin, Flash Drive, Cupcake, Ring Pop, Domino, Hello Kitty, Pretzel, Gum, Yoylecake, Milk, White Star, Red Star, Yellow Remote, Cross, Hexagonal Prism, Asparagus, Egg Top, Black Comb, Yellow Phone - Real Life Objects, Real Life Objects Takeover, Battle for RLO, Extraordinary Real Life Objects and Real Life Objects 87
Jack, Drinking Bird, Yogurt Cup, Walky Talky, Vanilla, Toothbrush, Thing, Sundae, Stampy, Slimey, Quince, Lantern, Key Chain, Journal, Flashlight, Crane Flower, Cotton Candy, Circle, Cassette Tape, Candle, Bocce Ball, Avocado - Object Connects
Steering Wheel, Cairn, Variscite, Bed, Sheet, Cloud Flower, Sandstone, Horn, Goo Ball, Bursting Sewer Pipe, Tile, Donut, Sticky Rice, Sundial - Objects At Sea
Immunity Token, Biscuit, Blue Leafy, Blue Marshmallow, Blue Spider, Bottle, Cyan Ball, Flaggy, Moon, Ring, Revenge Token, Scroll, Shake, Star, Sun - Insanity Battle Reboot
Remote, Cellphone, Jawbreaker, Football, Rose, Pea, Candle, Yarn, Straw, Stamp, Pillow, Lollipop, Life Ring, Lime, Lemon, Butter, Dollar, Domino, Ice Cream Sandwich, Lamp - Anthropomorphic World
Khamako, Rhodium, Neon Crystal, Handkerchief, Bingo Card, Hades Crown, Cocoa Puffs, Floss, Punchglass, Made In China Sign, Microwave, Kool-Aid Packet, Shell, Honeycomb, Green Apple Soda, Ice Cream Sandwich, Taco, Sauce, Baconball, Pepperoni, Volleyball, Soup, Grenade, Briefcase, Wasabi Chips, Frederick, Radar, Safe, Jewelry Box, XBox, Container, Fingerpaint, Disc, Prism Gem, Kit-Kat, Photoshop, Beyblade, Happy Meal, Sad Meal, Black Cat, Fork Repellent, Wings, Zipline Heores, Creampuff, Casino Coin, Restriction, Dartboard, Thumbtack, Watermelon, Ps4, Ghost Pepper, Mobizen, Freeze Juice, Amulet, Solar Panel, Flower Crown, Dodgeball, Cinnamon Bun, Red Velvet Cupcake, Item Box, Ice Land Flag, Journal, Radioactive Battery, Kiwi, Clipboard, Log, Asparagus, Seaweed, Globe, Fork Attractant, Wood Glue, Crumpet, Play Button, Blue's Clues Book, Air Horn, Terracotta, Kale, Bottle O' Enchanting, Blackboard - Hometown Objects Reboot
Plate, Dodgeball, Planty, Soda, Dunce Cap, Matress, Eight Note, Tape Recorder, Balloon, Mirror, Brush, Lipstick, Glue, Pizza, Sandwich, Compass, Map, Bowling Ball, Phone, Cloudy, Torch, Hammer, Stick, Game, Water, TV, Clipboard, Glitch, O - The Fight For Paradise
Laptop, Baysa the Book, Glidey, Map, Egg, Bowly, Atom, Plug-ee, Torch, Grape, Compass, Paper Plate, Tuparman (A.K.A, Donger Shlonger), Sushi, Five Nights at Tubbyland Po, Chess Piece, Hypey, Kindle, Hook, Trash Can, Smore, Clock, Flag, Complementary Angles, Chess Pest, Diamond, Lipstick - Super Lifeless Object Battle and Super Lifeless Object Reboot
UY Scuti, Pistol Star, Sun, Mercury, Venus, Earth, Moon, Mars, Ceres, Jupiter, Ganymede, Saturn, Titan, Uranus, Neptune, Pluto, Eris, Kepler 22b, Kepler 10c, HD 100546b, Betelgeuse, Rigel - The Fight for Solar System Sanctuary
Globe, Borccoli, Can, Candle, Candy, Cardboard, Evelope, Jewel, Lightning, Magnet, Moss, Note, Popcorn Bag, Poptart, Sawblade, Smoothie, Soup, Tomato, Vase - Substance Rumble
Chocolate Ball, 6-Ball, Blue Plate, Bowling Pin, Chattering Teeth, Clefy, Dog Bowl, Dubloon, Dracula Cape, Drum, Easter Egg, Escargot, Gameboy SP, Gumball Machine, Juice Pouch, Kitchen Mixer, Laser Pointer, Lincense Plate, Lobster Claw, Lockety, Notecard, Periodic Table, Pudding, Remote, Switchy - Competition Of The Million Dollars
Red Flaming Spike Ball, Button, Football, Bill, Rock, Red Ball, Orange Ball, Wheel, Varsity Jacket, Firedrop, Spike, Chair, Green Star, Fireball, Magma, Stool, Purple Ball, Robo-Guy, Hammer, Burger, Mustache, Brick, Pan, Burrito, Booger, Ice Ball, Horsecart, MLG Glasses, Virus, Pepsi Can, Warner Bros Logo, GS Ball, Evil Football, Arrow, Shadow Football, Kavocko, 666, 21, 50, Evil Horsecart - Object Masters
Sushi, Truniphead, Macho, Clock, Grassy, Cookie, Golden Crystal, Doritos, Bottle, Airhorny, Cupcake, Feather, Premium Hero Crystal, Pole, Spikeball, Taco, Bill Blaster, Dark Spider, 3D Glasses, Target, Keyboard - Attack of the Objects
Hatty, TV, Ball, Football, iPad, Magnet, Blueberry, Toothbrush, License Plate, Kool-Aid, YouTube Play Button, Fishtank, Music Disc, Glass Shard, Bowl, Cake, Cup, Chilli Pepper, MLG Glasses, Sock, Swordy, Gushers Box, Bowling Ball, Helmet, Diamond, DR. Fizz, Dice, Painting, Pokeball, Test, Banjo, Plug, Torch, Strawberry, Lightning Sword, Katana - Object War Reloaded
Oodle The Doodle, Tivo, Album, Alef, Antimatter, Apricot, Bacon, Blanket, Bone, Bouncy Ball, Brain, Brick, Can, Candle, Chalk, Chip Bag, Chocolate Chip, Cork, Creamy, Domino, Envelope, Farty, Filmy, Fireball, Flaggy, Frisbee, Glassy, Glove, Glowstick, Glue, Gold Nugget, Hailstone, Hanger, Jelly, Ketchup, Leek, Lyre, Mitten, Nabla, Nacho, Nine, Orange Food Dye, Package, Pear, Pill, Pitchfork, Popsicle Stick, Raisin, Recycling Bin, Roe, Safe, Salami, Shot Put, Showery, Sock, Teabag, Telescope, Toothpick, Whoopee Cushion, Yarn, Yellow Food Dye - Animated Inanimate Battle
iPad, Watermelon, Bricky, Gum, Hairball, Hatty, Kitty, Lipstick, Popcorn, Potato, Present, Snowglobe, Washer - Battle For A Wish
Rose Bush, Cider, Coco, Coral, Glitter, Hair Spray, Heart Rate Monitor, Ink, Jingle, Oboe, Quill, Spotlight, Starfruit, Totem, Watch - The Fountain Of Destiny
Baby Powder, Clarinet, Dream Catcher, Flossy, Bagel, Blue Berry, Exercise Ball, Cookie, Credit Card, Egg Nog, Eye Ball, Eyeliner, Mouse, Mousetrap, Olivie, Plate, Platter, Plunger, Puck, Space, Pimento, Shoe, Shopping Bag, Shuttercock, Sprinkle, Toothpick, Window, Hey Straw - Universe of Fighting Objects
Grandma, Grandpa, 8-Ball from BFB, Bean, Blue Snowball, Ender Pearl, Flash, Fruit Ninja, PB Sandwich, Rubber Duckie - Battle For Grandma
Bath Bowl, Mirror, Handball, Sundial, Cotton Ball, Cup, Oil Can, Wallet, Bookmark, Siri, Tree, Treasure Chest, Corny - The Object Show of Doom
Walkie Talkie, Ball, Bottlecap, Chopstick, Coffee Cup, Credit Card, Epic Kirby, Matty, Mechanical Pencil, Notebook, Oswald, Pokeball, Tape, Wallet, Win Token - Unusual Battle
Face, Burger, Yo-Yo, Mint, Anchor, Puppet, Missel, Nunchaku, WOF, Olive, Dog Food, Blender, Pixiy, Hanger, Yarn, Carrot, CM, Moon, Meteor, Showery, Pizza, Ribbon, S, Bubble Gum, Chainsaw, Crysilis, Clapperboard, Bar Chart, High Heel, Glass, I-Mac, Bird Feeeder, Arrow, Pin Wheel, Mattress, Sunglasses, Giant Green Dog, Milkshake, Banana - World Of The Objects and World Of The Objects 2
Bat, French Fry, Hairbrush, Headphones, Lightbulb Handle, Mini Baseball, Mouse, Pumpkin, Rubix Cube, Saxophone, Skateboard, Sock, Spikey ball, Stop Sign, Tie, USB Drive, Walky Tlaky, Wii U Pro Controller - Object Awesomeness
Ashley, Angry Kirby, Dead.exe, Google, Grammy Norma, Grand Dad, Happy Kirby, Ice Climber Eggplant, M, Sanic, Smelly Chese, SSBB Box Art, Text, Triagonal Sign - Battle for the object island
Router, Router Jr, Backpack, Canteen Bottle, Chocolate Coin, Dango, Detergent, Egg Yolk, Fossil, Gameboy Advance, Graffiti, Hammock, High Heel, Housey, Lego Brick, Pants, Papaya, Parsimmon, Poison Ivy, Recipe Book, Salt Shaker, Scarecrow, Shirt, Street Light, Tart, Tomato, Tree - Antropomorphic Insanity
Balloon, Nar, Clothy, Comet, Daisy, Dollar, Eraser, Goggles, Golf Ball, Goldy, Gravel, Grenade, Lollipop, Melony, Notey, Pingpong Ball, Piston, Rubber Ball, Umbrella, Yin-Yang - Best of the Rest
MPC, Hat, 12, Piggy Bank, Bell Pepper, DS Card, Wii Sleeve, Red Jeans, Evil Layz, Trackball Mouse, Picture, Layz, Gatorade Powder, Terrible Eraser, Tardis, Sloppy Trash Can - Object Battle City
Green Day, Rush, Years & Years, Set If Off, Micheal Jackson, Joanne-yea, Natasha Bedingfield, Imagine Dragons, Pink Floyd, Ninja Sex Party, Panic! at the Disco, Taylor Swift - Album Wars
Pixel, Galaxy, Kirby, Waddle Dee, Kirb, Userunknown, Kebe, Kabe, Level Mario, Big Mario, Starstorm, Hanby, Mii, Keeby, Objan, Waddle Doo, Meta Knight, Marx, Bluo, Lime, King Dedede - Stupidly Overrated Object Show
Cynrex, Chilli Pepper, Disky, Chip, Bouncy Ball, Orange, Water - Extreme Objects
Ace, Cactus, Claw Machine, Diamond, Earthy, Eggnog, Elmo, Flim Reel, Glowstone Dust, Green Jam, Jack, Light Blue Stick, Meme, Nerd Glasses, Paralellogarm, Pill Bottle, Plaque, Projector, Sapper, Scarfy, Symbol, Water Cooler, GABEN, Weeping Statue, Alex, Troll Face, Magnet Board, Yen, Tether Ball, Rampy, Kool Aid Man, 3 Card, Action Replay, Bookmark, Candy Corn, Diamond Ore, Eye of Providence, Fire Flower and Ice Flower, Force Shield, Grenade, Headband, Shock Braceletet, Star Coin, Tardis, Telephone Booth, Warp Pipe, Watch, Excersise Ball - Twisted Turns and Twisted Turns Reboot
Computery, 3DS, 5 Hour Energy, Almond Joy, Bacon, Beachball, Carrot, Cottonball, Cheesy, Corny, Cucumber, Doughball, Emoticon, Floppy Disk, Guitar, Hot Sauce, Laffy Taffy, Leash, Lego, Lemony, Limey, Lipstick, Magnet, Magnifying Glass, Paintbrush, Peapod, Pie, Phony, Polychoron, Shroomy, Shrimpy, Snickersz, Soapy, Sporky, Starry, Sticky, Sushi, Swordy, Torch, Top Hat, Tune, Water Balloon - Inanimations
Test Tube, Straw, Post-It, Peppermint, Oxygen Tank, Mirror, Microscope Glass Slide, Lemon, Cup, Breath Mint, Stop Sign, Clothes Pin, Cursor, Scuba Mask, Toothpick, Picture, Candle, Button, Plug, Paperclip, Groundy, Top - Land of the Objects
Traffic Light, Crossy, Crowny, Facebook, Glasses, Gum, Gumbally, J, Map, Milk, Moustache, Moustachio, Neon Donut, Pokeball, Potatoey - Object Craziness
Alarm Clock, Beachball, Bowling Ball, Brownie, Bugspary, Camera, Candle, Carrot, Computery, Dodecahedron, Eggy, Febreze, Lamp, Lemonade, Napkin, Radio, Rubber, Sunscreen, Thread, Nintendo, Nintendo-Ulimate, Funnel Cake, Sandy - Battle for Isle Sleep
Crown, Touch Screen, Coffee Bean, Blue Pillow, Whiteboard, Mr. T, Bacon, Pickle Jar, Butter, Baseball Bat, Wand, Parasol, Pom-Pom, Make-Up, Pixelated Mushroom, Wild Card, Blender, Spring, Pillow, Dr. Pepper, Tie, Hourglass, Flaggy, Ciggarette - Battle For Food
Scroll, Bush, Acorn, Lip Gloss, Boom Box, Girder, Crayon, Banana, Glasses, Speaker, Surround, Toadstool, Lexicon, Hula Hoop, Lightning, Candy Corn, Nacho, Violet, Blueberry, Beanie - Mystique Island
New 3DS XL, Action Replay, Apple Juice, Amethyst, Avocado, Battery, Black Yoshi, Electroball, Eye Drops, Flashlight, Flasky, Football, Fork, Frying Pan, Lemon, Lily Pad, Lime, Lipstick, Mayonnaise, Mr. Swag, Napkin Dispenser, Scribbles, Soapy, Spoon, Varsity Jacket, Z - Object Treachery
Tie, Vitural Roy, Deo, Cologne Fedora, Ferrero Rocher, Siren, Kiwi, Cartridge, Pierogi, Violin, 50p, Jaffa Cake, Lettuce, Pineapple, Band Aid, Glowstick, Aspirin, Fudge, Cannon Ball, Cash, Ginger Ale, Martini, Shtap Sign, Stained Glass, Steak - Last Object Standing
Remote, Axe, Cookie, Knob, Highlighter, Gameboy, Sticker, Flashlight, Cup, Dodgeball, Lollipop, Dollar, Sharpener, Crystal, Easter Egg, Penny, Maraca, Glasses - Object Brawl
Pinwheel, Coal, Axe, Cloud, Cooler, Firework, Glowstick, Joystick, Moon, Nest, Security Camera, Space Helmet, Starburst, Venus Fly Trap, Vinyl, Yarn - Wicked Widgets
A Cube, Cassette Tape, Screeny, Gauntly, Kirby Triple Deluxe, Notepaddy, 1970's Globey, Bouncy Ball, Kirby Super Star Ultra, Marble, Monitor, Luigi Glove, 3D-Printed Naily, Asthma Inhaler, D100, Cheesestick, Marker, Wario Land 4, Dicey, Bandana, Birdhouse, Blanket, Candy Spray, Caramel Apple, Gamecube, Jetpack, KFC Bucket, Lossy, Marshmallow, Merit Badge, Orange, Otamatone, Pizza, Projector, Smash Ball, Spam, Super Mario World, Tape Measure, Waluigi Glove, Wrench, Yes - Yet Another Gameshow
Megaphone, GraviSucc Gun, 8-Ball, A Really Bad Looking Charactery, Dust Pan, Extensively Named Discord Channel, Fennekin, Metly Butter, Microwave, Online Sequencer, Open Mid-back Rounded Vowel, PixelOrigin, Portable Watermelon Cooler, Rift, Saxy, Soundcloud, Student Loan Debty, Terraia Wizard Sticker, Toothbrush, Uzbekistan - Super Dumb Joke Show
Asthma Inhaler, Blueberry Juice, Chalice, Chef Hat, Chicken Bucket, Clapboard, Dollar, Fingerprint, Food Colouring, Grill Lighter, Haloy, Hot Air Balloon, Jarry, Journal 3, Monocley, Paint Hat, Potiony, Spanish Book, Toppy, Vane - Battle For Trillion Dollars
Hammer (Palm Tree), Pearl Pen, Apple Juice, Dish Soap, 4-Ball, Cello, Kiwi, Whoopee Cushion, Bad Piggy, Bouncy, Raindrop, Cannon, Corn Puff, Pom-Pom, Trampoline, Accordion Folder, Bagel, Plasma, Daisy - Brawl For Object Palace
Spider Bear, Rich Dog, Froggy, Mario, Bowser.Jr, Peach, Toad, Luigi, Yoshi, Bowser, Green Toad, Goomba, Koopa, Boo, Yellow Toad, Box, Black Yoshi, Blue Toad, Daisy, Dry Bones, Fish, Kamek, Kitty, Star, Rosalina, Shy Guy, Toadette - The Plushy Battle and The Plushy Battle 2
Vince, TV, Rectangle, Candy, Cherries, Controley, Cup, Disc, Frisbee, Green Pentagon, Hearty, Outlet, Orange Pentagon, Ping Pong Ball, Presant, Tennis Ball, A, Ball, Blue Rectangle, Coffee, Cuppy, Game Bot, Racket, Starry, Tower, Treeye, Wallet, 4-Ball, Blender, Clear Ball, Cooper, Corn Dog, Diamond, Extinguisher, Fruit Punch, Gear, Globe, Icicle, Lamp, Lollipop, Magnifying Glass, Nosey, Peppermint, Phone, Poptart, Rainbow, Remote, Tire, Waffle - Inanimate Objects, Total Drama Objects (Inanimate Objects 2) and Inanimate Objects 3
Microwave, Lunchbox, Nail, Pot, Card, Raisin, Crown, Crystal Heart, Cracker, Plug, CD, Candle, Bird Cage, Eggy, Soup, Poison, Pallette, Santa Hat, Glassy Diamond, Flipnote - Battle For Diamond Kingdom
Salamence, Zoura, Mushroom, Snowflake, Rubber Ball, Orange, Fire Extinguisher, Hearty - Battle For Gold Palace
Radio, Cherry, Grave, Peppermint, Watermelon, Cactus, Heart, Lemon, Perfume, Bubbles, Chef Hat, Cotton Candy, Emoticon, Punching Bag, Scroll, Animal Cracker, Axe, Chocolate Milk, Compass, Cotton Ball, Crowbar, Hoe, Microwave, Milk, Octagon, Poltidpgast, Tuna, Tube, Onigiri, Fan, Ice Cream, Gamebot - Battle For Gold
Blue Marshmallow, Tambourine, NSC, Notebook, Peppermint, Playing Card, Musicy, Pull Station, Fire Alarmy, Notey, Eye Drop, Bookmark, Gravity Cube, Goomball, Blanket, Nosy, Lantern, SNES Cont, Cough Medicine, Guitar Pick, TNT, Liverpool, Parachute Bag, Lottery Ticket, Sunny, Sword, Nut, Bolt, Purple Square, Puzzly, Lava Bucket, Checker, Shuriken, Button, GC Controller, Log, Rice, Tofu, Poptart, Computer, Negative, Nepal - Commission
Parallelogram, Rhombus, Circle, Square, Triangle, Rectangle, Pentagon, Hexagon, Heptagon, Octogon, Nonagon, Decagon, Hendecagon, Dodecagon, Diamond, Star, Logo - Shape World
TV, Glue, Basketball, Water, Pen, Facebook, Watch, Notebook, Badge, Balloon, Blueberry, Chip, Dollar, Folder, Lighter, Pumpkin, Power Tiles, Rubix Cube, Mario Block, Tune, Ice Cream, Tissue Box, Glasses, Wheel, Mirror, Yolo Cup, Bucket, Soda - Super Object Smackdown
Lollipop, 3DS, Apple, Blueberry Cookie, Borccoli, Butterfly Net, Crayon, Dimey, DVD (Digital Video Disc), Frisbee, Ice, Lampy, Leek, Milk, Mirror, Muffin, Soda, Surfy, Toasty, Window, Wood, Yoylecake - Battle for the Grand Money
Magic Orb, Moneybags, Hivey, Tomato, Triangle, Cactus, Emoji, Icicle, CD-Y, Grave, Question Block, Dusty, Bunsen Burner, Cursor, Pills, Seaweed, Yoyo, Bubble Wrap, Snowflake, Glowstick, Shuriken, Magnet, Axe, Bug Net, Mushroom, Broccoli, Cauldron, Mirrory, Baubel, Antique Watch, Sword, Sign, Swiss Roll, Ay Doot, Candy, Rocket, Witch Hat, Fire Flower, Beach Ball, Plug, Bullet, Pumpkin, Trucky, Yarn Ball, Card, Plastic Flamingo, Present, Tag, Key, Note, Meeple Watch, Dumbell, Fred, Piranha Plant Pipe, Flute, Christmas Tree, Pot, Chest, Speech Bubble, Wheel, Holly, Christmas Lights, Teapot, Skull, Garlic Bread, Disco Ball, Coin Stack, Flag, Magic Wand, Marmite, Gingerbread, Fish Float,, Shadow, Stairs, Snowman, Bookshelf, Radiator, Taper, Tapey, Cowbell, Coal, Onion, Cabbage, Tornadoey, Rektangle,Hammer, Blueberry, Rusty Lock, Tomberries, Green Tomato, Coral, Amber Bug, Calculator, Chee-Z Crisp, Green Shell, Red Shell, Blue Shell, Brick Stack, Newspaper, Trashbags, Ink Tank, Fridgey, Handy, Onesi, Space Raider, Marmalade, Flashbang, Potato, Circley, Vial of Void, Mini-Fridgey, Nebula, Stardust, Vortex, Solar Rays, Soup Doot, Ah Dooin Doot, Gooh Mayee Doot - The Fight for Magic
MiiPhone, Aesthetic Square, Applebee's Gift Card, Awesome Placement, Axey, Backgrass, Bandana, Black Sphere, Blu Tack, Blue Soda, Blueberry Bomb, Boat Toad, Bookmark, Bookmarky, Bouquet, Buttercup, Candle, Cardboard, Cat Pic, Claw, Claw Machine, Crappy Art, Cup Of Joe, Cuppy, Dead Person, Decline Button, Devil's Finger, Dr Gamer, Eg, Eye, Firewall, Fred, Game, Gun, Hardcore, Harry Potter Puppet Pal, Hearty, Hue Charger, Hypnoticon, Jar Full of Black Balls, Jerald, Jerry, Kid Covered in Something, Line, Little Jr, Locket, Nap Time, Neon Bricks, New Zealand, Octagon, Pablo, Pickaxe, Platinum Coin, Poison Gem, Purple Star, Raspberry Soda, Red Star, Santa Hat, Science Test, Sea Salt Popsicle, Sickle, Smash Letter, Sofa, Spectrum Square, Spiky Helmet, Spirit Phone, Spooky Cake, Stop Smoking Coachy, Super Mario The Definitive Edition, Super Ocelot, SwirIy-Pop, The Blank Orb, The Silver Crystal, Trianglo, Truck 5, UwU, Viola, Windows Logo, Wine Bottle - Eoris Camp, Eoris Camp Deluxe and Eoris Camp & Knuckles
Airpods, Banana, Birthday cake, Bow, Box, Broccoli, Bucket, Cheese slice, Cupcake, Guitar, Gun, Lipstick, Map, Medical kit, Mr. Mayor Muffin, Mustache, Newspaper, Nuke, Phone, Pill, Police bat, Police glasses, Police hat, Ring, Rubber, Soap, Spade, Suitcase, Toilet paper, Top hat, Tree, Walkie talkie, Wrapping, Yellow Pages - Modern Objects
Nintendo Switch, 1 Dollar Bill, 5 Dollar Bill, Ace, Banana Split, Blue Ball, Book Cover, Chicken Bucket, Clock, Coke Bottle, Dice, Fish Bowl, Keyboard, Kite, Lego, Lunchbox, MePad Air, Mephone6, Quarter, Slushie, Soda Can, Softball, Top Hat, TV - Cool Insanity
Red Alarm, Honey Comb, Head Dress, Grenade, Lantern, Spray Paint, Floppy Disk, Scroll, Pencil Case, Locky, Frying Pan, Poker Chip, Tablet, Nail File, Goldy, Battery, Venty, Briefcase, Sketchbook - Code Red
Brownie, Tablet, Bowl, Box of Crayons, Coconuts, Crown, Feathery, Flag, Hammer, Latopy, Mirror, Palm Tree, Plamsa Ball, Plant, Remote, Ringy, Sign, Slingshot, Teeth, Umbrella - Battle For The Palace
YFone, Bag, Basketball, Battery, Bowly, Bullet, Cup, Dodgeball, Jar, Late, Lemony, Pillow, Shell, Soapy, Vase, Woolly - The Medal Brawl
Target, Computer, 3D Glasses, Awesome Face, Blueberry, Curtain, Feldspar, Flip Flop, Funnel, Gas Mask, Glowstick, Gumdrop, Hairbrush, Magic Wand, Mirror, Missile, Mitten, Pac-Man, Pistol, Plasma Ball, Pool Ball, Race Bib, Ranch Dressing, Ring, Rubik's Cube, Slot Machine, Snowcone, Spike, Spray Bottle, Sugarcane - Object Adversity
Spark, Amethyst, Battery, Bowl, Coconut, Collar, Cone, Doorstop, Flash Drive, Flashlight, Football, Gam, Keyboard Key, Mallet, Pail, Pencil Eraser, Ping-Pong Ball, Plug, Popsicle, Saw Blade, Scissors, Sharpener, Spade, Toilet Paper, Vase, Volt - Table Top Terror
Sketchbook, Chapstick, Bag of Chips, Barf Bag, Blanket, Cellphone, Electric Wire, Ice Cream, Lightswitch, Mop, Orange Slice, Safey Scissors, Satellite Dish, Timebomb, Wrench, Xbox Logo, Yoylecake, Zombie Coiny - Object Horror
MePhone 3, Broccoli, Canvas, Cheese, Cola, Colored Pencil, Crayon, Flag, Fortune Cookie, Gifty, Headgears, Lemonade, Lightbulb, Lollipop, Marker, Microphone, Oatmeal, Orange, Paper, Rocket Launcher, Rubber Ball, Staff, Window, Crown - Object Planet
Coiny, Marker, Balloon, Bally, Bow, Cake Slice, Checker Piece, Chess Piece, Cloud, Coat Rack, Coke, Cookie, Core Icon, Donut, Drumstick, Earthy, Evil Eye, Evil Needle, Glockamole, Headphones, Jupiter, Laptop, Moon, Nicey, Quarter, Rainbow Cube, Ringy, Rose, Roundy, Saturn, Scary Death Box, Stoney, Thought Cloud, Trombone, Zombie Arrow - Battle for the Copper and Battle for the Silver
P-head, YTV, Xbox One, YTV Futuristic, Rai YOYO, Xbox Series X/S, Rainbow, PAINbow and other contestants - Battle for Windows XP, Battle for Windows XP 2 and Battle for What? XP
Atom, Gem Rod, LED, Alarm Clock, Arrow, Aspic, Barber Pole, Bell Pepper, Bismuth, Bongo, Breathing Mask, Brelly, Broccoli, Bucket, Camera Lens, Cannon Ball, Card, Cereal Bowl, Change Jar, Checkers, Cheese Spray, Chemical Waste, Chrysalis, Churro, Circle, Clam, Coat Hanger, Cobalt, Colored Pencil, Comb, Cookie Dough, Cowboy Hat, Crayon Box, Dice, Diet Shake, Disco Ball, Double Bass, Drink And Straw, Drone, Easter Egg, Electrical Box, Euro, Facewash, Fedora, Fish Net, Fork on Fire, FroYo, Fruit N' Chocolate Cake, Funfetti Cookie, Furnace, Gameboy, Gardening Hose, Gas Pumpy, Glitch, Gravestone, Halloween Mask, Happy Hatter, Happy Meal, Helmet, Honey Jar, Hour Glass, Jack-Knife, Japan, Ketchup Packet, Keyboard, Knight Helmet, Krystal, Lady Ladle, Laundry Basket, Legal Paper, Lettuce, Light Switch, Lightstick, Lime Donut, Lingonberry, Lobster Claw, Logo, Machete, Meme, Microchip, Milkshake, Monitor, Movie Script, Mr. Eggy, News Screen, Nori, One Way Sign, Paddle Ball, Painty, Palladium, Paper Towel Dispenser, Parcel, Party Horn, Peanut Butter Cup, Pepsi, Phone, Photoshop, Piping Bag, Piñata, Plug, Popcorn, Porta-Potty, Pot Chocolate, Puck, Puckium, Raspberry, Ribbon, Royal, Shako, Shot Glass, Silent Movie, Skully, Sock, Soda, Star Coin, Sticky Note, Strawberry Poptart, Sundae, Sunny, Tardy Slip, Teabag, Teacup, Test Sheet, Texas Flag, Titanium, TNT, Toothpaste, Top, Towel, Used Deodorant, Waffles, Window, Yo-Yo, - CTC 1, CTC 2, CTC 3, CTC 4, CTC 5, CTC 6, CTC 7, and CTC 8
Milky, Basketball, Book, Boot, Bracelet, Calculator, Camera, Chicken Leg, Chili Pepper, Clapper, Drum, Disc, Fork, Fruit Basket, Glass, Glasses, Globe, Glue, Hamper, Laptop, Lotion, Mug, Paint Palette, Peanut, Piggy Bank, Pineapple, Ring, Scissors, Spoon, Star, Tablet, Thermometer, Trash Can, Violin, Wallet and others - Extreme Object Challenges
Circle, Square, Ball, Barry, Baseball Bat, Blender, Bowl, Bowler, Buzzery, Card, Cinnamon, Coal, Cracker, Crayon, Cup, Goldfish, H, Headphones, House, Iceberg, Lava Lamp, Moon, Notebook, OBJ, Oreo, Palm Tree, Parallelogram, Bottle, Bottle Jr., Question Mark, Haunted House, Calculatory, Gold - Obosolete Object Show
Microphone, Flat Screen, Gear, Gel Ball, Leaf, Phone, Puff Ball, Sponge, Soap Bottle, Taoism, Flashlight, Radio, Cookie, Cherries, Dynamite, Baseball - Object Oppose
Door, Corn, Chicken Drumstick, Tetris Blocks, Cheese Orb, Sock - The Object Show Movie
El Nudelo, Golden Nudelo - The Tale of El Nudelo
L, Six, Fanny, Dull Pencil, Flower, Ruby, Stapy, Brown Marker, Puffball, Foldy, Golf Ball and Basket Ball, Blocky Impailed By A Thing, Tennis Ball, Leafy, Big Nickel, David, Woody, Book, Melting Ice Cube, Lollipop, Cup of Teardrop, Bracelety, Barf Bag, Teal Spongy, Naily, Clock, Coiny, Frog Pin, Loser, Bottle Full of Dreams, Brown Pen, Remote, Frog Pillow - BFB battle9
OOF, Spalding, Taco Bell, Bag, Traco, Bubble Jr, Popsicle Stick, Fruit Gushers, Scribbles, Flying Pizzer, Fidget Spinner, Goiny, Ice Fire, Bread, Phineas, Smash Ball, Treee, Power Moon, Error, Disco Grassy, Smart Balloony, Construction Book, Toxic Drop, Ringy, Clorox Wipes, Ice Block, Quarter, Cringy Thumbnail, Fortune Cookie, Stone Wall, Cappy, Pentagon, Stronger Bubb, Smart Water, Monitor, Fish Bowl, Stylized Remote, Human Black Hole, TNT, Laundry, Blue Golf Ball, David, Dora Head, Nark, Ben, Flynn Potato, Slime Ball, Mail, Simply, Poorly Drawn Needle, Golden Pop, MS Paint Cat, Thanos Brick, Broken Stapy, Poo, HowToBasic, Thanos Car, IDFB Pin, Meme Bucket, Hatcm, Sink, Minecraft Cake, Windowws, P-Balloon - BFB Crushed
Red Kitty Cube, 582-Ball, Alexa, Alien Gem, Alien Rock, Argon, Athletic Ball, Baby Ball, Backwards Clock, Baking Soda, Black Blood Cell, Blueberry Juice, Bookshelf, Brown Blood Cell, Brown Salt, Caramel Apple, Checkpoint, Cotton Cloud, Cotton Flower, Darkness Switch, Dark Metal Coin, Diamond TV, Dictionary, Dodgeball, Doggie Bone, Drum, Empty Switch, Fashion Switch, Flavored Pen, Footprint, Glowing Heart, Golden Book, Gravity Ball, Grass Coin, Gunter, Hair Buzzer, Handcuffs, Helium, Icecreamite, Ice Pencil, Ice Sculpture, Jetpack, Letter Blocks, Long Knife, Lucky Basket, Medicine Bottle, MePhone125, MePhone149, Mint Flower Cake, Moon Spray, Mouthwash, Ocean Coin, Orange Blood Cell, Paint, Perilous Ball, Pink Blood Cell, Power Switch, Red Blood Cell, Red Hammer, Relaxing Cream, Robot Switch, Royal Fork, Sabre, Sheetpost, ShinyCookie, Shinyleaf, Scoreboard, Shuttle, Slime Ball, Spooky Hat, Spider Web, Static Screen, Style Hat, Sun Spray, Tennis Bag, Tripad, Tropical Leaf, Trumpet, Valentine Card, Virus Ball, Volcano Coin, Waste Basket, White Blood Cell, Window Cleaner - BGGAMING Deluxe
Laporte 124, Laporte 124's Daddy, Laporte 124's Mommy, Unefenêtre235 (mentioned), Dark Laporte 124, Laporte 124.exe, Racist Laporte 124, Ledarte 123, Labot 124, Laporte The Teeth Guy (mentioned), Future Laporte 124, Robot Chicken Laporte 124, Gorefenêtre666 (mentioned), Laporte Suicide (mentioned), BeastFentreInfinity (mentioned), Creeper Mask, My MacBook, PC, The Hunted Window, The Hunted Door, Coronavirus, Mike, Steve Jobs, King Stealer, President Dump, Prince Shieldon, Officer Coffee, Chief Donut, Dictator Victor, My Abusive Brothers, Evil Horace, Evil Alfe, Evil Roba, Peely's Dad, Tomato Head's Dad, Robot Chicken Zombie, Robot Chicken Bendy, Hitler Ghost, Kyle The Goomba - Laporte 124
Amir Maghrabi, Evil Amir Maghrabi (mentioned), Amir Suici (mentioned), Nintendo Switch, Robot Chicken Gorefenetre666, Error Laporte 124, Robot Amir Maghrabi, Fire Tablet, Switch Life, SEGA Logo, Dark Amir Maghrabi, Amir Maghrabi's Dad, Amir Maghrabi.exe, Demon AmirMaghrabi666 (mentioned), P-Balloon, Nintendo, Horror Laporte 124, Horror Macbook, Horror Mario, Horror Bendy, Horror Zombie, Demon Trophy, Demon Lighter, Davi the Electronic Guy, Police Amir 1, Police Amir 2, Police Amir 3, Police Amir 4, Demon AmirMaghrabi666's Ps4, Dark Fire, Dark Queen, Davi the Electronic Guy's Dad, Red Mist Josef (mentioned), Josef.exe, Demon Stan 666, Virus Switch, Golden Octoling, Smoke Princess, Poison Ivy, Anti-Meggy, Tari Akumatized, Nathan Thomas, Heidi, Ultimate Demon Lamp666, Shelley Bain, Evil Wi-Fi no Internet, Future Amir Maghrabi, Future Nathan Thomas, Nathan Thomas' Mom - AmirMaghrabi Laporte124FTW BarneyFTL
Josef, Sapphire, Demon Josef (mentioned), Evil Josef (mentioned), Bullet Reporter, Blue Window, Radial Star, Dark Josef, Officer Target, Future Josef - GreenBall360
Redstone, D Train, Heatwave Productions, Devin the YouTuber, BND of Doom, Facebook Logo, Lava Bucket, Fortnite Logo, Eggplant, Disney+, Abriana Montgomery, Starii Editz, Redstone's Dad, Redstone's Mom, Purple Virus, Go Sign, Joker Card, DatKingGreenstoneGuy, Bluestone - DatCoolRedstoneGuy Est. 2004
Riley, Riley's Mom - Loser336 LynnLoud909
Oliwer, Evil Oliwer, Pink Koopa, Queen Pink Koopa, Pink Koopa Jr., Robot Chicken Sonic, Evil Lori Loud, Evil Dinosuar, Winnie the Pooh Stacker, Robot Chicken Koopa - Bonnie Boy
Michael, Evil Michael, Little Hand, Evil Little Hand, Crekey Hand, Basket - MichaelFan2013
Jacob, Evil Jacob, Evil June Bailey, Evil Yi, Evil Mai, Robot Chicken Mario, Robot Chicken Spongebob, Robot Chicken Buzz Lightyear, Evil Chuck Baker, Evil Chloe Carmichael, Evil Sparky, Evil Two, Pamela Shimura, Hellstricter, The Dark Angel, Mr. S, Nite-bite, Impartial Mario, Evil Faby, Nickeldeon Jack UTTP, Butterfinger, PETA, Nico Vega, Evil Nico Vega, Nico Vega's PC, My Chromebook, My Evil Clone's Asus PC, LJN, Mr. BND, Road Rollar, Buzz Lightyear Sippy Cup, Batman Water Squirter, Popeye Water Squirter, Inappropriate Spider Man Balloon, Wolverine Squeaky Hammer, Ms. P, Contry-Buster, Sasha Tack, Shadow Queen, Posion Vine, Ms. M, Mr. A, Mr. L, Evil Blisstina Utonium, TikTok, Evil Gene, Panty.exe, Stocking.exe, June Bailey.exe, Yi.exe, Mai.exe, Elica Heart, Kobe Louise, Elliow Scratcher, Six Kubau, Terrance Winslow, Joey Pearman, Timothy Jones, Alejandro Garcia, Lucas M Soares, Japanese Wind Chimes - Jacob Stout The Smash Champion
Laporte the Nazi - Hurricane Irma UTTP
Mutant Po - Mutant Po the Captain Underpants Fanatic
Yellow Sky, Marcus Rad, Cannonball, Yellow Sky.exe, Black Sky, Trevor Henderson Mothman, Covid-19 Mask, Beast Demon Amir Maghrabi 666, Dani Rad, Tik Tok, Jamie Futson, Halloween Pumpkin, Felix Ruiz, Humanoid Owl, The Athonimus, Mafianaple and others - YELLOW SKY
Evil D Train, MTARailfanningAndBusFanning312, Heatwave Productions, Communist Laprote 124, Commuinst Pencil - Gorefenêtre666
Victor - Mr. Leafman
Mr. Tie David - MrTyesVideos
Subway Train, 3 Train, 6 Train, 7 Train, MTA Logo, Emergency Alert System, Typewriter II, Hurricane, Nazi, Bishop, ROFLCopter - TTGMinecraftBoy37
Michael the Vyond Guy
Jaxen Ross is b-a-c-k!
Leah Fabi the Pocoyo Girl
Nicolas Cruz, Robot Chicken Thomas the Tank Engine, Robot Chicken Optimus Prime, Robot Chicken Eric Cartman, Robot Chicken Stan Marsh, Robot Chicken Kyle Broflovski Robot Chicken Kenny McCormick, Robot Chicken Firey, Robot Chicken Boj, Evil Nicolas Cruz, Epic Lori Loud, Robot Chicken Percy The Small Engine, Robot Chicken James, The Red Engine, Robot Chicken Devious Diesel, Robot Chicken Ryan, Robot Chicken Luigi, Robot Chicken Papa Smurf, Robot Chicken Garfield, Fake Zombie, Fake Squid, Ryan.exe, Evil Ryan, Ryanbot, Robot Chicken Hana, Block13TinyRobots&Ryan'sMysteryPlaydate Fanatic 666 Acer PC, My Dell PC, Lego Emergency Guy, Robot Chicken Gus The Gummy Gator, Robot Chicken Combo Panda, Robot Chicken Emmet Brickowski, Dark Nicloas Cruz, Nicloas Cruz.exe, Racist Nicloas Cruz, Nickolhas Cruz, Nicobot, Nicolas The Teeth Guy, Demon Nicolas Cruz, Brazilstone, Dark Energon - DatLegendaryBrazilstoneGuy Est. 2004
Evil Bubble (mentioned), Galaxy Ball, Cloudy Ball, Diamond Ball, Red Beryl Ball, Emerald Ball, Platinum Ball, Crystal Pentagon Ball, Black Hole Ball, Sammy Ball, Rose Ball, Opal Ball, Ruby Ball, Xubble (mentioned), Dark Diamond Ball (mentioned) - Bubble Fan 100
Clemmie, Tango, Bud, Evan, Ryan, Mr. Murcott, Shrink, Shrank, Shrunk, Harpist, Other Mandarin Campers - Camp Halohead
Leland, Leanna, London, Lee, Carole & Uncle Jay - Oh Shiitake Mushrooms
Pikachu, Pichu, Muk, Lapras, Spiritomb, Chimecho, Masquerain, Cryogonal, Porygon-Z, Chandelure, Hydreigon, Forretress, Reuniclus, Altaria, Bonsly, Probopass, Cradily, Galvantula, Arbok, Palpitoad, Ludicolo, Bayleef, Ivysaur, Flaaffy, Shiftry, Cloyster, Gengar, Tyhlosion, Furret, Politoed, Druddigon, Wailord, Salamence, Lickilicky, Houndoom, Jumpluff, Zigzagoon, Glaceon, Torkoal, Swalot, Bastiodon, Drapion, Charizard, Snorlax, Tropius, Lumineon, Archeops, Klink, Shuppet, Drifloon, Dustox, Anorith, Vibrava, Shuckle, Kricketune, Magcargo, Hearcross, Absol, Seviper, Tangrowth, Ambipom, Carnivine, Floatzel, Volcarona, Arcanine, Zebstrika, Toxicroak, Dragonair, Girafarig, Cacturne, Scizor, Stantler, Honchkrow, Numel, Grumpig, Breloom, Sharpedo, Ariados, Huntail, Ferrothorn, Kecleon, Sandslash, Trubbish, Shinx, Corsola, Luvdisc, Golurk, Carracosta, Tyrunt, Maractus, Venomoth, Heliolisk, Pelipper, Liepard, Omastar, Milotic, Smeargle, Crobat, Whiscash, Goodra, Togekiss, Sigilyph, Relicanth, Manectric, Garchomp, Mudkip, Heatmor, Walrein, Castform, Gliscor, Azumarill, Avalugg, Mawlie, Octillery, Zangoose, Mandibuzz, Malamar, Torterra, Leavanny, Durant, Noctowl, Electivire, Magmortar, Aggron - TotalPokemonIsland
Finn Tastic, Potion Nova, Dishwater Slog, Smallfry, Bubbles, Fancy Pants - My Little Pony: Pony Life
Jesse, Mike and Dave - Jesseandmike
Markipiler
Jackseptieye
DanTDM
Mr. Beast
BlastphamousHD Gaming
Unspeakable
Collins Key
Sr. Pelo
Ben & Elliot - Ben Phillips
Morgz
Rita, Zeke, Leon, Nari - Toca Life Stories
Sophia, Ralphie - AdaptedMind Superskills
Mario, Rosalina, Jeffy, Scooter, Bowser, Bowser Junior, Chef Pee Pee, Joseph, Cody, Harry, Black Yoshi, Shrek, Brooklyn T. Guy, Woody, Toad, Jackie Chu, Mr. Goodman, Bully Bill, Charleyyy, Doofy The Dragon, Loan Dolphin, Screwball the Clown and others - SuperMarioLogan
Mario, Fafa, Gorilla, Stewart, Johnny T., and others - Glove & Boots
Funnel Dad, Funnel Mom, Michael, Lexi, Chase, Shawn, Ma, Heidi, Elyssa, Brick, Betty, Steve, Anthony - Funnel Vision/FGTeeV/Dingle Hopperz/The Funkee Bunch/Brick & Betty
William, Lucy, Andy, Bill & Tina Violette - Violette1st
Derrick and Debbie
Shelly, Mandy, Rooney, and Jack - Shemaroo Kids
Ayden, Dorian, Tiernan, James and Erin - DrunkLastKnight
Liam, Lindsay, Matt and Tara - XDepressionX
Garfielf, Military Amimal, Jon, Odie, Shouty Guy and Liz - Donglitchy
Cyanide and Happiness
Tim, Leo, Elphie, Pego - All Babies Channel
MSMPokeGamer / MPG
Plainrock124
The Entire Cast from Doodletoons
The Entire Cast from GiggleBellies
The Entire Cast from Cocomelon
The Entire Cast from Kids TV
The Entire Cast from Robie 317
The Entire Cast from KidsCamp - Education
The Entire Cast from Busy Beavers
The Entire Cast from Meet The Vowels
The Entire Cast from Meet The Sight Words
The Entire Cast from Meet The Colors
The Entire Cast from Meet The Letters
The Entire Cast from Meet The Numbers
The Entire Cast from Meet The Math Facts
The Entire Cast from Meet The Shapes
The Entire Cast from LearningGamesForKids
The Entire Cast from ChuChu TV
Dave and Ava
Crabs - Crab Rave
Every Monster Nose Parlsona
Lukas the Bowgart
Kassie the Tweedle
Blake the Clamble
Matthew the Bowgart
Nostalgia Critic, Angry Video Game Nerd, Fred Figglehorn, and Irate Gamer - Internet Characters
SMG4, Mario, SMG3 (mentioned), Teletubbies, Bowser, Nintendofan997, Rock, Toadsworth, Professor E. Gadd, Heavy Weapons Guy, Sonic the Hedgehog, Steve, Wario, Shy Guy, Old Hobo, Waluigi (mentioned), Yoshi, Donkey Kong, The Police, Baldi, Fishy Boopkins, Bob, Shroomy, Meggy Spletzer, Saiko Bichitaru, Jeeves, Tari, Axol, Greg The Alien, Mr. Hall Monitor, etc - SMG4
Mike, Heather, Jake, Cody, Alex, Ryan, Emma, Maggie, Penny - DaddyOFive
Michael, Bridgette, Charles Jr, Angry Grandpa, Charlie, Jennifer and Tina - TheAngryGrandpaShow
Jesse, Jeffrey Sr, Psycho Dad, Theresa and Jeffrey - Mcjuggernuggets
Annabelle, Victoria, Dad and Granny - Toy Freak
Jack Quire, Tara Marlow, Stephen Quire, David Quire, Jennifer Quire, Brandi Profitt, Darrick Childs, Paige Profitt, Marylin Bourne, Charlie Bourne - Greatest Freakout Ever
The Entire Cast from asdfmovie
The Entire Cast from Sandaroo Kids
The Entire Cast from AllToyCollector
The Entire Cast from TRT TV
The Entire Cast from SuperStarPlanet
The Entire Cast from LuigiFan00001
The Entire Cast from Don Bosco Camp - Safety Beach
The Entire Cast from The Pixel Kingdom
The Entire Cast from Hat-Loving Gamer
The Entire Cast from Faris Sayyaf
Charlie, Roffle, Lolz - Charlie the Unicorn
doctorwho612, HellsGates39, CyberFreaked - DCubedParodies
Various Goblins - BrotherhoodWorkshop
Crazy Dave, Pikachu, Director, Various Plants and Zombies - Rfm VS Games
Teacher Herobrine, Zombee, Skellington, Creep, Endie, Mucus, Zombieswine, Ghist, Maggie, Silvester, Zupay, Cavell, Blaise, Witton, Multus - Willcart
Magmortar, Feraligatr, Flygon, Diagla, Roserade, Electivire, Noctowl, Claydol, Swanna, Swellow, Froslass, Magnezone, Reuniclus, Unfezant, Yanmega, Pidgeot, Mantine, Chimecho, Venomoth, Ledian, Cofagrigus, Beautifly, Shedinja, Illumise, Banette, Escavalier, Gengar, Gigalith, Beartic, Aggron, Lilligant, Cinccino, Dragonite, Lickilicky, Exeggutor, Gulpin, Clamperl, Crustle, Mawlie, Metagross, Rhydon, Krookodile, Gothorita, Rampardos, Lopunny, Arbok, Sunflora, Seviper, Blastoise, Corsola, Leavanny, Zebstrika, Pansear, Simisage, Nidoqueen, Bibarel, Hitmonchan, Victreebel, Alakazam, Chansey, Purugly, Pinsir, Liepard, Golduck, Swampert, Absol, Jynx, Clefable, Venusaur, Galvantula, Delcatty, Zoura, Pachirisu, Dugtrio, Toxicroak, Linoone and others - Ditto268
Bluejay5678, Red, Chuck, Bomb, Matilda, Stella, Bubbles, Hal, Terence, Pig, King Pig, Ice Bird, The Blues, Silver, Helmet Pig, Mustache Pig, King Pig, Poppy, Luca, Willow, Dahila, Gale, Mighty Eagle, El Porkador and others - Bluejay5678
Limberjack, Young Limberjack, Groundmush, Young Groundmush, Octophone, Young Octophone, Woolawish, Young Woolawish, Construci-O, Young Construct-O, Slimedheads, Young Slimedheads, Toteem Pole, Young Toteem Pole, Mandostrich, Young Mandostrich, Sitaria, Young Sitaria, Synthowl, Young Synthowl, Swog, Young Swog, Stoggosarus, Young Stoggosarus, Slim-O, Young Slim-O, Gamble, Young Gamble, Beatpad, Young Beatpad, Slimechoir, Young Slimechoir, Pirranap, Young Pirranap, Lumberdrums, Young Lumberdums, Shinnuvox, Young Shinnuvox, Drummilet, Young Drummilet, Blujo, Young Blujo, Skeleslap, Young Skeleslap, Starable, Young Starable, Minospiel, Young Minospiel, Colorflyer, Young Colorflyer, Lumberflute, Young Lumberflute, Yodelay, Young Yodelay, Bassball, Young Bassball, Mhisp, Young Mhisp, Chainslap, Young Chainslap, Elemantool, Young Elemantool, Pitshroom, Young Pitshroom, Boarcatto, Young Boarcatto, Chantu, Young Chantu, Orglakky, Young Oraglakky, Organell, Young Organell, B'joob, Young B'joob, Orchness, Young Orchness, Miestro, Young Miestro, Pipe Bargon, Young Pipe Bargon, Caplour, Young Coplour, Crysgong, Young Crysgong, Barbloo, Young Barbloo, Brasshift, Young Brasshift, Tikoee, Young Tikoee, Tan And Chao, Young Tan and Chao, The Creator, Young The Creator, Drumrave, Young Drumrave, Quiorstar, Young Quiorstar, Thunker, Young Thunker, Urrwho, Young Urrwho, Moetone, Young Moetone, Bogmyre, Young Bogmyre, Bambeu, Young Bambeu, Troogen, Young Troogen, Pipez, Bellnose, Harpsibird, Accoriond, Tropidrummy, Dobrush, Underflund, Cymbear, Woodrumms, Yellup, Saxohorn, Lightup, Dinochomp, Mirria, Silky, Flumpy, Dullix, Uhcrins, Doose, Wahzers, Dreem, Beetcrab, Clargart, Blaph, Zojo, Bompers, Geiroo, Hapryiee, Aritycus, Gamebot, Voxie, Batcula, Mechaflute, Crysturtle,  Reecorder, Vocoboxx, Cobrala, Timbat, Malimba, Polar-Chair, Snailavibe, Flowboxx, Toodette, Padio, Tridestal, Brassida, Piantist, Steggosynth, Blobbacatto, Toxicity, Elementia, Lumilyra, Flooreein, Giefurr, Wombeats, Runio, Woodwine, Gigareff, Orglakky, Zomijo, Clonejoiineed, Capsicord, Lampita, Ripp, Meolord, Lyrika, Loodicrush, Zapatoto, Readlight, Elephantum, Wichkraft, Swelldia, Roboscorpio, Vibrafish, Gemrillia, Pterovox, Oktoring, Bulltoad, Plozzcotoo, Blonkytonk, Hippum, Basserite, Alienette, Thundus, Shrubury, Globia, Pailight, Plang, Tin, Gilla, Mellallia, Drumsett, Tommshrumm, Trccus, Slapoda, Bitt, Xiibuss, Duckala, Allanker, Bazzerd, Syncees, Flarto, Turntisc, Rabero, Membriss, Phibbobeat, Klapto, Timbatel, Fubburage, Jemineye, Vocodexx, Gegret, Jamhitung, Clickterr, Jazobell, Siamophone, Borgaboe, Vectiss, Beringabang, Confurzz, Geargorex, Eleckamo, Gleemo, Eboe & Bah, Padynne, Calimetal, Quiverette, Sclamp, Xarbrash, Ratabla, Hippocallio, Gerbz, Beringabang, Adolizen, Blickus, Joobedate, Lahphii, Boonemone, Keyrustee, Glyre, Sea Monk, Zugger, Choogah, Mantinari, Lurali, Al Chember, Baggleub, Shtrum'n, Bloop, Phantune, Virtuz, Chummy-Duh, Twargalargle, Haelee, Voidpn, Hartbeat, Bashteroid, Siroous, Orbituoso, Voxxot, Birasspedal, Aroaraa, Pizzibendo, Arachdroid, Conjint, Reechers, Boodae, Starrman, Voidon, Conjint, Gloober, Uvulob, Pomatronia, Raddlepole, Strooma, Serpentoms, Ohdell, Plugapulse, Bumblebell, Floonk, Warpsers, Gawblam, Maxillaphone, Rare Maxillaphone, Rare Theremind, Rare Poppette, Rare Bonkers, Rare Gloptic, Rare Floot Fly, Rozele, Percival, Whimstlop, Epic Phangler, Handmond, Rare Handmond, Rare Brump, Rare Zynth, Rare Poewk, Rare Dwumrohl, Rare Zuuker, Rare Screemu, Rare Tympa, Rare Dermit, Rare Gheegur, Rare Whajje, Rare Creepuscule, Rare Blipsqueak, Rare Scargo, Rare Astropod, Rare Pixolotl, Rare Bona-Petite, Rare Maulch, Rare Fleechwurm, Cyber, Rare Cyber, Golihat, Rare Golihat, Spinamol, Thunderer, Dridopz, Haunt-Ha, Rare Haunt-Ha, Corrupt Punkleton, Rare Hornacle, Rare Attmoz, Rare Scaratar, Rare Syncopite, Rare Blassom, Rare Loodvigg, Rare Plixie, Olgaropipe, Tabicarb, Salimeva, Wormbole, Worp-Wart, Blobbreath, Skrape, Kreakin, Mermur, Gelephant, Hasspirit, Gunzhang, Lilli, Chilliesta, Harmonic, Wethur, Stridle, Lightbuzzes, Monstitor, Pyritecs, Clearnet, Bite, Videvil, Kobo, Robun, Reev, Cakk, Sanft, Saguello, Roxsyn, Skwabol, ClippityClop, BayTayTee, Rocksicle, Toobsa, Quartarm, Flyute, Glillookil, Ertwo, Tsimble, Orjin, Pattitum, Sapplinks, Puddrum, Syck, Tritom, Sweettooth, Pentapill, Peepers, EeSeeJee, Corey-Optic, Duhstune, Sceric, Doumbidos, Rare Doumbidos, Geomite, Rare Geomite, Solinar, Rarre Slinar, Shadoon, Rare Shadoon, Zigotarc, Rare Zigotac, Plantama, Drumosteel, Rare Drumosteel, Cymbeye, Rare Cymbeye, Wizzy, Rare Wizzy, Flexgan, Rare Flexgan, Didjoo, Rare Didjoo, Boueh-dge, Rare Boueh-dge, Fluffynet, Rare Fluffynet, Bisbass, Rare Bisbass, Specdra, Rare Specdra, Bocuhbicha, Rare Bouchbicha, Accorleon, Rare Accorleon, Floute, Rare Floute, Bismoth, Rare Bismoth, Tambouryne, Rare Tambouryne, Barhud, Rare Barhud, Curlybidly, Rare Curlybidly, Bypaak, Rare Bypaak, Prismulimati, Rare Prismulimati, Triolin, Rare Triolin, Tambird, Rare Tambird, Hurlfor, Rare Hurlfor, Tenjoy, Rare Tenjoy, Snainke, Rare Snainke, Axolar, Rare Axolar, Sellapa, Rare Sellapa, Smauchestra, Ciraskull, Cephagon, Leepree, Clavish, Ravocado, Galavuz, Rare Galavux, Stellazur, Rare Stellzur, Emotiumes, Rare Emotiumes, Ether & Emine, Rare Ether & Emine, Kalumba, Rare Kalumba. Arpyst, Poulplinthé, Zypoïce, Boyng, Kooica, Alsichord, Trompot, Pahung, DuGryTue, Cascagnet, Organsizer, Choireal, Rochor, Chipbits, Croakree, Vocavox, Futterdrums, Trombird, Doppeloid, Revoxo, Floolo, Kitsosion, 8-Beat, Aerobeats, Treeth, Plascrash, Wubstep, Cyboard, Hamstring, Heatzup, Whakke, Zaplash, Lizzarb, Knarmd, Erbex, Xyzzle, Trupican, Vacuutsica, Blubflubber, Trixelle, Clankenstein, Firbilz, Gladimari, Speakterio, Anubonek, Jawblagu, Boggroak, Swirlusc, Guirbop, Optwurm, Squellows, Mintzicato, Telepaca, Macaremlin, Blibeepa, Monchur, Pylonaut, Flipstixx, Officer Hoggers, Roadkoon, Scrubdubber, Jeennz, Crystallire, Drumball, Organite, Bonglets, Drompy, Gutair, Snaptap, Kicitte, Creenee, Vudol, Pegglin, Mimba, Spirand, Snower, Bicap, Placidrain, Flutterby, Terrasoar, Organeyke, Roborg, Rimba, Smovoid, Larx, Bob, Numbass, Thexplorer, Dexxtar, Timminkit, Doofenator, Curragimba, Wubrass, Sausage, Tuna, Uobo, Canboi, Dum Dum, Nixxit, Joarj, Cococopy, Greedy Guppies, E L E P H A N T C A R, Toahlbocks, Simplings, Tobias The Tank, Pippa Peg, Barkouse, Alphabass, DJ-Ruffman, TenBen, Stæv, Bloo, Perkysite, The Wonder Blunders, Slap-n' Screech, Chowderada, Chēêèéësė, Pizzicaturr, Billynet, Rigky.exe, Catstack, Ted, Tedd, N' Teddi, Suku, Clarance Cell, Mikk-Key Mouzz, Teenkwyredrums, HACKKEQUAYSHUN, Yumsed, Juaxofon, Shovlenpayl, Pill-OW, Bulbox, Zanittizurr, drum, Bushake, TRUMPETTUBATROMBONEFRENCHHORN, String Thing, Mr. Skeleton Plays The Marimba .JPEG, Glitch-a-Gloompas, GrounDEAD, 🤏🐦, My Biggest Fan, circle beats, The Boys, gerald, Bacteereeail, Alagaerythym, Fun Guy, Sneezo, Grabop, Cangdrum, Pencylophone, Stikkitree, Beataeb, Clomp, Pianocular, Boopanana, Astrothesaurus, Octom, Stringoon, Trumpetear, Bongalonga, Cymbeast, Kapelizekap, Twinkuttle, Choime, Nesshane, Stareat, Junoth, Dragobell, Lumbergitar, Pharatch, Heartarp, Planetstem, Aliemonica, Oimaophone, Concot, Shashii, Robotikit, Voxilla, Ogorn, Galiball, Droms, Wodote, Wormsnap, Pluckurple, Strigimole, Googuu, Quintaa, Tomatoe, Broccorb, Podbass, Ghopper, Pipecorn, Stembeat, Robomber, Coralka, Asprock, Ghauliflower, Caost, Bassah, Strikion, Chanana, Harmonyt, Orbange, Percuselon, Leafharp, Pumpkern, Foodrum, Autumree, Trumpalet, Stoomp, Treek, Ki-Itz, Flurs, Tapanap, Tree-J, Pufftree, Pigank, Sticklef, Pipetant, Septemi, Pilamai, Darkfraid, Theraghosts, Skeletorgan, Gravetapper, Bloodgre, Harpsidead, Screeming.exe, Boneybeat, Coffineow, Cauldreep, Dracubat, Satani, Scarepants, Mummeet, Starmuity, Glowzma, Pluxlie, Dubvoxxo, Mechachine, Eeriedow, Tootbot, Slymeastrings, Glassii, Mechzapp, Stick-x, Rockhor, Darklant, Ironarp, Chineskull, Robotarp, Meefoan4, Aythn, Gamecadroid, Brass-boty, Gud n' Bahd, Pazzi, Blue-zzi, Orangieldy, ABCpil, Hostommy, Kalclatro, The Epic Gamers, Sault, Puppr, Hornera, Drummer, Spidymbol, Bananymbol, Al-arm Bot, AppaWario, Wailerr, Screamir, Blooibrass, Appeel, Oniin, Eddo, Totom, Matty, Mickkey..., Beetloid, Beanite, Tooniano, Bridgitarr, Bassorse, RubBarkHose, Smilynth, Syronemer Man, Littlest Nugg, Chickedrum, Opsidown, Lightymbal, Pumpklantum, Roobell, Heartoolove, Eastuhtoot, Sunnanzah, Squwaak, Psykokit, Fairimono, Skeledrum, Monodrums, Monbass, Mongitar, Monano, Monblast, Monarok, Monbone, Monbrine, Mondeedge, Mondiredoo, Monfiddle, Monobit, Monsitar, Montabla, Montink, Monzapp, Monsynt, Monophone, Shugabrass, Shugabox, Shugette, Shugastring, Shugajewl, Shugafloot, Shugichan, Shugaboard, Factef, Violeaf, Rosep, Nuthead, Razudaz, Crinole, Illumaino, Thring, Karmonican, Finip, Clamk, Sharkapelle, Stracker, Creeboot, Cymbaboon, Marian, Bleek, Olpro, Hay-Diddle, Lookito, Whick-Alay, Dubster, Octoblow, Telirl, Howler, Honitar, Ceyorus, Xydo, Warpyon, Whumpeii, Bairoll, Betatt, Moltute, Belothes, Clickterr, Knarmd, Abblah, Yalgo, Gumpo, Bugitar, Bonkey JoJo, Thinging, Barage, Polkadip, Tinkird, Twung, Wheedle, Cow-maily, Urchor, Painguise, Ritride, Swiverfit, Cheebii, Mastind, Cutalie, Dinkleberg, Twinlee, Murump, Fyngerpik, Leefblower, Laamung, Fuzzaphone, Boomboxer, Stawmp, Krash, Hydratar, Jumba, Sawphyn, Chrystel, Plink, Bogon, Tikah, Kappaka, Cugan, Quackhead, Brassirina, Iorbe, Lightnera, Stynth, Tikitom, Marcuz, Zapcrash, Doodel, Spectorbot, Thundula, Legth, Aracnopad, Rolantis, Lushisp, Pluctopus, Gongkong, Bixel, Keytoad, Kitto, Barky, Burnace, Orbilily, Univalaxy, Pentarock, Krabsnapper, Rusterbot, Cryir, Blazap, Templetaur, Polterbeats, Voogoul, Ornams, Pluclove, Taicrack, Sunnlar, Bushitar, Vocatron, Flwoot, Celestiul, Plazyn, Spooghost, Steempunk, Crystalina, Rabbeat, Paddern, Stellrum, Swink, Plick, Ashorgan, Ereapertex, Bello, Cymbeat, Woodeyn, Vortexuid, Ortectus, Tetreeth, GK-7, Vioin, Mozcto, Speekrzz, Blackhorn, Electrostomp, Mettalbeatz, Untar, Cawaew, Forest Deedge, Pluxers, Glazpic, Queen Vortexia, Znas, Despass, Speabruh, Techalino, Snibewow, Crockroch, Puffalad, Mechagnome, Rowturee, Ristonk, Fournaroor, Wibbleck, Deepnott, Katboard, Lumbalog, Addvisc, Chungalon, Klaebabby, Nokitick, Unduthcuvurs, Pixapartat, Cluckamuck, Curclape, Boncata, Scread, Другдемон, Mecharachnic, Cravabe, Oboenga, Doinadamla, Æughfurf, Abdisaloid, Looweegeer, Spynulchord, Dootlebone, Mr. Emeetm Icro, Chanjda, Gatukos and Ooutis, Halisc, Swaigœ, Moizacato, Tuhugang, Yadadootis, Prismagaunt, Hexucahst, Gnawaueed, Boosh, Sproutyna, Clunkadron, Krakelohpad, Clongdung, Nolecous, Escargoolunk, Dragonorb, Thurtyfloor, Caroskull, Reddteem, Kattyphish, Widow, Tweets, Young Ethereals, Wublins, Supernaturals, Seasonals, Mythicals, Shugafam, Magicals, Dipsters and others - Superbro Productions HD/Lifetime Movie Fan/MantisBoi/Raw Zebra/My Singing Mammotts/Sparky the dog6/Grymm80 - MSM/Quinnklez216/MSM Quibble Fan/Wubbazt/Drumpler 1010/The Chromatics/Strymes Monster Singing 2010/Terry Hill 09/Dino the Betatt/Roggepoch/Doukas Pj
Deer, Fox, Cougar, Bison, Dire Wolf, Mouse, Goat, Armadillo, Jellyfish, Goose, Cheetah, Hyena, Sea Scorpion, Butterfly, Dragonfly, Skeleton Wolf, Tarantula, Faded, Zomgus, Dreath, Nether Medusa, Magma Plant, Mutant Zombie, Mutant Skeleton, Mutant Creeper, Mutant Enderman, Mutant Snow Golem, Spider Pig, Laser Creeper, T - REX, Jet Pack Spider, Infected Zombie, Foglet, Sludge Lord, Piranhas, Swarmers, Parasite, Vespa, Ptera, OsVermis, Raven, Scarecrow, Undead Swine, Ithaqua/Wendigo, Ingheta, Penghouls, Mimicrab, Nether Salamanders, Grove Sprite, Festive Creeper, Rocket Creeper, Support Creeper, Filch Lizard, Spider Family, Traveling Merchant, Lost Miner, Goblin, Trollager, Bewitched Tome, Haunted Tool, Mimic, Skeleton Warrior, Chameleon, Lily Lurker, Treasure Slime, Brain Slime, Dodo, Harpy, Void Eye, Flame Spewer, Blazing Juggernaut, Sheepman, Swampy, Rotten Eskimo, Mummy, Undead Miner, Frostbitten, Burned, Dead beard, Immortal, Acidic Archvine, Hellhound, Arachnon, Crab, Seahorse, Bufflon, End Troll, Foliaath, Ferrous Wroughtnaut, Barakoa & Barakoana, Barako the Sun Chief, Lantern, Frostmaw, Naga, Grottol, Overworld Drake, Roost Stalker, Dragonfruit Drake, Canari Wyvern, Silver Glider, Alpine, Butterfly Leviathan, Royal Red, Lesser Desertwyrm, Coin Dragon - textConjure
Polandball, Chinaball, Russiaball, Japanball and Various Countryballs - Polandball
Raichu, Marill, Noctowl, Silcoon with Glasses, Gigalith, Bayleef, Ninetales, Ambipom, Lilligant, Lileep, Venusaur, Miltank, Milotic, Delcatty, Flaaffy, Arbok, Wartortle, Piloswine, Zigzagoon, Hynpo, Taruos, Ducklett, Sylveon, Sableye, Kecleon, Corphish, Maractus, Floatzel, Scolipede, Totodile, Castform, Corsola, Lillipup, Ursaring, Happiny, Cyndaquil, Shieldon, Nidoqueen, Lickilicky, Magmar, Froslass, Charmeleon, Smeargle, Manaphy, Lanturn, Lucario, Torkoal, Wingull, Carbink, Shiny Ditto, Sceptile, Tyranitar, Tropius, Sandile, Beautifly, Dustox, Heatmor, Cottonee, Porygon2, Chimchar, Swoobat, Swellow, Pichu Spiky-eared, Hariyama, Qwilfish, Noivern, Natu, Staraptor, Swablu, Pluse, Minun, Pikachu, Sawk, Fraxure, Magikarp, Dunsparce, Meinshao, Flareon, Aron, Abra, Surskit, Lumineon, Cherrim Sunshine From, Luvdisc, Patrat, Froakie, Trapinch, Pineco, Cacturne, Gardevoir, Lopunny, Basculin Blue-Striped Form, Furret, Piplup, Litleo, Ditto and others - Micheal545
Vincent, Ms. Jill, Dark Pinkie Pie, Dark Applejack, Dark Twilight Sparkle, Dark Fluttershy, Dark Rarity, Dark Rainbow Dash and others - Vincent The King Video Maker Animator
SuperSmashBros. Fanatic 2005, Queen Maria Stornanda, Pit, Marth, Roy, Cloud, Wii Fit Trainer, Kirby, Pikachu, Mewtwo, Squirtle, Ivysaur, Charizard and others - SuperSmashBros. Fanatic 2005
Taylan, Georgia, Mordecai, Jin Kazama, Ash Ketchum, Burgundy, Vanellope (a.k.a Some Glitchy Brat) and others - Taylan the Justice Warrior
Sunset Shimmer, Wallflower Blush, Tsuyu Asui, Cozy Glow, Queen Chrysalis, King Sombra, Principal Celestia and others - Ivan the Brony Kaiju
Andrew, Danny Phantom, Jazz, Sam, Tucker, Dani Phantom, Queen Sam, Giffany and others - Andrew The Irishman
James, Dipper Pines, Mabel Pines, Nate, Whisper, Jibanyan, Simba, Jack, Boj, Darlene, Elmo, Dora, Caillou, Barney, Evil Dipper Pines, Evil Mabel Pines, Mike the Knight, Tree fu Tom, Gideon, Bill Cipher and others - James the Legendary Guy
Nitro, Ryan, Various Good and Bad Color Characters - NitroG/L Ryan
Twilight Sparkle, Spike, Rarity, Rainbow Dash, Pinkie Pie, Fluttershy, Applejack and others - Joey Nigro
Torchic, Venonat, Psyduck, Porygon2, Pikachu, Peppy (TaP Version) and others - Torchic and Pals
Robert, William and others - JeffMara
Evan, Jillian, MommyTube, DaddyTube - EvanTubeHD
Diggersby, Maractus, Durant, Machoke, Scrafty, Bidoof, Darmanitan, Slowpoke, Cofagrigus, Loudred, Ursaring, Aggron, Shellder, Croagunk, Pidgeot, Vaporeon, Marill, Fearow, Lapras, Girafarig, Pachirisu, Rowlet, Meowstic, Simipour, Kangaskhan, Floatzel, Heatmor, Charr, Excadrill, Sneasel, Pansear, Furfrou, Swampert, Pikachu, Zoroark, Popplio, Wobbuffet, Quilladintwo, Marowak, Clefable, Quagsire, Latias, Raichu, Skuntank, Reuniclus, Raticate, Arcanine, Pignite and others - Frags Bunny
Beautifly, Dustox, Flame, Clark, Regina, Ellie, Susan, Chirina, Ken, Lilly, Tom, Felix, Koja, Eon, Zac, Mickey, Dio, Rikku, Neve, Jonathan, Serena, Isaiah, Twindle, Paisley, Hydra, Vita, Nexus, Brent, Vinny, Fritz, Adriana, Sam, George, Clenne, Vivian, Hannibal, Yuki, Kyu, Fang, Xander, Tailya, Shay, Apollus, Hunter, Ram - Space Team
Talking Leaves - Batang 90s
Squeaky Angry Birds (Red, Matilda, Chuck, Blue, Hal, Bomb), Squeaky Peppa Pig, Squeaky George Pig, Squeaky Mummy Pig, Squeaky Daddy Pig and others - igor30
Red, Blue, Bomb, Chuck, Guy, Minion Pig, King Pig, Helmet Pig - Angry Birds Peace Treaty
Red, Blue, Chuck, Bomb, Matilda, Minion Pig, Helmet Pig, Mustache Pig, King Pig, Big Red, Big Pig - BylzQQ
The Second Coming, Fighting Stick Figures (Blue, Red, Yellow, Green), Purple? and others - Animator vs Animation
Edd, Matt, Tom - Eddsworld
Alex Clark and others - It's Alex Clark
Steve - FuturisticHub
Pencilmate, Pencilmiss and others - Pencilmation
Covi, Zizt, Lovi, Whyatt, Cavi, Siv, Lavi, Bob, Lucky, and Aliens - Covi & Zizt Retold
Duck - The Duck Song
Various Shuric Scans
Maggie the Teeth Girl - MrDrillerFan2005 The Anime Lover
Kyoobur9000 - Kyoobur9000 Productions
Red, Blue, Pink, Stacy, Lord Tourettes, Broseph, Lavender, Scarlet, Raccoon - Dick Figures
PewDiePie and others
DD, Lala, Coco, TT, Lulu, Momo, Chuchu and other cats -Creamheroes
Valiant, Bugsy, Lofty Thaddeus Worthington, Toughwood and Tailfeather, Nurse Victoria, Sergeant Monty, Gutsy, Big Thug, Little Thug and Wild Boar - Valiant: The Pigeons is Guard
and others
Netflix
BoJack Horseman, Princess Carolyn, Diane Nguyen, Mr. Peanutbutter, Todd Chavez - Bojack Horseman
Beep, Bo, Bang, Bing, Boop, Hap, Hub, Bub - Ask The Storybots
Hilda, Frida, David, Mum, Alfur Aldric, Wood Man - Hilda
Reggie, Esther, Todd, Conelly, Gwen, Shane, Big Deal, The Butt Witch - Twelve Forever
Darel, Gee, Coorah, Stinger, Tharta, Thuma & Tipi, Old Jir, Burnu, Ponto, Dingo, Quoba, Wilka, Koa - Kulipari
Cory Carson, Mama Carson, Papa Carson, Chrissy Carson, Freddie Firetruck, Halle Copter, Timmy O'Tool, Kimmy O'Tool, Frannie Fenderson - Go! Go! Cory Carson
Jack Sullivan, Dirk Savage, June Del Toro, Quint Baker - The Last Kids on Earth
Carmen Sandiego, Player, Ivy, Zack, Shadow-san - Carmen Sandiego
Sam-I-Am, Guy-Am-I, Michellee, E.B., Mr. Jenkins, Gluntz, McWinkle, Yes-Man, Michael, Squeaky, Goat - Green Eggs And Ham
7723, Mai - Next Gen
Chico Bon Bon, Rainbow Thunder, Clark, Tiny - Chico Bon Bon: Monkey with a Tool Belt
Turbo, Big Boo, Iris, Shiny, Hopper - Sunny Bunnies
True, Bartleby, Rainbow King, Zee, Grizelda, Frookie, The Wishes, Yetis, Urg, Snick, Grock, Yerck, Floof, Rainbow Citizens, Grizmos, Cumulo, Glummy Glooma, Little Helpers, Mila, Rocky, Bingo Bango, The Wishing Tree, Shadow, Silverclaw - True and the Rainbow Kingdom
Papa G, The Kid, Jo, Rosa - Kid Cosmic
Darius Bowman, Brooklynn, Kenji Kon, Sammy Gutierrez, Ben Pincus, Yaz Fadoula, Roxie, Dave, Dinosaurs - Jurassic World: Camp Cretaceous
Fei Fei, Chin, Chang'e, Gobi, Ba Ba, Mother, Auntie Ling, Mrs Zhong, Auntie Mei, Bungee, Jade Rabbit, Chin's Frog - Over The Moon
Kelly Ferguson, Peggy Drood, Liz Lerue, Japanese Babysitter, Pete Ferguson, Alexa Ferguson, Curtis Critter, Jacob Zellman, Tommy, Berna Vincent, Grand Guignol's Toadies - A Babysitter's Guide to Monster Hunting
Missy Moreno, Ojo, Noodles, Wild Card, Wheels, A Capella, Slo-Mo, Rewind, Fast Forward, Miracle Guy, Tech-No, Lavagirl, Blinding Fast, Ms. Vox, Sharkboy, Crimson Legend, Red Lightning Fury, Invisi Girl, Crushing Low, - We Can Be Heroes
Wendell Saunders, Wild Saunders - Wendell and Wild
Lukas Remy, Kong, Doug Jones, Amy Quon, Danny Quon, Anita, Chatter, Franciska - Kong: King of the Apes
Bheem - Mighty Little Bheem
Johny - Loo Loo Kids: Johny & Friends Musical Adventures
Chip Pug, Potato, Spud Pug, Little Momma Pug, Little Poppa Pug, Nico Panda (with Mr. Snuggles, Foofy, Cubby, Tiny, Wigglewoo, and Gary), Stomp and Stamp Fant - Chip and Potato
Carmen Cortez/Tango, Juni Cortez/Aztec, Glitch and Gablet, Ace, Claudia Floop/Scorpion - Spy Kids: Mission Critical
Pinky Malinky, JJ Jameson, Babs Byuteman, Mr. Malinky, Mrs. Malinky - Pinky Malinky
Charlie, Violet, Red, Miss Weather - Charlie's Colorforms City
Santa, Mrs Claus, Kate, Teddy, Elves - The Christmas Chronicles
Jane, Tim, The Barnabys, Cat, Nanny, Commander Melanoff, Baby Ruth - The Willoughbys
Stan, Olivia, Puff, Bigfoot, Podium, Sheriff Pearl, Magma - Paprika
Gabby, Floyd, Pandy Paws, Cakey Cat, DJ Catnip, Mama Box Cat, Baby Box Cat, CatRat, MerCat - Gabby's Dollhouse
Amazon Prime
Arty, Arty's Mom & Dad, Epiphany, Annie, Juju, Jackson - Creative Galaxy
Kelly Quinn, Darbie O'Brien, Hannah Parker-Kent, Jake Williams - Just Add Magic
Fig, Stick, Maple, Hedge - Tumble Leaf
Pete the Cat, Mom, Dad, Grumpy, Catalina, Emma the Pug, Sally Squirrel - Pete The Cat
Bartholomew, Beatrice, Ben, Betty, Bianca - Wishenpoof
Oliver, Mouse, Cat, Dog, Pig, Moose - If You Give a Mouse a Cookie
Lucy Chu, Wren Carver, Everett Nichols, Reynold Carver - Costume Quest
Dorothy, West, Ojo, Scarecrow, Reigh, Toto - Lost in Oz
Niko, Lyra - Niko and the Sword of Light
Gluko, Lennon - Little Big Awesome
Stinky, Dirty, Tall, Chip, Big Ben, Chill, Sender, Dumper, Monster Truck, Meg, Jumpy, Brave, Chopper, Digby, Mixy, Moby Dee, Smash, Fast, Zoom, Buoys, Queen Justine, Spacy, Linus, Sweepy, Shutter, Burger, Coupe, Sedan, Rover, Griswold, Toots, Towpher, Miss Bee, Dottie - The Stinky & Dirty Show
Fly, Worm, Spider, Spinnchen, Spider Dad, Spider Mom, Fly's Mom, Aunt Rita, Bee, Grampa Spider, Amy, Mama Worm, Mrs. Mulch - The Bug Diaries
D.D. Danger, Phillip, Pigeon Lady, Duncan, Sheriff Luke, Captain Banjo Kid, BL1P, Crackers, Kimmy, Reina, Mayor, Felicia, Tappy, Tyronius - Danger & Eggs
Duck, Rabbit, Cow 1, Cow 2, Cow 3, Sheep, Mouse 1-3, Goat, Pig, Chickens, Brigitte, Farmer Brown, Appliance Al, and others - Click, Clack Moo, Christmas at the Farm
and many others
Apple TV +
C.A.R.A. - Snoopy in Space
Cody, Heart, Scatter, Mr. Primm, Jackie - Helpsters
Molly Tillerman, Cole Tillerman, Helen, Birdie, Paige Hunter, Owen Tillerman, Bitsy Brandenham, Mayor Whitney Whitebottom, Brendan Brandenham, Dmitiry, Doug, Fran, Randy, Elwood, Marvin, Leo Shallenhammer, Esposito, Zoom Abromavich, Ambrose Brandenham, Enrique, Dick Flake, Hazel, Augustus, Danny, Glorious Gary, Anya, Ashley, Griffin, Anita, Sheng - Central Park
Robyn Goodfellowe, Mebh Óg MacTíre, Bill Goodfellowe, Moll MacTíre, Sean Óg Woodcutter, Ned Stringy Woodcutter, Stumpy Woodcutter, Sheep Farmer, Bridget, Padraig, Fishmonge - Wolfwalkers
Mailbu Comics
Contrary, Ghoul, Hardcase, Pixx, Prime, Prototype, Topaz, Black Knight, Siren, The Night Man, Electrocute, and Amber Hunt - Ultraforce
Trevor Henderson Creatures
Siren Head
Cartoon Cat
Cartoon Dog
Country Road Creature
The Bridge Worms
The Man with the Upside-Down Face
The Smile Room
The Good Boy
The Lamb
The Man in the Red Room
The Fetid King
The Giants
Long Horse
and many others
International TV Shows and Movies
Queer Duck, Bi-Polar Bear, Oscar Wildcat, Openly Gaytor and others
Anpanman, Uncle Jam, Batako-san, Cheese, Currypanman, Shokupanman, Melonpanna, Rollpanna, Creampanda, Baikinman, Moldyrunrun, Dokin-chan, Horrorman - Soreike! Anpanman
Beavis & Butthead, Coach Buzzcut, Principal McVicker, Stewart Stevenson, Mr. Van Driessen, Tom Anderson, Todd Ianuzzi - Beavis and Butt-Head
Daria Morgendorffer, Jane Lane, Trent Lane, Quinn Morgendorffer, Sandi Griffin, Stacy Rowe, Tiffany Blum-Deckler, Brittany Taylor, Kevin Thompson, Burnout Girl - Daria
Ricky Gervais, Stephen Merchant, Karl Pilkington and others - The Ricky Gervais Show
George Bush, Tony Blair, Gordon Brown, Paul Scholes, David Beckham, Michael Owen, Ant & Dec, Trevor McDonald, Jeremy Clarkson, Gary Linniker, Alan Hanson, John Prescott, Trinny & Susannah, Arnold Schwarzenegger, Liam Gallagher, Steve Irwing, Aggie & Kim, Simon Cowell, Andrew Marr, Saddam Hussein, Osama Bin Laden, Gordon Ramsay, Nigella Lawson, Frank Skinner, Osbourne, Ozzy Osbourne, Prince Harry - 2DTV
Mezga Geza, Paula, Kriszta, Aladar, MZ/X and others - The Mezga Family
Elvis Riboldi and others - I, Elvis Riboldi
Miku Hatsune, Len and Rin Kagamine, Luka Megurine, IA, KAITO, SeeU, GUMI, Gakupo Kamui, Teto Kasane, Haku Yowane, Yukari Yuzuki, Lily, MEIKO, Ritsu Namine, Mayu, Neru Akita, Roro, Aoki Lapis, Piko Utatane, Miku Zatsune, Akaito, Kaiko, SF-A2 Miki, Tei Sukone 'Scottei', Yuki Kaai, Merli, Oliver, Mikuo Hatsune, Luo Tianyi, Meiko Sakine, Ruko Yokune, Tone Rion, ZeeU, Galaco, Rei Kagene, Rinto Kagamine, VFS-01R Ring Suzune, CUL, Gakuko Kamui, Beni Sachine, Coco Macne (White), Luna Amane, Calne Ca, Coco Macne (Black), Fukase, Luna Ichine, Mew, Yuezheng Ling, Zhanyin Lorra, Aku Yamine, Avanna, Colon Manaka, Iroha Nekomura, Kiku Kobushi, Kiyoteru Hiyama, Luki Megurine, MAIKA, Rui Kagene, Sweet Ann, Tako Luka, Uta Utane, VFS-01L Hibiki Lui, Lenka Kagamine, Momo Momone, Prima, Ted Kasane, ALYS, Dell Honne, Kiku Juon, Miku Hagane, ONE, Stardust, YANHE, Akikoroid-chan, Kiki Okashine, MEITO, Miku Hachune, Rana, Tohoku Zunko, Tonio, UNI, DEX, Galaco NEO, Kokone, Sayu Yurika, Tsukuyomi Ai, V FLOWER, Akasaki Minato, Ame Akane, DAINA, Kotonoha Akane, Kotonoha Aoi, Nero Akita, Ryuto, Taya Soune, Xin Hua, Yuezheng Longya, anon, ARSLOID, Chika, Defosuke, kanon, Naru Akita, Ring Sue, Toeto Megurine, Tsukuyomi Shouta, Una Otomachi, Boushi Ringo, Cyber Diva, LUMi, Mo Qingxia, Natsu Akine, Yuuki Kaai (male) - Vocaloid
Odette, Derek, Jean-Bob, Speed, Puffin, Whizzer, Rothbart, Clavius, and Zelda
Haruhi Suzumiya
Konata Izumi
Prince Vailant
Iznogoud
Lamput
Miffy, Snuffy, Barbara, Boris, Poppy, Grunty - Miffy and Friends
Cuddles, Giggles, Toothy, Lumpy, Disco Bear, Cro-Marmot, Flaky, Flippy, Fliqpy, Handy, Lammy, Buddhist Monkey, Lifty & Shifty, Mime, The Mole, Nutty, Petunia, Pop & Cub, Russell, Sniffles, Splendid - Happy Tree Friends
Mr. Blobby, Mrs. Blobby, Baby Blobby
Lucy, Georgina the Giraffe, Nelson the Elephant, Molly the Hippo, Giggles and Tickles, Boris the Bear, Nathalie the Antelope, Audrey the Ostrich, Reginald the Lion, The Snip Snip Bird, King Snake, Victor the Crocodile, Kevin the Crocodile, Doris the Duck, Toby the Tortoise, Isabel the Flamingo, Mirabelle the Flamingo, Annabelle the Flamingo, Herbert the Warthog, Zed the Zebra, Alan the Aardvark, Ronald the Rhinoceros, The Tic Tic Bird, William the Weaverbird, Pauline the Pelican, Nigel the Elephant Calf, Harry the Hyena, Edna the Hyena, Holly and Johnnie, Seamus the Stork, Eddie the Hippo, Henrietta the Hairy Hippo, Patsy the Porcupine, Casper the Chameleon, Granddad Chameleon, Dennis the Dromedary, Gary the Dromedary, Dr. Gordon, Esmerelda the Snake, Cousin Chuckles, Lily the Ostrich, Doogal the Ostrich, Rosie the Rhinoceros, Petula the Parrot, Melanie the Moosem Beverley the Beaver, Randolph the Raccoon, Barbara the Bison, Alfie and Charlie, Mr. and Mrs Bison, Adam the Armadillo, Jazz the Jaguar, Leopoldo the Llama, Taco the Toucan, Annie the Anaconda, Duddley the Sloth, Tallulah the Toucan, Joey the Kangaroo, Jimmy the Kangaroo, Janet and Elvis, Janice the Kangaroo, Wally the Wombat, Mr. Platypus, Julie the Kangaroo, Ribbit the Frog, Phoebe the Koala, Carrie the Cockatoo, Snowbert the Polar Bear, Sidney the Seal, Jamie, Thomas, Sharon and Lewis, Hercule Moustache, Thelma the Whale, Gunnar the Seagull, Jack Big Claw, Bao Bao the Giant Panda, Gertie the Goat, Cassandra the Crane, Horace the Hare, Confuse-us the Carp - 64 Zoo Lane
Peter Rabbit, Benjamin Bunny, Miss Tiggywinkle, Jemima Puddleduck, Tom Kitten, Hunca Munca, Samuel Whiskers, Jeremy Fisher and others
The Snowman & Snow Dog
Phoenix Wright, Miles Edgeworth, Mia Fey, Maya Fey, Pearl Fey, Dick Gumshoe, Larry Butz, Franziska von Karma, Godot, Judge and others - Ace Attorney (TV series)
Peep, Chirp, Quack, Ant, Beaver Boy, Beaver Mom, Beaver Dad, Dragonfly, Fish, Hoot, Nellie, Newton, Quack #2, Rabbit, Robin, Skunk, Bat, Squeak, Tom, Raccoon, Blue Jays - Peep and the Big Wide World
Barbie, Skipper, Stacie, Chelsea, Ken, Margaret, Poppy, George, Nikki, Teresa, Renee, Daisy, Whittaker, Trey and others - Barbie franchise
Inspector Gadget, Penny, Brain, Chief Quimby, Professor Vib Slickstein, Kayla and others - Inspector Gadget
Yuri, Lili, Matt, Golias the Elephant, Nessa the Giraffe, Bongo the Kangaroo - My Big Big Friend
Zack, Quack, Kira, Hop and Skip, Fluffy, Belly-Up - Zack & Quack
Kipper, Tiger, Jake, Pig, Arnold, Bleepers, Magic Frog, Mouse, Mouse's Cousins and others - Kipper the Dog
Maisy Mouse, Eddie, Charley, Cyril, Tallulah, Panda - Maisy Mouse
Peixonauta, Marina, Zico, Dr. Jardim, Pedro e Juca, Agente Chumbo Feliz, Agente Rosa - Fishtronaut
Luna, Jupiter, Clyde - Earth to Luna!
Fuse, Slick, Buddles, Zee, Pogo, Jeff, Bear, Bear's Girlfriend, Various Animals, Various Bears, Various Cats, Cat, Mouse, Dinosaur, Various Mice, Goat, Modo, Santa Claus, Elves, Zee Clones, Dog, BG Oddbods, Various Oddbods, Kid Oddbods, Bats, Snake, Vulture, Cows, Aliens, WereWolf Oddbod, Polar Bear, Piglet, Farmer, Bugs, Newt and others - Oddbods
Monk, Kimmy, Ding, Ben, Sushi, Bubul, Loo, Mi-hie, Peace, San-say - Monk Little Dog
Boom, Wee - WeeBoom
Mario, Luigi, Princess Toadstool, Toad, Yoshi, King Koopa, Cave People, Oogtar, Cheatsy Koopa, Big Mouth Koopa, Kootie Pie Koopa, Hip Koopa, Hop Koopa, Bully Koopa, Kooky Von Koopa and others - The Adventures of Super Mario Bros. 3, Super Mario World, The Super Mario Bros. Super Show!
Sonic, Tails, Dr. Robotnik, Scratch, Grounder, Coconuts and others - Adventures of Sonic the Hedgehog
Duggee the Dog, Betty the Octopus, Happy the Crocodile, Roly the Hippo, Tag the Rhino, Norrie the Mouse - Hey Duggee
Panty, Stocking, Garterbelt, Scanty, Kneesocks and others - Panty & Stocking with Garterbelt
Boj, Mimi (Boj's mother), Pops (Boj's father), Denzil Woof, Ruby Woof (Denzil's mom), Dr Bruce Woof (Denzil's dad), Gavin Bleat, Blair Bleat (Gavin's dad), Bonnie Bleat (Gavin's mum), Mia Twitch, Julie Twitch (Mia's single mom), The Twitchlets (Mia's brothers), Rupa Nibblit, Deepak Nibblit (Rupa's dad), Geeta Nibblit (Rupa's mum), Mr Cloppity, Miss Claire Clippity, Hoj (Boj's cousin), Bibi (Boj's aunt) - Boj
Strawberry Shortcake, Orange Blossom, Lemon Meringue, Blueberry Muffin, Raspberry Torte, Plum Pudding, Cherry Jam, Huckleberry Pie, Sweet Grapes, Sour Grapes, Apple Dumplin, The Berrykins, Mr. Longface - Strawberry Shortcake franchise
Lingo, Wèi, Jargonaise, Queso, Lieb, Blodwen, Jaadoo, Dyzio, Kikli, Subah, Ljuna, Bloozles, Floozles - The Lingo Show
Jimmy Giggle, Hoot the Owl, Hootabelle, Giggleosaurus, Mini-Hoot, Gigglepaws and others - Giggle and Hoot
A, B, C, D, E, F, G, H, I, J, K, L, M, N, O, P, Q, R, S, T, U, V, W, X, Y, Z and others - Alphablocks
Numberblocks 0-100
JinxBunny, MinxBunny, Bagle, Pepper, Pixie, Jasper, Lo, Missel, Appa, Molly, Tumble, Chips, Trott, Lumi, Flake, Bleu, Lil, Debra, Chloe, Dex, Boo and others - JMKit
Famous Amos
Dominique & Evelyn
The Rock Band Girl
Pell & Mell
The Six Shape
The Rudolph of Forest
Amigas of Maracaibo High
Life with Makenna
Y2k Gangs
The Pride Month of Amos Martinez
Lia The Mermaid
Red, Jake, Jay, Jim, Chuck, Bomb, Matilda, Hal, Terence, Bubbles, Stella, Mighty Eagle, Silver, Wingman, Bouncy, Brian, Bridgette, Pig, Helmet Pig, Mustache Pig, King Pig, Construction Hat Pig, Cowboy Pig, Miner Pig, Frying Pan, King Pig Cardboard Cutout, Balloon, Hard Hat, Shovel, Rainbow Cake, Blue Potion, Lettuce, Purple Ammonite Shell, Sand Mighty Eagle Statue, Fan, Glass of Juice, Sardine Can, Feather Trophy, Trophy - Angry Birds
Poppy, Luca, Willow, Dahlia, Gale, Handsome Pig, Artist Pig, Shaman Pig, Various Critters - Angry Birds Stella
Tony, Female Red Bird, Female Matilda, Boy and Girl Eggs, Mighty Dragon, Mighty Basketball, Pumpkin Patch Pig, Ghost Pig, Santa Pig, Mrs. Pig, Easter Pig, Chinese Pig, Elf Pig, Octopus Pig, Frankenstein Pig, Friday the 13th Pig, Scarecrow Pig, Boars, Pumpkin, Christmas Present, Pig in a "Cupid Suit", Four-leaf Clover, Easter Egg, Sunflower, Mooncake, Scary Skull, Candy Cane, Firework, Cherry Blossom Flower, Red Starfish, Blue ABC Book, Ghost Costume, Star-shaped Cookie, Colored Juggling Pins (3), Furnace, Aztec Calendar, Golden Basketball, Masonry Stone, Tiki Statue, Gas Pump Creature, Cable Car, Fairytale Mushroom, Garden Pedestal, Camp Neversleep Badge, Pig Oscar Award, Piggywood "Superstar", Spooky Shed, Viking War Hammer - Angry Birds Seasons
Super Red Bird, Lightning Birds, Fire Bomb Bird, Lazer Bird, Ice Bird, The Incredible Terence, Atomic Bird, Slash, Space Eagle, Mighty Buzzard, Space Wingman, Space Eggs, Fat Pig, Alien Pig, Spacecraft Pig, Porko, Space Pig, S.P.A.R.K., White Raddish, Ice Mushroom, Space Egg, Space Mine, Lollipop, Blue Crystal, Red Oyster, Gold Diamond, Purple Gem, Hard Hat, New Horizons - Angry Birds Space
Luke Skywalker Bird, Obi-Wan Kenobi Bird, Princess Leia Bird, Han Solo Bird, Chewbacca Bird, Rebel Pilot Birds, Lando Calrissian Bird, Yoda Bird, C-3PO Bird, R2-D2 Egg, Mighty Millenium Falcon, Tusken Raider Pig, Stormtrooper Pig, Imperial Officer Pig, Tie-Fighter Pig, Death Star Trooper Pig, Grand Moff Tarkin Pig, Darth Vader Pig, Viper Probe Droid Pig, Snowtrooper Pig, AT-AT Walker Commander Pig, Mynock Pigs, Tie-Fighter Pilot Pig, Emperor Palpatine Pig, Boba Fett Pig, Qui-Gon Jinn Bird, Young Obi-Wan Kenobi Bird, Yoda Bird, Silver C-3PO Bird, Jar Jar Binks Bird, Anakin Skywalker Bird Podracer, Anakin Skywalker Bird Padawan, Padme Amidala Bird, Captain Panaka Bird, Mace Windu Bird, Jedi Youngling Birds, Kit Fisto Bird, Ewok Birds, Jango Fett Pig, General Grievous Pig, Anakin Skywalker Bird Sith Apprentice, Darth Sidious Pig, Battle Droid Pig, Darth Maul Pig, Count Dooku Pig, Zam Wesell Pig, Shocktrooper Pig, Luke Skywalker Bird Jedi, Luke Skywalker Bird Endor, Luke Skywalker Bird Pilot, Han Solo Bird Carbonite, Scout Trooper Pig, Shadowtrooper Pig, Red Battle Droid Pig, Ezra Bridger Bird, Kanan Jarrus Bird, Sabine Wren Bird, Garazeb "Zeb" Orrelios Bird, Hera Syndulla Bird, Chooper Egg, Inquisitor Pig, Chikatro Vizago Pig, Agent Kallus Pig, Imperial Officer Pig 2, AT-DP Pilot Pig, Vizago Droid Pig, Sebulba Pig, Nute Gunray Pig, Rune Haako Pig, Super Battle Droid Pig, Star Wars Rebels Enemies, Neimoidian Pig, Tie Fighter Vlture Droid Pig, Naboo Security Officers, Gungan Bird, Clone Tropper Pig, Nass Bird, Ki-Adi-Mundi Bird, Plio Koon Bird, FX-6 Pig, Reek Pig, Yoffar Bird - Angry Birds Star Wars, Angry Birds Star Wars 2
Optimus Prime Bird, Bumblebee Bird, Heatwave Bird, Ratchet Bird, Soundwave Pig, Soundblaster Pig, Blaster Bird, Ultra Magnus Bird, Galvatron Pig, Jazz Bird, Hound Bird, Lockdown Pig, Energon Lockdown Pig, Brawl Big, Ironhide Bird, Energon Starscream Pig, Thundercracker Pig, Skywarp Pig, Starscream Pig, Energon Grimlock Bird, Energon Soundwave Pig, Energon Galvatron Pig, Energon Optimus Prime Bird, Ultimate Megatron Pig, Ultimate Optimus Prime Bird, Goldbite Grimlock Bird, High Octane Bumblebee Bird, Bludgeon Pig, Sentinel Prime Bird, Grey Slam Grimlock Bird, Dark Megatron Pig, Arcee Bird, Airachnid Bird, Windblade Bird, Chromia Bird, Prowl Bird, Bluestreak Bird, Smokescreen Bird, Beachcomber Bird, Epic Optimus Prime Bird, Nemesis Prime Bird, Energon Bumblebee Bird, Classic Bumblebee Bird, Dead End Pig, Ricochet Bird, Drift Bird, Shockwave Pig, Acid Storm Pig, Sunstorm Pig, Trypticon Bird, Wheeljack Bird, Ultra Magnus Bird, Rodimus Bird, Moonracer Bird, Scorponok Pig, Barricade Pig, Motormaster Pig, Nemesis Hot Rod Bird, Sideswipe Bird, Red Alert Bird, Sunstreaker Bird, Mirage Bird, Energon Windblade Bird, Energon Shockwave Pig, Energon Nautica Bird, Energon Megatron Pig, Nautica Bird, Elita One Bird, Strongarm Bird, Novastar Bird, Alpha Trion Bird, Kup Bird, Breakdown Pig, Blurr Bird, Cliffjumper Bird, Nightbird Bird, Grapple Bird, Drag Strip Pig, Greenlight Bird, Warpath Bird, Devastator Pig, Superion Bird, Menasor Pig, Optimus Maximus Bird, Slipstream Bird, General Optimus Prime Bird, Lord Megatron Pig, Cosmos Bird, Ramjet Pig, Thrust Pig, Dirge Pig, Captain Starscream Pig, Specialist Ratchet Bird, Major Prowl Bird, Major Soundwave Pig, Volcanicus Bird, Omega Supreme Pig, Pigbots, Walking Mortar Towers, Sharktihogs, EggBots - Angry Birds Transformers
Dr. Pig, Piggy, Reaper Piggy, Paladin Pig, Magician Pig, Shaman Pig, Pirate Pig, Crab Pig, Super Crab Pig, Sazae Pig, Super Sazae Pig, Angler Pig, Super Angler Pig, Kaiju Pig, Super Kaiju Pig, Turtle Pig, Super Turtle Pig, Mecha Pig, Super Mecha Pig, Squid Pig, Super Squid Pig, Walrus Pig, Super Walrus Pig, Shark Pig, Super Shark Pig, Frog Pig, Super Frog Pig, Clam Pig, Super Clam Pig, Halloween Pig, Purple Halloween Pig, Scorpion Pig, Kaiju Family (Papa Kaiju Pig, Mama Kaiju Pig, Girl Kaiju Pig, Kid Kaiju Pig), Santa Pig, Super Santa Pig, Seastar Pig, Super Seastar Pig, Boulder Pig, Super Boulder Pig, Dragon Pig, Super Dragon Pig, Love Pig, Extra Love Pig, Aqua Pig, Super Aqua Pig, Sazae Family (Papa Sazae Pig, Mama Sazae Pig, Girl Sazae Pig, Kid Sazae Pig), Sakura Pig, Penguin Pig, Tree Pig, Rock 'N' Roll Pig, Yeti Pig, Baseball Pig, Frankenstein Pig, Super Frankenstein Pig, Cactus Pig, Reindeer Pig - Angry Birds Fight!
Bee Critters - Angry Birds POP!
Mighty Philadelphia Eagle - Angry Birds Philadelphia Eagles
The Hunter, Santa Bomb, Hockey Bird, Freddie Mercury, Danny Devito Bird, Sonam Kapoor Bird, Matt Damon Bird, Ian Somerhalder Bird, Don Cheadle Bird, VIXX, Shakira, Zombie Pigs, Green Day Pigs, El Porker, Sea Monster Pig, Werepigs, Grouchy Pig, Dragon Pig, Genie Pig, Fungi Pig, Donut Pig, Rampig, Pigtoking, T-Bone Pig, Trapped Pig, Spirit Pig, Golden Cupig, Hulk Pig, Beast Pig, Santa Pig, Golden Pig Statue, Leprechaun Pig, Mario Pig, Bulky Pig - Angry Birds Friends
Knight Red, Mage Chuck, Cleric Matilda, Pirate Bomb, Tricksters The Blues, Stick Pig, Golden Pig, Big Boss, Foreman, Pyropig, Lightning Pig, Nature Pig, Frostpig, Necromancer, Black Ninja, Guard Captain, Brute, Forest Pigmies, Pigmy Shooters, Ice Pigmies, Prince Porky, Wizpig - Angry Birds Epic
Ayrton Senna, Mechanic Pig - Angry Birds Go!
Major Lazer, Ancient Pigs - Bad Piggies
Chef Pig, Professor Pig, Cave Pig, Chronicler Pig, Tenor Pig, Piggy McCool, Toy Dog - Angry Birds Toons
Olivia Blue, Greg Blue - Angry Birds Blues
Pig and others - Piggy Tales
Red, Chuck, Bomb, Matilda, Stella and others - Angry Birds on the Run
Bo, Dezzy - Bo on the Go
Shovel Knight, Shield Knight, Black Knight, Plague Knight, King Knight, Spectre Knight - Shovel Knight
Abomination, Arablest, Bounty Hunter, Crusader, Grave Robber, Hellion, Highwayman, Houndmaster, Jester, Leper, Man-at-Arms, Occultist, Plague Doctor, Vestal - Darkest Dungeon
Charlie Chalk, Louis T Duck, Arnold The Elephant, Captain Mildred, Trader Jones and others - Charlie Chalk
Alistar, Annie, Ashe, Fiddlesticks, Jax, Kayle, Master Yi, Morgana, Nunu, Ryze, Sion, Sivir, Soraka, Teemo, Tristana, Twisted Fate, Warwick, Singed, Zilean, Evelynn, Twitch, Tryndamere, Karthus, Amumu, Cho'Gath, Anivia, Rammus, Veigar, Kassadin, Gangplank, Taric, Malphite, Janna, Blitzcrank, Dr. Mundo, Katarina, Corki, Nassus, Heimerdinger, Shaco, Udyr, Nidalee, Poppy, Gragas, Pantheon, Mordekaizer, Ezreal, Shen, Kennen, Garen, Akali, Malzahar, Olaf, Kog'Maw, Xin Zhao, Vladimir, Galio, Urgot, Miss Fortune, Sona, Swain, Lux, LeBlanc, Irelia, Trundle, Cassiopeia, Caitlyn, Renekton, Karma, Maokai, Jarvan IV, Nocturne, Lee Sin, Brand, Rumble, Vain, Orianna, Yorick, Leona, Wukong, Skarner, Talon, Riven, Xerath, Graves, Shyvana, Fizz, Volibear, Ahri, Viktor, Sejuani, Ziggs, Nautilus, Fiora, Lulu, Hecarim, Varus, Darius, Draven, Jayce, Zyra, Diana, Rengar, Syndra, Kha'Zix, Elize, Zed, Nami, Vi, Tresh, Quinn, Zac, Lissandra, Aatrox, Lucian, Jinx, Yasuo, Vel'Koz, Braum, Gnar, Azir, Kalista, Rek'Sai, Bard, Ekko, Tahm Kench, Kindred, Illaoi, Jihn, Aurelion Sol, Taliyah, Kled, Ivern, Camille, Rakan, Xayah, Kayn, Ornn, Zoe, Kai'Sa, Pyke, Neeko, Sylas, Yuumi, Qiyana, Senna, Aphelios, Sett, Lillia, Yone - League of Legends
Akai, Alice, Alucard, Balmond, Bane, Bruno, Clint, Eudora, Fanny, Franco, Karina, Layla, Lolita, Minotaur, Miya, Nana, Rafaela, Saber, Tigreal, Zilong, Hayabusa, Freya, Gord, Natalia, Kagura, Chou, Sun, Alpha, Ruby, Yi Sun Shin, Moskov, Johnson, Cyclops, Estes, Hilda, Aurora, Lapu Lapu, Vexana, Roger, Karrie, Gatot Kaca, Harley, Irithel, Grock, Argus, Odette, Lancelot, Diggie, Hylos, Zhask, Helcurt, Pharsa, Lesley, Jawhead, Angela, Gusion, Valir, Martis, Hanabi, Uranus, Chang'e, Kaja, Selena, Aldous, Claude and Dexter, Belerick, Lunox, Thamuz, Leomord, Kimmy, Harith, Minsitthar, Hanzo, Kadita, Badang, Vale, Guinevere, Khufra, Esmeralda, Granger, Faramis, Terizla, Dyrroth, Lylia, X.Borg, Masha, Baxia, Ling, Wanwan, Silvanna, Carmilla and Cecilion, Atlas, Popol and Kupa, Luo Yi, Yu Zhong, Khaleed - Mobile Legends
Kaos, Bash, Boomer, Camo, Chop Chop, Cynder, Dino Rang, Double Trouble, Drill Sergeant, Drobot, Eruptor, Flameslinger, Ghost Roaster, Gill Grunt, Hex, Ignitor, Lightning Rock, Prism Break, Slam Bam, Sonic Boom, Stealth Elf, Stump Smash, Sunburn, Terrafin, Trigger Happy, Voodood, Warnado, Wham-Shell, Whirlwind, Wrecking Ball, Zap, Zook, Boomer, Crusher, Eye-Brawl, Hothead, Ninjini, Swarm, Thumpback, Tree Tex, Chill, Flashwing, Fright Rider, Hot Dog, Jet-Vac, Pop Fizz, Shroomboom, Sprocket, Blast Zone, Boom Jet, Doom Stone, Fire Kraken, Free Ranger, Freeze Blade, Grilla Drilla, Hoot Loop, Magna Charge, Nightshift, Rattle Shake, Rubble Rouser, Spy Rise, Stink Bomb, Trap Shadow, Wash Buckler, Bumble Blast, Count Down, Dune Bug, Fryno, Grim Creeper, Pop Thorn, Punk Shock, Rip Tide, Roller Brawl, Scorp, Scratch, Slobber Tooth, Smolderdash, Star Strike, Wind-Up, Zoo Lou, Blastermind, Bushwhack, Enigma, Gearshift, Gusto, Head Rush, Jawbreaker, Ka-Boom, Knight Light, Knight Mare, Krypt King, Lob-Star, Short Cut, Snap Shot, Thunderbolt, Tuff Luck, Wallop, Wildfire, Bat Spin, Blackout, Blades, Chopper, Cobra Cadabra, Deja Vu, Echo, Fist Bump, Fling Kong, Flip Wreck, Food Fight, Funny Bone, High Five, Rocky Roll, Spotlight, Torch, Trail Blazer, Tread Head, Astroblast, Dive Clops, Fiesta, Hammer Slam Bowser, High Volt, Nightfall, Smash Hit, Spitfire, Splat, Stormblade, Thrillipede, Turbo Charge Donkey Kong, Air Strike, Ambush, Aurora, Barbella, Boom Bloom, Buckshot, Chain Reaction, Chopscotch, Ember, Flare Wolf, King Pen, Mysticat, Pit Boss, Ro-Bow, Starcast, Tidepool, Tri-Tip, Wild Storm, Bad Juju, Blaster-Tron, Chompy Mage, Dr. Krankcase, Golden Queen, Grave Clobber, Hood Sickle, Pain-Yatta, Tae Kwon Crow, Wolfgang and others - Skylanders
Arthur, Butterfly, Valhein - Arena of Valor
Barbarian, Archer, Giant, Goblin, Wall Breaker, Balloon, Wizard, Healer, Dragon, PEKKA, Baby Dragon, Miner, Yeti, Minion, Hog Rider, Valkyrie, Golem, Witch, Lava Hound, Bowler, Headhunter, Cannon Cart, King - Clash
Om Nom - Cut the Rope
Jake, Tricky and Fresh - Subway Surfers
Tiffi and others - Candy Crush Saga
Sukapon, Flame, Tiger, Neo, Senju, Sasuke, Eye, Giant - Joy Mecha Fight
Arle, Satan, Rulue, Schezo, Carbuncle, Suketoudara, Draco, Witch, Amitie, Raffina, Sig, Feli, Klug, Lemres, Accord, Rider, Yu and Rei, Onion Pixy, Dongurigaeru, Ocean Prince, Ringo, Maguro, Risikuma, Ecolo and others - Puyo Puyo
Monokuma, Makoto, Kyoko, Byakuya, Toko, Aoi, Yasuhiro, Sayaka, Leon, Chihiro, Mondo, Kiyotaka, Hifumi, Celestia, Sakura, Junko, Mukuro, Hajime, Chiaki, Nagito, Fuyuhiko, Akane, Sonia, Kazuichi, Ultimate Imposter, Teruteru, Mahiru, Peko, Ibuki, Hiyoko, Mikan, Nekomaru, Gundham, Shuichi, Kaede, K1-B0, Maki, Himiko, Rantaro, Ryoma, Kirumi, Angie, Tenko, Korekiyo, Miu, Gonta, Kokichi, Kaito, Tsumugi - Danganronpa
Ristar, Kaiser Greedy and others - Ristar
Bubbles - Clu Clu Land
Barry Steakfries - Jetpack Joyride
Sheriff and others - Sheriff
Buddy - Kick the Buddy
Robin and others - Bowmasters
Tattletail, Mama Tattletail - Tattletail
Mr. Bullet and Mrs. Bullette - Mr. Bullet
Strawberry Clock
Kibapon - Patapon
Ty the Tasmanian Tiger
Oto and the Music
Trotro
Moy
Q*bert
Pou
Toro Inoue - Sony
Jersey Devil
Theodore Tugboat
Fireboy and Watergirl
Love Balls
Kururin - Kuru Kuru Kururin
Chibi-Robo, General Greenthumb, Drake Redcast, Sarge - Chibi-Robo
Starfy, Starly, Ogura, Bunston, Mermaid, Old Man Lobber, The Terrible Trio, Mashtooth, Mattel, Petite Ogura - The Legendary Starfy
Don-chan - Taiko no Tatsujin
Alpha - Cubivore
Geolyte - Meteos
Doodle - Doodle Jump
The Neighbor - Hello Neighbor
Sensei - Fruit Ninja
Cube - Geometry Dash
Agar, Diep, Slither and others - io
Hanenbow - Electroplankton
Galaxip and Galaga - Galaxian
Snake, Kaz, Paz and others - Metal Gear Solid series
Oliver Hartman-Wong, Mya Hartman-Wong, Jorge, Octavian, Amelia Earhart, and others - Poptropica
PaRappa, Lammy and others - PaRappa the Rapper
GingerBrave and others - Cookie Run: OvenBreak
Sackboy and others - LittleBigPlanet
Scratch Cat, Giga, Godo, Nano, Pico, Tera - Scratch
Bendy, Alice Angel, Boris the Wolf and others - Bendy and the Ink Machine
Fancy Pants - The Fancy Pants Adventures
Meat Boy - Super Meat Boy
Red Knight, Green Knight, Yellow Knight, Blue Knight, Pink Knight - Castle Crashers
Hank J. Wimbleton, Sanford, Deimos, Jesus Christ, Tricky the Clown, Auditor, Sheriff, Hot Dog Vendor and others - Madness Combat Series
Matt, Natalie, Lance, Anna, NoLegs, Various Foes - Epic Battle Fantasy Series
Deus, Nefus, Aurelia, Parsival, Cortesia, Nature Dragon, Terra Dragon, Flame Dragon, Ice Dragon, Electric Dragon, Sea Dragon, Metal Dragon, Dark Dragon, Archangel Dragon, Poseidon Dragon, War Dragon, Firebird Dragon, Mercury Dragon, Lantern Fish Dragon, Tropical Dragon, Zombie Dragon, Petroleum Dragon, Dandelion Dragon, Jade Dragon, Star Dragon, Flaming Rock Dragon, Cloud Dragon, Laser Dragon, Mud Dragon, Nenufar Dragon, Hedgehog Dragon, Icecube Dragon, Neon Dragon, Pearl Dragon, Medieval Dragon, Penguin Dragon, Carnivore Plant Dragon, Fluorescent Dragon, Battery Dragon, Vampire Dragon, Alpine Dragon, Poo Dragon, Volcano Dragon, Blizzard Dragon, Rattlesnake Dragon, Gold Dragon, Platinum Dragon, Pirate Dragon, Coral Dragon, Spicy Dragon, Waterfall Dragon, Cactus Dragon, Storm Dragon, Ice Cream Dragon, Mojito Dragon, Chameleon Dragon, Hot Metal Dragon, Snowflake Dragon, Seashell Dragon, Moose Dragon, Dragonfly Dragon, Venom Dragon, Steampunk Dragon, Dark Fire Dragon, Butterfly Dragon, Robot Dragon, Paladin Dragon, Fossil Dragon, Seahorse Dragon, Sky Dragon, Bat Dragon, Aztec Dragon, Chinese Dragon, King Dragon, Wizard Dragon, Two Headed Dragon, Plankton Dragon, Uncle Sam Dragon, Evil Pumpkin Dragon, Viking Dragon, Jelly Dragon, Quetzal Dragon, Queen Dragon, Thanksgiving Dragon, Santa Dragon, Ghost Dragon, Deep Forest Dragon, Ninja Dragon, Aurora Dragon, Music Dragon, Block Dragon, Alien Dragon, Great White Dragon, Pharaoh Dragon, Paradise Dragon, Octopus Dragon, Jellyfish Dragon, Carnival Dragon, T-Rex Dragon, Brontosaurus Dragon, Hydra Dragon, Mars Dragon, Prisma Dragon, Centipede Dragon, Emerald Dragon, Ruby Dragon, Angry Dragon, Lava Dragon, Joker Dragon, Chainmail Dragon, Sphynx Dragon, Mummy Dragon, Diamond Dragon, Demon Dragon, Gargoyle Dragon, Deep Red Dragon, Blue Dragon, Lightning Dragon, Wurm Dragon, Cerberus Dragon, Burning Dragon, Granite Dragon, Bone Dragon, Wyvern Dragon, Predator Dragon, Hades Dragon, Atla Dragon, Monstruous Dragon, Moon Dragon, Toxic Dragon, Obsidian Dragon, Meteor Dragon, Hammer Dragon, Tribal Dragon, Origami Dragon, Black Knight Dragon, Thief Dragon, Deus Pet Dragon, Specter Dragon, Crossfire Dragon, Frozen Wind Dragon, Aztec Warrior Dragon, Aztec Priest Dragon, Elements Dragon, Amethyst Dragon, Columbus Dragon, Bavarian Dragon, Frankie Dragon, Halloween Dragon, Quartz Dragon, Kryptonite Dragon, Blind Dragon, Hypno Dragon, Cat Dragon, Scrooge Dragon, Clover Dragon, Chobby Dragon, Cookie Dragon, Snow Man Dragon, Xmas Elf Dragon, Rockfeller Dragon, Poker Dragon, Cosmo Dragon, Animation Dragon, Hearts Queen Dragon, Big Hat Dragon, Twister Dragon, Martial Arts Dragon, Oni Dragon, Juggler Dragon, Double Terra Dragon, Double Nature Dragon, Double Flame Dragon, Double Electric Dragon, Double Ice Dragon, Double Metal Dragon, Double Sea Dragon, Zodiac Taurus Dragon, Anniversary Dragon, Acoustic Dragon, Unity Dragon, Cheshire Cat Dragon, Zodiac Gemini Dragon, Joseon Dragon, Desert Dragon, Manglar Dragon, Sunset Dragon, Zodiac Cancer Dragon, Ranoldo Dragon, Independence Day Dragon, Rapunzel Dragon, Surf Dragon, Mozart Dragon, Gold Rush Dragon, Apache Dragon, Sheriff Dragon, Aquamarine Dragon, Detective Dragon, Longhorn Dragon, Sad Dragon, Ancient Dragon, Zodiac Sagittarius Dragon, Mistletoe Dragon, Frost Dragon, Ace Dragon, Venetian Dragon, Big Claws Dragon, Rockstar Dragon, Mould Dragon, Eggster Dragon, Hansel & Gretel Dragon, Box Dragon, Amber Dragon, Secret Fire Dragon, The Amazing Dragon, Prophet Dragon, Flawless Dragon, Balloon Dragon, Dreamcatcher Dragon, Bride Dragon, Gurgle Dragon, Naughty Dragon, Underworld Dragon, Red Rose Dragon, Mermaid Dragon, Illusion Dragon, Chakra Dragon, BigFace Dragon, Spark Dragon, Chrome Dragon, Iceberg Dragon, Fairy Dragon, Anubis Dragon, Voodoo Witcher Dragon, Dainty Dragon, Mana Dragon, Dainty Dragon, Amazone Dragon, Nazca Dragon, Ifrit Dragon, Heat Dragon, Frostbite Dragon, Energy Dragon, Pyre Dragon, La Muerta Dragon, Bonfire Dragon, Snail Dragon, Bark Dragon, Firewolf Dragon, Nightmare Dragon, Sunrise Dragon, Otoroshi Dragon, Padron Dragon, Deep Sea Dragon, Sustainable Dragon, Super Flame Dragon, Tiamat Dragon, Aries Dragon, Choleric Dragon, Tiger Dragon, Gummy Dragon, Armadillo Dragon, Cool Fire Dragon, Soccer Dragon, Ice&Fire Dragon, Special Cool Fire Dragon, Love Dragon, Dujur Dragon, St Patrick's Dragon, Glacial Dragon, Treasure Dragon, Leviathan Dragon, Eclipse Dragon, Giant Wings Dragon, King Solomon Dragon, Midas Dragon, Fallen Angel Dragon, Master Dragon, Steam Dragon, Howl Dragon, Magnet Dragon, Quake Dragon, Apocalypse Dragon, Millenium Dragon, Forge Dragon, Promethium Dragon, Abyss Dragon, Mirage Dragon, Supersonic Dragon, Space Dragon, Greenfluid Dragon, Pterodactyl Dragon, Kaiju Dragon, Troglodyte Dragon, Speed Dragon, Stressed Dragon, Korean Soccer Dragon, Hawaiian Dragon, Little Red Riding Hood Dragon, Necro Dragon, Brave Sword Dragon, Mystic Blizzard Dragon, Zodiac Pisces Dragon, Jamaican Dragon, Dark Jaws Dragon, Clay Dragon, Aqualung Dragon, Equinox Dragon, Twin Dragon, Adamantium Dragon, Shakespeare Dragon, Cyclops Dragon, Rockfire Dragon, Infamous Dragon, Titan Dragon, Firefighter Dragon, Motherly Dragon, Rorschach Dragon, Black Swan Dragon, Soldier Dragon, Fur Dragon, Supernova Dragon, Mace Dragon, Car Dragon, Faust Dragon, Nisse Dragon, Handy Dragon, Soul Eater Dragon, Heroic Dragon, Boreal Dragon, Never Grow Dragon, Yôkai Dragon, Crest Dragon, Mantis Dragon, Old General Dragon, Candy Boot, Wisp Dragon, Yeti Dragon, Solstice Dragon, Lady Dragon, Believer Dragon, Third Birthday Dragon, Super Nature Dragon, Squid Dragon, Dark Pearl Dragon, Joke Dragon, Intraterrestrial Dragon, Panther Dragon, Dark Sky Dragon, High Nucleus Dragon, Justice Dragon, Sun Dragon, Gaia Dragon, Luminsicent Dragon, Rainbow Dragon, Tiny Dragon, Photon Dragon, White Knight Dragon, Aztec Emperor Dragon, Peace Dragon, Middle Earth Dragon, Chimera Dragon, Heart Dragon, Cold Star Dragon, Lightbeam Dragon, Earth Day Dragon, Dolphin Dragon, Easter Dragon, Mother's Day Dragon, Saturn Dragon, Ney Dragon, Father's Day Dragon, Adventure Dragon, Zodiac Leo Dragon, Genie Dragon, Albino Dragon, Zodiac Virgo Dragon, Astronaut Dragon, Zodiac Libra Dragon, Allure Dragon, Zodiac Scorpio Dragon, Rudolph Dragon, Christreen Dragon, Sensei Dragon, Felidae Dragon, Mardi Gras Dragon, Samba Dragon, Seafloor Dragon, Celtic Dragon, Gingerbread Dragon, Graduation Dragon, Patriot Dragon, Forestry Dragon, Wave Dragon, Bastark Dragon, Mother Dragon, Chicken Dragon, Sheep Dragon, Cow Dragon, Pig Dragon, Sakura Dragon, Petal Dragon, Barley Dragon, Force Dragon, Homerun Dragon, Wonder Dragon, Sand Dragon, Doctor Dragon, The Good Dragon, WinterPhoenix Dragon, Red Asian Dragon, Enigmatical Dragon, Glitter Dragon, Sunlight Dragon, Juggernaut Dragon, Colossal Dragon, Red Woods Dragon, Panzer Dragon, Thor Dragon, Loki Dragon, Odin Dragon, Tesla Dragon, Wrestler Dragon, Dark Elf Dragon, Sylvan Dragon, Elfic Dragon, Nightwind Dragon, Dark Stone Dragon, Shogun Dragon, Strong Dragon, Pelusa Dragon, Orange Dragon, Necromancer Dragon, Sorcerer Dragon, Cyborg Dragon, Shaolin Dragon, Nocturnal Dragon, Mystic Tribe Dragon, Zodiac Aquarius Dragon, Mystic War Dragon, Zodiac Capricorn Dragon, Citadel Dragon, Godfather Dragon, Touchdown Dragon, Rem Dragon, Depth Dragon, Chocolate Dragon, Beholder Dragon, Orc Dragon, Fervour Dragon, Golden Hand Dragon, Motorbike Dragon, Kooky Dragon, Iron Dragon, DéjàVu Dragon, Spartan Dragon, Sky Queen Dragon, Bushido Dragon, Water Storm Dragon, Super Bowl Dragon, Captain Dragon, Ard Rí Dragon, Firefrog Dragon, Pure Terra Dragon, Pure Flame Dragon, Pure Sea Dragon, Pure Nature Dragon, Pure Electric Dragon, Pure Ice Dragon, Pure Dark Dragon, Pure Dragon, Ivory Dragon, Blue Fire Dragon, Kratus Dragon, Zen Dragon, Core Dragon, Bookday Dragon, Basilisk Dragon, O Rei Dragon, Pulga Dragon, Inesta Dragon, Zizou Dragon, Ukulele Dragon, Da Vinci Dragon, Scientific Dragon, Hellgate Dragon, Sleeping Beauty Dragon, Mystic Plant Dragon, Explosive Dragon, Krait Dragon, Golem Dragon, Ragnor Dragon, Dark Angel Dragon, Red Egg Dragon, Spiky Dragon, Bunny Dragon, Blue Alien Dragon, Gravity Dragon, Void Dragon, Amerindian Dragon, Voltage Dragon, Wolfreeze Dragon, Asian Dragon, Umbrella Dragon, Leaf Dragon, Super Terra Dragon, Macha Dragon, Kraken Dragon, Highborn Dragon, Nessy Dragon, Magma Dragon, FrozeBeast Dragon, Ozone Dragon, High Fenrir Dragon, Reaper Dragon, Bear Dragon, Legendary Dragon, Crystal Dragon, Wind Dragon, Mirror Dragon, Nirobi, Droconos, Robin Hood Dragon, Atlantean Dragon, Dragotron Dragon, Molluck Dragon, Cruel Dragon, Hope Dragon, Impassible Dragon, Sap Dragon, Imp Dragon, Immortal Dragon, Dark Lord Dragon, Obscure Dragon, Sackman Dragon, Jason Dragon, Bohemian Dragon, Dual Dragon, Demigod Dragon, Turkey Dragon, Rocket Dragon, Fate Dragon, Grinchy Dragon, Avalon Dragon, Ignition Dragon, Meditation Dragon, Nobunaga Dragon, Wrecking Dragon, Forest Lord Dragon, Symbiotic Dragon, Super Star Dragon, Snake Dragon - Dragon City
Dart Monkey, Tack Shooter, Ice Monkey, Monkey Ace, Boomerang Monkey, Glue Gunner, Sniper Monkey, Mortar Monkey, Bomb Tower, Monkey Sub, Monkey Buccaneer, Heli Pilot, Druid, Ninja Monkey, Wizard Monkey, Alchemist, Spike Factory, Engineer Monkey, Super Monkey, Banana Farm, Monkey Village, Bloonchipper, Dartling Gun, Adora, Ezili, Pat Fusty, COBRA, Gwendolin, Captain Churchill, Benjamin, Quincy, Striker Jones, Obyn Greenfoot, Banana Farmer, Admiral Brickell, Various Bloons - Bloons Tower Defense
Peely, Jonesy, Tomato Head, Storm King, Omen, Bunker Jonesy and others - Fortnite
Kisha, CJ, Pierre, Hopsalot, Frankie, Eleanor and others - Jumpstart
Red Ball, Red Ball Girl, Grape Ball, Soccer Ball, Basket Ball, Orange Ball, Tomato Ball, Roll Box, Tazan Box, Ninja Box, Bomb Box, Ailen Box, Boom Box, Ailen Boss, Rock Boss, Ninja Boss, Megabomb Boss, Roblox Boss - Red Ball series
Mario, Luigi, Peach, Toad, Link and others - Super Mario Bros. X
Sash Lilac, Coral Tea, Milla Basset, Commander Torque, Spade, Neera Li, General Gong, Royal Magister, Mayor Zao, Bird Guard, Pangu, Arktivus Brevon, General Serpentine, Prince Dail, Syntax, King of Shuigang, Rogue Warrior, Dragon Scientist, Mr. Stumpy, Soldiers and others - Freedom Planet
Piggy, Georgie Piggy, Mr. P and others - Piggy
Blue Ball, Bowtie, Glowstick, Glass Shard, Alarm Clock, Lava Cup, Bowling Ball, Coconut, Gamey Pocket, Poutine, Teacup, Ice Cream, Graduation Cap, Fishbowl, Beatbox, 3D Starfy, Brown Ball, Cakepop, Cough Drop, Discoy, Faita, Flower Mirror, Guitar Pick, Joke Book, One-Eyed Cake Pop, Outlet, Peppermint, Rafty, Scribble, Semi-Quaver, Spear, Spring, Boba Tea, Air Conditioner, Pudding, Kazoo, Cactus, Gift Card, Macey, MePod, Crepe, Clover, Colex, Microchip, Cookie, Deadly Nightshade, Pushpop, Wrench, Watercolor, Mei, Building Blocks Glued Together, Greenteany, Hot Sauce, Strawberri, Card2, Pumpkin Spice Latte, Warp Star, Fairy Ball, Peral, Vanilla Fizzle, Shovel, Alex, Pan Pan, Aluminum Foil, Boxlyn, Clipboard, Crystal, Flyro, Haunted Candle, Kittypop, Macaroni, Milk Carton, Top Hat, Twin Bell, Water Bottle, Cell Tower, Cube Cube, Error Windows, Heart, Squishy White Pumpkin, Lego Troc 5, Honey, Collar, Chicken Noodle Soup, Briefcasey, Stickle, Paint Bucket, Mattress, Rubber Duckie, Gross Burger, Mecha Whatever Badge, Chrys, Flash, King Camera, Taffy, One Eyed Chocolate, Hydro Flask, Leek, Scuba Helmet, Scarf, Chef Hat, Color Cop, Lego Head, Airpod Case, Wreath, Motherboard, Potato Clock, Red Stack, Tome Book, Magic Scroll, Gingerbread House, Berry Cake, Bookmark, White Tomato, Emo Waffle, Q, Dino, Plant, Battery, Carrot, Glitch and others - Object Whatever
Funella, Furgus, Phoebe, Isabel, Hravey P. Dull, Gonger, Colonel, Sorbet, Ethel, Berry, Lulu Lemon and others - The Furchester Hotel
Tom Sawyer, Sid Sawyer, Aunt Polly, Mary Sawyer and others - The Adventures of Tom Sawyer
Todd, Benny, Pickle, Stella, Sophie, and Mitzi - Toddworld
Nemo, Princess Camille, Flip, Professor Genius, Icarus, King Morpheus, The Boomps, and others - Little Nemo Adventures in Slumberland
Sophiana, Paul Rocco/Jacque, Dart, Buster, Charlee, the Selves, Miss Dowdy, Santa Claus, Victoria/Mrs. Claus, Various Elves - Christmas is Here Again
Aquarius, Pisces, Aries, Taurus, Gemini, Cancer, Leo, Virgo, Libra, Scorpio, Sagittarius and Capricorn - AstroLOLogy
Impy, Ping, Monty, Baba, Peg, Solomon Professor and Tim - Impy's Island
Pororo, Crong, Poby, Eddy, Loopy, Petty, Harry, Rody, Tong-Tong, Popo, Pipi, Nyao, Tu-tu and others - Pororo the Little Penguin
Tayo, Rogi, Lani, Gani, Peanut, Trammy, Skii, Hana, Citu, Heart, Nuri, Rookie, Pat, Speed, Shine, Toto, Air, Bong Bong, Oli, Keri, Champ, Cooku, Toni, Alice, Frank, Big, Billy, Poco, Chris, Max, Met, Nana, Wondie, Ractor, Rubby, Iracha, Bubba, Ms. Teach, Kinder, Duri, Jay, Joy, Andy, Lolly, Titipo, Teo, Mr. Herb, Genie, Diesel, Xingxing, Eric, Loco, Fix, Lift, Tony, Craney, Boom-Boom, Manny, Berny, Setter, Steam, Danny, Jenny, The Ghost Train - Tayo the Little Bus, Titipo Titipo
Poli, Amber, Roy, Helly, Jin, Carry, Mark, Bucky, Kevin, Susie, Sally, Bob, Doug, Jenny, Cindy the pizza delivery girl, Peter, Lucy, Robert, Sarah, Buddy, Johnny, Ralph, Cindy, Monica, Charles, Tommy, Truck-X, Poacher, Human Kidnapper, Annie, Benny, Betty, Bruner, Bruny, Camp, Cap, Cici, Cleany, Dumpoo, Jessie, Lefy, Leky, Lety, Lifty, Marine, Mary, Max, Mickey, Mini, Mr. Builder, Mr. Wheeler, Ms. Belle, Musty, Poke, Posty, Rody, Ryan, Sam, SchoolB, Spooky, Stacey, Terry, Tim, Titan, Toby, Tracky, Trino, Whooper - Robocar Poli
Roary the Racing Car, Big Chris, Marsha, Mr Carburettor, Rusty, Flash, Farmer Green and others - Roary the Racing Car
Theo, Lena, Ben, Nina, Alex Grand, Murdock, Nose, Nexus, The Gugas, Guardian Purple and others - Nutri Ventures – The Quest for the 7 Kingdoms
SlyCat, Freddy, FooFoo, Caesar, Horatio and Sammy - The KneeBouncers Show
The Baby Einstein Puppets
The Happos Family
Zuzu, Brigadeiro, Laricão, Pipoca, Suspiro, Garfídea, Fast, Maria Mole, Rei Apetite, Sushiroco and others - Zuzubalândia (animação)
Nate, Malika and others - Nate is Late
Boy, Girl, Dog, Cat, Mouse, Cheese - Boy Girl Dog Cat Mouse Cheese (TV series 2019)
Gui, Estopa, Cróquete Spaniel, Piti, Dona Iguilda and others - As Aventuras de Gui & Estopa
Bobby, Lola, Juliette, Ms. Berry, Various Bees - Berry Bees (TV Series)
B1, B2, Amy, Lulu, Morgan, Rat in a Hat and others - Bananas in Pyjamas (Animated series)
Wilson, Brewster, Koko, Hoot, Piper, Hodge, Zephie, Old Puffer Pete, Olwin, Irving, Calley, Emery, Chatsworth, Mtambo, Frostini, Action Chugger, Speedy McAllister, Skylar, Decka, Jackman, Asher, Zack, Tyne, Fletch, Hanzo, Cormac, Payce, Daley, Skipper Stu, Hamish, Harry, Russ, Tai, Rosa, Vee and others - Chuggington
Bruno, Green Crocodile, Pink Cow, Big Elephant, Green Frog, Blue Bunny, Purple Penguin, Little Bird, Yellow Duck - Bruno and the Banana Bunch
Charlie, Lola and others - Charlie and Lola
Julius Jr., Clancy, Sheree, Worry Bear, Ping, Alexander Graham Doorbell, Tool Box-a-Lot, Chachi - Julius Jr.
Júlio, Alípio, Lilica, Lola, Zazá, Caco, Mimosa, Oriba, Astolfo, Dito e Feito, Vô e Vó, Toquinho, Pato Torquato, Pata Vina, Sapo Martelo, João, Dona Diva - Cocoricó
Noah, Bethany, ARI - The Adventures of A.R.I.: My Robot Friend
Dudley Squat, Irwin Chang-Stein, Becky Hooger, Stan Grissle - Nerds and Monsters
Oswaldo, Léia, Tobias, Janjão, Maurinha, Paulo Augusto, Sandra, Vivian, Geovan, Janete, Dimitri, Medeiros, Alberto, Ian - Oswaldo (TV Series)
Ninjin, Akai, Flink, Sensei - Ninjin (TV Series)
Cupcake, Dino - Cupcake & Dino: General Services (TV Series)
Anittinha, Marshmelle, Estreller, Juju Coral, Gatrick, Rosticha, Renuvem, Mauro Mar - Clube da Anittinha
Vinícius e Tom - Vinicius e Tom: Divertidos por Natureza (A série da TV)
Lupi e Baduki - Lupi and Baduki (TV Series)
Bean - Bada Bean (TV Series)
Mônica, Cebolinha, Cascão, Magali, Chico Bento - Turma da Mônica (A TV da série)
Lucas, Lili, Pedro, Koda, Suki, Tia Rosa - Escola pra Cachorro
Rex, Unicorn, Komodo, Sasquatch, Mouse, Island Owl, others - Animal Mechanicals
Doki, Mundi, Oto, Anabella, Fico, Gabi - Doki (animação)
Jim, Rover, Ripple, Eco, TED, Pixel, Daisy, Delores, Skye, Yik Yak, Zippity - Lunar Jim
Uma, Dois, Três, Quatro, Cinco, Seis, Sete, Mãe - Os Sete Monstrinhos
Iris, Auriana, Talia and others - LoliRock
Simão, Bartolomeu - Simão e Bartolomeu
Rosy Bumps 'N' Bruises, Spot Splatter Splash, Jewel Sparkles, Storm E. Sky, Crumbs Sugar Cookie, Dot Starlight and others - We're Lalaloopsy
Rachel, Leah, Alex, Aaron - Signing Time!
Wilbur the Calf, Dasha the Duck, Ray the Rooster and Libby the Lamb - Wilbur
Pinky Dinky Doo, Tyler Dinky Doo, Mr. Guinea Pig and others - Pinky Dinky Doo
Gajah, Duda, Rainha Cupim, Capitão, Júnior, Mestre Urubu - Tromba Trem
Toot, Puddle, Opal, Tulip, Otto, Desmond, Lilly, others - Toot & Puddle
Cacupé, Sócrates, Guri, Joaquina, Floriano, Hermano, Ju e Rerê, Dani - Papaya Bull
Leo, Cleo, Fresco de Gecko, Queen Conformia, Krank and Skelly - Pirates: Adventures in Art
Rob, Ema, TK, Orbit - Rob the Robot
Justin, Olive, Squidgy and others - Justin Time
Chuck, Rowdy, Handy, Digger, Biggs, Boomer, Flip, Haulie, Porter, Soku, Rally, Chassie, Various Trucks - The Adventures of Chuck and Friends
Boof, Patches, Lulla, and Ellie - Suzy's Zoo
Moranguinho, Laranjinha, Gotinha de Limão, Amora Linda, Cachinho de Framboesa, Ameixinha, Cerejinha, Mirtilo, Uvinha, Azedinha, Maçãzinha - Moranguinho: Aventuras em Tutti Frutti
Angelina Jeanette Mouseling, Alice Bridgette Nimbletoes, Marco Fernando Quesillo, Gracie, Viki, AZ, Ms. Mimi, Mr. Maurice Mouseling, Mrs. Matilda Mouseling, Polly Anne Mouseling and others - Angelina Ballerina, Angelina Ballerina: The Next Steps
Tyrone Tiger, Marvin Monkey, Geraldine Giraffe, Lester Lion, Penny Parrot, Sebastian Snake, Henrietta Hippo, Ethel Elephant, Zoe Zebra, Albert Alligator, Graham Gorilla, Ms. Hippo, Firefly - Junglies
Milly, Molly and others - Milly and Molly
Fleeker, Bloomer, Flo and others - Floogals
Ollie, Moon, Scott and others - The Ollie & Moon Show
Miss Moon, Jules, Lola, Baby Joe, Lady Pop, Paul - Miss Moon
Nellie, Captain Jack, Mr. Mack and Mr. Tosh, The Ringmaster, Farmer Styles, Sergeant Boot, Captain Match and The Bluebells - Nellie the Elephant
Godofredo
Toopy and Binoo
Jimbo - Jimbo and the Jet-Set
Julio, Verne - Júlio e Verne: Os Irmãos Gemiais
Little Bear, Emily, Owl, Duck, Cat, Hen, Mother Bear, Father Bear and others - Little Bear
Nilba, Albert II - Nilba e os Desastronautas
Osmar Whitebread, Stevie, Josie, Seu Max, Seu Benny, Lucy Liland, Bob - Osmar: a Primeira Fatia do Pão de Forma
Ulisses, Pudim, Musco - Planetorama
Mary Quite Contrary, Eep the Mouse, Teddy Bear, Baa Baa Sheep, Little Bo Peep and Jack B. Nimble - Mother Goose Club
Rupert and others - Rupert
Alexander, Emily, No-Tail No-Goodnik - The Country Mouse and the City Mouse Adventures
Victor Volt, Anita Knight, Professor Professor, Changed Daily, Special Agent Ray, Agent Kowalski - The Secret Show
Boris, Rufus, Enzo, Yuko, Jennifer, Leopoldo - Boris e Rufus
Peppa Pig, George Pig, Mummy Pig, Daddy Pig, Chloe Pig, Suzy Sheep, Rebecca Rabbit, Richard Rabbit, Emily Elephant, Edmond Elephant, Candy Cat, Danny Dog, Pedro Pony, Zoe Zebra, Zuzu & Zaza Zebra, Freddy Fox, Wendy Wolf, Kylie Kangaroo, Delphine Donkey, Gerald Giraffe, Mandy Mouse, Molly Mole and others - Peppa Pig
Ben Elf, Princess Holly Thistle, Gaston the Ladybird and others - Ben and Holly´s Little Kingdom
Pingu, Pinga, Mother, Father, Robby, Pingo, Pingi and Various Penguins - Pingu
Tiny, J.C., Rebecca, Marty, Joanna, Cody, Mimi, Mr. and Mrs. Rabbit, Dr. Albert E. Owl, Mrs. Magpie, Grandpa, Angie - The Seventh Brother
Orinoco, Bungo, Tomsk, Wellington, Tobermory, Madame Cholet, Great Uncle Bulgaria, MacWomble - Wombles
Polvina, Ester, Tubarina, Marcello, Hugo, Sirilo, Gummy, Tentie, Spikey, Bea, Miss Marla, Various Princesses - Sea Princesses
Kaeloo, Stumpy, Quack-Quack, Mr. Cat, Pretty, Eugly, Olaf - Kaeloo
Mike, Galahad, Evie, Mr. Cuddles, Sparkie, Squirt, Queen Martha, The King, Yip & Yap, Fernando, Trollee, Mr. Troll, Mrs. Troll, Richard, Robin & Marian, The Great Walforfini, Mrs. Piecrust, Mr. Blacksmith - Mike the Knight
Pipi, Pupu, Rosemary and others - Pipi, Pupu & Rosemary
Candy, Etno, Stereo, Bud, Gorgious and others - Space Goofs
Oggy, Jack, Olivia, Bob, Marky, Dee-Dee, Joey and others - Oggy and the Cockroaches
Pat, Stan, Stuart, Stephanie, Professor Chi-Chi, Lili, Aunt Martha, Emily, Various Bunnies, Brutox, Elephants, Pee Wee, Chickens, Various Animals, Various Birds, Various Mammals, Various Carnivores, Various Herbivores, Various Omnivores, Various Bugs, Various Insects, Various Invertebrates, Penguins, Various Cats, Various Dogs, Various Felines, Various Canines, Various Zoo Animals, Various Rodents, Various African Animals, Various Europe Animals, Various Asian Animals, Various North American Animals, Various Arctic Animals, Various South American Animals, Blue Trash, Helmut, Roro, Giant Spider, Double Emilys, Zombie Sloth, Mosquitos, Various Critters, Nester and his mother, Norbert and others - Pat and Stan
Loopdidoo, Petunia, Basil, Gladys, Mrs. Mole, Zig-Zag, Gwendalyn, Capitain Croak, The Fleas - Loopdidoo
Kaeloo, Stumpy, Quack-Quack, Mr. Cat, Pretty, Eugly, Olaf, Olga, Ursula, The Sheep - Kaeloo
Oscar, Popy, Harchi, Buck, Roco, The Chickens, The Crocodiles, The Meerkats, The Dung Beetles, The Skunk, The Female Lizard, Junior - Oscar's Oasis
Zig, Sharko, Marina, Bernie, Aldo, Hades, Poseidon and others - Zig and Sharko
Pat, Hoodie, Lola, Victor, Tank, Oobi, Poulette, Lucy, Hugo, Mum, Dad - Pat the Dog
Taffy, Bentley, Mrs. Muchmore, Forsythe, Addie, Mish, Mash, Bear, Ghost Bentley and others - Taffy (2019 TV series)
The Fireman Sam Gang
Tubb, Terence, Finbar, Winona, Sploshy, Amelia, Reg - Rubbadubbers
Monkeys, Elephant, Buffalo, Lion, Hippo, Tickbird, Tortoise, Bat, Frog, Warthog, Porcupine, Crocodile, Chameleon, Hare, Vulture, Giraffe, Lizard, Eagle, Mosquito, Bushbaby, Mama Cheetah and his Cubs, Snake, Aardvark, Puffadder, Jackal, Rhinoceros, Ants, Chief Ant, Lieutenant Ant, Wildebeests, Zebras, Parrot, Flamingos, Ostrich, Camel, Dragonfly, Leopard, Hyena, Millipede/Pediless, Baboon, Guinea Fowl, Meerkat, Antelopes, Bees, Queen Bee, Cricket, Skunk, Butterfly, Squirrel, Woodpecker, Flea, Mama Hen and Chicks, Crow, Spider, Hummingbird, Mole, Peacock, Whale, Crab, Fishes, Tinga Tinga Birds, Majitu the Giant, The Wind - Tinga Tinga Tales
The cast from Gazoon
Tiny, Messy, Rusty, Stretchy, Spotty, Sporty, Scary, Noisy, Flappy the Bat and The Sparky Twins - Little Robots
Bill, Ben, Weed, Boo, Scamper, Whimsy, Whoops, Slowcoach, Pry, Tad, Thistle and Rose - The Flowerpot Men
Bella, Milo, Fizz, Jake, Doodle, Izzles, Max, Judy and Polly - Tweenies
Andy Pandy, Looby Loo, Teddy, Bilbo, Tiffo, Orbie, Missy Hissy
Danger Mouse, Penfold and others - Danger Mouse
Major, Mother, Granny, Small, Tiny, Soup Dragon, Froglets, Sky Moo, Iron Chicken and others - Clangers
Tootuff, Manny, Roger, Anne, Zoey, Nadia, Hugo, Duckbill and others - Tootuff
Fifi Forget-Me-Not, Mo, Stingo, Violet, Bumble, Primrose, Slugsy, Buttercup, Daisy, Flutterby and others - Fifi & the Flowertots
Bernard, Lloyd, Eva, Zack, Goliath, Sam, Pilot, Pokey and Santa Claus - Bernard
Ty, Revvit, Dozer, Ton-Ton, Skya, Garby, Ace, Waldo, Click-Clack, Xee, D-Structs, D-Stroy, Skrap-It, George, Rollodons, Splitter, Blayde, The Pounder, The Dreadtrux, Dyscrapadons, Aquadons, Dragonflopters, Scrapadactyls, Scraptors, Buzz, Bindy, Grouter, Various Dinotrux and Reptools - DinoTrux
Dragon, Ostrich, Mailmouse, Beaver, Alligator - Dragon
Dan, Angie, Cory, Kami, Melissa, Ricardo, Trek, Jordan, Mrs. Carver, Mrs. Hahn, Ms. Currie, Mr. Drumheller, Dana, Saara Jain, Mom and Dad, Mr. Hendrickson, Robyn, Dinosaurs - Dino Dan, Dino Dan: Trek's Adventures, Dino Dana
Bill and Tony
Beat Monsters
Mr. Bean and others - Mr. Bean
Dr. Zitbag, Horrifido, The Exorsisters, Sinista, Bimbella, Zombunny, Officer Deadbeat, Professor Vermin and Various Monsters - Dr. Zitbag's Transylvania Pet Shop
Boowa, Kwala, Dawa, Mawa, Siwa, Mummy Koala, Daddy Koala, Grandma Koala, Grandpa Koala - Boowa and Kwala
Marcelino, Candela, Shadow, Leo, Gizella, Duke Arthur, Pieru, Martin, Lucas, Rufom, Ivan, Casio, Constanble, Chickens, Bonie, Lopu and Lopa, Doctor Mateo, Uro, Maria, Thuseday - Marcelino Pan y Vino
Delook and Sharpy
Bagpuss and his friends
Ms. Frizzle, Liz, Arnold, Carlos, Dorothy Ann, Keesha, Phoebe, Ralphie, Tim, Wanda, The Bus and others - The Magic School Bus, The Magic School Bus Rides Again
Wide Eye, Little Hoot, Flea, Wily Komodo, Baby Komodo, Conchita, Rangutang, Natterjacks, 99 and others - Wide Eye
Rainbow Brite, Starlite, Mr. Glitters, Brian, Color Kids (Red Buttler, Lala Orange, Canary Yellow, Patti O' Green, Buddy Blue, Indigo, Shy Violet), Stormy, Murkey, Lurkey and others - Rainbow Brite
Keroro, Tamama, Giroro, Kururu, Dororo, Various Frogs and others - Sgt. Frog
Cathy Hillman
Yellow, Red, White, Grey, Orange, Green, Cyan, Blue, Purple, Madame Pink, Professor Heliotrope, Black, Tangerine, Periwinkle, Aquamarine, Navy Blue, Brown and others - The Hero of Color City
Milky Way, Venus, Jupiter, Pluto, Mars, Uranus, Saturn, The Sun, Neptune, Mercury and others - Milky Way and the Galaxy Girls
Kit, Poo, Glue, Reon, Ang, San, Dioli, Vivo, Ting, Kooya, Tillo, Rico, Vonni, Clang and others - WonderBalls
Coconut Fred, Bingo Cherry, Slip & Slide D'Peel, Mr. Mel Greenrind, Wedgie, Bunga Berry, Butchy, Black Berry, Tiffany Pears, B.L. Tomato, Rusty Candoo, Slurpy, Melanie Greenrind, Vic the Alien, Mrs. Plumcott, Dr. Bartlett - Coconut Fred's Fruit Salad Island
Billy, Bonnie, Junior, Socrates, Angie, Giselle, Winston and Winifred, Charles, Sushi, Toto, Bongo, Toby, Ken, Smiley, Biggie, Chino, Bob, Leopard, Mr. Smith, Maya Smith and Various Animals - Animals United
Roger, Andy, Peter, Paige, Jason and Quincy - FoxTrot
Calvin and Hobbes
Hitler, Eva, Fegelein, Traudl, Jodl, Burgdorf, Goebbels, Sunsche, Himmler, Monkhe, Schenck, Keitel, Gerda, Magda - Downfall
Weegee and Meegee
Snip and Clip
Ditty.It
Flappy Bird
Hip Hop Harry
Ana, Ashe, Baptiste, Bastion, Brigitte, D.Va, Doomfist, Echo, Genji, Hanzo, Junkrat, Lúcio, McCree, Mei, Mercy, Moira, Orisa, Pharah, Reaper, Reinhardt, Roadhog, Sigma, Soldier: 76, Sombra, Symmetra, Torbjörn, Tracer, Widowmaker, Winston, Wrecking Ball, Zarya, Zenyatta - Overwatch
Sans, Papyrus, Undyne, Alphys, Mettaton, Toriel, Asgore, Asriel, Frisk and Chara - Undertale
Kris, Susie, Lancer, Ralsei - Deltarune
The Octonauts
Greg Heffley, Rodrick Heffley, Manny Heffley, Rowley Jefferson, and others - Diary of a Wimpy Kid
Christian and Satine - Moulin Rouge
Ezio and Connor - Assassin's Creed
Cole Mcgrath - Infamous
Nathan Drake - Uncharted
Jack Sparrow
John Locke, Jack Sheppard - Lost
Mort and Phil
Alex Mason and Sgt Price - Call of Duty
Glados, Chell, and Wheatley - Portal
Pearlie, Opal, Jasper, Saphira, Ludwig, Great Aunt Garnite, Gobsmack, Scrag, Mr. Flea, Fern - Pearlie
Winx Club (Bloom, Stella, Flora, Musa, Tecna, Aisha, Roxy), Specialists and Paladins (Sky, Brandon, Riven, Timmy, Helia, Nabu, Roy, Prince Thoren, Nex) The Trix (Icy, Darcy, Stormy), Darkar, Valtor, The Ancestral Witches, Mandragora, The Wizards of the Black Circle (Ogron, Duman, Anagan, Gantlos, Tritannus, Selina, Acheron, Politea, Kalshara and Brafilius, Argan, Daphne, Faragonda, Griselda, Wizgiz, Palladium, Knut, Mirta, Lucy, Griffin, Mike and Vanessa, Mitzi, King Oritel and Queen Marion, Princess Diaspro, King Radius and Queen Luna, Countess Cassandra and Chimera, Miele, Ho-Boe and Matlin, Magnethia and Electronio, Queen Morgana and Klaus, Queen Nebula, Queen Dorana and Twinkly, The Pixies (Lockette, Amore, Chatta, Tune, Digit, Piff, Caramel, Cherie, Fairy Pets, Selkies, Fairy Animals - Winx Club
Kinnikuman, Meat Alexandria, Terryman, Robin Mask, Ramenman, Brocken Jr., Warsman, Buffaloman, Prince Kamehame, Wolfman, Geronimo and others - Kinnikuman
Mew Mew Power and his friends
Sam, Clover, Alex, Jerry, Mandy, G.L.A.D.I.S., Britney, Arnold Jackson, Blaine, Jazz Hands and others - Totally Spies!
Bubsy the Bobcat
Rosie, Jim, Duck and others - Rosie and Jim
Hayato Shindou, Yumi Arama, Tondekeman, Prince Dandarn, Princess Shalala, Aladdin, Abdullah, Dr. Leonardo, Genie of the Lamp - Time Travel Tondekeman
Sorao Amano, Mojara, Donmo, Miki, Pitekan, Mojari, Mojaru, Momonja - Mojacko
Katsuma, Poppet, Furi, Luvli, Diavlo, Zommer, Bubba the Bouncer, Buster Bumblechops, Roary Scrawl, Dr. Strangeglove, His Glumps (Bloopy, Podge, Fabio, Mustachio, Brusier, Ned, Rocko, Fishlips, Squiff, Pirate Pong, Black Jack, Freakface), Sprockett, Hubbs, Sweet Tooth, Blue Jeepers, Tamara Tesla, Snozzle Wobbleson, Percy, Bonkers, Cluekoo, Herman Crab, Art Lee, Snooze, Cruise, Wavey Davey, Bug, Chomper, Stomper, Raarghly, Pete, Lila, Lenny Lard, Mr. Meowford, Myrtle, Max Volume, Missy Kix, Nimbus, Oiler, Octo, Trixie, Ratty, Agony Ant, Clutch, Dizzee Bolt, Shrewman, Roland Jones, Banana Montana, Pence, Broccoli Spears, Colonel Catcher, Roarker, Billy Bob Baltman, Egon Groanay, Roy G. Biv, Gatekeeper, Hatekeeper, Scrumpy, Misty, Bodge, Splatter, Pablo, Humphrey, Jeepers, Burnie, ShiShi, Snort Jr, DJ Quack, Peppy, Tiki, Prof. Purplex, Tuco, Pinestein, Pizmo, Prof. Heff, Weegul, Chirpy, Bubbly, Dinky, Squiggle, Snookums, Pooky, Doris, Gurgle, Sherman, Dazzle, Parsnips, Snowflake, Sparkle, Kringle, Stanley, Blurp, Fumble, Cali, Glugg, Dipsy, Honey, Flumpy, I.G.G.Y., Wanda, Hansel, Coolio, Cutie Pie, Oddie, Delia, Various Friendlies, Captain Peck, Willow, Darwin, Otto, Popov, Franz, Squelch, Pipsi, Splitz, Eugene, Threddie, Quincy, Snuggy, Fopkin, Ramsy, Nancy, Gumdrop, Benedict, Wuzzle, Hocus, Fusty, Jen, Blaze, Pipa, YoYo, Hissy, Vinnie, Swizzle, Pongo, Gingersnap, Purdy, Lady Meowford, Waldo, FruFru, Mrs. Snoodle, Troy, King Brian, Penny, Tingaling, O'Really, Furnando, Jackpot, Blinki, Jackson, Fitch, Marty, Oscar, Toasty, Yolka, Fizzy, Suey, PomPom, Hot Wings, Toots, Vernon, Mumbo, Scarlet O'Haira, Shambles, Long Beard, Jessie, Honcho, Marcel, Raffles, Weeny, Shoney, Whoopi, Topsy Turvy, Peeps, Mitzi, Doyle, Yana, Chop Chop, Sooki-Yaki, Shelby, General Fuzuki, Kazuki, Cherry Bomb, Boomer, Judder, Betty, Flash, CocoLoco, Pip, Shelly, Nutmeg, Hexter, Angel, Priscilla, Mr. Snoodle, Gigi, YaYa, Prickles, Blossom, Oopsy, Fifi, McNulty, White Fang, Scamp, Frankie, Tumbles, Jiggy, Woodsworth, Wrangle, Queenie, Zack Binspin, Bobbi SingSong, Hoolio, Ziggy, Hammy, Lubber, Linton, Shimmy, Pops, Gumz, Glob, Randall, Jibbly, Marsha, Thumpkin, Roxy, Baby Rox, Blingo, Flitter, Crawford, Sleepypaws, Prof. Feathersnooze, Nodkins, Yawnsy, Little Bo Nap, Tiamo, Rofl, Grinny, Fuddy, Toshi, Tomba, Woolly, Gracie, Leo, Waffles, Loomy, Tessa, Posy, Major Moony, Sparx, Uncle Scallops, Bentley, Sprinkles, Sweeney Blob, Chester, Squidge, Kissy, Ecto, Big Bad Bill, Trubble, Pocito, Rooby, Lummox, Dribbles, Bart, Raffy, Wurley, Holga, Gabby, Nipper, Oogles, Micro Dave, Cosmo, Jiggles, Scorchy, Chitchat, Carter, King Toot, Mishmash, Kazzi, Jinz, Plinky, Wallop, Oompah, HipHop, Wallace, Busling, Zonkers, Shmoops, Lips, Peekaboo, Truffle, Ivy, Shed, Cheeko, Rocky, Liberty, Cleo, Mini Ben, Manny, Clump, Cleetus, Roscoe, Bonnie, Marshall, Twaddle, Slurpy, Lurgee, Jarvis, Sitting Ducky, Captain Squirk, First Officer Ooze, Dr. C. Fingz, Splutnik, Roswell, Casey, Freddy, Plumpty, Travis, Rebus, Holmes, Flora, Bruce, Drake, Dudley, Gideon, Gilbert, Gumpty, Morgan, Dawdles, Luna, Bobo, Gobbi, Dweezil, Grott, Thumpy, Reggie, Dillby, Tingle, Milo, Ellie, Fez Owl and others - Moshi Monsters
Hamster, Pokey Pipes, Chrome Balls, FunBall, Saw, Chomper, Mousetrap, Mashing Mace, The Blade Brothers, Block Dawg, Tar and Tarbabies, Magnifying Glass, Frantic Fanstorms, Bonk the Hammer, 8-Ball - Hamsterball
John, Sharlene, Nikki, Nash, Red Circle, Orange Square, Yellow Triangle, Green Rectangle, Blue Square, Purple Circle - My First Lesson with Jollibee
Ernie, Millie, Mr. Rails, Victoria, Bakerloo, Jubilee, Circle, Hammersmith, City, Brooklyn, Osaka, Moscow, Paris, Sydney - Underground Ernie
Big Cook, Little Cook
Doraemon, Nobita, Suneo, Shizuka, Big G and others - Doraemon
MitchiriNeko March Cats
Davenport, Martha, Godfrey, Ginger, Dudley, Brenda, Uno, Duo and Trio, Voltaire - Fourways Farm
Poppy Corn, Cheeky Chocolate, Lippy Lips and others - Shopkins
Sammy, Sharlene and Wiggy - Sammy's Story Shop
Nyan Cat
Shin Chan
Sarah and Duck
Me!Me!Me!
Freddy, Bonnie, Chica, Foxy, Happy Frog, Mr. Hippo, Nedd Bear, Orville Elephant, Pigpatch, Balloon Boy, Dee Dee, JJ, Mangle, Toy Bonnie, Toy Chica, Toy Freddy, The Puppet, Ballora, Bidybab, Bonnet, Baby, Electrobab, Funtime Chica, Funtime Freddy, Bon-Bon, Funtime Foxy, Lolbit, Minireena, Lefty, Rockstar Bonnie, Rockstar Chica, Rockstar Foxy, Rockstar Freddy, Glamrock Chica, Glamrock Freddy, Montgomery Gator, Roxanne Wolf, Fredbear, Spring Bonnie, Endo-01, Endo-02, Ennard, Molten Freddy, Yenndo, El Chip, Music Man, Phantom BB, Phantom Chica, Phantom Foxy, Phantom Freddy, Phantom Mangle, Phantom Puppet, Nightmare, Nightmare Balloon Boy, Nightmare Bonnie, Nightmare Chica, Nightmare Foxy, Nightmare Fredbear, Nightmare Freddy, Nightmare Mangle, Nightmarionne, Plushtrap, RWQFSFASXC, Shadow Freddy, Dreadbear, Grim Foxy, Jack-O-Bonnie, Jack-O-Chica, Blacklight Animatronics, Golden Freddy, William Afton, Springtrap, Scraptrap, Ballboy, Beartrap, Blacktrap, Bouncepot, Boxbyte, Chillax, Chop 'N Roll, Colossal, Crabapple, Dogfight, Flan, Gearrat, Goldmine, Graveweed, Jangle, Mechrab, Meringue, Metalman, Neon, P. Goon, Prototype, Quarry, Redbear, Rot, Seaweed, Tangle, Tombstack, Totemole, White Rabbit, Auto Chipper, Bouncer, Browboy, Bubba, Chica's Magic Rainbow, Chipper's Revenge, Eyesore, Gold Endo, Mad Endo, Overclock, Porkpatch, PurpleGeist, Scott Cawthon, Scott's Head, Seagoon, Security, Snowcone, Souldozer, Supergoon - Five Night at Freddy's
Baldi, Principal of the Thing, Playtime, It's a Bully, Arts and Crafters, 1st Prize, Gotta Sweep, Cloudy Copter, Chalkles, Beans, Mrs. Pomp and others - Baldi's Basics
Alien Monkeys
Chase McCain, Forrest Blackwell, Rex Fury and others - Lego City Undercover
Grizzy and the Lemmings
Pocoyo, Pato, Elly, Loula, Sleepy Bird, Baby Bird, Fred the Octopus, Nina, Roberto, Caterpillar - Pocoyo
Bello, Goomo, Mina, Rita, Ongo, The Queen, The King and Dodos - Jelly Jamm
Angus, Cheyl, Buddy, Amanda, Francine, Charles, Mr. Beeg - Angus & Cheyl
Sandra, Fo The Elf, Raquel, Marcus - Sandra The Fairytale Detective
Hearty, Liebe, Lovelyn - The Qpiz
Maryoku, Ooka, Fij Fij, Hadagi, Bob, Shika, Yuzu, Nonki, Omoshi, Tapo Tapo, Fudan, Enro, Zuno, Mabui, Jeppy, Oolong, Baburu, Bishu, Inu - Maryoku Yummy
Cleo, Cuquin, Colitas, Pelusin, Maripí, Teté, Tomato, Ghost - Cleo & Cuquin
Paz, Big Penguin, Pappy, Pig, Dog, Rabbit and others - The Paz Show
Sammy, Skip, Benita, Izzy, Miss Sally - Wild Animal Baby Explorers
Peri, Entrèe, Patricia, Octocat, Mr. Smarty Smarts, Two-Legs Joe, Princess Pony Apehands and others - Spliced
Scaredy, Dave, Nestor, Momma, Paddy, Sally, Mildred, Buck, Hatton, Milly, Philmore, Sue and others - Scaredy Squirrel
Dilweed, Fungus, Quills, Buford, Grandma Butternut, Rupert, Morris and others - Numb Chucks
Bluey (with Bartleby and Polly), Bingo (with Floppy and Greydancer), Bandit, Chilli, Muffin, Socks, Chloe, Lucky, Honey, Mackenzie, Coco, Snickers, Jack, Rusty, Indy, Stripe, Trixie, Mrs. Retriever, Calypso, Pat, Bob, Chris, Rad, Frisky - Bluey (2018 TV series)
PlimPlim, Nesho, Bam, Acuarella, Mei-Li, Hoggie, Arafa, Wichi and Tuni - PlimPlim
Simon and Gaspard - Simon
Peter Palette, Emperor Spine, J. Edgar Beaver, Fifi Fox, Bud E. Bear, Do, Ray, Mee, Thistle, Barren Burr, Michael J. Mushroom
Ethelbert, Dilip, Animals - Ethelbert The Tiger
Arsene Lupin III, Daisuke Jigen, Goemon Ishikawa XIII, Fujiko Mine, Koichi Zenigata - Lupin the 3rd
Stan Marsh, Kyle Broflovski, Eric Cartman, Kenny McCormick, Butters Stotch, Wendy Testaburger, Tweek Tweak, Bebe Stevens, Bradley Biggle, Clyde Donovan, Craig Tucker, Dougie, Jimmy Valmer, Timmy Burch, Token Black, Randy Marsh, Sharon Marsh, Shelly Marsh, Grandpa Marvin Marsh, Jimbo Kern, Gerald Broflovski, Sheila Broflovski, Ike Broflovski, Liane Cartman, Stuart McCormick, Carol McCormick, Stephen Stotch, Linda Stotch, Mr. Garrison, Mr. Mackey, Mr. Slave, Principal Victoria, Officer Barbrady, Ned Gerblansky, God, Jesus, Mr. Hankley, Tuong Lu Kim, Father Maxi, Mayor McDaniels, Dr. Alphonse Mephisto, Moses, Santa, Satan, Starvin' Marvin, Terrance and Philip, Towelie, Sergeant Harrison Yates, Lemmiwink and others - South Park Franchises
Foxxy Love, Princess Clara, Xandir P. Wifflebottom, Captain Hero, Toot Braunstein, Wooldoor Sockbat, Ling-Ling, Spanky Ham - Drawn Together
Roobear Koala, Laura Koala, Papa Koala, Mama Koala, Floppy Rabbit, Mimi Rabbit, Nick Penguin, Pamie Penguin, Mr. Penguin, Mrs. Penguin, The Penguin Family Triplets, Betty Koala, Weather, Mingle, Walter, Horsey, and Colt Kangaroo, Miss Lewis, Maki-Maki, Mr. Curator, Mr. Mayor, Dr. Flight, Duckbill, Diana, The Ringmaster, Cosmo, Mr. Steam, Station Master, Captain Briney, Mr. Flash, Uncle Mailman, and Kiwi - The Adventures of Little Koala
Cap'n O. G. Readmore
Masha, Bear, Tiger, Bear's Dad, Lion, Hare, Pig, Wolves, Hedgehog, Squirrel, Dog, Goat, Penguin, Panda, Dasha - Masha And The Bear
Marsupilami
Annabelle Sullivan and Kyle Sullivan
Cyborg Kuro-Chan
Mr. Bill, Spot, Sluggo, Mr. Hands, Miss Sally, Mr. Bill's Mom, Billy and Sluggo Clones - Mr. Bill
White Spy and Black Spy - Spy Vs. Spy
Sputnik, Halley, Comet, Radar, Jet, and Sal - Astroblast!
Paul McCartney, George Harrison, John Lennon, Ringo Starr, Captain Fred, Lord Mayor, Jeremy Hillary Boob, Chief blue meanie, Max, Blue meanies - The Beatles Yellow Submarine
Leap, Lily, Tad, Mr. Frog, Mrs. Frog, Dot, Casey, Della, Parker, Tim, Dan, Mr. Websley, Professor Quigley, Edison, Frog Babies, Scout, Violet, Penny, Eli, Dash, and others - LeapFrog, Scout And Friends
Booba And Friends
Duckula, Igor, Nanny, Dr Von Goosewing and others - Count Duckula
Polly Pocket, Lila Draper, Shani, Genl and others - Polly Pocket
Numpty, Hapless, Pillock, Dippy, Dummkopf, Dimwit, Stupe, Lax, Clod, Doomed, Numskull, Bungle, Mishap, Dunce, Calamity, Ninny, Botch, Doofus, Stumble, Bonehead, Putz, MIFF Extra Characters, Numpty's Son, Señor Redcape, Phoney, Slaptery, Mr. Gate & Mrs. Gate, Mr. Ghost, Munchies, Loopy, Ruckus, Boffo, Zany, Madcap, Dumbbell, Dingy, Skelliteflop, Bard, Reite, Junior, James, Knucklehead, Boothy, Phyllis, Blacksmith, Stupa, Bodoh, Super Dumb, Clown, Klaus, The Dumb Team, Trump, Arnold, Blunder, Crash, Russel, Zombies (mentioned), Simpleton, Shonky, Nincompoop and others - Dumb Ways to Die
Red, Yellow, Plant, Pink, Violet, Brown, Black, Rainbow, Gray, Green, The Silvers, Mango, Cocoa, Ivory, Chuck, Clara, Crabsformer and others - Larva, Larva Island
Don, Colonel, Rox, Thaw, Charly, Larry, Marly, Doctor, Nana and others - Rat-A-Tat (AKA Pakdam Pakdai)
Cat, Keet, Dunk and others - Cat & Keet
Tom, Twigs, Zigzoo, Squirmtum, Ariela, Rickety McGlum, Treetog the Tree Spirit, Puffy, Stink, Chezz Bertie, Hazel, Lavender, Sweetpea, Goose, Muru, Racquette, Rootle, Shade - Tree fu Tom
Earl Sneed Sinclair, Francis Johanna "Fran" Phillips Sinclair, Robert Mark "Robbie" Sinclair, Charlene Fiona Sinclair, Baby Sinclair and others - Dinosaurs (TV series)
Serio, Paco, Pilar, Azul, Mastre Grinto, Old Head and others - Combo Niños
Hoops, Yoyo, Piddles, Puck, Chili bear, The bird - Hoops and Yoyo
Eena, Meena, Deeka, Foxie and others - Eena Meena Deeka
Ato, Oz, Uly, Mimi, Pow, Fizzy, Toki, Nia, Leon and others - Canimals
Little Miss Sunshine, Mr. Fussy, Mr. Funny, Mr. Nosey, Mr. Lazy, Little Miss Lucky, Mr. Muddle, Mr. Happy, Mr. Bounce, Little Miss Daredevil, Mr. Noisy, Mr. Rude, Little Miss Scary, Mr. Strong, Little Miss Strong, Little Miss Bossy, Mr. Bump, Mr. Grumpy, Little Miss Shy, Mr. Quiet, Little Miss Giggles, Mr. Tall, Little Miss Whoops, Mr. Daydream, Mr. Messy, Little Miss Helpful, Mr. Chatterbox, Little Miss Chatterbox, Mr. Scatterbrain, Mr. Nervous, Little Miss Naughty, Mr. Stubborn, Little Miss Tiny, Little Miss Calamity, Little Miss Magic, Mr. Small, Mr. Tickle, Little Miss Curious, Little Miss Fun and Various Mr. Men and Little Misses - Mr. Men and Little Miss, The Mr. Men Show
Noddy, Warloworth Q. Weasel, Bonita Flamingo, Johnny Crawfish, Big Ears, Sherman, Rusty, Planet Pup, Lichtenstein, Island Princess, Gertie Gator, Granny Duck, The Do-Wop Penguins, Ruby Reds, Fred and Gingersnap, Whiny and Whimper, Shorty Salt Shaker, Slim Pepper Shaker, Gaylord Gumball, Wind-up Teeth - Make Way for Noddy
Reel FX Animation Studios
Reggie, Jake, Jenny, Baby Three Tuckers, Various Turkeys - Free Birds
Manolo Sanchez/Maria Posada, Joaquin Mondragon, Chuy, La Muerte, Xibalba, The Candlemaker, Pablo Rodigustez, Pepe Rodigustez, Pancho Rodigustez, Generel Ramiro Posada, Carlos Sanchez/Carmen Sanchez, Anita Sanchez, Carmelo Sanchez, Jorge Sanchez, Ardelita/Scardelita, Luis Sanchez, Cousin Chucho, Other San Àngel, etc - The Book of Life
The Weinstein Company
Red Puckett, Granny Puckett, Kirk, Wolf W. Wolf, Det. Bill Stork, Det. Nicky Flippers, Chief Ted Grizzly, Woolworth, Twitchy, Japeth the Goat, Raccoon Jerry, Tommy, Timmy, Glen, Jimmy Lizard, 2-Tone, P-Biggie, Zorra, Dolph, Versushka Van Vine, Hansel, Gretel, Mad Hog, Stone, Wood, Nicky, Kirk Kirkkendall, The Giant, Heidi, Helmut, Moss, Iana, Jimmy 10-Strings and others - Hoodwinked!, Hoodwinked Too! Hood vs. Evil
Pollux, Dougal, Florence, Zabadie, Ambroise, Brian, Train, Azalee, Ermintrude, Flappy, Dylan, Soldier Sam, Moose and others - Doogal
Gary Supernova, Scorch Supernova, Kira Supernova, Lena Thackleman, Doc, Thurman, Io, Gabby Babblebrook, Kip Supernova, James Bing, Hawk, Hammer and others - Escape from Planet Earth
Open Road Films
Surly, Grayson, Jimmy, Mole, Andie, Precious, Johnny, Jamie, Buddy, Redline, Street Rat, Jamie, Mr. Feng, Frankie, etc - The Nut Job, The Nut Job 2: Nutty by Nature
Hank, Jimbo, Yuki, Ika Chu, Shogun, Chuck, Ichiro, Sumo, Little Mama, Emiko, etc - Blazing Samurai
Radical Sheep
Stella, Sam, Fred and others - Stella and Sam
Ollie, Poppy, Nummy and others - Ollie! the Boy Who Became What He Ate
Bagel, Becky, Loaf, Lisa, Percy and others - The Bagel and Becky Show
and many others
Duracell's Pilhados
Spider Robot, Sassá, Turbinaldo, T.A.S., Coelho Durcell, Gatinho Faro and others
Toho Co., Ltd.
Namco
Pac-Man, Cylindria, Spiral, Fuzbits, Inky, Blinky, Clyde, Pinky, Sir Cumference, President Spheros, Betrayus and others
Bandai
Mametchi, Memetchi, Kuchipatchi, Spacytchi, Akspetchi, Pipospetchi, Himespetchi, Lovelitchi, Telelin, Melodytchi, Doremitchi, Sopratchi, Moriritchi, Pashalin, Kuromametchi, Gozarutchi, Flowertchi, Maikio, Uwasatchi, Chamametchi, Imotchi, Kikitchi, Hapihapitchi, Neenetchi, Orenetchi - Tamagotchi
Game Freak
Blink Industries/Becky & Joe
Yellow Guy, Red Guy, Duck Guy, Sketchbook, Tony the Talking Clock, Shrignold, Colin the Talking Computer, Roy Gribbleston, Steak, Lamp - Don't Hug Me I'm Scared
STX Films/STX Entertainment
Moxy, Uglydog, Peggy, Ox, Lucky Bat, Wage, Babo, Wedgehead, Gibberish Cat, Scanner, Electronic Female Voice, Meghan, Michael, Tuesday, Kitty, Lydia, Mandy, Nolan, Exposition Robot, New Arrival, Oliver, Chef, Buttons, Tray, Sporko - UglyDolls
Huevocartoon Producciones
Toto, Willy, Bibi, Patin Patão, Di, Confi, Bacon - Una Película de Huevos/Otra Película de Huevos y un Pollo/Un gallo con muchos nuevos/Un rescate de huevitos/Un gallo congelado
Short Films (Movies)
Smash, Grab - Smash and Grab
Purl, Lacy, Office Bros, Office Ladies, Other Yarn Balls - Purl
André, Wally B. - The Adventures of Andre and Wally B.
Red - Red's Dream
Tinny, Billy and his toys - Tin Toy
Knick and others - Knick Knack
Geri and his friend - Geri's Game
Big Bird, 15 Blue Birds - For the Birds
Sheep, Jackalope - Boundin'
Bass, Treble, Tippy - One Man Band
Stu, Mr B., Ernie - Lifted
Presto DiGiotagione, Alec Azam - Presto
Gus, Peck - Partly Cloudy
Day, Night - Day & Night
Bambino, Papá, Nonno - La Luna
Blue Umbrella, Red Umbrella and Various Umbrellas - The Blue Umbrella
Uku, Lele - Lava
Sanjay, Sanjay's Father, Vishnu, Durga, Hanuman - Sanjay's Super Team
Piper and Various Birds - Piper
Lou - Lou
and others
Ruthless Studios and Other Movies, Video Games, Short Films, Comics, Books, TV Shows and Commercials
Various Live-Action and Animated Animals, Dinosaurs, Monsters, Creatures, Imaginary Friends, Prehistoric Animals, Gargoyles, Humans, Plants, Food, Objects and others
Cast
Crispin Glover - Daniel Valiant

Nicholas Coombe - Young Daniel

Kathryn Newton - Scarlett Valiant

McKenna Grace - Young Scarlett

Harrison Ford - Lucius DeGeralson, Rooster, Indiana Jones, Han Solo, Egon Spengler, Charles F. Muntz
Jason Brooks - Roger Rabbit
Gwendoline Yeo - Jessica Rabbit
Julia Roberts - Ninalene Jewel
Jake Johnson - Peter B. Parker/Spider-Man
Asher Blinkoff - Dennis
Suki Waterhouse - Vera Kebaya
Kelly Marie Tran - Papo Ilham, Dawn Betterman, Raya
Maisie Williams - Lisa Jewel
Jason Isaacs - Dick Dastardly, Flip
Tom Felton - The Grand Guignol
Julian Dennison - Belsnickel
Bill Barretta - Phil Phillips, Pepe the King Prawn, Swedish Chef, Rowlf the Dog, Dr. Teeth
Peter Dinklage - Smart Tuckus, Mighty Eagle, Eddie Plant, Phil Betterman, Hornacle, Captain Gutt
Adam Driver - Wacky Doom Jr.
Ashley Rickards - Shang Yu, the Gemini Agent from Russia
Kurt Russell - Eddie Valiant, Daniel's and Scarlett's father (he previously played by Bob Hoskins in the first film)
Goldie Hawn - Dolores, Eddie's wife Daniel's and Scarlett's mother (she previously played by Joanna Cassidy in the first film)
Finlay Wojtak-Hissong - Jo, Daniel's and Scarlett's little brother
Francesca Angelucci Capaldi - Lily, Daniel's and Scarlett's little sister
Jemaine Clement - C.B. Maroon, R.K. Maroon's son, Nigel, Tamatoa
Joel McHale - Lt. Santino, Eddie's friend (he previously played by Richard LeParmentier in the first film)
Masi Oka - Edward Yamashita, Katsu Kimura
Daniel Stewart Sherman - Ted Holt
Jorge Garcia - Robert Watts
Michael Weatherly - Dr. Rivera
Hank Azaria - Valdja
Seth Rogen - General Zhong, Master Mantis, B.O.B., Morton the Mouse, Allen The Alien
James Franco - Sgt. Murphy
Jonah Hill - Sgt. Myers, Lego Green Lantern, Snotlout, Blue Tighten
Danny McBride - Sgt. O'Brien
Craig Robinson - Sgt. Harris
Billy Porter - Sgt. Mickey
Michael Cera - Sgt. Parker, Robin
Drew Carey - Sgt. Rosenbaum, Crank Casey
Kofi Kingston, Big E and Xavier Woods - Morris, Zoltan and Slater
Daran Norris - Adult Baby Herman
April Winchell - Mrs. Herman, Baby Herman
Neil Flynn - Benny the Cab
June Foray - Wheezy (Archival Recording)
Steve Blum - Greasy
Richard Steven Horvitz - Psycho
Jocelyn Blue - Nerdluck Pound
June Melby - Nerdluck Bang
Catherine Reitman - Nerdluck Bupkus
Charity James - Nerdluck Blanko
Colleen Wainwright - Nerdluck Nawt
Dorian Harewood - Monstar Bupkus
Joey Camen - Monstar Bang
T.K. Carter - Monstar Nawt
Darnell Suttles - Monstar Pound
Steve Kehela - Monstar Blanko
Dee Bradley Baker and Brian Drummond - Snaggle
Fred Tatasciore and Mark Gibbon - Roscoe
Nika Futterman and Nicole Provost - Jimmy
Ethan Slater - Carl
Danny Skinner - Jerry
Kevin Smith - Himself, Silent Bob
Jason Mewes - Jay
Mayim Bialik - Kira
Kristin Chenoweth - Gabi, Fifi, Princess Skystar
Billie Eilish - Harmony
Samantha Morton - Agatha
Bill Irwin - Matthew
Michael Lerner - Lt. Mallard
Keith Lee - Ramsey Harrison
John Cleese - Odeysseus, King Harold (as a ghost)
Eddie Deezen - Smartass (post credit scene), Thumper
Tara Strong - Winnie Woodpecker, Twilight Sparkle, OG Raven, TTG Raven, Barbra Gordon/Batgirl, Unikitty (Cartoon Version), Timmy Turner, Kilgore, Princess Camille, Dil Pickles, BeBe and CeCe Proud, Zoona, Puff the Dog, Melody, Daizy, Kitty Bunny, Sarah N Dippity, Shimmer, 911 Operator (TTG), Additional Voices
Ashleigh Ball - Applejack, Rainbow Dash
Andrea Libman - Pinkie Pie, Fluttershy
Tabitha St. Germain - Rarity, Rouge the Bat
Rebecca Shoichet - Sunset Shimmer
Cathy Weseluck - Spike
Jim Carrey - The Mask, Horton, Lloyd Christmas, The Riddler, Dr. Robotnik
Frank Welker - Oswald the Lucky Rabbit, Dumbo, Scooby-Doo, Baby Kermit, Bubble Puppy, Curious George the Monkey, Megatron, Garfield, Slimer, Stripe, Stay Puft Marshmallow Man, Rudy, Voice of Alien, Elliott the Dragon, Additional Voices
Audrey Wasilewski - Ortensia
David Nowlin - Gremlin Gus
Fred Newman - Stupid
Will Forte - Shaggy Rogers, Chester V, Chester's Holograms
Kate Micucci - Dr. Fox
Grey DeLisle - Puppycorn, Petunia Pig, Vicky, Lana Loud, Lola Loud, Lily Loud, Wubbzy, Dorothy Gale, Kitty Katswell, Shrinking Ray, Amanda, Cow #1, Hyacinth Hippo, Sparkle, Master Doom, Additional Voices
Roger Craig Smith - Hawkodile
Steven Wright - Richard, Mel Meh
Will Ferrell - Ted the Man with the Yellow Hat, Megamind, President "Lord" Business
John C. Reilly - Wreck-It Ralph, Eddie
Matthew McConaughey - Buster Moon, T-Rox, Beetle/Hanzo
Drew Barrymore - Maggie Dunlop, Akima Kunimoto
Shameik Moore - Miles Morales/Spider-Man
Hailee Steinfield - Gwen Stacy/Spider-Woman
Kimiko Glenn - Peni Parker/SP//dr, Auntie Ling, Gretch
John Mulaney - Peter Porker/Spider-Ham
Nicolas Cage - Peter Parker/Spider-Man Noir, Grug Crood, TTG Superman, Zoc, Dr. Tenma
Dee Bradley Baker - Perry the Platypus, Mr. Jenkins, Sandman, Numbuh 4, Merc, Turner, Fish, Wheels, Bucket, Brainiac, Stormtroopers, Rebeltroopers, Dad, The Delightful Children From Down The Lane, John Lennon, George Harrison
Travis Willingham - Thor Odinson, Lego Star-Lord, King Roland II
James Arnold Taylor - Johnny Test, Lego Spider-Man, Obi-Wan Kenobi, Ratchet, The Prince
Kevin Conroy - Bruce Wayne/Batman
Loren Lester - Dick Grayson/Nightwing
Matthew Valencia - Tim Drake/Robin
Chris Pratt - Emmet Brickowski, Barley Lightfoot, Peter Quill/Star-Lord, Owen Grady, Rex Dangervest
Elizabeth Banks - Lucy/Wyldstyle, Mrs. Valiant (cameo in post-credits)
Lana Carillo - Ruby
Gavin Maclver-Wright - Max
Bret Iwan - Mickey Mouse, Sorcerer Mickey
Kaitlyn Robrock - Minnie Mouse, Vibble, Baby Gonzo
Tony Anselmo - Donald Duck, Ark Donald
Bill Farmer - Goofy, Pluto
Micah Solusod - Morty Fieldmouse
Prince Jackson - Ferdie Fieldmouse
Kari Wahlgren - Millie Mouse
Dua Lipa - Melody Mouse
David Hayter - Huey Duck
Sam Witwer - Dewey Duck
Griffin Burns - Louie Duck
Kate Higgins - April Duck
Eden Riegel - May Duck
Brianna Knickerbocker - June Duck
Mitchel Musso - Max Goof
Miley Cyrus - Roxanne
Anthony Daniels - C-3PO
Ben Burtt - R2-D2, The Voice of Chewbacca, WALL-E
Rich Little - The Pink Panther
Ellen Degeneres - Dory
Tress MacNeille - Babs Bunny, Dot Warner, Daisy Duck, Chip, G-Fox (cameo), Lizzie, Queen of Hearts
Christy Carlson Romano - Kim Possible
Corey Burton - Yen Sid, Ludwig Von Drake, Dale, Captain Hook, Shan Yu
Jim Cummings - Winnie the Pooh, Tigger, Pete, Tasmanian Devil, Kaa, Chief blue Meanie, Blue Meanies, Lord Boxman, Captain Fred, Lord Mayor, Bonkers D Bobcat, Weildson The Kniving Cat, Captain Pete, Mr. Websley
Ian McKellen - Cogsworth, Jumba Jookiba, Gandalf the Grey
Kristen Bell - Bridget, Anna, Jade Wilson, Cora, Whaddle
Chris Sanders - Stitch, Belt
John Goodman - James P. Sullivan, Baloo, 'Big Daddy' La Bouff, Pacha
Billy Crystal - Mike Wazowski, Theodore Roosevelt
Tom Hanks - Woody
Tim Allen - Buzz Lightyear
Jason Ritter - Dipper Pines
James Woods - Hades
Dan Castellaneta - Homer Simpson, Earthworm Jim, Genie, Fender, Ramon, Earl, Grandpa Phil
Ray Romano - Manny
John Leguizamo - Sid
Denis Leary - Diego, Francis
Chris Wedge - Scrat, Wonderbot
Sean William Scott - Crash, Skiff
Josh Peck - Eddie
Simon Pegg - Crash Bandicoot, Buck
Eric Bauza - Bugs Bunny, Daffy Duck, Woody Woodpecker, Tweety Bird, Sylvester Cat, Foghorn Leghorn, Pepe Le Pew, Fred Flintstone, George Jetson, Mr. DNA, Pillsbury Doughboy, Fleegle, Bingo, Drooper, Master Frown, Buhdeuce, Dade, Marvin the Martian
Bob Bergen - Porky Pig, Additional Voices
Jeff Bennett - Dr. Hamsterviel, Pip, J. Thaddeus Toad, Keswick
Rachel Bloom - Silver, Queen Barb, Cow #2
Gina Rodriguez - Velma Dinkley
Amanda Seyfried - Daphne Blake, Mary Katherine
Mark Wahlberg - Blue Falcon
Ken Jeong - Dynomutt, Gobi
Kiersey Clemons - Dee Dee Skyes
Kevin Michael Richardson - Mr. Dinkles, Gantu, Barney Rubble, TTG Mammoth, TTG Seemore, TTG Trigon, Mauler Twins, Monster Girl
Billy West - Muttley, Doug Funnie, Roger Klotz, Toe Jammer, Whammy, Additional Voices
J.K. Simmons - Mayor Lionheart, Warden, J. Jonah Jameson, Nolan Grayson / Omni-Man, Kai
Cree Summer - Cleo, Elmyra, TTG Elasti-Girl, Susie Carmichael, Numbuh 5, The Delightfull Children From Down The Lane, Additional Voices
Pierre Coffin - Minions
Steve Carell - Gru, Dru, Hammy, Ned McDodd
Miranda Cosgrove - Margo
Dana Gaier - Edith
Nev Scharrel - Agnes
Kristen Wiig - Lucy Wilde, Ruffnut Thorston
Bill Melendez, Andy Beall, Terry McGurrin and Rob Tinkler - Woodstock, Woodstock's friends, Snoopy, Snoopy's siblings
Johnathan Phillp Martin - Charlie Brown
Alex Garfin - Linus van Pelt
Hadley Belle Miller - Lucy van Pelt
Rebecca Bloom - Marcie
Francesca Capaldi - The Little Red Haired Girl
Madisyn Shipman - Violet
Anastasia Bredikhina - Patty
Marleik "Mar Mar" Walker - Franklin
Noah Johnston - Schroeder
A.J. Teece - Pigpen
Patton Oswalt - Max, Remy, TTG The Atom, M.O.D.O.K
Eric Stonestreet - Duke
Ellie Kemper - Katie
Dwayne Johnson - Maui, Captain Charles T. Baker
Sterling K. Brown - Garry
Ben Stiller - Alex, Larry Daley, Scartar
Chris Rock - Marty, Osmosis Jones, Mooseblood the Mosquito
Ewan McGregor - Rodney Copperbottom, Obi-Wan Kenobi
Emma Stone - Eep Crood
Resse Witherspoon - Susan Murphy/Ginormica, Rosita
Patrick Warburton - Ian, Kronk, Blag, Little Green Men, King Agamemnon, Pulaski, Flynn, Ken, Wolf W. Wolf, Joe Swanson
Kevin Hart - Snowball, George Beard
John Ratzenberger - Hamm, Yeti, Mack, P.T. Flea, John, Underminer
Tye Edwards - Dolph
Andy Dicks - Boingo
Kristen Schaal - Edith, Trixie, Mabel Pines, Barb, Tree Trunks
Linda Cardellini - Wendy Corduroy
Ty Burrell - Mr. Peabody, Bailey
Max Charles - Sherman
Iain Armitage - Pinocchio
Jacob Tremblay - Harvey Beaks, Richard
Angelina Wahler - Fee, Peppermint Patty, Stretchy
Thomas Robinson - Foo
Maurice LaMarche - The Brain, 7D Grumpy, Super Hero Squad Magneto, Mr. Big, Big Bob, Father
Fred Tatasciore - Yosemite Sam, Teetsi, Lovelace, Lord Dominator in masked form
Jerry Trainor - Dudley Puppy
Rihanna - Tip Tucci
Jennifer Lopez - Shira, Lucy Tucci
Jim Parsons - Oh
Miles Bakshi - Timothy Templeton, Farkle, Fergus
Alec Baldwin - Machine Head, Theodore Templeton (a.k.a. Boss Baby), Makunga
Tom Kenny - SpongeBob SquarePants, Rabbit, Ice King, Leo Callisto, Dog, The Penguin, Mayor of Townsville, Super Hero Squad Iron Man, Carl, Wynq, Bongo the Bear, Professor Quigley, The Narrator
Bill Fagerbakke - Patrick Star, Additional Voices
Rodger Bumpass - Squidward Tentacles, Additional Voices
Clancy Brown - Mr. Krabs, Big Bad Wolf, Damien Darkblood, Additional Voices
Carolyn Lawrence - Sandy Cheeks
Patrick Stewart - Poop Emoji
Mel Gibson - John Smith, Rocky the Rhode Island Red
Hugh Jackman - Roddy, Memphis
Morgan Freeman - Vitruvius
Nicole Kidman - Norma Jean
Katie Crown - Tulip, Slimy
Ariel Winter - Penny Peterson, Marina Mermaid, Stogg, Diamond Destiny, Sofia, Additional Voices
Jack Black - Lenny, Po
Vin Diesel - Iron Giant, Groot
Bradley Cooper - Rocket Raccoon
Ben Affleck - DCEU Batman
Henry Cavill - DCEU Superman
David Cross - Minion, Master Crane
Wanda Sykes - Wage, Stella, Granny, Bessy
Eddie Murphy - Mushu, Donkey, Reedling
Jane Lynch - Sargeant Calhoun, Gretched the Ogre, Io
Wallace Shawn - Principle Mazur, Rex, Labrador MC, Gilbert Huph
Johnny Depp - Rango, Captain Jack Sparrow, Victor Van Dort
Ryan Reynolds - Pikachu, Guy, Theo/Turbo, Hal Jordan/Green Lantern
Charlie Adler - Cow, Chicken, Baboon, Buster Bunny, Red Guy/Lance Sackless, Thumpy 1
Halle Berry - Cappy
Kevin Bacon - Balto
Elijah Wood - Mumble, Frodo Baggins
Bruce Willis - RJ, John McClane
Jesse Eisenberg - Blu, Lex Luthor
Anne Hathaway - Jewel
Diego Luna - Manolo Sanchez
Zoe Saldana - Maria Posada, Gamora, Neytiri, Captain Celaeno
Sam Worthington - Jake Sully
Keke Palmer - Peaches
Queen Latifah - Ellie
Craig T. Nelson - Bob Parr/Mr. Incredible
Holly Hunter - Helen Parr/Elastigirl
Sarah Vowell - Violet Parr
Huckleberry Milner - Dashiell "Dash" Parr
Eli Fucile, Maeve Andrews, Noelle Zuber and Nick Bird - Jack-Jack Parr
Angelina Jolie - Master Tigress, PomPom
Jackie Chan - Master Monkey, Mr. Feng, Master Wu
Lucy Liu - Master Viper
James Hong - Mr. Ping
Samuel L. Jackson - Whiplash, Lucius Best/Frozone, Zog
Bryan Cranston - Li Shan, Vitaly
Taylor Swift - Audrey
John Cusack - Igor
Dakota Fanning - Coraline Jones
Jason Sudeikis - Red
Josh Gad - Olaf, Chuck, Louis, Oaktopus
Danny McBride - Bomb
Jerry Seinfeld - Barry B. Benson
George Clooney - Mr. Fox
Amy Poehler - Joy, Sally O'Malley, Eleanor
Phyllis Smith - Sadness
Mindy Kailing - Disgust
Lewis Black - Anger, Mr. Potato Head
Bill Hader - Flint Lockwood, Fear, King Leonard Mudbeard
Richard Kind - Bing Bong, Molt, Van, Larry
Kaitlyn Dias - Riley Anderson
Diane Lane - Riley's Mom
Kyle McLachlan - Riley's Dad
Anna Kendrick - Princess Poppy
Justin Timberlake - Branch, Furcorn, Arthur Pendragon
Eric Idle - Merlin
Gwen Stefani - DJ Suki
James Corden - Biggie, Hi-5
George Lopez - Grouchy Smurf, Rafael, Thurman
will.i.am - Pedro
Jamie Foxx - Nico, Joe Gardner
Tracy Morgan - Luiz, Captain Caveman
Ice Cube - The Candle Maker
Craig Robinson - Doc, Kevin
Demi Lovato - Smurfette
Selena Gomez - Mavis, Glowl, Betsy
Molly Shannon - Eva, Wanda
Brad Pitt - Metro Man, Frank Harris
Sean Hayes - Brain, Terri
Adam Devine - Sam-I-Am
Michael Douglas - Guy Am I
Ilana Glazer - E.B.
Diane Keaton - Michellee
Jillian Bell - Gluntz
Jeffery Wright - McWinkle
Gerard Butler - Stoick the Vast (as a ghost)
Emily Blunt - Mary Poppins
Julie Andrews - Queen Lillian, Gru's Mother
Dick Van Dyke - Bert
Snoop Dogg - Himself, Smoove Move
Bruno Mars - Roberto
Jordan Peele - Melvin Sneedly, Bunny, Doris the Ugly Stepsister
Thomas Middleditch - Harold Hutchins
Jess Harnell - Wakko, Ironhide
Benedict Cumberbatch - Doctor Strange, The Grinch, Classified
Trey Parker - Stan Marsh, Eric Cartman, Balthazar Bratt, Randy Marsh, Clyde Donovan, Timmy Burch, Jimmy Valmer, PC Principle, Herbert Garrison, Additional Voices
Matt Stone - Kyle Broflovski, Kenny McCormick, Butters Stotch, Tweek Tweak, Craig Tucker, Kevin Stoley, David Rodriguez, Bradley Biggle, Additional Voices
Mona Marshall - Red, Theresa, Additional Voices
April Stewart - Wendy Testaburger, Milly, Annie Knitts, Additional Voices
Gal Gadot - Shank, DCEU Wonder Woman
Keegan-Michael Key - Ducky, Murray the Mummy
Seth MacFarlane - Peter Griffin, Stewie, Mike, Ron Raccoon
Tom Holland - MCU Spider Man, Ian Lightfoot, Walter Beckett, Jip
Tobey Maguire - Raimiverse Spider-Man
Andrew Garfield - Amazing Spider-Man
Howie Mandel - Gizmo
Arnold Schwarzenegger - T-800 (The Terminator)
Dave Bautista - Drax, Sloth, Donnerverse Superman
Adam Sandler - Dracula, Sam Brenner, Q*Bert
Alex Winter - Bill
Keanu Reeves - Ted, Duke Caboom
Darius McCrary - Jazz
Robert Foxworth - Ratchet
Ezra Miller - The Flash, D.A. Sinclair
Jason Momoa - Aquaman, TTG Aquaman
Ray Fisher - Cyborg
Scott Menville - OG Robin, TTG Robin, TTG Billy Numerous, Additional Voices
Khary Payton - OG Cyborg, TTG Cyborg, Black Samson, Hex
Greg Cipes - OG Beast Boy, TTG Beast Boy, Michaelangelo, Twitchy, Ryan
Hynden Walch - OG Starfire, TTG Starfire, Princess Bubblegum
Ozioma Akagha - TTG Bumblebee, Sleazy
Ryan Potter - Hiro Hamada
Scott Adsit - Baymax
James Caan - Tim Lockwood
Terry Crews - Officer Earl
Neil Patrick Harris - Steve
T.J. Miller - Gene, Tuffnut Thorston, Fred
Jeff Dunham - Mole
Brad Garrett - Ralph, Cat (P+C), Bloat, Chug, Easter Island Head, Hook Hand
Seth Green - Leonardo
Sean Astin - Raphael, Smoke
Anna Faris - Sam Sparks, Jailbreak, Jeanette
Mark Hamill - Luke Skywalker, Art Rosebaum
Zach Callison - Steven Universe
Estelle - Garnet
Michela Dietz - Amythest
Deedee Magno Hall - Pearl
Shelby Rabara - Peridot
Uzo Aduba - Bismuth, Queen Novo
Tom Scharpling - Greg Universe
Grace Rolek - Connie Maheswaran
Charlyne Yi - Ruby
Erica Luttrell - Sapphire
Jennifer Paz - Lapis Lazuli
Miriam A. Hyman - Bismuth
Kimberly Brooks - Jasper
Sarah Stiles - Spinel
Asher Bishop - Lincoln Loud
Catherine Taber - Lori Loud, Whitney, Catherine, Additional Voices
Liliana Mumy - Leni Loud, Beth
Nika Futterman - Luna Loud, Additional Voices
Cristina Pucelli - Luan Loud
Jessica DiCicco - Lynn Loud, Lucy Loud, Zach, Additional Voices
Lara Jill Miller - Lisa Loud, Widget, Fink, Liam
Andre Robinson - Clyde McBride
Izabella Alvarez - Ronnie Anne Santiago
Leah Mei Gold - Sid Chang
Sumalee Montano - Maria Casagrande-Santiago
Roxana Ortega - Frida Puga-Casagrande
Sonia Manzano - Rosa Casagrande
Alexa PenaVega - Carlota
Jared Kozak - CJ
Alex Cazares - Carlino
Carlos PenaVega - Bobby Santiago
Eugenio Derbez - Arturo Santiago, Glenn, Chato
Alyson Stoner - Sam Sharp, Isabella
Ry Chase - Mazzy
A.J. LoCascio - Sully
Sean Giambrone - Benny
Georgie Middler - Haiku
Haley Tju - Stella
Owen Rivera-Blabbey - Rusty
Natalie Coughlin - Nikki
Nour Jude Assaf - Sameer
Jack Fisher - Kid (Kid Cosmic)
Lily Rose Silver - Rosa Flores
Diego Maolano - Victor
Sean-Ryan Petersen - Valentino
Parker Simmons - Mao Mao
Griffith Kimmins - Badgerclops
Lika Leong - Adorabat
Max Mittelman - Lion-O, Wilykat
Patrick Seitz - Tygra
Erica Lindbeck - Cheetara, Wilykit
Chris Jai Alex - Panthro
Philip Solomon - Craig
Noël Wells - Kelsey, Lord Dominator in unmasked form
Ashley Johnson - OG Terra, TTG Terra, Tulip
Owen Dennis and Jeremy Crutchley - One-One
Stephanie Lemelin - Audrey, TTG Power Girl
Kelly McCreary - Dot
Lauren Lapkus - Lotta
Jack Quaid - Richie Rich
Kari Wahlgren - Maggie, Ketta, Nova, Zantanna (DCSHG), Noisy, Shannon, Diving Belle, Jamie, Flora Fauna, Charmcaster, Additional Voices
Madison Davenport - Sophianna
Brenda Song - Anne Boonchuy
Idina Menzel - Elsa
Pamela Ribon - Snow White
Jodi Benson - Ariel, Barbie
Anika Noni Rose - Tiana
Bruno Campos - Prince Naveen
Michael-Leon Wooley - Louis
Jennifer Hale - Cinderella
Kelly Macdonald - Merida
Liu Yifei - Fa Mulan
Emma Watson - Belle
Irene Bedard - Pocahontas
John Kassir - Meeko
Mena Massoud - Aladdin
Naomi Scott - Jasmine
Mandy Moore - Rapunzel
Auli'i Cravalho - Moana
Amy Adams - Giselle
James Marsden - Prince Edward, Tom Wachowski
Christopher Daniel Barnes - Prince Eric, Prince Charming
Zachary Levi - Eugene
Jonathan Groff - Kristoff
Matthew Broderick - Simba, Inspector Gadget, Adam Flayman
Moria Kelly - Nala
BD Wong - Li Shang
Chris Sarandon - Jack Skellington
Catherine O'Hara - Sally Skellington, Penny
Blayne Weaver - Peter Pan
Eugene Levy - Lou, Orrin
Olivia Munn - Misako
Ryan Kaji - Himself
Loann Kaji - Herself
Shion Kaji - Himself
Bradley William Smith - Combo Panda
Jose David Ramos - Big Gil, Peck the Penguin
Julia Stockton - Gus, Alpha Lexa
Johnny Rose - HobbyPig, HobbyDad, SlobbyRat, SlobbySkunk, Sleazy
Griffin Burns - HobbyFrog, SlobbySnake, Scummy
Christina Milizia - HobbyBear, HobbyMom, Carlitos
Jace Diehl - GamerGoose194
JillianTubeHD - HobbyButterfly, Herself
Sean Daeley - Packrat
Marlin Ramsey Chan - Himself
Stephanie Panisello - Clemmie, Additional Voices
Alex Hall - Tango
Corey Krueger - Bud, Flasher, Packrat, A Person on YouTube, TV Announcer, King Washing Machines Penguin #1, Additional Voices
EvanTubeHD - Evan, Himself
Judah Lewis - Teddy Pierce
David Hasselhoff - Michael Knight/Himself
William Daniels - K.I.T.T
Mr. T - B.A. Baracus
Robert G. Chiu - Chin
Mark Fischbach - Mr. Murcott
Will Smith - Oscar, Agent J, Lance Sterling
Tim Blaney - Frank the Pug
Nick Kroll - Gunter, Tippy Tinkletrousers (a.k.a. Professor Poopypants), Heimlich, James The Dragonfly
Jason Mantzoukas - Scammy, Hey Nongman, Rex Sloan / Rex Splode
Gillian Jacobs - Samantha Eve Wilkins / Atom Eve
Andrew Rannells - William Clockwell
Zazie Beetz - Amber Bennett
Walton Goggins - Cecil Stedman
Zachary Quinto - Rudy Conners / Robot
Malese Jow - Kate Cha / Dupli-Kate
Max Burkholder - Oliver Grayson
Lauren Cohan - War Woman
Sonequa Martin-Green - Green Ghost
Chad Coleman - Martian Man
Michael Cudlitz - Red Rush
Lennie James - Darkwing
Ross Marquand - The Immortal, Aquarius
Mahershala Ali - Titan
Michael Dorn - Battle Beast
Nicole Byer - C.A.R.A., Vanessa, Fiona
Sonya Leslie - Cow #3
Catherine Gallant - Beetrice
Cathy Ang - Fei Fei
Phillipa Soo - Chang'e
Sandra Oh - Mrs. Zhong, Virana, Debbie Grayson, President of United States
Darby Camp - Katie Pierce, Peg
Mika Shimozato - Aki, Crazy, Nerdluck Buffus, Duplo Wonder Woman, Additional Voices
Ramone Hamilton - Ramone
Conrad Ricamora - Houyi
Amanda Leighton - Blossom
Kristen Li - Bubbles
Natalie Palamides - Buttercup
Mae Whitman - April O'Neil, Tinker Bell, Agent Zero, Fightmaster, Dropkick, Speck of Dust
Tiffany Haddish - Queen Watevra Wa'Nabi, Daisy
Stephanie Beatriz - Sweet Mayhem
Kathryn Hahn - Ericka, The Fairy Godmother
Halsey - TTG Wonder Woman
Emma Thompson - Polynesia, Queen Elinor
Octavia Spencer - Corey the Manticore, Dab-Dab
Marion Cotillard - Tutu
Allegra Clark - Felicity
Wayne Grayson (credit as Vinnie Penna Jr.) - Scuzzbopper, Additional Voices
Rami Malek - Chee Chee
Pete Davidson - Duck
Robbie Daymond - SwaySway, Miguel (RBUK), Raymond, Robbie, Rusty
Laurissa Gallagher - Sara
Jeremy Shada - Finn the Human
John DiMaggio - Jake the Dog, Monstar Buffus, Additional Voices
Nicholas Cantu - Gumball Watterson
Christian J. Simon - Darwin Watterson, Casey
Kyla Rae Kowalewski - Anais Watterson
Teresa Gallagher - Nicole Watterson, Penny Fitzgerald, Teri, Additional Voices
Dan Russell - Richard Watterson, Greensleeves
Hugo Harold Harrison - Tobias, Idaho, Alan, Miss Simian, Dummy, Additional Voices
Kerry Shale - Larry, Bobert, Leslie, and Hector
Jessica McDonald - Masami, Carrie, Jamie, Rachel, Molly, Daisy the Donkey, Additional Voices
Maxwell Cazier - Clayton and Ocho
Adam Long - Mr. Small
Mic Graves - Banana Joe and William
Eric Edelstein - Grizz
Bobby Moynihan - Panda, Louie Duck
Demetri Martin - Ice Bear
Lil Yachty - TTG John Stewart (Green Lantern)
David Schwimmer - Melman
Jada Pinkett Smith - Gloria
Tom McGrath - Skipper
Sacha Baron Cohen - King Julien
Cedric the Entertainer - Maurice, Carl
Andy Richter - Mort
Chris Miller - Kowalski, Magic Mirror
Christopher Knights - Private, Three Blind Mice, Thelonious
Conrad Vernon - Rico, Gingerbread Man, Mason, Insectosaurus, Headless Horseman
Cody Cameron - Pinocchio, Three Little Pigs, Barry
Aron Warner - Big Bad Wolf
Tye Sheridan - Parzival
Olivia Cooke - Art3mis
Lena Waithe - Aech
Win Morisaki - Daito
Philip Zhao - Sho
Robert Downey, Jr. - Iron Man
Chris Evans - Captain America
Edward Norton - Bruce Banner
Mark Ruffalo - Hulk
Freddie Highmore - Astro Boy
John Travolta - Bolt
Chris Hemsworth - Thor
Christopher Lloyd - Doc Brown
Michael J. Fox - Marty McFly
Bill Murray - Dr. Peter Venkman, Long John Silver
Dan Aykroyd - Raymond Stantz
Ernie Hudson - Winston Zeddemore
Daniel Radcliffe - Harry Potter
Nolan North - Terence, Oonski, Steven Quackberg
Audrey Wasilewski - Rambamboo, E.T.
Nicole Taylor Wendel - Claire
Madeleine Curry - Piri Piri
Andres Salaff - Princess
Nick Sumida - Kathy, Itchy
Matthew Zhang - Kratz
Mason Vaughan - Technobear
C.H. Greenblatt - Jeremy, Fred Fredburger, Additional Voices
Jason Drucker - Greg Heffley, Nemo (Little Nemo)
Owen Asztalos - Rowley Jefferson
Charlie Wright - Rodrick, Spotty
Liam Neeson - Bad Cop/Good Cop, Pa Cop, Raccoon
Mike Myers - Shrek
Dave Foley - Flik, Terry
Nick Offerman - Metalbeard, TTG Batman
Charlie Day - Benny, Art
Joel Murray - Don Carlton
Julia Louis Dreyfus - Princess Atta, Laurel Lightfoot
Hayden Panettiere - Dot
Kazumi Evans - Adagio Dazzle
Maryke Hendrikse - Sonata Dusk
Diana Kaarina - Aria Blaze
Lauren Tom - TTG Jinx, TTG Gizmo
Rachel Dratch - TTG Negative Girl
Flula Borg - TTG Robot Man
Kumail Nanjiani - Plimpton, Verne
Will Arnett - Bojack Horseman, Lego Batman, The Missing Link, Surly, Vlad, Steve, TTG Slade (in prison)
Hugh Laurie - Dr. Cockroach PHD
Robert De Niro - Don Lino
Renne Zellweger - Angie, Vanessa Bloome
Leslie Mann - Linda Gunderson, Hope Betterman
Geraldine Viswanathan - Winnie
Scarlett Johansson - Ash, Black Widow, Ziggurab, Mindy
Tina Fey - Roxanne Ritchi, 22
Courtenay Taylor - K.O.
Ashly Burch - Enid
Melissa Fahn - Dendy, Mikayla, Krissa, Genesis, Additional Voices
Kate Flannery - Carol
Nichole Bloom - Carla
Halle Berry - Cappy
Mel Brooks - Bigweld, Vlad, Yogurt
Amanda Bynes - Piper Pinwheeler
Drew Carey - Crank Casey
Harland Williams - Lugnut
Jennifer Coolidge - Aunt Fanny
Natasha Lyonne - Lorretta Geargrinder
Betty White - Grammy Norma
Zac Efron - Ted Wiggins, Fred Jones
Ben Schwartz - Sonic the Hedgehog, Dewey Duck, Skidmark
Danny Pudi - Huey Duck, Brainy Smurf
Ian Jones-Quarty - Radicles, Darrell, Wallow
Dave Herman - Mr. Gar
Steven Ogg - Professor Venomous
Dave B. Mitchell - Knuckles, Shrink, Shrank, Raven King, Shocker
Christopher Niosi - Nick Army, Neil, Pird, Ernesto, Shrunk
Graeme Jokic - Chris Kirkman
John Omohundro - Daniel "Danny" Vasquez
Tom Kane - Professor Utonium
Paul Fusco - Alf
Anthony Gonzalez - Miguel Rivera
Gael Garcia Bernal - Hector
Edward Asner - Carl Fredricksen
Jordan Nagai - Russell
Owen Wilson - Lightning McQueen, Reggie, Coach Skip, Jedediah
Larry The Cable Guy - Mater
Steve Coogan - Octavius
Bonnie Hunt - Sally Carrera, Rosie, Dolly
Cheech Marin - Ramone, Tito
Jenifer Lewis - Flo
Tony Shalhoub - Luigi
Guido Quaroni - Guido
Paul Dooley - Sarge
Ringo Starr - Fillmore
Michael Wallis - Sheriff
Michelle Monaghan - Violet Van Patten
Matt Lintz - Matty
Patrick Gallagher - Attila the Hun
Pierfrancesco Favino - Christopher Columbus
Tom Cruise - Ethan Hunt
William Shatner - James T. Kirk, Ozzie, Kazar
Jerome Ranft - Red, Wheezy, Lenny, Gamma
Avril Lavigne - Heather
Omid Djalili - Tiger
John Turturro - Francesco Bernouli, Goat, Monkeybone
Michael Caine - Finn McMissle, Governor Ratcliffe, Commander Lyle Tiberius Rourke
Emily Mortimer - Holley Shiftwell
Michael Keaton - Betelgeuse, Burtonverse Batman, Ken
Bob Peterson - Chick Hicks, Dug, Alpha
Peter Sohn - Emile, Squishy
Elissa Knight - Tia, EVE
Lindsey Collins - Mia
Peter Capaldi - 12th Doctor
Peter Weller - Robocop, Buckaroo Banzai
Steven Yeun - Bo the Donkey, Mark Grayson / Invincible
Steve Buscemi - Randall Boggs, Horace Nebbercracker, Wayne the Wolf, Scamper
Kath Soucie - Lola Bunny, Sally Acorn, Phil & Lil DeVille, Jetta, Daffodil, Miriam Pataki, Kanga, Nadine Stillwater, Tuffy
Olivia Hack - Rhonda Wellington Lloyd
Nicole Sullivan - Princess Mira Nova, Shego, Supergirl
Kyla Pratt - Penny Proud
Raven Symone - Monique
Martin Lawrence - Boog
Ashton Kutcher - Elliot
Ally Maki - Channy, Giggles McDimples
Jill Harris - Charlotte "Charlie" Magne
Monica Franco - Vaggie
Michael Kovach - Angel Dust
Edward Bosco - Alastor
Michelle Marie - Niffty
Brandon Rogers - Blitzo
Richard Steven Horvitz - Moxxie
Vivian Nixon - Millie
Erica Lindbeck - Loona
Nancy Cartwright - Chuckie Finster, Bart, Dash
Elsie Fisher - Dot
Candi Milo - Dexter, Roni, Leap
Aidy Bryant - Ruth the Sheep
Eden Sher - Star Butterfly
Adam McArthur - Marco Diaz
Anthony Ramos - King Trollex
Anderson.Paak - Prince D
George Clinton - King Quincy
Mary J. Blige - Queen Essence
Kelly Clarkson - Moxy, Delta Dawn
Janelle Monáe - Mandy
Blake Shelton - Ox
Pitbull - Ugly Dog
Wang Leehom - Lucky Bat
Gabriel Iglesias - Babo
Channing Tatum - Joaquin Mondragon, Lego Superman, Migo
Albert Brooks - Marlin
Hayden Rolence - Nemo
Zach Braff - Chicken Little
Shia LaBeouf - Cody Maverick
Billy Campbell - Cliff Secord/The Rocketeer
Elizabeth Daily - Rawhide, Tommy Pickles
Cheryl Chase - Angelica Pickles, Bammy
Adam Katz - Baseball, Nickel, Apple, Test Tube, Dusty, Muscleslayer, Synonomess Botch, Distorted Voice
Taylor Grodin - OJ, Paintbrush, Ghost Bow, Ghost Dough, Tissues, Snow Globe
Justin Chapman - Knife, Paper, Purple Face, Rusty Coin, Rod Rescueman
Brian Koch - Fan
Ben Cross - Balloon, King Washing Machines Penguin #2
Michael Bruzzone - Lightbulb
Samuel Thornbury - Suitcase, Fly Swat
Hailey Chapman - Microphone
Kacie Chapman - Soap
Rheagan Rizio - Taco
Dee Cashin - Marshmallow
Alexa Chapman - Salt, Pepper
Michael Huang - Four, Robot Flower, Woody, Snowball, Donut, Eraser, Firey, Yellow Face, Coiny, Cloudy, Blocky, Book, Flower, Pencil, Pen, Bubble, Fries, Golf Ball, Loser, Puffball, Leafy
Cary Huang - X, Tennis Ball, 8-Ball, Grassy, Bracelety, Ruby, Pin, Match, Marker, Spongy
Satomi Hinatsu - Black Hole, Basketball, Fanny, Saw, Bottle, Bomby, Balloony, Firey Jr., Gaty, Clock, Ice Cube, Additional Voices
Kenzie Bryant - Taco, Barf Bag, Bell, Cake, Needle, TV, Additional Voices
Cindy Jiang - Foldy, Pillow
Katherine Sun - Eggy, Naily, Additional Voices
Sabrina Barba - Lightning, Liy
Thomas Chick - Tree
Sam Lee - Pie, Lollipop, Stapy
Ian Woodside - Gelatin
Niall Burns - Globe, Soccer Ball, Marble, Profily, Snatchy, Two, Gamey, Boombox, Boxing Glove, Candy, Casey, Cherry, Clock, Coney, Crayon, Disc, Kite, Lighter, Locky, Marble, Masky, Melony, Paper Airplane, Pearly, Ping Pong Ball, Popcorn, Pumpkin, Television, Tiki, Tissue, Toaster, Toothy, Top Hat
Phil Vischer - Bob the Tomato
Mike Nawrocki - Larry the Cucumber/Larry-Boy, Sloppy Squrriel
Lisa Vischer - Junior Asparagus
Danny Cooksey - Shag
Peter Cullen - Optimus Prime, Eeyore, Pummel, Voice of Predator
Matt Damon - Cale Tucker, Spirit
Eli Marienthal - Hogarth Hughes
Kotono Mitsuishi - Usagi Tsukino / Super Sailor Moon
Ryo Hirohashi - Luna
Kenji Nojima - Mamoru Chiba/Tuxedo Mask
Hisako Kanemoto - Ami Mizuno / Super Sailor Mercury
Rina Sato - Rei Hino / Super Sailor Mars
Ami Koshimizu - Makoto Kino / Super Sailor Jupiter
Shizuka Ito - Minako Aino / Super Sailor Venus
Misato Fukuen - Chibiusa / Super Sailor Chibi Moon
Ai Maeda - Setsuna Meioh / Super Sailor Pluto
Junko Minagawa - Haruka Tenoh / Super Sailor Uranus
Sayaka Ohara - Michiru Kaioh / Super Sailor Neptune
Yukiyo Fujii - Hotaru Tomoe / Super Sailor Saturn
Taishi Murata - Artemisa
Shoko Nakagawa - Diana
Nanao - Queen Nehelenia
Vincent Martella - Phineas Flynn
Thomas Sangster - Ferb Fletcher, Casper the Friendly Ghost, Taran, Dick Tracey
Jenna Coleman - Clara Oswald
Rob Paulsen - Donatello, Yakko, Pinky, Spike, Cariconica, Carl Wheezer, Professor Genius, Droopy Dog, Kyle Chipmunk, Snorkel The Fox, The Tin Man, Additional Voices
Carlos Alazraqui - Denzel Crocker, Felipe, Walden, Carlos Casagrande, Additional Voices
Kevin James - Frank, Otis the Cow, Wubbox, Dragon
Billie Lourd - Leia Organa
Joonas Suotamo - Chewbacca
Charles Martinet - Mario, Luigi, Wario, Waluigi
Takashi Nagasako - Donkey Kong
Jonathan Potts - Link
Makiko Ohmoto - Kirby
Alecia Glidewell - Samus Aran
Mike West - Fox McCloud
Kazumi Totaka - Yoshi
Jay Baruchel - Hiccup
Randy Thom - Toothless, Light Fury
America Ferrera - Astrid, Phangler
Ginnifer Goodwin - Judy Hopps, Nick's girlfriend
Justin Long - Alvin, Lem Korplog, Mammott
Matthew Gray Gubler - Simon
Jesse McCartney - Theodore, JoJo McDodd
Christina Applegate - Brittany
Jessica Biel - Neera
Freddie Benedict - Eckle
Gary Oldman - General Grawl
Andy Samberg - Jonathan, Junior, Chicken Brent, Flum Ox
Sadie Sandler - Winnie
Jason Bateman - Nick Wilde
Fran Drescher - Eunice
Patrick Gallagher - Attila the Hun
Raami Malek - Ahkmenrah
Mizuo Peck - Sacagawea
Martin Christopher - Merriweather Lewis
Martin Sims - William Clark
Crystal the Monkey - Dexter
Kerry van der Griend, Dan Rizzuto, Matthew Harrison and Jody Racicot - Neanderthals
Idris Elba - Chief Bogo
Brandy Norwood - Leah Estrogen, Ozzy's love interest
William Shatner - Mayor Phlegmming

Elton John - Mayor Phlegmming's Singing Voice

Steve Martin - Captain Smek
Alecia Beth Moore (Pink) - Gloria
Ava Acres - Erik
Zoe Baakshi - Felicia
Dana Davis - Kelly
Laurie O'Brien - Baby Piggy from Muppet Babies (1984)
Justin Bieber - Gorg Commander
J Balvin - Tresillo
Daddy Yankee - Edgar
Kelsey Grammer - Hunter
Donna Murphy - Mother Gothel
Catherine Keener - Evelyn Deavor, Ugga Crood
Matt L. Jones - Officer Kyle, Bellwether's boyfriend
Charlie Schlatter - Clarence "Kick" Buttowski
Shakira - Gazelle, a pop star
Clark Duke - Thunk Crood
Kailey Crawford - Sandy Crood
Kiefer Sutherland - General Warren R. Monger, Samson
Jim Belushi - Benny the Squirrel
Janeane Garofalo - Bridget
Keith David - Dr. Facilier, The Cat, Spawn
Richard White - Gaston
Pat Carroll - Ursula
Randy Quaid - Alameda Slim
Jeff Garlin - Captain B. McCrea
Jonathan Freeman - Jafar
Sir Ben Kingsley - Bill Sykes
Malcolm McDowell - Dr. Calico
Brian Blessed - Clayton
Kevin Spacey - Hopper
Gary Sinise - Shaw
Jack Nicolson - The Joker
Hugo Weaving - Agent Smith
Bill Skarsgard - Pennywise the Dancing Clown
Ralph Fiennes - Lord Voldemort, Victor, Barry, Alfred Pennyworth
Diedrich Bader - Tank "The Shredder" Evans
Dan Navarro - Chakal
Nick Jonas - Lou
Thomas F. Wilson - Biff Tannen
Liev Schreiber - Wilson Fisk/Kingpin
Ken Page - Oogie Boogie
Michael Shannon - General Zod
Alan Tudyk - King Candy, Duke Weaselton
Andy Serkis - Gollum
Jeremy Irons - Scar
Stephen Root - Frank
Ian McShane - Tai Lung, Captain Hook
Laurence Fishburne - Thrax
Roger L. Jackson - Mojo Jojo
Haley Mancini - Princess Morbucks
Rob Paulsen and Roger L. Jackson - The Rowdyruff Boys
Rainn Wilson - Gargamel, Gallaxhar
Nicolas David - Cretaceous and Maelstrom
Tim Blake Nelson - Dr. Jonathan Jacobo
Scott McNeil - Evil Masked Figure
Jeff Bennett and Maurice LaMache - The Beagle Boys
Rob Riggle - Bela, Aloysius O'Hare
Andrew Stanton - Emperor Zurg
Bill Nighy - Davy Jones, Dr. Elefun
Jason Lee - Buddy Pine / Syndrome, Dave Seville
Greg Kinnear - Phineas T. Ratchet
Dave Koechner - Dag the Coyote
Djimon Hounsou - Drago Bludvist
F. Murray Abraham - Grimmel
John Lithgow - Lord Farquaad
Jennifer Saunders - Fairy Godmother
Rupert Everett - Prince Charming, Dr. Claw
Walt Dohrn - Rumpelstlikskin, Krekraw Ogre, Smidge the Troll, Cloud Guy
Eddie Izzard - Dr. Schadenfreude, Nigel
Christopher McDonald - Kent Mansley
Ben Mendelsohn - Nolan Sorrento, Killian
Nick Nolte - Vincent
Nathan Lane - Timon
Ernie Sabella - Pumbaa, Timon's best friend
Nate Torrence - Officer Benjamin Clawhauser
Chris Pine - Jack Frost
Michael Peña - Tito Lopez
Ben Whitehead - Wallace
Justin Fletcher - Shaun
Usher - Richard
Cee Lo Green - Crocodile: the deuteragonist of Sing (2016)
Little Mix - The Q-Teez: the antagonist of Sing (2016)
Bruce Campbell - Mayor Shelbourne
Common - Stonekeeper
David Hyde Pierce - Drixenol "Drix" Koldreliff, Oh's best friend
John Cena - Ferdinand, Yoshi
Taron Egerton - Johnny
Kate Higgins - Princess Aurora, Johnny's love interest
Frances McDormand - Captain Chantel DuBois
Jason Segel - Victor Perkins/Vector
Benjamin Bratt - Eduardo Perez/El Macho, Ernesto de la Cruz, Manny
Jenny Slate - Bellwether, Lego Harley Quinn, Ted's Mom, Gidget, Valerie Da Vinci, Pony Head
Helmut Bakaitis - Monsieur D'Arque, Megabyte, Virgil, Anubis, Trigon
Matt Danner - Go Go Moba Boy
Jeff Wallace - Destructo Man
Matt Vogel - Big Bird, Kermit the Frog, Floyd Pepper, Count von Count, '80s Robot, Camilla the Chicken
Ryan Dillon - Elmo
David Rudman - Cookie Monster, Scooter, Janice, Beaker
Eric Jacobson - Miss Piggy, Fozzie Bear, Bert, Grover, Animal, Sam Eagle, Oscar the Grouch, Zoot
Dave Goelz - Gonzo, Dr. Bunsen Honeydew, Waldorf
Peter Linz - Rizzo the Rat, Statler, Walter, Ernie
Kate Harbour - Bird
Jack Quire - Himself
Tara Marlow - Herself
Stephen Quire - Himself
David Quire - Himself
Jennifer Quire - Herself
SuperM - Themselves, Mayor Phlemming's is the new friends of Kpop
Got7 - Themselves, Mayor Phlegmming's is the new friends of Kpop
Seventeen - Themselves, Richard's is the new friends of Kpop
BlackPink - Themselves, Richard's is the new girls of Kpop
Red Velvet - Themselves, Buster Moon's is the new girls of Kpop
BTS - Themselves, Buster Moon's is the new friends of Kpop
Stray Kids - Themselves, Buster Moon's is the new boys of Kpop
WayV - Themselves, Mayor Phlegmming's is the new boys of C-pop
NCT U - Themselves, Mayor Phlegmming's is the new boy band of Kpop
Ateez - Themselves, Mayor Phlegmming's is the new boys of Kpop
ONEUS - Themselves, Mayor Phlegmming's is the new boys of Kpop
ITZY - Themselves, Mayor Phlegmming's is the new girls of Kpop
MAMAMOO - Themselves, Mayor Phlegmming's is the new girls of Kpop
(G)I-DLE - Themselvles, Mayor Phlegmming's is the new girls of Kpop
Astro - Themselves, Mayor Phlegmming's is the new boys of Kpop
NCT 127 - Themselves, Buster Moon's is the new boys of Kpop
Exo - Themselves, Buster Moon's is the new boys of Kpop
SF9 - Themselves, Buster Moon's is the new friends of Kpop
NCT Dream - Themselves, Buster Moon's is the new friends of Kpop
Monsta X - Themselves, Buster Moon's is the new boy of Kpop
CRAVITY - Themselves, Richard's is the new boys of Kpop
DCappella - Themselves, Johnny, Richard, Crocodile and Gunter's is the new acappella
The McElroy Brothers - Cerabus

Justin also voices Beatsby and Sssnake
Travis also voices Happy Meal Box #1
Griffin also voices the 1980's Red LEGO Spaceman

Josh Fadem - Donny
Microsoft Sam - Himself
Microsoft Mike - Himself
Microsoft Mary - Herself
John Hasler - Thomas
Keith Wickham - Edward, Henry, Gordon, Sir Topham Hatt
Rob Rackstraw - James and Toby
Nigel Pilkington - Percy
Teresa Gallagher - Emily, Annie and Clarabel
Yvonne Grundy - Nia
Rachael Miller - Rebecca
Kerry Shale - Diesel
Jojo Siwa - Herself, Jay
Ash Brannon - Raoul J. Raoul (he previously played by Joel Silver in the first film), Officer #1
Lawrence Guterman - Officer #2
Kenya Barris - Scary, Officer #3
Taika Watiti - Messy, Officer #4
Taha Taud - Himself
Rian Johnson - Himself/Meteorologist
Tim Hill - Documentary Narrator
Noah Haus - Himself/Superboy
James Remar - Vilgax
Gustavo Dudamel - Rick Rochester, Trollzart
Christina Hendricks - Zarina, Gabby Gabby, Officer Jaffe
Todd Stashwick - The Cowardly Lion
Randy Newman - Singer
Debi Derryberry - Tad
Sandy Fox - Lily
Cindy Robinson - Betty Boop
Sean Giambrone - Eboy
Daniel Middleton - Eboy (UK), Himself
Simon Cowell - Himself
Anthony Viviano - Himself
Joseph Garrett - Himself
Jordan Maron - Himself
Adam Harrington - Himself
Stacy Hinojosa - Himself
Sara Bareilles - Herself
Jeff Probst - Himself
Peter Rida Michail - Himself
DJ Khaled - Himself
Marshmello - Himself
Pharrell Williams - Himself
Chance the Rapper - Himself
Katie Crown, Linda Larkin, Paige O'Hara, Sean Astin, Dave Fennoy, Niall Burns, Joseph Pak, Justin Chapman, Kacie Chapman, Katherine Sun, Laurie O'Brien, Candi Milo, Ian Woodside - Maleficent's Goons
Beyonce Knowles-Carter - Shine
Fletcher Sheridan - Robin's Opera Voice
Elyse Willis - Starfire's Opera Voice
Suzanne Waters - Jade Wilson's Opera Voice, Marcie's Low Pitched Screaming Voice
Claira Nicole Titman - Marcie's Screaming Voice
Isla Fisher - Dr. Mary Lou Larue, Beans, Tooth Fairy
Michael Gough - The Scarecrow
Shonda Rhimes - Officer #5
Luc Besson - Strongy
Matthew Mercer - Tom Cat
Andrew Dice Clay - Ford Fairlane
Roger Corman - Hollywood Director
Bryan Adams - Bryan
Alexis Tipton - Jerry Mouse
Jennifer Love Hewitt - Herself
Amy Pemberton - The Mouse Queen
Mark Barbolak - Bill the Dwarf Barty

Billy Barty - Bill's Singing Voice (Archival Recording)

Douglas Rain - HAl 9000 (Archival Recording)
Bill St. James - Radio Announcer
Danny Mann - 2D Who, Icarus
Andrew Synowiec, Larry Echerer, Jared Underwood, Peter Erskine, Wynton Marsalis, Dr. Jessie McGuire, Steve Bartek, - Rick Rochester's Rascals of Rhythm
Suzanne Waters, Kerry Ellis, Laura Dickinson, Sarah Lynch, Sara Mann, Elyse Willis, Carmen Twillie and Bobbi Page - Who's
Sawyer Jones, Liam Knight, Cora Miller, Graham Miller, Emmett Mitchell, Ollie Mitchell, and Tara Strong - Duplo Aliens, Stars, Hearts, Sparkle Babies, Hatchlings
Frank Welker, Dee Bradley Baker, Grey DeLisle, Rob Paulsen, Ethan Van Der Ryn, Erik Aadahl, Kevin Michael Richardson, Tom Kenny, Fred Tatasciore, Ben Burtt, Steve Blum, Danny Mann, Matthew Russell Wood and Chris Sanders - Vocal Effects
Ashton Smith, Howard Parker, George DelHoyo, Tony Rodgers, Al Chalk, Ben Patrick Johnson, Christian Lanz, Jim Cummings, John Garry and Bill Ratner - Trailer Announcers
Bridgett Newton, Amy Parrish and Nina Repeta - The Miller Sisters
William Kenneth Goldman and Todd Strange - The Dead Tones
Trey Parker, Matt Stone, Michael Bruzzone, Niall Burns, Jerome Ranft, John Ratzenberger, Dave Goelz, Frank Oz, Jim Cummings, Lloyd Sher, Glenn Shadix, Jason Marsden, Clancy Brown, Corey Burton, Rob Paulsen, Kevin Michael Richardson, and Gregg Berger - Valiant's Bullets
Yoann Perrier, Damien Laquet, Trey Parker, Matt Stone, Chris Sanders, Carlos Alazraqui, Eddie Dezeen, Tom Kenny, Bill Fagerbakke, Jim Ward, Jess Harnell, Adam Katz, Nolan North, Scott Menville, Josh Cooley, Corey Krueger, Gregg Berger, Eric Bauza, Shannon Chan-Kent, Nika Futterman, Kari Wahlgren, Fred Tatasciore, Lloyd Sher, Seth Green, Brian Koch, The McElroy Brothers, Jackie Buscarino, Mark Dindal, Audrey Wasilewski, Maryke Hendriske, Taylor Grodin, Justin Roiland, Alyson Stoner, Satomi Hinatsu, Tabitha St. Germain, Grey Griffin, Amanda Leighton, Katie Crown, Jennifer Lee, Debi Derryberry, Cathy Weseluck, Phil Lord, Christopher Miller, S. Scott Bullock, Tara Strong, Olivia Olson, Kevin Michael Richardson, Hugo Harold-Harrison, Mae Whitman, Dane Boedigheimer, Justin Chapman, Rob Paulsen, Joe Sugg, Caspar Lee, April Stewart, Kath Soucie, E.G. Daily, Cree Summer, Cathy Cavadini, Billy West and Jim Cummings - the Rabbids
Erik Aadahl, Ava Acres, Isabella Acres, Deb Adair, Charlie Adler, Matt Adler, Newell Alexander, Rosemary Alexander, Steve Alterman, Emily Anderson, Jack Angel, Stephen Apostolina, Maria Bamford, Casey Barden, Jonathon Barlow, Erica Beck, Eva Bella, John Eric Bentley, Gregg Berger, Jacob Bertrand, JB Blanc, Naomi Aliya Blinkoff, Steve Blum, Edie Lehmann Boddicker, Ileanna Bravos, Jack Bright, Clancy Brown, Tyree Brown, Rodger Bumpass, Griffin Burns, Niall Burns, Corey Burton, Amick Byram, Alexandra Carter, Mitch Carter, Addie Chandler, Thomas Chase-Jones, June Christopher, Cam Clarke, Robert Clotworthy, Jim Conroy, Mason Cook, Josh Cooley, Fernando Coplin, Claire Corlett, Ian James Corlett, David Cowgill, Makenna Cowgill, Randy Crenshaw, H Michael Croner, Jennifer Crystal, Brian Cummings, Jim Cummings, Natalie Jane Dang, Jennifer Darling, Vicki Davis, Keith Dawkins, Brian T. Delaney, John DeMita, Debi Derryberry, Jorge Diaz, Jessica DiCicco, Rich B. Dietl, Michaela Dietz, John DiMaggio, Ethan Louis Samuels DiSalvio, Holly Dorff, Kurt Doss, Terri Douglas, Clayton Drier, Brian Drummond, Judi Durand,, Hannah Leigh Dworkin, Julian Echevarria, Bill Fagerbakke, Melissa Fahn, Bill Farmer, Justin Felbinger, Dave Fennoy, Greg Finley, Jeff Fischer, Jordan Fisher, S.J. Fortunak, Pat Fraley, Steele Gagnon, Teresa Gallagher, Tyler Ganus, John Gatins, Jessica Gee-George, Finnegan George, Grant George, Faith Goblirsch, William Kenneth Goldman, Jackie Gonneau, Taylor Graves, Finnley Gregoire, Nicholas Guest, Damien C. Haas, Todd Haberkorn, Missi Hale, Jon Robert Hall, Jess Harnell, Hugo Harold Harrison, Keith Harrison, Laura Nicole Harrison, Carter Hastings, Ayana Haviv, Montse Hernandez, Bridget Hoffman, Wendy Hoffman, Henry Holcomb, Richard Horvitz, Barbara Iley, Ryder Paul James, Sterling Jarvis, Calum John, Sawyer Jones, John Kahrs, JP Karliak, Grace Kaufman, Frances Bella Kayser, Theodore Finn Kayser, Angie Keilhauser, Brooke Klinger, Liam Knight, Tony Krantz, Corey Krueger, Eddie Deezen, Madeline Landry, Lex T. Lang, Sam Lavagnino, April Lawrence, Jennifer Lee, Katie Leigh, Stephanie Lemelin, Hope Levy, Anne Lockhart, Sherry Lynn, Lewis Macleod, Danny Mann, Mona Marshall, Vanessa Marshall, Olivia Mattingly, David McCharen, Jessica McDonald, Mickie McGowan, Scott Menville, Jim Meskimen, Tracy Metro, Gia Michailidis, Nikolas Michailidis, Edie Mirman, Dave B. Mitchell, Emmett Mitchell, Madison Moellers, Dan Navarro, Laraine Newman, Jonathan Nichols, Daran Norris, Liam O'Brien, Peter Oldring, Capri Oliver, Lily Oliver, April Ortiz, Lisa Ortiz, Alicyn Packard, Bobbi Page, Jerry Park, Vinnie Penna Jr., Mary-Linda Philips, Patrick Pinney, Alexander Polinsky, Mike Pollock, Paige Pollack, Juan Pope, Laura Post, Paul Potts, Jeff Probst, David Randolph, Jerome Ranft, Noreen Reardon, Micah Rebellion, Sam Register, Zachary Alexander Rice, Antony Del Rio, Daniel Ritterson, Cierra Robidoux, Lynwood Robinson, Giovanni Rodriguez, Michael Rubiner, Stephen Rucker, Michelle Ruff, Joshua Rush, Ethan Van der Ryn, Evan Sabara, Kendall Grace Samuelson, Roy Samuelson, Eliza Jane Schneider, Anna Schubert, Dwight Schultz, Cassidy- Rayne Schultz, Holly Sedillos, Peter Serafinowicz, Christopher Sharkey, William Shaunessy, Stephanie Sheh, Madisyn Shipman, Dana Snyder, André Sogliuzzo, Antonio Sol, Jordan Soule, Aaron Spann, Melanie Spore, Sally Stevens, Todd Strange, Katie Sweet, Catherine Taber, Fred Tatasciore, Andrea Taylor, Randall Thom, Kirk Thornton, Marcelo Tubert, Carmen Twillie, Joshua Valentin, Rama Vallury, Conrad Vernon, Jim Kevin Ward, Audrey Wasilewski, Suzanne Waters, Claudette Wells, Keith Wickham, CJ Williams, Elyse Willis, Debra Wilson, Fryda Wolff, Matthew Russell Wood, Ian Woodside, Michael-Leon Wooley, Nikki Yanofsky, ViviAnn Yee, and Dave Zhu - Additional Voices
and even more live actors and voice actors in this sequel!
Cameos
Brian Posehn as Glen Maverick
Joe Whytes as Tinkles/Bob
Adam West as Batman (Archive Footage)
Neil deGrasse Tyson
Lou Bega
The Refreshments
Cartoon Mr Bean
Pixel And Chisel From Stay Tooned
Lewis Black as Stan Lee
The Museum Janitors (Cecil, Gus and Reginald)
Marcel, Tipa and Armando
Werewolf Kids
Female Mummy
Invisible Woman
G-Fox - Created by SpongeFox
Kyle Chipmunk
Kitty Bunny
Vibble
Weildson The Kniving Cat
Sarah N Dippity
Fane The Fox
Snorkel The Fox
Dog And Bunny
Brandon Bunny
Sloppy Squrriel
Ron Raccoon
Ford Fairlane
Miriam Margoyles as Mrs. Astrikhan
Tom Hardy as Eddie Brock/Venom
Heroes
Villains
Locations
Maroon Entertainment Studio
Hollywood
Downtown L.A.
Lou's Cafe
Valiant and Valiant Private Investigators
Ink & Paint Club/186.5 WBN Radio Coast to Coast
Characterville
Hotel Transylvania (somewhere in Characterville)
Royal Woods, Michigan (somewhere in Characterville)

The Loud House (Living Room, Dining Room, Kitchen, Rita & Lynn Sr.'s bedroom, Lincoln's bedroom, Lori & Leni's bedroom, Luna & Luan's bedroom, Lynn & Lucy's bedroom, Lana & Lola's bedroom, Lisa & Lily's bedroom, Bathroom)
The McBride House (Clyde's bedroom, Howard & Harold's bedroom, Bathroom, Living Room, Kitchen)
The Spokes House
Mr. Grouse's House (Living Room)
The Yates House
Liam's Farm
McCauley House
Fox House
Johnson House
Ruth's House
Royal Woods Elementary School
Royal Woods Middle School
Royal Woods High School
Royal Woods Hospital
Flip's Food & Fuel
Royal Woods Mall
Jean Juan's French Mex
Aloha Comrade
Red Herring
Karaoke Dokie
The Spin Cycle
Great Lakes City (somewhere in Characterville)
Casagrande Apartment (Living Room, Kitchen, Ronnie Anne's bedroom, Bobby's bedroom, Carlota's bedroom, CJ & Carl's bedroom, Sid Chang's bedroom)
Cesar Chavez Academy
Jump City (somewhere in Characterville)
Warner Bros. Studios
Galloping Grove
Friendly Falls
Jubilee Park
The Pillary Ruins
Paradise Falls
Syspocalypstar
Unikingdom
Trolberg
Uglyville
Ryme City
Logo City
HobbyKids Treehouse and House
Camp Halohead
Camp Kidney
Nicelanders' Apartment
Lucky Cat Cafe
IMF Training Facility
Distracted Globe
Galloping Grove
Lucius' Lair/Hall of Doom/Superweapon/186.5 WBN Radio Coast to Coast
Crew
Directed by Rian Johnson and Lawrence Guterman
Produced by Rian Johnson, Ram Bergman, Shonda Rhimes, Amy Pascal, Allison Shearmur, Will Shepard, Danielle Gillis
Screenplay by Andy Fickman, Matt Lieberman, Karey Kirkpatrick, Jeffery Price, Peter S. Seaman, David Lindsay-Abaire, Chris Columbus, Kenya Barris and Taika Waititi
Story by Erik Von Wodtike, Eyal Podell & Jonathon E. Stewart and John Gatins, John Francis Daley & Jonathan Goldstein and Christina Hodson, Maya Forbes & Wallace Wolodarsky
Based on the Book "Who Censored Roger Rabbit?" by Gary K. Wolf and Characters by Jeffery Price and Peter S. Seaman
Based on the comic "Sailor Moon" by Naoko Takeuchi
Executive Produced by Steven Spielberg, Robert Zemeckis, John Lasseter, Pete Docter, Andrew Stanton, Josh Cooley, Jennifer Lee, Kathleen Kennedy, Frank Marshall, Steven Starkey, Jack Rapke, Bob Gale, Neil Canton, Scott McAboy, Amy Sydorick, Naia Cucukov, Courtenay Valenti, Michael Flynn, Todd Garner, Edward Kitsis, Adam Horowitz, Joe Ballarini, Jacqueline Levine, Jeff Probst, Edward Cheng, Karl Li, Galen Vaisman, Michael Rubiner, David Silverman, Duane Poole, Nicole Perlman, Lisa Henson, Brian Henson, Brad Booker, Michael Jelenic, Aaron Horvath, John Francis Daley, Jonathan Goldstein, Walter Hamada, Chris Leahy, Will Allegra, Phil Lord, Christopher Miller, Christopher DeFaria, Sam Register, Zareh Nalbandian, Aron Warner, Gary Goldman, Don Bluth, Michael E. Uslan, Britt Allcroft, Allison Abbate, Joann Estoesta, Janet Healy, Otelia Gallano Salinas, Tom McGrath and Chris Meledandri
Director of Photography Dean Cundey, Steve Yedlin and Walter Pfister
Edited by Roger Barton, Ben Burtt and Michael Kahn
Director of Animation Eric Goldberg, Mark Dindal, Aaron Horvath, Michael Jelenic, Chris Buck, Jennifer Lee, Roger Allers and Rob Minkoff
Production Designers Rick Carter, Adam Stockhausen and Lou Romano
Music by Hans Zimmer and John Powell & Michael Giacchino and John Debney & Christopher Lennertz and Tom Holkenborg
Music Supervisors Dave Jordan and JoJo Villanueva
Visual Effects Supervisors Michael J. Wassel and Ken Ralston
Special Effects Supervisor Tom Harris
Costumes Designed by Joanna Johnston and Rita Ryack
Associate Producer Don Hahn
Sound Designers from Skywalker Sound Randy Thom, Gary Rydstrom and Ben Burtt
Supervising Sound Designer Ethan Van Der Ryn
Supervising Sound Editor Erik Aadahl
Based on the characters by Jeffery Price and Peter S. Seaman
Based on the Characters from Disney, PIXAR, Warner Bros. Pictures, Sony Pictures, Universal Pictures and many more
Visual Effects and Animation by Industrial Light & Magic, Presto Animation System, Premo Animation System, Yowza Animation, Sony Pictures ImageWorks, Reel FX Animation Studios, Copernicus Studios, Bardel Entertainment, Snipple Animation Studios, Jam Filled Entertainment, Six Point Harness, Karrot Animation, Framestore, Mr. X, Moving Picture Company, Animal Logic and Rhythm & Hues Studios
Soundtrack
Hans Zimmer and John Powell & Michael Giacchino and John Debney & Christopher Lennertz and Tom Holkenborg composed the film's score, while Billie Eilish, Sara Bareilles, Pharrell Williams, Tyler The Creator, Mark Ronson, Wiz Khalifa, Waka Flocka Flame, The Lonely Island, Snoop Dogg, Becky G, DJ Khaled, Lil Yachty, Sir Mix-a-Lot, J. Balvin, Daddy Yankee, Tainy, Swae Lee, Tyga, Lil Mosey, Rivers Cuomo, Tom Waits, Nicholas Coombe, McKenna Grace, Pentatonix, Tori Kelly, Xscape, Adele, Shakira, Katy Perry, Karol G, Kesha, Spice Girls, Ariana Grande, Miley Cyrus, Lana Del Rey, Taylor Swift, Madonna, Nicki Minaj, AURORA and Kacey Musgraves performs their songs from the movie, The soundtrack was released on August 13, 2021 by Walt Disney Records.
Also included on the film was Giacomo Puccini's aria "Un Bel Di Vedremo" from his opera Madama Butterfly. However this was credited as "Opera", by Hans Zimmer and John Powell & Michael Giacchino and John Debney & Christopher Lennertz and Tom Holkenborg in the soundtrack.
Track listing
All Music Composed by Hans Zimmer and John Powell & Michael Giacchino and John Debney & Christopher Lennertz and Tom Holkenborg, except where noted
1. Toons Are Coming to the Agua (J. Balvin, Daddy Yankee and Tainy)
2. ToonTown Step (Swae Lee, Tyga and Lil Mosey ft. Shakira, Katy Perry and Karol G)
3. I Wanna Go to the Place Called Characterville (a parody of I Wanna Be A Producer from "The Producers") - Nicholas Coombe and McKenna Grace
4. Underground (Judge Doom's Theme) - Tom Waits and Shawn Mendes
5. Who's That Man (Judge Doom's Theme) - Xscape
6. It's Alright - Pharrell Williams and Sara Bareilles ft. Billie Eilish and Rivers Cuomo
7. Hallelujah (Leonard Cohen Cover and Tori Kelly Version) - Pentatonix and Billie Eilish ft. Tori Kelly
8. Both Sides Now (Love Actually Version) - Adele and Sara Bareilles
9. First We Take Manhattan (Leonard Cohen Version) - Tyler The Creator ft. AURORA and Kacey Musgraves
10. Are you CN this (Rap Song) - Mark Ronson, Wiz Khalifa, Waka Flocka Flame and The Lonely Island ft. Snoop Dogg, DJ Khaled, Lil Yachty and Sir Mix-a-Lot
11. Best Day (Angry Birds 2 Remix) - Kesha, Spice Girls, Ariana Grande, Miley Cyrus, Billie Eilish and Lana Del Rey ft. Pentatonix, Shakira, Katy Perry, Taylor Swift, Madonna and Nicki Minaj
12. Love is on The Air Tonight/Paper Moon/Etiquette/And The Angels Sing (Two Songs "Love is on The Air Tonight" and "And The Angels Sing" composed by Joel McNeely and the two songs performed by Harry Connick Jr.)
13. Disney Fanfare (The Jungle Book and The Lion King (2016/2019) Version)
14. Maroon Cartoon
15. Main Title
16. Scrat's Opening Scene
17. Morning Commute (Morning Commute is originally composed by Heitor Pereira)
18. Around The Studio
19. Downtown L.A.
20. Valiant and Valiant
21. Lucius DeGeraldson
22. Toon Patrol 2
23. Toontown Disaster (it is unused)
24. New Team
25. Welcome to Characterville
26. Getting The Team Together
27. Characterville's Super Legion
28. Jade Wilson's Soundstage
29. The Emotions
30. Bugs Bunny Meets the Nerdlucks
31. In The Mood
32. Daniel's and Scarlett's Office
33. Daffy Chase
34. Cabin Fever (from "Muppet Treasure Island") (Performed by Toons and Muppets)
35. Special Forces Meeting
36. Emergency Exit
37. The Lucius is Rising
38. Abstract Thought
39. Submarine
40. Opera (Opera is originally composed by Heitor Pereira)
41. Introducing Dr. Mary Lou Larue
42. Dr. Mary Lou Larue's Gadgetry
43. Who Framed Many Hits Mashup - Princess Poppy, Branch, Biggie, Robin, Beast Boy, Cyborg, Raven, Starfire, Jade Wilson, Bumblebee, Terra, Wonder Woman, Sparkle, Shimmer, Shine, Unikitty, Puppycorn, Lincoln Loud, Clyde McBride, Ronnie Anne, Sid Chang, Lori Loud, Leni Loud, Luna Loud, Lynn Loud, Sam Sharp, Carlota, Fee and Foo, Johnny, Mavis, Peter B. Parker/Spider-Man, Miles Morales/Ultimate Spider-Man, Gwen Stacy/Spider-Woman, Spider-Man Noir, Peni Parker & SP//dr, Spider-Ham, Clemmie, Tango, Bud, DJ Earworm, Todrick Hall and Waka Flocka Flame
44. Arrival
45. Break Into the Super Weapon
46. Carl, Jerry and Kira
47. Lucius' Lair
48. Commercial Medley (King Washing Machines/Hudson Automobiles/Derabont's BBQ Sauce/Spam/Bath Bubbles)
49. All-Midi Medley (Forrest Gump/Picket Fences Theme/Love Theme from St. Elmo's Fire/Somewhere Out There/Beauty and The Beast)
50. The Monstars and Mega Toadies
51. Jade Wilson is a Guest Host
52. Emergency Newcomers
53. Buster's K-Pop Gang
54. Mayor Phlegmming's Office
55. Everybody Stay Calm
56. Diving Belle Taking a Plunge
57. Realm Evacuation
58. Leaf it to Kathy
59. Puppycorn's Trike
60. Meet The Emotions
61. At the Bar (contains samples of Suspect Roundup)
62. Peppermint Patty's Suite
63. The Grand Slams
64. The Superweapon
65. This Means War!
66. RV Chase
67. 186.5 WBN Radio Coast to Coast Logo Variants
68. Movie Theater
69. The Big Market
70. Waffles Song (Waffles Waffles Wa-ffles, from Teen Titans Go!) - Robin, Beast Boy, Cyborg, Raven, Starfire, Jade Wilson, Bumblebee, and Terra
71. The Subconscious Basement (includes the opening samples of Welcome to Radioland)
72. Meet Harmony
73. Escaping the Subconscious
74. Back to Lucius' Lair (includes Tico Tico by Joel McNeely)
75. A Guy What Takes His Time (Joel McNeely Version) - Billie Eilish
76. I'll Be Glad When You're Dead (You Rascal You) - Joel McNeely
77. Krissa's Tour/Reappearing Dip
78. Aki's Karate Force
79. Theme from The Shining
80. Dexter is Electrocuted by Lucius'
81. Well, You See....
82. Daniel's Speech/Characters Begins a Biggest Fight
83. An Army of Characters
84. High on the Balcony of the Superweapon
85. the Demise of Wacky Doom Jr.
86. We Did It
87. Everything turns Back to Normal
88. The Statement
89. The Will (Again)
90. Wedding Day
91. The True Heroes
92. Smile Darn Ya, Smile (Performed by Toon Chorus)
93. Scrat's Ending Scene
94. End Title Suite (And The Angels Sing) (Some of the score from 3:21 to 8:32 is removed due to ToonTown Step and Gary's Song (performed by Kenny G)) (length: 10:33)
95. ToonTown/Characterville Medley (Smile Darn Ya Smile (from Mickey's ToonTown on Disneyland)/And the Angels Sing/Valiant and Valiant/Who Framed Roger Rabbit 2 Score Medley) (Arranged by Hans Zimmer and John Powell & Michael Giacchino and John Debney & Christopher Lennertz and Tom Holkenborg)
Shoulder to Shoulder (deleted song)
We're hasbro with hasbro
See you wax to wax
We dive deeply banjo the Toons Are Coming to the Water
Salamos Balto enza el cilo
High
We are food with food with
We stay one two three quarter next to the boltra
When one of us gets a little tired I duck elly
One two three quarter gives the other a duck
Duck
Musca Mouse Mickey Mouse had had a best friend ants!.
So yes duck equestrian segues
to the How these feel
Cold duck queh feels eight more like this, he haggle it
cold I feel more like myself
When it destroys with you
Search, find zoo
Lose yeet find
Do, make do do do
Building, construction destroys the work
Breathing one two three four five sex respite for our song
Song
For our song song
Song song
Song song
Song song
Song song
Song song
Song song
Song song
Song song
Song song
Song song
SongCancion

Album credits
Executive Music Producers: Marius de Vries, Eldad Guetta, Tom MacDougall, Harvey Mason Jr and Ludwig Goransson
Music Orchestrated By Steve Bartek, Frank Bennett, Robert Elhai, Mark McKenzie, John Ashton Thomas, Tim Davies, Rick Giovinazzo, Kevin Kaska, Jennifer Hammond, Randy Kerber, Yvonne S. Moriarty, Doug Besterman, Larry Hochman, William Ross, Stephen Oremus, Danny Troob, Don Nemitz, Andrew Kinney, Kevin Kliesch, Michael J. Lloyd, Marcus Sjowall, Gernot Wolfgang, Jon Kull, Jeff Atmajian, Christopher Klatman, Michael Starobin, Alex Lacamoire, Dave Metzger, Bruce Babcock, Mike Watts, Tim Simonec, Conrad Pope, Pete Anthony, Mark Graham, Bruce Fowler, Walt Fowler, Edgardo Simone, Germaine Franco, Brad Dechter, Ken Kugler, Elizabeth Finch, Geoff Stradling, David Slonaker, David Campbell, Carl Rydlund, Mark Watters, Ladd Mcintosh, Gordon Goodwin, Abraham Libbos, Rossano Galante, Jim Honeyman, Jane Antonia Cornish, Blake Neely, Tommy Laurence, Victor Pesavento, Beth Caucci, Simon Greenaway, Edward Trybek, Tim Rodier, William Boston, Christopher Guardino, Lars Clutterham, Cameron Patrick, Patrick Russ, Lra Hearshen, Edward Karam, Peter Tomashek, Adam Price, Sam Jones, Michael Kramer, Jonathan Bartz, Louis Febre and James Shearman
Additional Arranging and Performed by John Ashton Thomas, T. J. Lindgren, James McKee Smith, Michael John Mollo, Jasha Klebe, Don Harper, Christopher Willis, Ed Neumeister and Carl Rydlund
Orchestral Leader: Steve Bartek
Orchestral Contractors: Isobel Griffiths, Peter Rotter, Marton Barka, Marc Stevens, Sandy DeCrescent, Tonia Davall and Gina Zimmitti
Technical Music Advisors: Yann McCullough, Nicholas Fitzgerald, Ryan Rubin, Nate Underkuffler and Sebastian Zuleta
Recording and Mixed by Alan Meyerson, Slamm Andrews, Bernd Mazagg, Shawn Murphy, Brad Haehnel, Casey Stone, John W. Chapman, Robert Fernandez, Dennis S. Sands and Frank Wolf
Recording Assistant: Jake Jackson
Technical Score Assistants: Aldo Arechar, Max Aruj, Steffen Thum and Sally Heath
Music Editor: Christopher Benstead, Chris Brooks, Tom Carlson, Dominick Certo, Peter Clarke, Andrew Dorfman, Jim Harrison, Daryl Kell, Barbara McDermott, Tanya Noel Hill, Joe Rand, Tim Ryan, Curt Sobel, Jack Sugden, Edward Trybek and Kirsty Whalley
Music Production Supervisor: Andrew Page
Vocal Contractor & Conducted by Edie Lehmann Boddicker and Jasper Randall
Choir: Stephen Amerson, Beth Anderson, Michael Bannett, Bernadette Barlow, Vatsche Barsoumian, Joan Beal, Nelson Beato, Josh Bedlion, Tamara Bevard, Eric Bradley, Aleta Braxton, Christina Bristow, Jen Faith Brown, Karen Hogle Brown, Reid Bruton, Juliet Burks, Kim Burrell, Amick Byram, Alvin Chea, Nike St. Clair, Jamie N. Commons, Dwayne Condon, Craig Copeland, Robert Creighton, Kenton Chen, Jessica Childress, Randy Crenshaw, Brandon Crichfield, Grace Davidson, Laura Dickinson, Summer Joy Davis, Tim Davis, Ann De Renais, Michael Dore, Kevin Dorsey, Jonathan Dokuchitz, Monique Donnelly, Hayden Eberhart, Kyana Fanene, Allie Feder, Fuzz Finnegan, Amy Fogerson, Harriet Fraser, Jessica Freedman, Roger Freeland, Soophia Foroughi, Graycen Gardner, Jennifer Graham, Dylan Gentile, William Kenneth Goldman, Timothy Gonzales, Abdiel Gonzalez, Scott Graff, Kelci Hahn, Missi Hale, Jon Robert Hall, Callista Hoffman-Campbell, Nayanna Holley, Jordan Holly, Katharine Hoye, Linda Harmon, Karen Harper, Drew Harrah, Ayana Haviv, Jennifer Haydn-Jones, Judith Hill, Todd Honeycutt, Mary Hylan, Luana Jackman, Laura Jackman, Clydene Jackson, Angie Jaree, Elissa Johnston, Jarrett Johnson, Bob Joyce, Jon Lee Keenan, Kari Kimmel, Shawn Kirchner, Teri Koide, Adriana Manfredi, Cindy Marty, Briana Lee, Emme Lehmann Boddicker, Scott Lehmkuhl, Matthew Lewis, Ben Han-Wei Lin, Michael Lichtenauer, JJ Lopez, Rich Logan, Micah Angelo Luna, Sharmila Guha Lash, Sarah Lynch, Laura Mace, Guy Maeda, Chris Mann, Sara Mann, Baraka May, Melissa MacKay, Tonoccus McClain, Arnold McCuller, Sean McDermott, Charles McDonald, Lindsey McDowell, Joshua D. McGowan, Donna Medine, Lika Miyake, Alice Kirwan Murray, Dan Navarro, Charissa Nielsen, Bobbi Page, Eleni Pantages, Steve P. Pence, Tyler Pinder-Hudson, Joe Pizzulo, Paul Potts, Josef Powell, Marc Antonio Pritchett, Meredith Pyle, Jim Raycroft, Michael Redman, Diane Freiman Reynolds, Jessica Rau, Zanaida Robles, Jessica Rotter, Laura Smith Roethe, Gaby Santinelli, Anna Schubert, Holly Sedillos, Matthew Selby, Fletcher Sheridan, Ann Marie Sheridan, Connor Warren Smith, Mark Edward Smith, Peter Snipp, Antonio Sol, Leslie Inman Sobol, Sally Stevens, Susie Stevens-Logan, Taura Stinson, Todd Strange, Nancy Sulahian, Kimberly Switzer, Courtney Raine Taylor, Ty Taylor, Matthew Tresler, Kristen Toedtman, Carmen Twillie, Lauren Vogel, D.A. Wallach, Suzanne Waters, Greg Whipple, Karen Whipple, Gerald White, Elyse Willis, Andrea Zomorodian and the gospel choir from "Walt Disney World's Happily Ever After"
Radio Singers: Ben Bram, Juliet Burks, Alvin Chea, Chelsea Chiu, Randy Crenshaw, Brandon Crichfield, Monique Donnelly, Kyana Fanene, Fuzz Finnegan, Rachel Gonzalez, Missi Hale, Jon Robert Hall, Keith Harrison, Laura Nicole Harrison, Felice Hernandez, Jordan Holly, Angie Jaree, Jarrett Johnson, Micah Angelo Luna, Tyler Pinder-Hudson, Joe Pizzulo, Aretha Scruggs, Holly Sedillos, Flecther Sheridan, Sy Smith, Taura Stinson, Carmen Twillie
Soloist Vocals: Jordan Fisher, Angie Keilhauer, Aurora Aksnes, Fletcher Sheridan, Elyse Willis, Suzanne Waters, Lisa Gerrard, Carmen Twillie, Clydene Jackson, Kim Burrell
Supervising Music Editor: Jim Weidman and Adam Smalley
Supervising Music Copyist: Booker White
Music Production Manager: Ashley Chafin
Music Production Coordinator: Jamie Hutchinson, Lola Debney, Germaine Franco and Dorothy Joo
Score Production Coordinator: Katie Wilkinson
Music Re-mixing Coordinator: Opie Gruves
London Music Coordinator: Maggie Rodford, Air-Edel, Music Production Services Thomas Broderick Media Ventures, Santa Monica, Becky Mancuso-Winding, Becky Bentham and Remote Control Productions, Inc.
Additional Synth Programmers: Shwan Askari, Sara Barone, Daniel Beijbom, Nicholas Pike, Jarrod Royles-Atkins, Steven Silvers, Will Temlett and Jacopo Trifone
Music Preparation: Jo Ann Kane Music Service, Mark Graham, Marc Mann, Jill Streater, Riley Hughes, Gregory Jamrok, Booker White, and Reggie Wilson
Additional Music by Alan Menken, James McKee Smith, John Ashton Thomas, Blake Neely, Pinar Toprak, Mark Mothersbaugh, Henry Jackman, Steve Jablonsky, Ramin Djawadi, Anthony B. Willis, James Carlson, Harry Gregson-Williams, Rupert Gregson-Williams, Lorne Balfe, Nathan Wang, Geoff Zanelli, Danny Elfman, James Dooley, Marc Shaiman, Dominic Lewis, Chris Bacon, Philip White, Deborah Lurie, Nathan Johnson, T.J. Lindgren, Paul Mounsey, Logan Nelson, Steven Price, Thomas Chase, Stephen Rucker, Jeff Morrow, Jake Monaco, James Newton Howard and Heitor Pereira
Score Assistant: Katya Richardson and Chris Bacon
Score Conducted by Gavin Greenaway, Mike Nowak, Nick Glennie-Smith, Matt Dunkley and Pete Anthony
Score Performed by The Hollywood Studio Symphony, London Symphony Orchestra, Orlando Philharmonic Orchestra & The Philly Pops
Score Recorded at Synchron Stage Vienna and The Newman Scoring Stage
Score Mixed at Remote Control Productions, Warner Bros. Eastwood Scoring Stage in Burbank, CA, Sony Pictures Studios, Los Angeles, CA, and Formosa Group
Recordists: Tom Hardisty, Christine Sirois and Robert Renga Craig "Pup" Heath
Digital Score Recordist: Kevin Globerman and Laurence Anslow
Studio Manager: Shalini S. Singh
Music Recording Engineers: Scott Michael Smith, Gareth Cousins, Fenella Barton and Matthew Ward
Technical Score Engineers: Gevorg Chepchyan and Dave Stewart
Scoring Technical Support Engineer: Ryan Robinson
Music Production Services: Steven Kofsky
Score Production Coordinator: Andrew Zack
Technical Mixing Engineer: Noah Scot Snyder
Additional Engineers: Lawrence Anslow, Fiona Cruickshank, Simon Pucheu, Josh Margolis, Matthias Winter, Keith Ukrisna and Shawn Murphy
Jazz Band Soloists: Steve Bartek, David Benoit, James Carter, John Clayton, Xav Clarke, Peter Erskine, Steve Mair, Wynton Marsalis, Dr. Jessie McGuire, Guy Moon, Bill Reichenbach, Arturo Sandoval, Andrew Synowiec, Jared Underwood and Mervyn Warren
Concert Master: Bruce Dukov and Perry Montague Mason
Scoring Crew: Emad Borjian, Jamie Olvera, Damon Tedesco and Richard Wheeler Jr.
Songs
"My Way" Performed by Frank Sinatra
"Everything's Changing" Performed by Plastic Hotels
"Pennies from Heaven" Performed by Louis Prima
"Sid and Mini-Sloths" Performed by John Leguizamo and Edie Lehmann Boddicker
"Other Father's Song" Performed by They Might be Giants
"Christmas Don't be Late" Written by Ross Bagdasarian
"Easy To Be Happy" Performed by Luna Loud and Sam Sharp
"Blue (Da Ba Dee)" Performed by Eiffel 65
"One Way or Another" Performed by Blondie
"The CandyMan" Performed by Pierre Coffin
"Family of Me" Performed by Ben Folds
"The Merry-Go-Round Broke Down" Performed by Charles Fleischer, Crispin Glover, Kathryn Newton, and Kurt Russell
"Mambo No. 5 (A Little Bit Of...)" Performed by Lou Bega
"It Only Takes A Moment" Performed by Michael Crawford, Marianne McAndrew, Luna Loud, Sam Sharp, and Monsters from My Singing Monsters
"Let's All go to the Lobby" Performed by the Refreshments
"Juice" Performed by Lizzo
"Cabin Fever" Performed by the Toons
"Going Down for Real" Performed by Flo Rida
"Clap" Performed by SEVENTEEN
"Left & Right" Performed by SEVENTEEN
"Obsession" Performed by EXO
"Zimzalabim" Performed by Red Velvet
"Oh My God" Performed by (G)I-DLE
"Dumdi Dumdi" Performed by (G)I-DLE
"Not By The Moon" Performed by GOT7
"You Calling My Name" Performed by GOT7
"Lullaby (English Ver.)" Performed by GOT7
"Jopping" Performed by SuperM
"100" Performed by SuperM
"Tiger-Inside" Performed by SuperM
"DDU-DU-DDU-DU" Performed by BlackPink
"Kill This Love" Performed by BlackPink
"As If It's Your Last" Performed by BlackPink
"Love Shot" Performed by EXO
"Tempo (Korean Ver.)" Performed by EXO
"Russian Roulette" Performed by Red Velvet
"Umpah Umpah" Performed by Red Velvet
"Psycho" Performed by Red Velvet
"Double Knot (English Ver.)" Performed by Stray Kids
"Simon Says" Performed by NCT 127
"Regular (English Ver.)" Performed by NCT 127
"Superhuman" Performed by NCT 127
"Kick It" Performed by NCT 127
"Punch" Performed by NCT 127
"Boom" Performed by NCT Dream
"We Go Up" Performed by NCT Dream
"Go" Performed by NCT Dream
"Black on Black" Performed by NCT 2018
"Touch" Performed by NCT 127
"Boss" Performed by NCT U
"Baby Don't Stop" Performed by NCT U
"Regular (Korean and Chinese Ver.)" Performed by NCT 127 and WayV
"Break All The Rules" Performed by CRAVITY
"Flame" Performed by CRAVITY
"Black Swan" Performed by BTS
"On" Performed by BTS
"Boy with Luv" Performed by BTS Featuring Dua Lipa
"Fire (불타오르네)" Performed by BTS
"Fake Love" Performed by BTS
"IDOL" Performed by BTS
"DNA" Performed by BTS
"Smile On My Face" Performed by EXO
"I'll Make a Man Out of You" Performed by DCappella Featuring Taron Egerton, Usher, Cee Lo Green and Nick Kroll
"Ev'rybody Wants To Be A Cat" Performed by DCappella Featuring Taron Egerton, Usher, Cee Lo Green and Nick Kroll
"I2I" Performed by DCappella Featuring Taron Egerton, Usher, Cee Lo Green and Nick Kroll
"Sunflower" Performed by Post Malone and Swae Lee
"Somebody to Love" Performed by Queen
"We Are the Champions" Performed by Queen
"Under Pressure" Performed by Queen & David Bowie
"Hallelujah" Performed by Pentatonix and Billie Eilish ft. Tori Kelly
"Both Sides Now (Love Actually Version)" Perfomed by Adele and Sara Bareilles
"Stayin' Alive" Peformed by Bee Gees
"How Deep is Your Love" Performed by Bee Gees
"Tu Cuerpo" Performed by Jencarlos Canela ft. Pitbull
"Hey Baby (Drop It to the Floor)" Performed by Pitbull ft. T-Pain
"Feel this Moment" Performed by Pitbull ft. Christina Aguilera
"Muevelo" Performed by Daddy Yankee and Nicky Jam
"Que tire pa lante" performed by Daddy Yankee
"Take on Me" Performed by A-Ha
"Bad" Performed by Michael Jackson
"Black or White" Performed by Michael Jackson
"Blood On The Dance Floor" Performed by Michael Jackson
"I'm Still Standing" Performed by Elton John
"Never Too Late" Performed by Elton John
"Rocket Man" Performed by Elton John
"Nikita" Performed by Elton John
"Don't Go Breaking My Heart" Performed by Elton John and Pink
"Under the Sea" Performed by Elton John and Alecia Beth Moore (Pink)
"2 Bad (Refugee Camp Mix)" Performed by Michael Jackson
"Spaceman" Performed by The Killers
"Nothing's Gonna Stop Us Now" Performed by Starship
"Stick it to the Man" Performed by Alan Marriott
"Ever Fallen in Love" Performed by Pete Yorn
"I'm Batman" Performed by Lil Dicky
"Revolution" Performed by Above Envy
"Baby Shark" Performed by PinkFong
"Caramelldansen" Performed by Caramella Girls
"Space Unicorn" Performed by Parry Gripp
"We're Not Gonna Take It" Performed by Twisted Sister
"Mr. Roboto" Performed by Styx
"Y'all Ready for This" Performed by 2 Unlimited
"Holding out for a Hero" Performed by Bonnie Tyler
"You and Me Against the World" Performed by Helen Reddy
"Underground (Judge Doom's Theme)" Performed by Tom Waits
"Magic" Performed by B.o.B. (feat. Rivers Cuomo)
"Can't Fight this Feeling" Performed by REO Speedwagon
"I Wish Performed by Stevie Wonder
"Gangnam Style" Performed by PSY
"Smile, Darn Ya, Smile" Performed by the Toons
"Toons" "(Agua)" Performed by J Balvin, Daddy Yankee, and Tainy
"Toontown Step" "(Krabby step)" Performed by Swae Lee, Tyga, Lil Mosey ft Shakira, Katy Perry and Karol G
"Que Maldicion" Performed by Banda ms, Becky G and Snoop Dogg (Remix)
"Count On Me" Performed by Bruno mars
"Que Maldicion" Performed by Banda ms and Snoop Dogg
"Riki Tiki Tavi" Performed by Donovan
"Friend Like Me (End Title)" Performed by Will Smith ft. DJ Khaled
"First We Take Manhattan (Leonard Cohen Version)" Performed by Tyler The Creator ft. Aurora and Kacey Musgraves
"Revolution" Performed by Minions and The Toons
Trailer and TV Spot Music
Songs
Count on Me - Bruno Mars
Juice - Lizzo
Creedence Clearwater Revival - Fortunate Son
Ice Ice Baby - Vanilla Ice
In The Mood - Joel McNeely
My House - Flo Rida
We Run This - Missy Elliott
Zimzalabim - Red Velvet
DDU-DU-DDU-DU - BlackPink
Touch - NCT 127
Blown - DNCE, Kent Jones
Gotta be Yourself (Mama Always Said) - Danger Twins
Baba O'Riley - The Who
It's Feeling Good - Extreme Music
Jump In The Line (ft. T-Pain & Sean Paul) - Pitbull
"Takin' Care of Business" - Bachman-Turner Overdrive
Pay It Forward (2000) - Thomas Newman
"Battle Without Honor or Humanity" - Hotei Tomoyasu
North By Northwest (1959) - Bernard Herrmann
Sirius - The Alan Parsons Project
Thunder - Imagine Dragons
"Get Ready For This" - 2 Unlimited
The Final Countdown - Europe
Tico Tico - Joel McNeely
Symphony - Clean Bandit, Zara Larsson
"1812 Overture" - Peter Tchaikovsky
Symphony No. 9: "Ode to Joy" - Ludwig van Beethoven
Paradise City - Guns N' Roses
Bouncy House - Flo Rida
Bad Moves - DJ Durel ft. Quavo, Rich The Kid (FROM BAD BOYS 3:FOR LIFE)
Uptown II - Meek Mill ft. Farruko (FROM BAD BOYS 3:FOR LIFE)
Marketing
A third trailer debuted in front of Onward on March 11 2020.
Disney has invested $300 million in creating promotions and building up marketing for its films. For Who Framed Roger Rabbit 2, Disney has partnerships with McDonald's, IHOP, Chuck E. Cheese's, Walmart, T-Mobile, State Farm Insurance, Discover card, Amazon, xfinity, General Mills (cereals and Go-Gurt), Sun-Maid (raisins), Airheads (candy), Kid Cuisine (foods), Blue Bunny (ice cream), Target, Dave & Buster's, Disney World, Chiquita, Amtrak, Denny's, Regal Cinemas, AMC Entertainment, Chevrolet, Kia Motors, Cold Stone Creamery, Dippin Dots, Dairy Queen, Baskin-Robbins, Oreo Cookies, Chips Ahoy!, Tic Tac, the GroupOn app, the Disney +, HBO Max and Peacock streaming services, American Airlines, Southwest Airlines, Kellogg Company, Unilever, The Hertz Coporation, The Void, Purple Mattress, Energizer Holdings, Delta Vacations, Google, M&M's, Nestlé, and Jelly Belly for its candy products, PepsiCo., whose promotion also includes PepsiCo. brands Tropicana, Quaker, Aquafina and Frito-Lay, Got Milk?, Samsung, and Wonderful Pistachios. The film's characters are used in products and advertising campaigns across various media. The studio is also pursuing social media efforts to promote the film.
Disney partnered with Hilton Hotels and Resorts, InterContinental Hotels Group, Caesars Entertainment, and Marriott International, with advertising of the film. Variety reported that the partnership was the first-ever between a film studio and an international chains of full service hotels and resorts. Also, Disney enlisted a Roger Rabbit float from the Macy's Thanksgiving Day Parade to tour in six cities and it will concluded with Los Angeles over Memorial Day weekend in late May 2021.
Merchandise is also being produced for the film: Hasbro (toys), Activision, Gameloft and Oculus from Facebook (video games), Hallmark (cards), and Jem Sportswear (apparel). Publishers: Scholastic and Little, Brown and Company are releasing books tied to the film.
For the home video release of the movie, Disney reprised State Farm Insurance, Go-Gurt, Sun-Maid, L'Oréal, Disney World, M&M's, Airheads, Chuck E. Cheese's, Langers, Amtark and Hilton Hotels and Resorts.
LEGO released a toyline theme of over 25+ sets and polybags based on scenes from the film, including collectable Minifigures. There will also be a Who Framed Roger Rabbit 2 SDCC Set called "", with two expressions.
Who Framed Roger Rabbit 2 also promoted Walt Disney World, Disneyland, the Warner Bros. Studio Tour, Universal Parks and Resorts, Six Flags, LEGOLAND Theme Parks and Cedar Fair Entertainment Company.
Videogame
Warner Bros. Games created Who Framed Roger Rabbit 2 Videogame that included more than 500 playable characters. It is available on XBOX, PS4, PS5, and Nintendo Switch. The game is produced by Disney, Warner Bros. Games, Activision, Vicarious Visions, Beenox, Behaviour Interactive, TT Games, Asobo Studio, Sumo Digital, Heavy Iron Studios, Ninja Theory, Gearbox Software, Frontier Developments, FUN Labs, Blind Squirrel Games, Torus Games, Panic! Button, Toys for Bob, Next Level Games, and Electronic Arts.
Despite following the same plot of The LEGO Movie 3: A Powerpuff Adventure, there are many bonus story elements that relate to the previous films: the main locations from Who Framed Roger Rabbit and many more. The loading screen is the same as The LEGO Movie 2 Videogame. It also includes bonus levels, including one where Star Butterfly and Tom Lucitor dance like in Club Snubbed. Also, Sleeping Beauty Castle and the 2020 Warner Bros. logo makes cameos in the game, and two Warner Bros. Games logos are shown in the game's opening logos.
An online MMORPG component, titled The LEGO Movie World, was created. Players can explore New Bricksburg.
Game Updates
Among Us Update
All of the characters of The LEGO Movie 3 will be in this update, along with the vehicles from the LEGO Sets.
LEGO Worlds Update
The LEGO Movie 3 characters will be in this game, as well as the locations from the films in the franchise.
Roblox Update
Fortnite Update
LEGO Dimensions Reboot
Same as the original LEGO Dimensions game, but with new themes: We Bare Bears, Storks, Smallfoot, Shrek, Madagascar, Kung Fu Panda, Trolls, The Croods, The Boss Baby, My Little Pony Friendship is Magic, The Angry Birds Movie, The Loud House, The LEGO Ninjago Movie, Mao Mao: Heroes of Pure Heart, Star Wars, Marvel, Transformers, How To Train Your Dragon, Star Wars, SCOOB!, Despicable Me, The Secret Life of Pets, The Amazing World of Gumball, Harvey Girls Forever, Ready Player One, OK KO Let's Be Heroes, Victor and Valentino, Starnger Things, Ben 10, Peanuts, Gravity Falls, Rick and Morty, The LEGO Movie 2: The Second Part, Teen Titans Go To The Movies, Flash Gordon, Despicable Me, Amphibia, Star vs. the Forces of Evil, Teenage Mutant Ninja Turtles, Unikitty!, Rainbow Butterfly Unicorn Kitty, Uglydolls, LEGO Friends, WWE, Primeval, Game of Thrones, Spongebob Squarepants, Power Rangers, RWBY, Undertale, Five Nights at Freddy's, Baldi's Basics, Team Fortress 2, Who Framed Roger Rabbit, Pokemon Detective Pikachu, Nintendo, Super Mario Bros. (1993), Overwatch, Fortnite, Uncle Drew (2018), Jumanji, Max Steel, Mad Max Fury Road, Dr. Seuss, Battle For Dream Island, Inanimate Insanity, Pocket.watch, Camp Halohead,, Captain Underpants: The First Epic Movie, and The Owl House. The new main protagonists will be Star Butterfly from Star vs. the Forces of Evil, Dr. Fox from Unikitty!, and Luke Skywalker from Star Wars, all of which are replacing Batman, Gandalf, and Wyldstyle. However, the themes from the previous game will still be available. The main villain would be Mina Loveberry, replacing Lord Vortech.
Roger Rabbit 2 updates on Asphalt 8: Airborne and Asphalt 9: Legends
The vehicles of the entire franchise were added to the car list. The new locations are from the movie.
Real Racing 3 X The LEGO Movie 3 Update
The newest cars that were added to promote The LEGO Movie 3 are the 2010 Chevrolet Camaro SS, the 2011 Chevrolet COPO Camaro, Ferrari 430 Scuderia, Ferrari F40 Competizione, Ferrari FXX, Ferrari FXX Evoluzione, Ferrari FXX K, Ferrari 488 GTB, Ferrari 488 Spider, Ferrari California, Ferrari California T, Ferrari Portofino, Ferrari GTC4Lusso, Ferrari GTC4Lusso T, Ferrari 599 GTB, Ferrari SF15-T, Ferrari SF16-H, Ferrari SF70H, Ferrari SF71H, Ferrari 458 Speciale, Ferrari 360 Challenge Stradale, Ferrari Monza SP1, and Ferrari Monza SP2. They also added the Volkswagen and Volvo cars from Real Racing 2, including the 1960s Volkswagen Beetle. The newest Road Collection series was "Ferrari Faceoff", which features all of the Ferrari cars.
Other Game Updates: CARTOON NETWORK ARCADE, FORZA STREET, ASPHALT 8, ASPHALT 9, LOONEY TUNES WORLD OF MAYHEM, NEED FOR SPEED NO LIMITS, PLANTS VS ZOMBIES 2, HOT WHEELS UNLIMITED, SONIC DASH, DESPICABLE ME: MINION RUSH, ANGRY BIRDS 2, THE CREW 2, FAILY BRAKES 2, POKÉMON GO, FORZA HORIZON 4, ODDBODS TURBO RUN, ASPHALT XTREME, BEACH BUGGY RACING 2, HOT WHEELS INFINITE LOOP, CALL OF DUTY MOBILE, FORTNITE, SIMPSON TAPPED OUT, AIRCONSOLE (2015),
Development
Planned characters
is originally going to appear in Who Framed Roger Rabbit 2, but Rian Johnson never liked them, and she doesn't want them to appear in the movie, because it was too babyish.
were originally going to be in it but were apparently not invited for one unknown reason or another.
Release
The film was theatrically released in the United States, North America and other countries on August 27th, 2021 in 2D, 3D, IMAX, IMAX 3D, RealD 3D, Dolby Cinema, ScreenX and 4DX.
The new Imagemovers logo when, the logo can be found on Vimeo.
The film's worldwide theatrical run was preceded by the Toy Story Toons short, Marooned Forky.
Home media
Who Framed Roger Rabbit 2 was released on digital copy on October 23, 2021 and was released on DVD, 4K Ultra HD, and Blu-ray on November 19, 2021.
Accolades
| Year | Award | Category | Nominee | Result |
| --- | --- | --- | --- | --- |
| 2022 | 48th Annie Awards | Annie Award for Writing in a Feature Production | Andy Fickman, Matt Lieberman, Chris Columbus, Taika Waititi, Kenya Barris | Nominated |
| 2022 | 48th Annie Awards | Annie Award for Best Animated Film | | Nominated |
| 2022 | 95th Academy Awards | Best Picture | Rian Johnson, Shonda Rhimes, Andy Fickman, Matt Lieberman, Taika Waititi, Kenya Barris, Ram Bergman, Ben Burtt, Steve Yedlin, Robert Zemeckis, Tony Krantz, Eric Goldberg, Michael Jelenic, Aaron Horvath, Mark Dindal, Roger Allers, Rob Minkoff, Chris Buck, Erik Von Wodtke, Eyal Podell & Jonathon E. Stewart and John Francis Daley, Jennifer Lee & Jonathan Goldstein and Christina Hodson, Maya Forbes & Wallace Wolodarsky | Nominated |
| 2022 | 95th Academy Awards | Best Animated Feature | Eric Goldberg, Michael Jelenic, Aaron Horvath, Mark Dindal, Roger Allers, Rob Minkoff, Chris Buck, Jennifer Lee | Nominated |
| 2022 | Kids' Choice Awards | Favorite Animated Movie | Who Framed Roger Rabbit 2 | Nominated |
| 2022 | Kids' Choice Awards | Favorite Male Voice from an Animated Movie | Charles Fleischer | Nominated |
| 2022 | Kids' Choice Awards | Favorite Female Voice from an Animated Movie | Kristen Bell | Nominated |
| 2022 | Golden Globes | Best Animated Film | Who Framed Roger Rabbit 2 | Nominated |
| 2019 | Saturn Awards | Best Animated Film | Who Framed Roger Rabbit 2 | Nominated |
Special Features
Blu-Ray/Movies Anywhere/FandangoNOW/Disney+
Theatrical and Extended Versions
Commentary by Rian Johnson, Ram Bergman, Lawrence Guterman, Shonda Rhimes, Andy Fickman, Taika Waititi, John Francis Daley & Jonathan Goldstein, Steve Yedlin, Chris Buck, Jennifer Lee, Crispin Glover, Charles Fleischer, Kurt Russell, Goldie Hawn, Julia Roberts, Kathryn Newton, Kristen Bell, Usher, Masi Oka, Harrison Ford, Peter Dinklage, Bill Barretta, Charlie Brown, Linus, Peppermint Patty, Marcie, The Teen Titans Go! Gang (Robin, Starfire, Raven, Beast Boy, Cyborg, Bumblebee, Jade Wilson, Terra, Superman, Wonder Woman, John Stewart (Green Lantern), Aquaman), Unikitty and her Friends, Lincoln with his family (Rita, Lynn Sr. Lori, Leni, Luna, Luan, Lynn, Lana, Lola, Lisa, Lily, Albert, and Ruth), Clyde McBride, Liam, Rusty Spokes, Stella Zhau, Zach Gurdle, Ronnie Anne and her family (Bobby, Maria, Arturo, Rosa, Hector, Carlos, Frida, Carlota, C.J., Carl, Carlitos, and Mama Lupe), Sam Sharp, Benny Stein, Margo Roberts, Sid Chang, Nikki, Casey and Sameer, Wreck-It Ralph, Vanellope Von Schweetz, The Bright Lights (Lightbulb, Test Tube, Fan), The Grand Slams (Baseball, Knife, Microphone, Suitcase, Balloon, Nickel), The Losers (Cake, Eggy, Firey, Leafy, Loser), Bubble and Flower (Members of iance), Bleh (Lollipop, Taco), Ryan, Combo Panda, Alpha Lexa, Gus The Gummy Gator, Big Gil and Peck the Penguin from Ryan ToysReview, HobbyPig, HobbyFrog, and HobbyBear from HobbyKids Adventures and Clemmie, Tango and Bud from Camp Halohead
2 TV Movies are included: Cartoon All-Stars To the Rescue 2 and Roger Rabbit in a Characterville's Christmas Party
Sneak Peek at Disney's upcoming movie, Encanto, coming to theaters this Thanksgiving
Behind-the-Scenes featurettes
20 Deleted Scenes
6 All-New Mini-Movies: "Journey to the Moon", "Movie Time", "Iron Man vs. The Junkyard Pirates", "Restaurant Trap", "Sick Badger" and "Snack Fight"
Who Framed Roger Rabbit Cartoon Maker
Animation Tests on the animated characters
Recipes of the Characterville grand opening foods
Who Scored Roger Rabbit: The Music of Who Framed Roger Rabbit 2
All Access with Crispin, Kathryn and Charles
50 bloopers
Working Movie: Who Framed Roger Rabbit 2
Live-Action and Animation Tests
Promo: Cartoon Moments
Movie Theater Previews
Music and Lyric Videos

Are you CN this
Toons (Agua) From Sponge on the run
ToonTown Step (Krabby Step) From Sponge on the run
Love is on the Air Tonight
I Wanna Go to the Place Called Characterville
Underground (Lucius' Theme)
Who's The Man? (Lucius' Theme)
And the Angels Sing
The Merry Go Round Broke Down
Smile Darn Ya Smile
Wonderful Ways to Say No (from Cartoon All-Stars to The Rescue)
Happy Feet Two Opening Medley
Mommy My Hero (Auto-Tune Remix)
Sunflower
Show Me the Meaning of Being Lonely

Commercials ft. Animated Characters

McDonalds Commercials
Walmart Commercials
Xfinity Commericals (including E.T.: A Holiday Reunion)
Royal Caribbean Commercial
Target Commercials
Sony Panels of Expert Commercial

Teaser, Theatrical Trailers and TV Spots
Who Framed Roger Rabbit 2: The Video Game Trailer
Languages and Subtitles: English, Descriptive Audio, French, Spanish, German, Italian, Polish, Portuguese, Cantonese, Japanese, Mandarin, Korean, Thai and Vietnamese
XBOX ONE, XBOX SERIES X/S, PS4, PS5 and Nintendo switch
Ford Mustang gt, Shelby and GT Commercial, Dodge Charger, Viper and Challenger Commercial, Chevrolet Camaro and Corvette Commercial
Subaru WRX STI Commercial, Toyota GR Supra Commercial, Nissan GTR Nismo Commercial, Honda civic Commerical
Nascar cup series, Nascar Xfinity cup series, Nascar Gander RV & Outdoors cup series, WRC World Rally Championship and Formula 1
Super Bowl LV, Monster Jam, Hot Wheels, Hot Wheels Monster Trucks
Netflix, Amazon Prime, Vudu, Microsoft Movies and TV, Google Play, Apple TV +, YouTube, DirecTV, Verizon TV, Xfinity
TOKYO 2021 Olympic games
FORMULA DRIFT JAPAN 2021
AMONG US, CARTOON NETWORK ARCADE, FORZA STREET, ASPHALT 8, ASPHALT 9, LOONEY TUNES WORLD OF MAYHEM, NEED FOR SPEED NO LIMITS, PLANTS VS ZOMBIES 2, HOT WHEELS UNLIMITED, SONIC DASH, DESPICABLE ME: MINION RUSH, ANGRY BIRDS 2, THE CREW 2, FAILY BRAKES 2, POKÉMON GO, ROBLOX, FORZA HORIZON 4, ODDBODS TURBO RUN, ASPHALT XTREME, BEACH BUGGY RACING 2, HOT WHEELS INFINITE LOOP, CALL OF DUTY MOBILE, FORTNITE, SIMPSON TAPPED OUT, AIRCONSOLE (2015), ROGER RABBIT PARADISE CITY, ROGER RABBIT TOON RACING SPEEDWAY, ROGER RABBIT THE TOONS WORLD OF MAYHEM, ROGER RABBIT TAKEDOWN BURNIN RUBBER (FROM FAST & FURIOUS TAKEDOWN), Roger Rabbit The Toons Animation Throwdown: The Quest for Cards ToonTown
SPOTIFY AND DEEZER MUSIC
TOONS ANYTHING (CARTOON NETWORK ANYTHING)
Every Toons ever (Every Simpson ever) comercial and Electronic Arts Toons Every toons ever
Roger Rabbit and Chibi Toons
DVD
Theatrical and Extended Versions
Commentary by Rian Johnson, Ram Bergman, Lawrence Guterman, Shonda Rhimes, Andy Fickman, Taika Waititi, John Francis Daley & Jonathan Goldstein, Steve Yedlin, Chris Buck, Jennifer Lee, Crispin Glover, Charles Fleischer, Kurt Russell, Goldie Hawn, Julia Roberts, Kathryn Newton, Kristen Bell, Usher, Masi Oka, Harrison Ford, Peter Dinklage, Bill Barretta, Charlie Brown, Linus, Peppermint Patty, Marcie, The Teen Titans Go! Gang (Robin, Starfire, Raven, Beast Boy, Cyborg, Bumblebee, Jade Wilson, Terra, Superman, Wonder Woman, John Stewart (Green Lantern), Aquaman), Unikitty and her Friends, Lincoln with his family (Rita, Lynn Sr. Lori, Leni, Luna, Luan, Lynn, Lana, Lola, Lisa, Lily, Albert, and Ruth), Clyde McBride, Liam, Rusty Spokes, Stella Zhau, Zach Gurdle, Ronnie Anne and her family (Bobby, Maria, Arturo, Rosa, Hector, Carlos, Frida, Carlota, C.J., Carl, Carlitos, and Mama Lupe), Sam Sharp, Benny Stein, Margo Roberts, Sid Chang, Nikki, Casey and Sameer, Wreck-It Ralph, Vanellope Von Schweetz, The Bright Lights (Lightbulb, Test Tube, Fan), The Grand Slams (Baseball, Knife, Microphone, Suitcase, Balloon, Nickel), The Losers (Cake, Eggy, Firey, Leafy, Loser), Bubble and Flower (Members of iance), Bleh (Lollipop, Taco), Ryan, Combo Panda, Alpha Lexa, Gus The Gummy Gator, Big Gil and Peck the Penguin from Ryan ToysReview, HobbyPig, HobbyFrog, and HobbyBear from HobbyKids Adventures and Clemmie, Tango and Bud from Camp Halohead
Sneak Peek at Disney's upcoming movie, Swampy, coming to theaters this Thanksgiving
Behind-the-Scenes featurettes
20 Deleted Scenes
Animation Tests on the animated characters
Recipes of the Characterville grand opening foods
All Access with Crispin, Kathryn and Charles
50 bloopers
Working Movie: Who Framed Roger Rabbit 2
Teaser, Theaterical Trailers and TV Spots
Video Game trailers
Languages and Subtitles: English, Descriptive Audio, French, Spanish, German, Italian, Polish, Portuguese, Cantonese, Japanese, Mandarin, Korean, Thai and Vietnamese
Notes/Trivia
NOTE: Mike 2019 - 2020 is allowed to fix and add notes and trivias
At the end of the film, nearly all of the cartoon characters mentioned above singing "Smile, Darn Ya, Smile!" while Sonic the Hedgehog pushes Porky Pig out of the way and he faces the audience, the music "Merrily We Roll Along" plays and he said "That's All Folks!" and "Bye!"

Script:
Porky: O-k-k-k, m-m-move along. There's n-n-nothin' else to see. T-t-that's it. T-t-that's all, folks. Hmm, I l-l-like the sound of that (Porky faces the audience). Eee-ba-da, eee-ba-da, eee-ba-da...t-t-that's all-?
Sonic: NO YOU DON'T!
Porky: Huh?!
(Sonic pushes Porky out of the way and Porky runs out of the picture)
Sonic: (to the audience) Sorry about that everyone, that ending with his famous phrase from the 1988 film was enough. (Merrily We Roll Along playing) So...Th-th-th-th-th-th-th-th-th that's all, folks! (Laughs) Bye!
In fact, most of the toons will have bigger roles than just cameos.

The film will begin with a Roger Rabbit cartoon (similar to the first film).
R.K. Maroon's son will say that he rented nearly half the cast of Fantasia 2000, which is why they cameo in the film.
During the scene at WBN (Lucius' Lair), The Genie from Aladdin is "singing" The Disney song "Friend Like Me" while Rick Rochester conducts and Genie interacts Daniel and Scarlett.
In the Scene where his son Daniel Valiant and Scarlett Valiant saved Jessica Rabbit, his mother Dolores and his father Eddie Valiant.
This movie is dedicated to Bob Hoskins (who played Eddie Valiant from the first film), who passed away on April 29, 2014.
This movie is also dedicated to Mel Blanc (who voiced the Looney Tunes characters) who passed away in 1989, Frank Churchill (who is the composer of Dumbo) who passed away in 1942, Oliver Wallace (who is the composer of Dumbo) who passed away in 1963, Ned Washington (who make songs from Dumbo) who passed away in 1976, Oliver Wallace (who is the composer of Cinderella) who passed away in 1963, Paul J. Smith (who is the composer of Cinderella) who passed away in 1985, Mack David (who makes songs from Cinderella) who passed away in 1993, Al Hoffman (who makes songs from Cinderella) who passed away in 1960, Jerry Livingston (who makes songs from Cinderella) who passed away in 1987, Satoru Iwata (who is the CEO of Nintendo), Russi Taylor (who voiced Minnie Mouse, despite her not having any lines in the first film), Richard Williams (who directed the animation from the first film), Katherine Helmond (who voiced Lizzie from Cars), and Chris Reccardi (best known for Ren and Stimpy and The Modifyers) who passed away in 2019, George C. Scott (who voiced Smoke from Cartoon All-Stars to The Rescue), and Mary Kay Bergman (who voices both Liane Cartman, Sheila Broflovski, Sharon Marsh, Carol McCormick, Wendy Testaburger and Clitoris From South Park Bigger Longer & Uncut) who passed away in 1999, Howard Ashman (who make songs from Beauty and the Beast) who passed away in 1991, Jim Henson (who is he creator of Fraggle Rock) who passed away in 1990, William Hanna and Joseph Barbera (the executive producers of Hanna-Barbera Productions and the creators of Tom & Jerry) who both passed away in 2001 for William and 2006 for Joseph, Tony Pope (who voices both Professor Guigley and Mr. Websley from Talking Words Factory 2: Code Word Caper) who passed away in 2004, Joe Ranft (who voices both Red and Jerry Recycled Batteries from Cars) who passed away in 2005, Stubby Kaye (who plays Marvin Acme from the first film), and Don Messick (who voices Muttley from Scoob! who passed away in 1997, Michael Kamen (who composer of The Three Musketeers), Alan Tilvern (who plays R.K. Maroon from the first film), Nick Enright (an Theatre Director), and Michael Jeter (who voices smokey and Steamer from The Polar Express) who passed away in 2003, Steve Irwin (who voiced Trev from Happy Feet) who passed away in 2006, Brittany Murphy (who voiced Gloria from Happy Feet) and Wayne Allwine (who voiced Mickey Mouse, despite his not having any lines in the first film) who passed away in 2009, Robin Williams (who voices both Ramon, Cletus, Lovelace and the narrator from Happy Feet) who passed away in 2014, Richard LeParmentier (who plays Lt. Satino from the first film), June Foray (who voices both Wheezy (Toon Patrol) and Lena Hyena from the first film), Don Rickles (who voiced Mr. Potato Head in Toy Story series), Adam West (who plays Batman in Batman 1966), and Lennard Katz (who is the father of Adam Katz) who passed away in 2017, Adam Burke (an animator at Pixar), Stan Lee (who makes Marvel Comics and cameos in every Marvel movie), Stephen Hillenburg (who is he creator of SpongeBob SquarePants), Douglas Rain (who voiced HAL 9000 from 2001 A Space Odyssey), Steve Ditko (who makes Marvel Comics Artist), David Ogden Stiers (who voiced Cogsworth from Beauty and the Beast), Bud Luckey (who voices Rick Dicker from The Incredibles), Allison Shearmur (who is he producer of The One and Only Ivan), and Margot Kidder (who plays Lois Lane from Superman IV: The Quest for Peace) who passed away in 2018, and Carl Reiner (who voiced Carl Reineroceros in Toy Story 4), Sean Connery (who plays James Bond in Dr. No), Chadwick Boseman (who stars Black Panther), Alex Trebek (the host of Jeopardy!), Joe Ruby and Ken Spears (who creates Scooby-Doo!), David Lander (who voices Smartass from the first film), Kelly Asbury (who director of Uglydolls, Smurfs The Lost Village, Shrek 2 and Gnomeo and Juliet), Rob Gibbs (an Storyboard Artist at Pixar), Tuck Tucker (who director of Hey Arnold! The Movie), Kirby Morrow (who voices Cyclops from X-Men: Evolution), Jim Janes (who makes DC comics Artist), Adam Schlesinger (an Songwriter), Regis Philbin (the host of The Neighbors), Fred Willard (who voices Shelby Forthright from WALL-E), Jason Davis (who voices Mikey Blumberg from Recess: School's Out), Johnny Mandel (who composer of Escape to Witch Mountain), Ennio Morricone (who composer of Mission To Mars), and Kelly Preston (who plays Jetstream from Sky High) who passed away in 2020, Larry King (who voices Bee Larry King from Bee Movie), Christopher Plummer (who plays John Adams Gates from National Treasure) Cloris Leachman (who voiced Mrs. Tensedge from The Iron Giant), Polly Lou Livingston (who voiced both Tree Trunks and Cream Trunks From Adventure Time), and Cicely Tyson (who plays Constantine Jefferson from The Help) who passed away in 2021.
in a Dedication card of them, an archival footage of the ending of the first film Who Framed Roger Rabbit (1988) shows Porky Pig saying "That's All Folks!" and Tinkerbell appears and the circle disappears with her wand and she left.
Doctor Robotink will appear in the sequel's post-credits scene.
The film has the Same Wilhelm Scream.
the characters appeared at the credits that was similar to Muppets Most Wanted.
Ethan Slater & Danny Skinner (SpongeBob SquarePants The Broadway Musical) and Kristin Chenoweth (My Little Pony The Movie (2017) play their roles of Carl, Jerry & Kira
This film is involved with some of the crew who made Star vs. The Forces of Evil, Amphibia, The Casagrandes, The Marvelous Misadventures of Flapjack, Adventure Time, Breadwinners, Unikitty, The Amazing World of Gumball, Gravity Falls, and The Loud House.
Three songs "Run Wild", "Everything's Changing" and "Fire" from Playing with Fire appearing in the movie.
Who Framed Roger Rabbit 2 has the 2nd best disney merchandise right under Pixar's Cars and on top of Disney's Frozen.
This film and The Angry Birds Movie 2 share the same plot, but it's slightly different.
Tad, Lily and Leap only appears in the cartoon.
There will be Scrat cutaways where he desperately retrieves his acorn like the Ice Age franchise.
There will be one very funny Scrat cutaway, which will involve him dancing to Lou Bega's "Mambo No. 5" with his acorn until his acorn gets sucked up by Noo-Noo.
The evil characters and animals who are not dead appear in two scenes as they were seen in prison: Jaboodies, Frackles, Evil Pokemons, Demon Beast Monsters, Various Aliens, The Amazing World Of Gumball Villains, Plankton's Army, The Lion Guard Villains, Evil Ice Age Creatures, Power Rangers Villains, Monsters, Dr. Seuss Creatures, Imaginary Villains, Enemies, Evil Experiments, Astro Boy Villains, TTG Villains (except The H.I.V.E. Five), PPG Villains, Hanna-Barbera Creatures, Disney Villains, Animals, Kaijus, Sesame Street Creatures, Cartoon Network Villains, Super Sentai Villains, The Land Before Time Creatures, and The Book of Life Villains.
Sid Phillips, now grown up, can be seen as a garbage man like in the Pixar film Toy Story 3.
Paige O'Hara, Linda Larkin and Ming-La Wen originally played the voice roles for Belle, Jasmaine & Fa Mulan, while Emma Watson, Naomi Scott and Liu Yifei from the live action adoptions takes over the voice roles.
The movie will premiere on Disney+, Disney Channel, Disney XD, ABC, Starz, HBO, TBS, TNT, TCM, Freeform, USA Network, Nickelodeon, Cartoon Network, Universal Kids, Nicktoons, Discovery Family, and FXM in 2022.
Bongo The Bear, one of Disney's silent characters, has dialogue for the first time ever​​​​​​.
This is the first time Jade Wilson from Teen Titans Go to The Movies is a real character.

she even has her huge hips based on DeviantArt.

Aki (P+C) holds a gun for the first time.
Bud (Camp Halohead) mentiones the movies "The Adventures of Ford Fairlane" and "Knives Out".
This is the first Pixar Animation Studios' live-action/animated hybrid film, followed by Newt.
The Disney logo has a hand-drawn animated design and resembles the 1960s Disney logo, the same design used in Jon Favreau's previous Disney films The Jungle Book (2016) and The Lion King (2019).
This is the fourth SpongeBob SquarePants production that involves CGI, the first being The SpongeBob Movie: Sponge Out of Water, the second being "Karen's Virus", and the third being The SpongeBob Movie: Sponge on the Run.
The new ImageMovers logo is similar to both Cross Creek Pictures and The Montecito Picture Company logo. the logo music composed by Alan Silvestri.
The full version of Shondaland logo is showed with a glow in the dark roller coaster just like in Rhimes' TV Shows.
This is Shondaland's first theatrically-released film.
The film will use Real sound effects and Walt Disney and Hanna-Barbera cartoon sound effects.
Continuity
Radioland Murders:
How It Should Have Ended:
Playing with Fire:
References/Easter Eggs
=* Who Framed Roger Rabbit:
Cool World:
Space Jam:
Looney Tunes Back in Action:
Hot Wheels: Twin mill 1969, Bone Sharker 2011, Rip Rod 2012
Cartoon All-Stars to The Rescue:
Recess School's Out:
Radioland Murders:
On The Air (Lynch/Frost):
The Adventures of Ford Fairlane:
Knives Out:
Ralph Breaks The Internet:
Once Upon a Forest:
Twice Upon A Time:
Little Nemo Adventures of Slumberland:
Diary of a Wimpy Kid The Long Haul:
Wallace & Gromit: The Curse of the Were-Rabbit:
The Peanuts Movie:
A Charlie Brown Thanksgiving:
Hotel Transylvania 3:
Teen Titans GO! To the Movies:
The LEGO Movie:
The LEGO Movie 2: The Second Part:
The Banana Splits Movie:
Pokémon Detective Pikachu:
Uglydolls (2019):
Inside Out (2015):
Ready Player One:
Pacific Rim Uprising:
Resident Alien (2021):
So You Want to Be a Pirate!: said Yes but actually No!
Randy Cunningham: 9th Grade Ninja: Aki said
Talking Tom and Friends episode: TV Party: During the chase, a woman is seen on her phone giving a 0 star rating for The Land Before Time because of Sharptooth. This is a callback to Jeremy giving a 0 star rating for Bongo and McGillicudy .
The Viewers Decide (TTG):
The Friday the 13th Problem: Aki bumps into
Easter Eggs
Running Gags
Robin, Starfire and Jade Wilson sings opera at Dr Mary Lou's Submarine
Wonder Woman, Terra, Bumblebee and Jade Wilson sings for the first time and the second time
I Second That Emotion was heard in Jade's ringtone.
Characters breaking the fourth wall.
Crazy Credits
NOTE: Gugu0709r 67.241.180.73, Jongmoon lee, and Caled2005 is now allowed to edit this Crazy Credits all they wants. Edit it as much as you can.
When the credits begin to roll, Otto the Minion starts pulling them up on a rope. Wakko and Yakko comes in to help, followed by Tango (Camp Halohead). Dr. Bunsen Honeydew (with his partner Beaker) and Dr. Cockroach arrives with an invention to pull the credits up automatically. He pushes the button but the credits go by too fast. He reverses it and the credits scroll up on their own at normal speed.
In the middle of the credits, King Julien, "Check this out!" and puts his crown on the "S" text.
TBA for Lincoln Loud, Clyde McBride, and Ronnie Anne Santiago
TBa for Jade Wilson and Bumblebee
TBA for Beast Boy (TTG) and Raven (TTG)
TBA for Unikitty and Puppycorn
TBA for Baseball and Nickel
TBA for Fan and Test Tube
TBA for Balloon and Suitcase
TBA for Fan and Test Tube
TBA for Paintbrush and Lightbulb
TBA for Bow and Marshmallow
TBA for OJ and Paper
TBA for Pepper and Salt
TBA for Firey and Leafy
Clemmie, Tango, and Bud
TBA for Nikki, Casey and Sameer
During the closing credits, Movies, Video Games and TV series characters crawl on and off screen, interacting with the credit text.
Movies, Video Games and TV series characters walk through the end credits.
At the end of the credits, a Kevin the Minion running in a treadmill comes up with the words. When he stops running, the words stop moving. Marty the Zebra enters in from the left to take his place. After a high-five, they switch. Kevin walks off, Marty starts running with Gloria, Alex, and Melmam, and the credits resume rolling.
TBA for Spongebob and Patrick
TBA for Sparkle, Shimmer, and Shine with the text "Distributed by Walt Disney Studios Motion Pictures"
At the end of the scrolling credits, During the mid-credits scene, The Minions and The Trolls are "singing" The Beatles song "Revolution" and playing instruments, then it breaks out into a full on production with all characters from the movie, ending with them playing the Toons and Anna and Elsa interacting with a Maleficent Dragon.
At the end of the closing Logos, During the post-credits scene, Jade Wilson appears on the screen after the end credits, telling viewers that the movie is over and they must go home.
Transcript:
Rating
PG (for action/peril, scary images, slapstick cartoon violence, suggestive material, mild rude, surreal and impolite humor throughout, quicky situations, language, brief nudity, drinking/smoking, and inneudo)
Credits
Logos
Who_Framed_Roger_Rabbit_2/Closing_Logos
Ayden Force: The Movie Soundtrack
RELEASE ON: January 25, 2030
SOUNDTRACK:
Day - Terraria
On & On - Daniel Lavi
Sad Piano - ScoreStudio
7 Year - Lukas Graham
Earthy Crusty - Jingle
Action - Goanimate
Inventory - Poker Night of The Inventory
Heartbroken - Kevin MacLeod
Happy - Pharrell Williams
Marry You - Bruno Mars
Mr. Lucky - Karl Jenkins
Tower Tragedy - Banjo & Tooie
Ulitmate Battle - Plants vs Zombies
Christmas - Overlord 2
Credit: Bad - Michael Jackson
Ayden Force: The Movie Location
LOCATION:
United States
Japan
Ponyville - My Little Pony: Friendship is Magic
Spain
Mexico
Cloud Cuckoland - Unikitty
Far Far Away - Shrek 2
France
United Kingdom
Australia
China
Argentina
Canada
Colombia
Venezuela
Dominican Republic
Haiti
Puerto Rico
Chile
Guatemala
Honduras
El Salvador
Panama
Antarctica
Swamp House - Shrek
Community content is available under
CC-BY-SA
unless otherwise noted.